With The Mandalorian season 3 now upon us, the official Star Wars website is back to revealing new merch, toys, and collectibles based on the show each week - and this time, a Beskar-themed gaming headset is on the docket.
A version of the Logitech G A30 in Din Djarin's Mandalorian silver (complete with the rhino-esque mudhorn symbol that's usually found on his armor), this Star Wars headset is currently available for $249 direct from Logitech (opens in new tab) or £249 (opens in new tab) in the UK. However, it's not just a color-swap - it apparently features some Easter eggs as well. From what I can tell, that would appear to be the symbols on the inside of the cups and the icons hidden behind the translucent, magnetic casings. (One shows the traditional symbol found on the chestplate of all Mandalorian warriors, while the other seems to be "this is the way" in Mandalorian.)
You can find the headset offer below.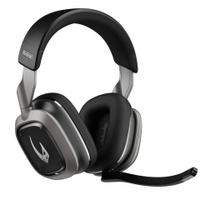 (opens in new tab)
Logitech G A30 The Mandalorian Edition | $249 at Logitech (opens in new tab)
As it's compatible with PS5, Xbox Series X/S, and PC, this headset should suit you regardless of the system you play on. Packing a 27-hour wireless battery life alongside powerful 40mm drivers, it offers a lot for your money.

UK price: £249 at Logitech (opens in new tab)
We had a chance to go hands-on with the standard version of this headset (also known as the Astro A30) late last year, and our Astro A30 review praised it for excellent audio overall. In fact, we said it "really could be one of the very best gaming headsets of the whole year, and certainly one of the best wireless gaming headsets money can buy."
Although the high price tag means it isn't likely to go down in terms of Star Wars gifts, this Mando version of the device is certainly a good fit for fans of a galaxy far, far away as well as gaming.
You can see all the reveals for the weekly 'Mando Mania' via the official Star Wars site here (opens in new tab).
---
For more goodness from a galaxy far, far away, don't miss the best Lego Star Wars sets (they're some of the best Lego sets overall) and these Star Wars board games.