We may not need roads where we're going, but a discount on the Lego Back to the Future DeLorean will do just fine.
You can currently pick up the kit for its lowest ever price - $160 at Amazon, down from $199.99. That's the cheapest it's ever been by around $10, so if you've ever had your eye on the Lego Back to the Future DeLorean (which is fair enough, because just look at it), now's a better time than most to grab it.
Unfortunately, there's no saving on the set in the UK right now - it was on offer at Zavvi for £30 less, but that's since sold out (and on Amazon it's actually overpriced, so don't bother trying there). As such, your best option is Lego itself - the Lego Back to the Future Time Machine is the standard £169.99.
You'll find the offer, along with details on the kit, listed below.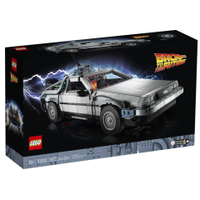 Lego Back to the Future DeLorean | $199.99 $160 at Amazon
Save $40 - While it may not seem like much of a discount at first, the kit has actually never been cheaper. The lowest it got to before now was $170, so you're getting the best deal. Although it may go down further when Black Friday Lego deals roll around in November, there's unfortunately no guarantee of that (I wish there was, it'd make life much easier).
Should you buy the Lego Back to the Future DeLorean?
So, should you buy the Lego Back to the Future DeLorean? I haven't been hands on with it yet for our list of the best Lego sets, but from everything I've seen, the response has been very positive. It's praised for an incredibly screen-accurate design and the usual attention to detail that Lego is known for with its premium for-adults kits, and that means fans will find plenty to love. Even just being able to modify it with options from each of the three movies (the original model with the Flux Capacitor and lightning-rod, the flying wheels, or the Wild West-themed version) is damn cool.
For more offers, check out the latest Lego discounts below.
---
If you want to get more money off, don't miss the latest Lego deals. This includes everything from Harry Potter to Lego Star Wars sets.