The God of War Ragnarok New Game Plus mode has been added to the game in an update, meaning players can replay the story with new challenges, armor, rewards and more besides. We'll explain how to play it below, how it works, and all the new features you can expect when you go through the Nine Realms the second time around with the God of War Ragnarok New Game Plus mode.
How to play God of War Ragnarok New Game Plus
After downloading the 4.00 update for God of War Ragnarok, players will be able to play New Game Plus mode after completing the main story. We won't spoil how it ends, but once you see the credits roll, you'll be able to go back into the main menu and select New Game Plus.
However, keep in mind that "after the credits'' does not necessarily mean "completing the game". There's a lot of post-game content that kicks in after the God of War Ragnarok ending is completed, so restarting the game means you potentially miss the opportunity to do fun sidequests like the God of War Ragnarok Mystical Heirloom sequence, or just tidying up all the various God of War Ragnarok Ravens.
That being said, NG+ occurs on a separate save, so you can go back to your old game and keep cleaning up all that post-ending content if you're so inclined - but anything you earn won't then automatically transfer to your other NG+ game, of course.
What's different in New Game Plus, and what carries over?
There's a lot of changes made to New Game Plus in God of War Ragnarok. Below we've specifically listed everything that you can only do in that NG+ state, as well as how the game itself will be different. This is a broad summary - for more info, scroll further down to find out the details.
Armor and weapons

All weapons, armor, skills and equipment will carry over, except the Sonic and Hex arrows, which are obtained at the same point in the story.
The Draupnir Spear will also carry over, though players won't be able to use its traversal abilities and status as God of War Ragnarok Special Equipment (i.e., using it in those wind vortexes) until the same point in the story you got it last time - it's combat only.
New armor sets have been added, which you can find more info about below.
Existing armor sets have been given new cosmetic appearances that players can swap between.
A new shield, the Spartan Aspis, has been added.

New enchantments

New enchantments are for sale, mainly to mimic existing armor abilities.
These enchantments can be bought with Gilded Coins, a new resource.
The God of War Ragnarok Berserkers drop new enchantments.
New "burden" enchantments grant negative qualities and perks to add challenge.

Levelling and progression

The level cap has been increased.
Players can convert level 9 equipment to "Plus" versions, which improves them and furthers your progression.
Converting equipment to Plus versions grants you a Gilded Coin, which can be used to buy the new enchantments from the Huldra Brothers.
Skill mod tokens can be upgraded with XP.
Progress on Labors and Ratatasks can carry over to achieve new "Platinum Tier" rewards.
Nornir Chests can drop Yggdrasil Dew to increase stat bonuses.

Niflheim

The Niflheim training arena offers new enemies to fight
You can now play as Kratos OR Atreus in the training arena
Players can choose a range of companions to fight with them in the training arena.

Enemies and bosses

Optional endgame boss fights have been given new abilities to make them harder.
The God of War Ragnarok The Hateful and Ormstunga bosses have new abilities and movesets.
Bosses and mini-bosses on the Give Me No Mercy or Give Me God of War difficulties (in New Game Plus) have Runic armor.
Enemies can turn "elite" and increase their power level in Give Me No Mercy as well as Give Me God of War difficulties, when in New Game Plus.

Cinematics and graphics

Cinematics can be skipped in New Game Plus.
Players can make the game appear black and white by selecting "Black and White Render Mode" in the Graphics & Camera settings menu.
Clearly there's a lot here. However, we'll go over the most important elements in more detail below, so you actually know what you're getting into when you sign up for New Game Plus.
Is God of War Ragnarok New Game Plus harder?
New Game Plus mode in God of War Ragnarok isn't actually stated to be significantly any harder than the original, with the exception of tweaks to certain bosses, as stated above. This means that playing the game in New Game Plus as normal is probably going to be a little easier, as you'll have all the loot and skills from last time against the same enemies.
However, that doesn't mean you have to leave it like that. Players can redecide the difficulty as they did the first time around when they start from the same five difficulty options, and still tweak the difficulty from the Gameplay section of the options menu, so if you want more or less of a challenge, you can alter it at any time.
New Game Plus armor and cloak
The New Game Plus mode adds multiple options for armor and armor sets, some of which may be contenders for the God of War Ragnarok Best Armor. Here's what players can expect to find:
Armor of the Black Bear/Cloak armor set: Available from the start of NG+. Strength and defense focused.
Spartan armor set: Bought with Hacksilver from Huldra Brothers. Offers no bonuses, stats or perks - solely exists to increase challenge.
Ares Armor: Bought with Hacksilver from Huldra Brothers. Chance to drop health stones when hit. Stomping health stones increases rage and size of explosion.
Zeus Armor: Obtained by beating Gná the Valkyrie Queen and completing the Remnants of Asgard on a NG+ save. Massively increases both damage dealt and received.
Plus thirteen existing armor sets all have new appearances which can be purchased from the Huldra Brothers with Hacksilver, and equipped with the transmog system (raise an armor to max level, and press Square on it in the menu to cycle its appearance). For more info, we've actually put together a full page on the God of War Ragnarok cloak and new game plus armor, where you can find out everything you need to know.
New Game Plus trophies
There have been no new trophies added with New Game Plus at time of writing, so while there are the new platinum tier labors to be completed, there's no further trophies for players to get. That being said, at time of writing there's no suggestion that players won't be able to get trophies in New Game Plus - though certain collectibles like the God of War Ragnarok Ravens will be reset to zero progress and force you to start collecting them from the beginning again.
New Spartan Aspis shield
The one new weapon (of sorts) added is the Spartan Aspis, which can be bought from the Huldra Brothers' shop with Hacksilver. It functions like the Guardian Shield, but has a much smaller window for parrying, requiring a higher skill level. However, it does much more damage on a successful parry, making it a risk/reward choice.
Draupnir Spear in New Game Plus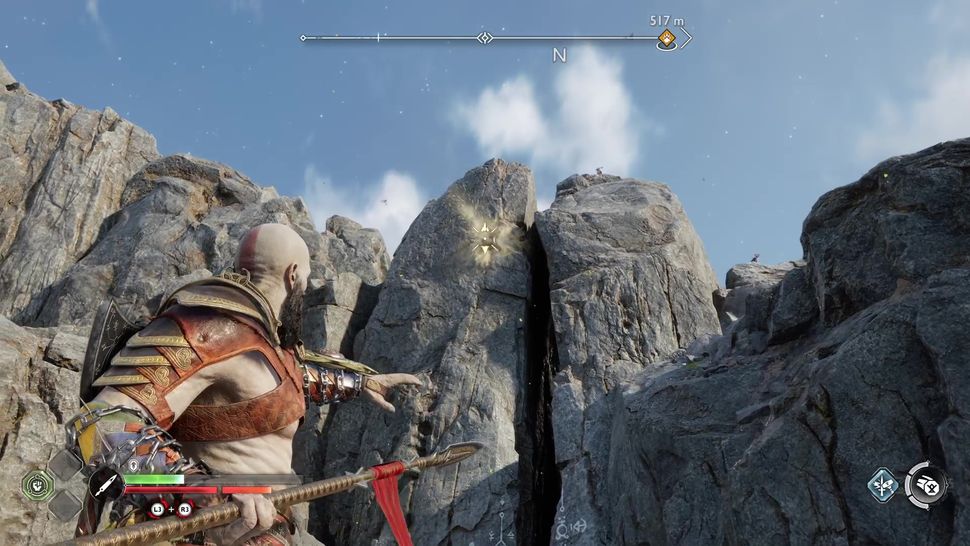 As mentioned earlier, the Draupnir Spear will be available in New Game Plus from the very beginning - but only as a weapon. The Spear's ability to plug the wind-generating cracks and serve as a bar for swinging and climbing, as well as destroying key objects - that won't be available until the point in the story where you'd normally unlock it.
New companions in New Game Plus
Players can play as Atreus or Kratos now - but only in the Niflheim training arena, nowhere else. There'll also be a range of allies that you can choose to fight with: Atreus, Kratos, Freya, Brok, Sindri, Angrboda, Ingrid, Thor and Thrud. However, these are limited to just Niflheim - outside of that area, you're limited to the NPC companions that would naturally be with you at that point in the story.
© GamesRadar+. Not to be reproduced without permission