In long-awaited videogame adaptation Uncharted, Tom Holland is setting out to prove he can launch a bankable franchise without Spidey's spandex.
In the globetrotting adventure, Holland stars as treasure-seeker Nathan Drake, alongside Mark Wahlberg's Sully, and in this month's jam-packed issue of Total Film magazine, you can get the full story of why it took so long for the film to reach the big screen, and how it's been influenced by James Bond and Indiana Jones.
And that's not all. Inside the issue, Guillermo del Toro and his old pal Ron Perlman talk Nightmare Alley, there are interviews with Edgar Wright, Tilda Swinton and James Cameron, and Roland Emmerich discusses his upcoming disaster epic Moonfall.
Plus Michael Bay's Ambulance, Jackass Forever, Belle, The Duke and much more.
Uncharted cover story
Tom Holland takes adventuring to the next level in videogame adaptation Uncharted, which has had a long and arduous journey to the screen. Total Film meets the film's cast and director to find out how a pitch for a young James Bond evolved into an unexpected origin story.
The making of Nightmare Alley
Roll up, roll up! Guillermo del Toro darkest film dares us to ogle human monsters as it travels from a carnival to the freaks and geeks of New York's high society. The director is joined by his old friend Ron Perlman, who urged him to make the movie, to lead Total Film down Nightmare Alley.
James Cameron
In new book Tech Noir, James Cameron opens his extensive archives and reveals the hand-drawn designs that fuelled his earliest work. Currently in post-production on Avatar 2 in New Zealand, Cameron hopped onto Zoom with Total Film to discuss the art of moviemaking.
Edgar Wright career interview
Edgar Wright is the geek who inherited the Earth, rising from Somerset fanboy to Hollywood player. With his seventh feature, Last Night in Soho, now instigating a home invasion, Total Film talks to the beloved filmmaker about horror movies, the BBFC, zombies, getaway drivers, Marvel, Spielberg, Tarantino, and how he still feels like an outsider.
Moonfall
In the front section, Teasers, Total Film gets the lowdown on Roland Emmerich's interstellar disaster epic Moonfall. Plus, Jackass Forever, The Afterparty, Ambulance, The Souvenir Part II, Tom Felton, new Jack Reacher star Alan Ritchson and much more.
Out now!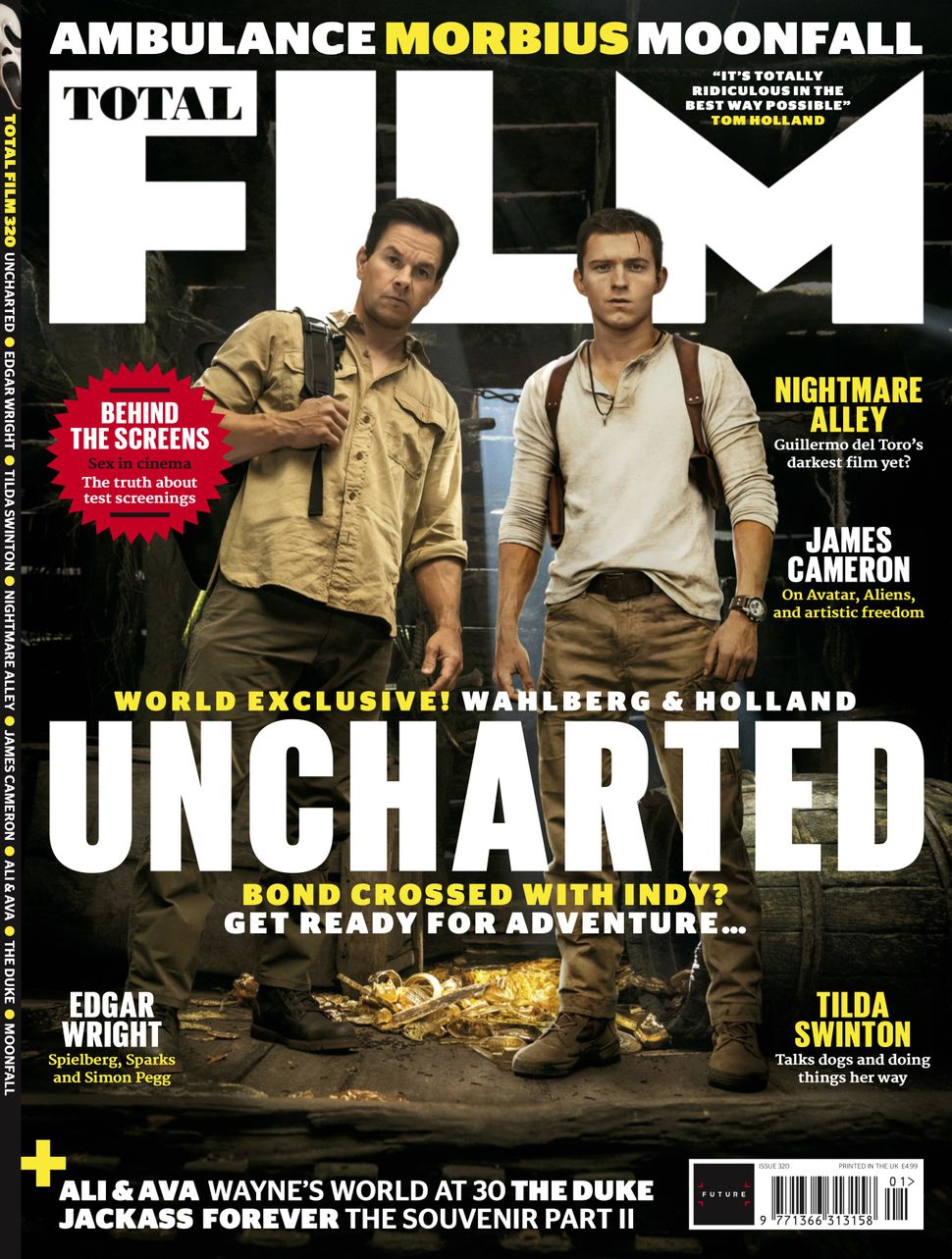 And if you're a print subscriber, you'll already have the magazine waiting for you on your doormat, with this exclusive, subscribers-only cover:
Subscription offer!
And if you're a fan of Total Film, why not subscribe so that you never miss an issue? You'll also get it before it's in shops, and you'll get exclusive subscriber-only covers like the Uncharted one you can see above. And with our current offer, you can get the magazine for half price! What are you waiting for? Head to MagazinesDirect to find out more (Ts & Cs apply).
Subscribe to Total Film magazine now and you'll never miss an issue (as well as saving money on the cover price). Get the digital version for your tablet or have an exclusive subs cover through your door every month - or save even more with a print/digital bundle! You can also get the digital magazine for your tablet via PocketMags (for Android) and Apple (for iOs).