PS5 deals are coming in thick and fast now that the console's stock issues have been rectified, but we're still surprised by just how quickly that price is tumbling. Just a few months ago we were celebrating a $50 reduction in the God of War: Ragnarok bundle, but Amazon has just done one better.
For the first time, we're seeing the console and game available for $499. That's a record breaking price, saving you $60 in total. If you've been waiting for a package such as this to drop below that $500 boundary, now's the time to jump. We don't expect upcoming Prime Day PS5 deals to shave any more cash off this price (in fact, we were predicting a return to the previous $509 cost before today's offer), so this is likely the best it's going to get for a while.
If you're yet to bag yourself a current generation console, it's PS5 deals like this that show us just how much cash you can save.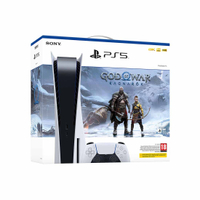 PS5 | God of War Ragnarok | $559 $499 at Amazon
Save $60 - We've seen this God of War Ragnarok bundle hit $509 in the past, but this is the first time Amazon has dropped that package down below the $500 threshold. You're saving $60 here - nearly the full price of the game by itself.

Whether you've played the first instalment or not, we reckon God of War: Ragnarok is one of the best games to herald a new generation with. While we did lament a slightly slower start in our review, we did celebrate that "once certain elements fall into place you can feel everything palpably kick up a notch, and the stakes aren't so much raised as thrown into the air." This is a blockbuster of a game, with the graphics, mechanics, and slick combat to truly show the PS5 in its best light.
More of today's best PS5 deals
Whether you're after more PS5 deals on a standalone console, or looking for some of the best PS5 accessories to kit out your new device, you'll find plenty more savings out there at the moment. Aside from PlayStation's own sale, multiple retailers are shaving prices on the latest games and accessories this summer, and we're rounding up all the lowest prices on some of our top picks below.
Of course, we're also rounding up all the best PS5 games to get stuck into first, as well as the best PS5 headsets and best PS5 controllers for more swag.