As the winter nights grow longer, we can at least draw cheer from the fact that Star Trek Discovery season 2 is almost upon us...
Yes, the second season of Michael Burnham's adventures will debut in early 2019 and are set to bring the series closer in tone to the original Trek. We've already seen two Star Trek Discovery season 2 trailers packed full of hints at what to expect from the new run and there's plenty of new faces joining the cast this time around.
The Star Trek Discovery season 2 plot will incorporate the USS Enterprise, Michael's half-brother (that's iconic Vulcan Spock to you and me) and a greater focus on more traditional Trek-style adventure and exploration now that the Klingon war is over.
Which returning character from Star Trek Discovery season 1 may be about to get her own Star Trek Discovery spin-off? Who is the Captain of the Enterprise in this period? And what exactly happened to the original Star Trek Discovery showrunners in the last year? Read on to find out everything we know about season 2 so far, from Star Trek Discovery season 2 spoilers to the full breakdown of the Star Trek Discovery season 2 cast, uniforms, and more...
Fast Facts:
Star Trek Discovery season 2 release date: January 17 2019
Star Trek Discovery season 2 cast: Sonequa Martin-Green, Doug Jones, Shazad Latif, Anthony Rapp, Mary Wiseman, Wilson Cruz, Anson Mount, Mary Chieffo, James Frain, Rebecca Romijn, Ethan Peck, Michelle Yeoh
Star Trek Discovery season 2 episodes: 13
Star Trek Discovery season 2 showrunner: Alex Kurtzman
Star Trek Discovery season 2 writer(s): TBC
When is the Star Trek Discovery season 2 release date?
Production on Star Trek Discovery season 2 began back in April this year, and the first episode of the new run will be warping to TV screens in the US on January 17, 2019 on CBS All Access - almost a full year after the season 1 finale. The UK will be getting it the following day on Netflix, with the rest of the season to follow in weekly instalments.
Where's the Star Trek Discovery season 2 trailer?
It's here! In fact, unlike some shows we could mention (*cough* Game of Thrones season 8 *cough*), Discovery has deigned to give us glimpses at what the future holds with not one, but two new Star Wars Discovery season 2 trailers.
The first Star Trek Discovery season 2 trailer (above) gives us a tantalising look at the plot. The last season ended with the Discovery face-to-face with the USS Enterprise. This trailer introduces its commander - Captain Christopher Pike, complete with a nice, trad mustard yellow Starfleet uniform - while also showing enough hints of action to suggest that, while the war may be over, things haven't quietened down for Michael and the crew. We also get our first glimpse of Michael Burnham's half-brother - one Mr Spock…
The second Star Trek Discovery season 2 trailer, debuted at San Diego Comic Con 2018, confirmed the return of Sarek (James Frain), Michelle Yeoh's Mirror Georgiou, and a slightly longer glimpse of Spock who - shock! - has a beard now.
How many Star Trek Discovery season 2 episodes are there?
Brace for impact… there will actually be less Star Trek Discovery season 2 episodes than the first season. Where season 1 had 15 episodes, the new run will be dropping to 13. Still, given the production problems behind-the-scenes (more on that in a moment…) we can't grumble too much. In the meantime, lucky US viewers have four mini-episodes, titled Short Treks.
The first of these, Runaway, directed by Maja Vrvilo, came out in October. Calypso, by award-winning writer Michael Chabon, aired last week and gives us both a glimpse at the far future of the Trek universe and the final fate of the Discovery itself... The Brightest Star, and The Escape Artist (directed by Harry Mudd himself, Rainn Wilson) will follow, one a month, making a nice stop-gap to the season 2 release. Sadly, it doesn't look like the UK is getting these.
Who's in the Star Trek Discovery season 2 cast?
The Star Trek Discovery season 2 cast includes some exciting new additions. Taking control of the Discovery will be the USS Enterprise's Captain Christopher Pike, as played by Inhumans-actor Anson Mount.
Pike is an important part of Trek lore, being the Captain in the very first episode from 1965 and Kirk's predecessor in the command chair of the Enterprise. He was played by Jeffrey Hunter and Sean Kenney in the original series, and Bruce Greenwood in the Kelvin-verse movies. Don't expect Pike to instantly fit in, however. While Sonequa Martin-Green has said that Pike will help "heal" the Disco crew after their betrayal by Lorca, she also says "there's a little bit of distrust there because of what we've gone through and because we had someone who manipulated us and sought to kill us for his own gain".
Pike will, at least, have some support in the form of Number One, played by Rebecca Romijn (Mystique in Bryan Singer's original X-Men movie). The character was originally played by Majel Barrett Roddenberry (wife of Trek creator Gene).
Most exciting, however, is the debut of Ethan Peck as the young Spock. The actor (who is, incidentally, the grandson of the legendary Gregory Peck) said of donning the Vulcan's ears: "It is with great honour and a sense of immense responsibility that I take on the iconic role that Leonard gave to us and that Zachary did brilliant justice to."
The core surviving Star Trek Discovery cast will all be returning as well. That is: Sonequa Martin-Green as Michael Burnham; Doug Jones as Saru; Mary Wiseman as Tilly and Anthony Rapp as Stamets. Emily Coutts and Oyin Oladejo will be returning to the bridge as crewmembers Detmer and Owosekun - hopefully with more to do this time around. And it's known that Mary Chieffo will be back in the make-up chair as the Klingon L'Rell - now with added hair!
There are also a number of recurring characters who will be back in Star Trek Discovery season 2 in some capacity, though we're not sure how.
Currently dead doc, Hugh Culber (Wilson Cruz) is definitely returning. "I'm not here just to say hello," he told an audience at SDCC 2018, back in July, suggesting that he won't just be appearing in flashback. "We knew it was the first chapter in a long love story. This was just a bump in the road… in my neck." So: Mirror counterpart? Clone? Phantasm inside Stamets' big brain? Place your bets now…
Conflicted human/Klingon Ash Tyler/Voq (Shazad Latif) will also be back. While nothing has been officially confirmed, showrunner Alex Kurtzman has all but stated that we will see more of him, stating: "We love Shazad. He's capable of absolutely everything we throw at him, and we have great plans for his character in season 2."
By the end of season 1, Mirror universe Georgiou (Michelle Yeoh) was alive and seemingly free in 'our' universe. She's back for season 2, though in what capacity remains ambiguous. A deleted scene from season 1 suggests that she was immediately recruited by Section 31 - Starfleet's morally dubious black ops division.
It seems likely that season 2 will set that in stone. Certainly it seems like CBS have big plans for the character – Deadline are reporting that Yeoh is in talks to star in her own spin-off, launching off the back of Star Trek Discovery season 2 and likely focussing on her exploits with 31. If and when that happens will depend on her ever-busy schedule.
Much less certain is the fate of the Prime universe Lorca (Jason Isaacs). Season 1 saw us get to know his evil Mirror counterpart, but the fate of the 'real' Lorca is tantalisingly oblique. Isaacs was a big hit and seemed to enjoy the role, so we'd lay money that his return at some point - perhaps this season, perhaps the next - is more a case of when, than if. Certainly, Alex Kurstman isn't writing the idea off. When asked at SDCC 2018 if Prime Lorca was coming back, he simply said, "Maybe".
Will there be new Star Trek Discovery uniforms?
Is there a new Star Trek Discovery uniform? Actually yes – well, sort of. As we have seen in the trailers, Captain Pike and the Enterprise crew are all rocking the more traditionally coloured uniforms of the original series. But in all the scenes set on the Discovery, Michael and the rest of the regulars are all wearing their blue Disco duds from the first series. As this season is said to tie the show firmly into Star Trek continuity then we wouldn't be at all surprised if it ended with the crew getting their new uniforms and whoever ends up Captain of the Discovery (Saru?) squeezing into the old mustard top...
Who are the Star Trek Discovery season 2 showrunners?
Star Trek Discovery season 2 finds the show in a slightly strange position with its creative team. Following the huge success of season 1, original showrunners Aaron Harberts and Gretchen Berg continued on into production of a second run, as expected.
However, as The Hollywood Reporter discovered back in June, the pair were fired midway through production, due to allegations of staff mistreatment and a ballooning budget. The rest of the season was taken over by Alex Kurtzman, who was already a producer on the show (as well as a screenwriter on the J.J. Abrams films).
It should be noted that, from all that has been said about the situation, Harberts and Berg's departure has nothing to do with their creative decisions. CBS were happy with Discovery's first season and the plans for Star Trek Discovery season 2, which suggests that despite these behind-the-scenes issues, the show is still creatively on course.
It's also clear that the show has been a hit for CBS, who reportedly had the budget for the first season (around $8 million per episode) paid for by Netflix, in exchange for the lucrative international distribution rights. That means the show made money for CBS before a single episode had aired, and all the indications are that season 1 was very popular.
What is the Star Trek Discovery season 2 plot about?
The Star Trek Discovery season 2 plot will see Discovery move away from the war theme of season 1 and explore more classic science fiction stories, as well as tying the show more firmly into established Trek continuity.
The story picks up immediately after the events of last year's finale. The USS Enterprise is investigating a series of mysterious "red burst" signals that are being detected around the galaxy. Captain Pike comes aboard the Discovery and takes charge, setting the crew a new mission. As he says in the trailer: "These mysterious signals are beyond anything we understand. Is it a greeting? A declaration of malice? Let's find out..."
Meanwhile, people are experiencing visions of a red angel that has a strange connection to both Michael and her half-brother Spock. One of the themes of the new season is said to be science versus faith, something that may prove particularly challenging for these two characters, coming from a logic-based society.
As well as this ongoing thread, Harberts promised "more away missions, newer planets, stories that might fall a little bit more into a framework of allegory that people love to get from Trek," while keeping the serial nature of the first season. While there will be less of a focus on the Klingons than in season 1, they will remain a part of the show, undergoing another redesign of sorts, this time to incorporate the flowing manes of hair seen in previous Trek series.
How to watch Star Trek Discovery season 2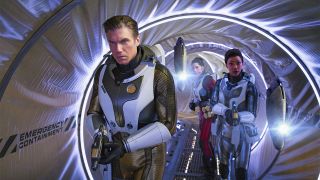 Star Trek Discovery season 2 will be coming to CBS All Access in the United States. The streaming service offers a free trial, before switching to a $9.99 monthly subscription. Amazon Prime members in the US can get the CBS All Access service for a reduced fee of $5.99 per month.
In the UK, the show will be returning to Netflix, with new episodes airing a day after their US transmission. Netflix plans cost between £5.99 and £9.99 a month after the month's free trial, and you can also watch all of season 1 (as well as every episode of the older Star Trek series) there. They're not showing the Star Trek Discovery Short Treks, however, so we'll likely have to wait for the season 2 blu-ray to see those.