It feels like we've been waiting a long, long time, but Red Dead Redemption 2 is finally here and the entire gaming world is waiting on tenterhooks to see just how good Rockstar's epic really is. Well, as you can see in our review, it's amazing, and in part because of how glorious the Red Dead Redemption 2 map is.
Its vast, vast landscape is kind of split into two distinct areas. The main section is over to the right, with your towns like Valentine and Strawberry (which are just adorable), and Rockstar's take on New Orleans. And then, there's a secret area over to the left that you won't be able to access until the very end of the game, and happens to be super spoilerific. So, if you want to check out the full Red Dead Redemption 2 map in all its glory, scroll on down and watch the video below, but of course, it will be spoiler-tastic. So don't say we didn't warn you.
LAST CHANCE TO AVOID SPOILERS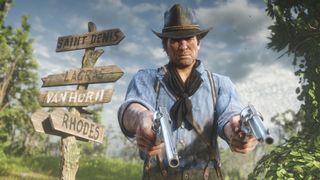 SERIOUSLY, LAST CHANCE. AVERT YOUR EYES.
Okay, here we go:
So there you have it. the full Red Dead Redemption 2 map, complete with a tonne of locale spoilers, so sorry if your little eyes are now all sad because you know where you're eventually going to be headed in the game, but we did warn you.
Want more Red Dead Redemption 2 details? Check out our extensive Red Dead Redemption 2 tips.