There's six Pokemon Scarlet and Violet legendaries: Koraidon, Miraidon, Chien-Pao, Ting-Lu, Wo-Chien and Chi-Yu, the last four of which are hidden. Koraidon and Miraidon are exclusive to Scarlet and Violet respectively, meaning you'll have to trade if you want them both, but the others - the Ruinous Quartet - are found in all versions of the game. Whatever you want, we'll explain how to get all the Scarlet and Violet legendary Pokemon below, with locations, types, strengths and weaknesses.
All Pokemon Scarlet and Violet legendary Pokemon
There's currently a total of six legendary Pokemon in Scarlet and Violet, not including any that may be added from previous games or in future DLC.
All of these Pokemon are encountered separately, but it's the first two - Koraidon and Miraidon - that are the biggest deal, as they're central to the plots of Pokemon Scarlet and Violet. Contrarily, it's entirely possible to go through the whole game and never find the others to add to your Pokemon Scarlet and Violet Pokedex, as the chance to catch them is the reward for completing several long scavenger hunts. We'll cover each of them individually below so you know what they have to offer, and what they can do.
Pokemon Scarlet and Violet box art legendaries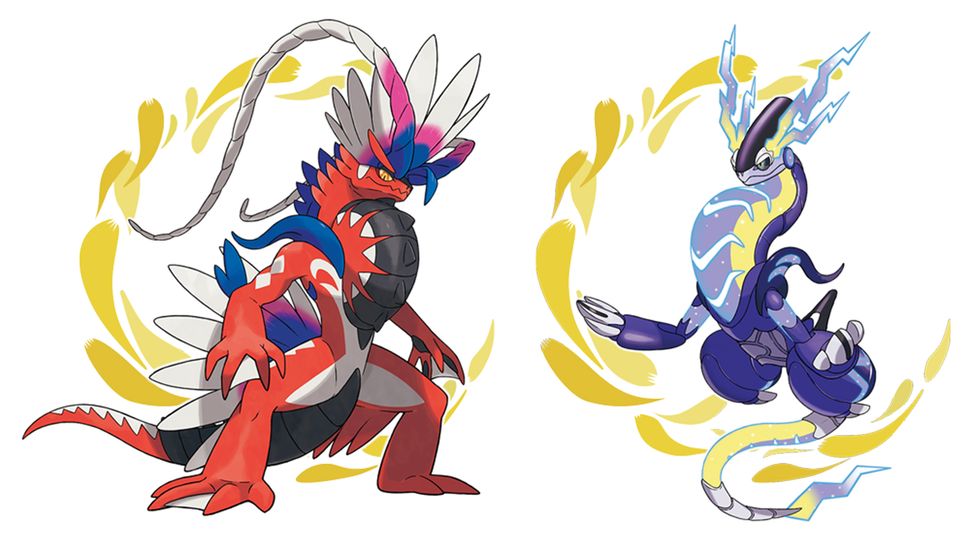 The two games' mascots are the main legendary Pokemon, with red, frilled Koraidon on Scarlet, and the neon-tinted, more serpentine Miraidon on the box for Violet. It's worth clarifying here and now that Koraidon and Miraidon are both exclusive to their games, and there's no way to get them without trading with another player with a different version of Generation Nine. Yeah, we were disappointed too.
Both Koriadon and Miraidon are also recognisable for acting as mounts in their respective games, and gain a vast range of abilities that unlock as you play outside of combat, including leaping, gliding, surfing and climbing. If you want to know how to unlock their full potential, including accessing their battle forms, we've got a page on how to unlock all the Pokemon Scarlet and Violet Koraidon and Miraidon abilities here.
From here on out, be warned: some spoilers for the plot of Scarlet and Violet to follow!
Koriadon
Type: Fighting/Dragon
Level (when encountered): 68/72
Ability: Orichalcum Pulse - turns the sunlight harsh when the Pokemon enters a battle and boosts its attack in harsh sunlight.
Location: Poco Path/Area Zero
Koriadon is a Pokemon first encountered early on in the plot of Pokemon Scarlet on the Poco Path beach as part of the main story. After choosing from the Pokemon Scarlet and Violet starters, you'll explore the local area with Nemona and end up falling down a cliff to meet Koriadon, whereupon it'll join your party - however, it won't be able to actually fight until a much later point in the game, serving as a mount and means to travel until then.
There's a second Koriadon that can be caught in Pokemon Scarlet - after completing the main plot, return to Area Zero and outside the laboratory on a raised crystal platform you'll see another one of a slightly higher level than the one you met before.
Either Koraidon has superb stats, especially its attack and speed, and its combination of types leave it with more resistances than weaknesses. It's an obvious credit to any party, and its unique Fighting-type attack, Collision Course, is boosted more than normal when it lands a supereffective hit, making an advantage even more devastating.
Miraidon
Type: Electric/Dragon
Level (when encountered): 68/72
Ability: Hadron Engine - turns ground to Electric Terrain, and boosts special attack when Electric Terrain is active.
Location: Poco Path/Area Zero
Pokemon Scarlet and Violet Iron Hands Raid build
Make the overpowered Pokemon Scarlet and Violet Iron Hands Raid build with our help here!
Like Koraidon, Miraidon is encountered in the same place in the story and world, at Poco Path early after beginning the game, and also is unable to battle until a much further point in the main plot. And again, you can find a second Miraidon outside the Area Zero lab run by Professor Turo after completing the campaign, something that's definitely worth doing - if you and a friend with Scarlet both get back-ups of the legendaries, you can trade them with each other!
Miraidon has similar stats to Koraidon, but trades in its high attack stat for a high special attack - which makes sense considering all the electric moves it learns. Its unique attack, Electro Drift, is an Electric-type special move that also does boosted damage on supereffective hits.
The reason both Koriadon and Miraidon are so similar is that they're implied within the story to be the same species at different points in history, and evolution - the real kind, not the quick power-up version - has changed them along the way. Koraidon is effectively a dinosaur from the past, and Miraidon is a cyborg from the future, making them both examples of the Pokemon Scarlet and Violet Paradox Pokemon.
Pokemon Scarlet and Violet Ruinous Quartet legendary Pokemon
These four legendary Pokemon are given multiple names - the Ruinous Quartet, the Dark Quartet, the Treasures of Ruin - and are surprisingly dark in theme, the living manifestations of hatred and envy of an evil king from the past. To find them all, players need to discover the Pokemon Scarlet and Violet Stakes and Shrines, hidden lairs that are locked until players can find and pull the special Stakes out of the ground all over Paldea - which the attached guide will help you do! If you're still on the fence about whether it's worth doing, here's the four Ruinous Pokemon laid out. We hope you like Dark-types, as they're all dark/something.
Chien-Pao
Type: Dark/Ice
Level (when encountered): 60
Ability: Sword of Ruin - lowers defense of every Pokemon except Chien-Pao.
Location: West Providence (Area One), Icerend Shrine
Probably the coolest-looking of the Ruinous legendaries, Chien-Pao is an ice-powered sabre-toothed tiger. Their typing leaves them open to a lot of weaknesses as per the Pokemon Scarlet and Violet type chart, but their high attack attack and speed stats, as well as their Sword of Ruin ability, means they can often beat an enemy before even taking a hit.
Ting-Lu
Type: Dark/Ground
Level (when encountered): 60
Ability: Vessel of Ruin - lowers special attack of every Pokemon except Ting-Lu.
Location: Soccorat Trail (North of Casseroya Lake), Groundblight Shrine
Ting-Lu is a physical tank, a big moose/reindeer with a bowl on its head that grants it excellent HP and defense stats, not to mention the Vessel of Ruin making it even harder to hurt.
Wo-Chien
Type: Dark/Grass
Level (when encountered): 60
Ability: Tablets of Ruin - lowers attack of every Pokemon except Wo-Chien.
Location: South Province (Area One), Grasswither Shrine
The Snail Trail of stakes leads you towards Wo-Chien, a large grass-type snail who can tank special attacks, contrary to Ting-Lu's ability to tank physical ones. It also helps that Wo-Chien learns Giga Drain, so any damage taken can be undone easily.
Chi-Yu
Type: Dark/Fire
Level (when encountered): 60
Ability: Beads of Ruin - lowers special defense of every Pokemon except Chi-Yu.
Location: Fury Falls in North Province (Area Two), Fireblight Shrine
The final member of the Quartet is a tiny goldfish made of supercharged magma, that serves as a glass cannon for special moves. It also helps that it learns a wide variety of diverse attacks, so it can have something ready for any situation.