San Diego Comic-Con is in full swing, and all anyone can talk about is the imminent Marvel SDCC 2019 panel. There's a rumour going around the internet that Marvel fans are paying other people to wait in line for them. The going rate? Allegedly $300, though take that with a pinch of salt. So, why all the excitment about one panel? The 90-minute event looks set to be the grand unveiling of Kevin Feige's Marvel Phase 4 plan. What that includes for certain, nobody can say. But, in short, the Marvel San Diego Comic-Con 2019 panel will be utterly unmissable.
Of course, it's no good getting hyped up if you don't know the lowdown when it comes whether there will be Marvel streams, as well as the date and time of the big Marvel SDCC 2019 panel. Us Marvel fans over here at Gamesradar+ have laid it all out for you down below - so you can get on the ground floor early for a potential Eternals reveal, as well as whether the X-Men and Fantastic Four are expected to crop up in any way.
While you're here, be sure to check out the full San Diego Comic-Con 2019 schedule. You can also read about everything we learnt from the Avengers: Endgame writers Hall H panel, and what the Russo Brothers unveiled during their panel.
When is the Marvel San Diego Comic-Con 2019 panel?
First things first: the Marvel San Diego Comic-Con 2019 panel time and date. It will take place at the San Diego Convention Centre's iconic Hall H at 5:15 pm PT on Saturday, July 20. For those of you across the pond in the UK, that's a bleary-eyed start time of 1:15 am on Sunday, July 21.
Can I watch the Marvel San Diego Comic-Con 2019 panel live?
One of the odd quirks of San Diego Comic-Con is that, despite it being one of the biggest pop culture events in the world, its panels are never streamed live. Unless you're lucky enough to snag a ticket on the day, the only way you'll be able to keep abreast of all the goings-on at the Marvel panel is to keep an eye on the official Marvel Studios Twitter account.
Handily, GamesRadar+'s sister publications Total Film and SFX will have boots on the ground, so keep an eye on the Total Film Twitter account, SFX Twitter account, and GamesRadar Twitter account throughout Saturday evening.
Marvel San Diego Comic-Con 2019 panel: the likely reveals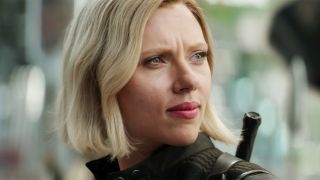 Marvel Phase 4 is almost certainly going to be shown off at San Diego Comic-Con 2019. It's the perfect storm of fan expectation, industry hype, and a sizeable platform to show off several new additions to the MCU during the 90-minute presentation.
It's a good thing that arrivals are on the way because Marvel has a lot of dates to fill – there are currently eight 'Untitled Marvel' films scheduled for release, as per the recently-announced Disney slate.
May 1, 2020
November 6, 2020
February 12, 2021
May 5, 2021
November 5, 2021
February 18, 2022
May 6, 2022
July 29, 2022
That means, yes, there are potentially eight new Marvel movies to be shown at San Diego Comic-Con 2019. That fits in nicely with the confirmed slate of new Marvel movies that have already been reported on by trade publications.
The Black Widow movie
The Black Widow movie is the only Marvel Phase 4 movie currently filming. The Marvel higher-ups haven't yet confirmed the movie's existence, but we've had multiple reveals, such as THR's initial reveal that the Black Widow was in production, plus some curious-looking set photos that hint at the movie's timeframe.
Eternals
The second of Marvel's unofficial upcoming slate is The Eternals. If you thought Guardians of the Galaxy was weird, get a load of these guys – they're near-omnipotent demigods that have been around for thousands of years. September 2018 saw the first reports regarding The Eternals emerge, while we've also had a pinch-of-salt rumour in the shape of Keanu Reeves being lined up for a role.
Shang-Chi
Shang-Chi is yet another movie that's been talked about in hush-hush fashion. While details about it haven't emerged quite as readily as the previous two on this list, THR reports that Destin Daniel Cretton has signed on to direct the martial arts flick. Don't be surprised to see Shang-Chi's actor walking out at the panel, either.
Guardians of the Galaxy 3
We know this one's coming. Why? The whole James Gunn thing. The Guardians director was publicly dragged over the coals last year, before being re-hired in early 2019. A Guardians of the Galaxy 3 script has been circulating, with some sources saying it made them all teary-eyed. D'aww. This one is a certainty – and keeps the MCU grounded with some familiar faces.
Doctor Strange 2
Speaking of familiar faces, the Sorcerer Supreme is back for a second time. Scott Derrickson is reportedly returning to direct the Doctor Strange sequel. It could be shown off via a snazzy logo at the San Diego Comic-Con panel.
Black Panther 2
News of Black Panther 2 – while inevitable in its existence – comes from an unlikely source: the notoriously tight-lipped Kevin Feige. He recently revealed to BET (via CNet) that director Ryan Coogler is working on a script for the movie as we speak.
Thor 4
It's not called Thor: Ragnarok 2... yet. Taika Waititi, though, is back to follow up on the hugely successful, hilarious romp that took the God of Thunder to Sakaar, before belowing up Asgard. Chris Hemsworth is also "expected" to return. A good thing, too, as Thor 4 wouldn't be Thor without Thor. Try saying ten times in a row.
Those are the rumoured and reported batch of movies – which leaves one unaccounted for. Those will probably form part of any big shocks that Marvel has prepared. Of course, a Spider-Man: Far From Home sequel, Captain Marvel 2, and another Avengers movie could all crop up and form part of Phase 4, too. Expect one of the latter two to be present alongside the other seven when Kevin Feige pulls back the curtain on what Marvel Studios has been working on, especially as Spidey technically still counts as a Sony venture.
What can we learn from the Marvel Phase 3 announcement?
Will Marvel really go that big? In a word: yes. For a similar reveal on the potential scale of the Marvel San Diego Comic-Con 2019 panel, you only have to look back a handful of years. Marvel's October 2014 Phase 3 unveiling gave the public their very first glimpse at Captain America: Civil War, Guardians of the Galaxy 2, Black Panther, Captain Marvel, Doctor Strange, Thor: Ragnarok, Inhumans (about that…), and Avengers: Infinity War Parts One and Two – later split into Infinity War and Avengers: Endgame – all at once.
That's eight movies that now rank among some of the best Marvel movies around, plus one that fell by the wayside with Inhumans. That tells us that Kevin Feige (and Marvel Studios) isn't scared to throw a whole load of reveals out there at once – and it could be the same again with the eight slots on July 20.
Of course, there's the small matter of D23, Disney's premiere convention happening in August. Falling under the House of Mouse umbrella means that, even if we get some major shocks at San Diego Comic-Con 2019, Feige and company may hold some things back until then compared to 2014's mega news-dump – so don't be too disappointed if your favourite hero doesn't make it on to the big screen just yet.
Will X-Men and Fantastic Four be announced?
It would be very, very unlikely to happen at this moment in time. Kevin Feige has been very vocal in the past about a five-year plan (i.e. a Phase) being in place for the MCU moving forward.
As of earlier this year, Feige said that Fox properties, such as X-Men and Fantastic Four, wouldn't be part of that plan. However, don't be surprised if there's a brief tease. A Wolverine snikt or follow-up to the Far From Home Fantastic Four Easter egg wouldn't be beyond the realms of possibility.
Past Marvel San Diego Comic-Con panel highlights
Of course, it's not just Kevin Feige standing up on stage for 90 minutes to take in a well-deserved ovation as he slowly reads off a projector. There's bound to be special guests and surprises that will shake the fanbase to the core. After all, as you'll soon see, past Marvel San Diego Comic-Con events have provided those in abundance.
While 2015 and 2018 have been skipped in recent years, Marvel Studios has made its presence known across nearly a decade in Hall H and beyond. Here's each of the highlights from previous panels:
2012: Edgar Wright's Ant-Man (hey, remember that?) test footage shown; Guardians of the Galaxy announced
2013: Avengers: Age of Ultron announced
2014: Josh Brolin cast as Thanos; Guardians of the Galaxy 2 announced
2016: First footage from Doctor Strange and Spider-Man: Homecoming; Brie Larson cast as Captain Marvel
2017: Avengers: Infinity War first look
The through-line for all of the past Marvel San Diego Comic-Con panels has been that you're getting at least one of the following: A) A big movie announcement (oh yeah, that's happening); B) Exclusive footage that probably won't be released online (boo); And C) Some big casting news.
They don't come much bigger than Brie Larson and Josh Brolin – but imagine if Keanu Reeves waltzed onto the stage. He's become the official conference king after his E3 2019 appearance and would probably break the internet – again.
So, that's it for our extensive look at what to expect from the Marvel SDCC 2019 panel. What are you most looking forward to?