While we drag our heels through the early part of the year, it feels like nothing can pep you up. However, it is definitely a wonderful time of year to treat yourself to one of the best PS4 bundles currently out in the wild - it will definitely boost your spirits as you crush your enemies in God of War, or swing freely through the city in Spider-Man. Whether you're looking to embrace all things PS4 for the first time this February or maybe you're in the world of PlayStation already but are eyeing up that 4K upgrade with the PS4 Pro, or perhaps you're just in the market to snap up some of the best deals on accessories and games available. Whatever you're on the hunt for, we've got you covered and this here page will give you a headstart on where to get the best PS4 bundle deals at the big retailers.
Best deal now
PS4 Slim 500GB + Red Dead Redemption 2 for £249 at Currys
A perfect place to begin by getting Rockstar's wild west behemoth effectively for free with a PS4 slim model.
There's really no better time to embrace PlayStation's current console and games as we are riding the crest of the PS4 wave, right at the top of its advancements, game library collection and capabilities. And, most importantly, this means the amount of joy to be had through Sony's console is at its greatest. Yes: joy. PS4 most definitely sparks joy.
There's always deal to be had for bundles around their normal list price so these are the ones to look out for. Retailers will often have a PS4 Slim or PS4 Pro bundle that's being sold at the same price as the console would be on its own but with a game (or, a little more rarely, two) thrown in. Generally, if you can stretch your budget with bundles, you'll make savings as the deals stack up and the accumulated discounts are definitely of benefit.
Best PS4 Pro prices | PS4 accessories | best PS4 headset | PlayStation VR bundles | best PS4 steering wheel | best PS4 external hard drive
Console Only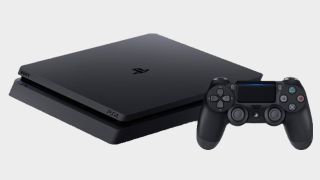 Maybe you don't want a PS4 bundle? Maybe you want to just buy a PS4 console and get your own games for it? After all, you only need a console and a PS Plus subscription to play the likes of Fortnite. Here are the best prices you'll find on just the console, on its own.
Sure, the PS4 Pro is an expensive console in its own right, so a PS4 Pro bundle might seem excessive, especially if you're just upgrading from your regular PlayStation console. Here are the current best prices on the PS4 Pro on its own.
PS4 Bundles
PS4 Slim 500GB + Red Dead Redemption 2 for £249 at Amazon
Take a very detailed and immersive trip into the American Wild West with Rockstar's latest entry in the series in this bundle. View Deal
PS4 Slim 500GB + FIFA 19 for £249.99 from Argos
A great value bundle, perfect for football fans, coming with the latest instalment of the behemoth FIFA series and a rare team and players package. View Deal
PS4 Slim 500GB + Red Dead Redemption 2 + PLAYER UNKNOWN'S BATTLEGROUNDS for £269.99 at Very.co.uk
Brilliant for those who love to explore, shoot and survive, this bundle includes the Wild West monster Red Dead Redemption 2 and PUBG - the latest Battle Royale game to come to PS4.
PS4 Slim 1TB + God of War for £299.99 at Currys
Get one of the best games of last year with the larger capacity PS4 - this larger hard drive makes it a very competitive deal. (Currys are also selling a 1TB PS4 with Spider-Man for the same price here.)View Deal
PS4 Pro Bundles
PS4 Pro 1TB + Spider-Man for £349.99 at Currys
One of the best PlayStation exclusives of recent years with Sony's premium console at a very competitive price? Winner. View Deal
PS4 Pro 1TB + God of War for £349 at Currys
The best PS4 console with one of the best games of last year - arguably of the generation - that you can only play on PS4, effectively for free. Amazing.View Deal
PS4 Pro 1TB + Red Dead Redemption 2 for £349.99 at Argos
The best way to enjoy Sony's top-end console - with one of the best games of recent years and of this generation.View Deal
PS4 Pro 1TB + Spider-Man for £349.99 at Very.co.uk
Get yourself a Pro console and enjoy one of the best superhero games ever for a top price.
View Deal
PS4 Games
God of War
We gave God of War 5/5 in our review, and hailed it as the best PS4 game of all time. You'll find it at the top of so many 'best games of 2018' lists. It is absolutely essential, and if you haven't played it, you really should. Here are the best prices.
Red Dead Redemption 2
The latest, greatest game from Rockstar is an absolute masterpiece. We awarded Red Dead Redemption 2 5/5 at review, and hailed it as one of the greatest technical achievements in gaming, ever. It's the hottest game right now, and here are the best prices on it.
Spider-Man
The coolest superhero game ever made, and just heaps of fun, we awarded Spider-Man PS4 a 4.5/5 in our review. The feel of playing is amazing, and this one is a PS4-exclusive. Here's where to get it cheapest.
Horizon: Zero Dawn
The best PS4 game of 2017, Horizon: Zero Dawn is an absolute masterpiece of open-world adventure gaming, and it has a stunning story too. We awarded it 4.5/5 in our review, and hailed it as the best game to get if you own a 4K set-up. Here are the cheapest deals on Horizon.
PS4 Extras
If you need a spare controller for your console, you should check out our guide to finding PS4 controller cheap deals... or just choose a regular one from the price chart below. Always go official when it comes to controllers, and make sure you buy one from new...
If you still haven't quite made your mind up on which console is right for you, then check out our best Xbox One bundle deals and our best Nintendo Switch bundle deals for more hardware offers.
Some online stores give us a small cut if you buy something through one of our links. Read our affiliate policy for more info.