As expected, the Red Dead Redemption 2 map is enormous. From the starting area in the north-west corner of Ambarino, to the bustling town of Saint-Denis in the south-east and the original Red Dead Redemption area in New Austin, you won't be able to see it all in a day.
There's so many winding paths and hidden encounters to find, you'll still be discovering new areas and locations even when you've completed the story. This includes an entire area that is full of Red Dead Redemption 2 spoilers, but if you don't mind about spoilers, then go ahead and carry on reading.
LAST CHANCE TO AVOID SPOILERS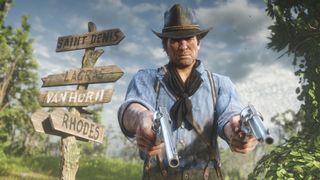 SERIOUSLY, LAST CHANCE. AVERT YOUR EYES.
Okay, here we go:
So there you have it. the full Red Dead Redemption 2 map, complete with a tonne of locale spoilers, so sorry if your little eyes are now all sad because you know where you're eventually going to be headed in the game, but we did warn you.
Want more Red Dead Redemption 2 details? Check out our extensive Red Dead Redemption 2 tips.