The best Wild Hearts weapon on our tier list is the Karakuri Staff, with the Bow, Katana and Claw Blades just below that. The staff itself is pretty devastating, shifting between several different forms for huge damage and versatile combos, but everything on the Wild Hearts weapon tier list is deadly, it's just a matter of comparisons. Whether you're pulling from the S-tier or the C-tier, our best Wild Hearts weapon tier list will help you pick blades, bow or more besides.
Wild Hearts Weapons tier list
All the Wild Hearts weapons have been arranged below in the following tier list. We may update this from time to time, as balances, patches, and discovered exploits shift things around, but for now - this is where things stand. Click on any of them, or scroll down for more info!
S-tier
A-tier
B-tier
C-tier
Wild Hearts' best weapon
The best weapon in Wild Hearts, from what we've experienced, is the Karakuri Staff, a lethal, versatile weapon that shifts between four different forms, or "mutations", but somehow remains easy enough to use, perhaps because none of the mutations are actually different enough to really change the process too much. It hits quickly, it does good damage, and charging it up is easy enough and results in a massively deadly attack. Use it well, and very little will be able to stop you.
Best weapons for beginners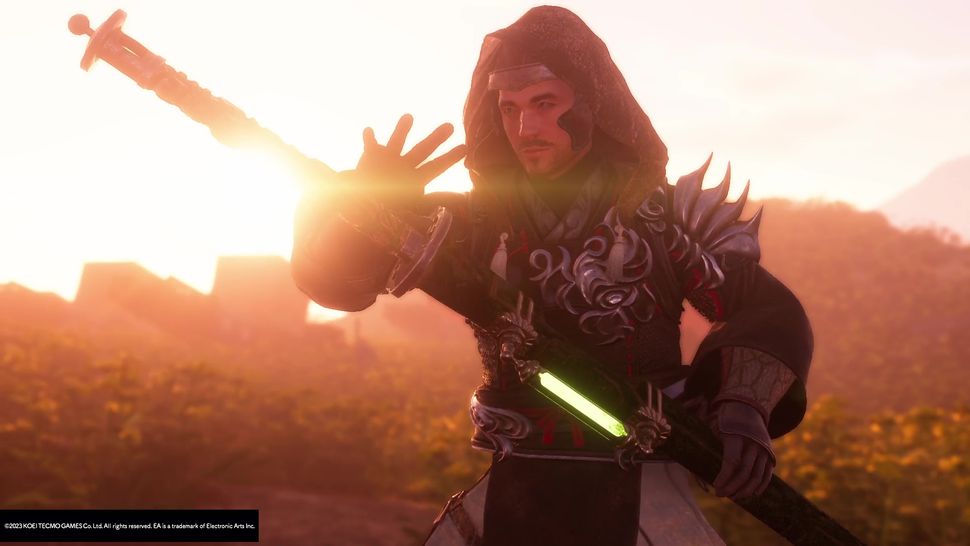 If you're starting out and want an easy weapon, we recommend either of the following: (omitting the Staff, Claw Blades and Hand Cannon, which aren't unlocked until some way in)
Katana: Your starting weapon doesn't have the simplest move set, but it's versatile and easy enough to use on a basic level, and spamming attacks isn't not an option - plus it's powerful when combined with your basic built Karakuri structures, especially the three-box-bounce leading to mid-air slash.
Nodachi: The Maul hammer and the Nodachi are both big, heavy weapons, but the Nodachi is a slightly simpler one to use, as the Maul's extension combos are a little difficult to master. The only issue is working out when it's safe to strike - as its actual attacks are slow and can leave you vulnerable.
How to unlock all weapons in Wild Hearts
Players start with five weapons they can craft at the forge, and three that remain locked. Those will remain locked until chapter 2 in the campaign, between 4-8 hours in, depending on how much you grind or explore. Here's the precise sequence of events:
Play through the campaign/critical path until you reach the Earthbreaker.
Defeat the Earthbreaker.
Go back to Minato Village for the Festival.
The next morning, there'll be an optional objective to speak to Natsune about new weapons.
Talk to her, and the Claw Blades, Hand Cannon and Karakuri Staff will be added to the forge.
Weapon upgrades
Weapon upgrades are done at the Forge. Select a weapon in your inventory and you'll be able to purchase upgrades for it by spending resources and gold, including resources cut off or from Kemono monsters. Here's a few things to keep in mind:
Weapon upgrades are not straight paths, but branching choices. You can't apply every upgrade to a weapon - instead, build it to a specific thing.
You can rebuild a weapon by selecting a previous upgrade and paying gold to downgrade it back to a certain point in the tree. However, you won't get back any materials you used to upgrade it originally.
Not all upgrades will be available from the start - more will unlock as you kill more types of Kemono.
Some Weapon upgrades allow you to apply certain kinds of elemental damage, which will make your weapons very effective against some foes and terrible against others. Choose carefully, or just have a variety of weapons in storage upgraded to different elements!
All weapons in Wild Hearts
From this point on we'll go through all the weapons in Wild Hearts individually, what they do and how they function as a whole.
Karakuri Staff
Fighting style: Melee weapon that mutates into different forms for different attack patterns
Skill level: Easy
Damage type: Slashing
Tier-list ranking: S
Our favourite weapon, the Karakuri Staff uses R2/RT to morph between four different forms - so it's rarely a staff at all, flickering through different shapes with different attack patterns. Still, it's not hard to use at all, as each form works roughly the same way, so while skilled players will be able to utilise it more effectively, newcomers will still be able to do some serious damage. Meanwhile, mixing mutations into combos fills up the weapon gauge, which can then be spent for a huge damage finisher.
For a more in-depth explanation, check our Wild Hearts Staff guide.
Bow
Fighting style: Fires two types of arrows - Haya bombs and Otoya detonators
Skill level: Hard
Damage type: Piercing
Tier-list ranking: A
As hard on the user as it is on enemy monsters, the Bow is a ranged weapon that fires two kinds of arrow. When held horizontally, it fires Haya arrows that stick in opponents, doing unremarkable damage. However, when you hold the Bow vertically, it then shoots Otoya arrows that detonate all the Haya shots in the monster for massive damage. And then you can hold the shot down for more powerful attacks, or bolster the bow with Y/Triangle - so yeah, there's a pretty potent damage output.
For a more in-depth explanation, check our Wild Hearts Bow guide.
Karakuri Katana
Fighting style: Quick slashes that build up to a temporary "Unbound" power
Skill level: Easy
Damage type: Slashing
Tier-list ranking: A
The starting weapon in Wild Hearts is a very good one, with Katana as a solid all-rounder weapon that blends speed, damage and utility. Move fast, hit hard, and once you've done enough damage you'll unlock the Unbound mode for a new moveset and higher damage. It also blends well with the starting Karakuri builds, with the three-crate stack allowing you to drop into a high-damage smash that's one of Wild Heart's deadliest attacks.
For a more in-depth explanation, check our Wild Hearts Katana guide.
Claw Blades
Fighting style: Fast strikes and rope swings that focus on evasion and aerial assaults
Skill level: Medium
Damage type: Slashing
Tier-list ranking: A
The Claw Blades are strange, esoteric weapons, but fun to use and potentially very powerful. You can do a variety of rapid slashes, but certain attacks will embed a rope in the enemy, which you can then use to fling yourself around or pull yourself towards them. Expect to be flying around constantly with the Claw Blades - and while you might struggle to land reliable damage all the time, your enemies will find it equally hard to hit you back. If you can learn how to control your elastic trajectories, you'll be incredibly dangerous.
For a more in-depth explanation, check our Wild Hearts Claw Blades guide.
Maul
Fighting style: Heavy, SLOW smashes that escalate in power
Skill level: Easy/Medium
Damage type: Blunt
Tier-list ranking: B
The Maul is easy to use, a little harder to master. It does massive strikes, but its slow speed means you have to be careful about when you unleash it. Not only that, but when it flashes mid-combo, pressing RT/R2 extends the handle and increases the damage for the next stage of the combo, which is incredibly powerful, but demands good timing. Picking you moments with this weapon will make it incredibly deadly - but fouling it will be incredibly punishing.
For a more in-depth explanation, check our Wild Hearts Maul guide.
Bladed Wagasa
Fighting style: Fast attacks and parries that increase weapon power
Skill level: Medium
Damage type: Piercing
Tier-list ranking: B
The umbrella-like Bladed Wagasa offers the best defense in Wild Hearts, as its RT/R2 parry can block literally any attack - but the actual timing is pretty hard to master, especially when a lot of enemies will try and feint you. As you parry attacks and do damage, you'll increase the guage in the bottom left, and boost the Wagasa's damage when it hits the notches. Just make sure to keep in the fight - it drains fast when not used.
For a more in-depth explanation, check our Wild Hearts Bladed Wagasa guide.
Nodachi
Fighting style: Large strikes in a variety of wide, slow combos
Skill level: Easy
Damage type: Slashing
Tier-list ranking: B
The Nodachi is a hybrid of the Katana and the Maul, featuring the versatile combos of the first and the slow speed of the latter. It's pretty easy to use on a basic level, though those who spend time learning its many, many combo variations will get far more out of it. You should also keep in mind that its Planted Iai Stance attack (hold RT/R2) is a stamina-draining super attack that does some of the best damage in Wild Hearts.
For a more in-depth explanation, check our Wild Hearts Nodachi guide.
Hand Cannon
Fighting style: Heavy ranged attacks while the player constantly tracks heat, ammo and Ki Bases
Skill level: Hard
Damage type: Blunt
Tier-list ranking: C
The Hand Cannon does a lot of damage with each shot, but there's so much maintenance and reduced mobility that it's kind of a nightmare, especially if you're playing solo without other players to take the monster's attention. Each shot increases the cannon's heat and uses up Thread Ammo, and ammo only restores when you put down a "Ki Base" effect and stand in it, risking making you a sitting duck.
And then the cannon overheats and becomes unusable! It's capable of powerful things when used right, but it kind of takes the long way round to reach the same point as the other weapons.
For a more in-depth explanation, check our Wild Hearts Hand Cannon guide.