We've been holding out for some solid PS5 deals in the US and all that waiting seems to have paid off. You'll find $50 off a standalone console at a range of retailers right now, from Amazon to Walmart. That means the PS5 is now just $449 at Amazon - a record low price and the first major discount to hit the shelves.
Considering we were scrabbling for stock just a few months ago, that's pretty good going. $50 is a considerable saving for the console's first discount and is far more than we've ever seen off the Xbox Series X. With both consoles carrying the same MSRP, it's the better buy this weekend from a price standpoint. You'll find this offer live at Amazon, Walmart, and Best Buy right now, with bundle prices falling accordingly as well.
We were expecting PS5 deals to first shave some cash off this MSRP this year, but we had our money on Black Friday for a saving of this level. That said, discounts hitting the UK last week suggested something might be coming our way. A random Sunday in August works just fine as well, especially if you've been holding out for a slightly lower price point.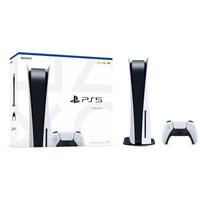 PS5 | $499.99 $449 at Amazon
Save $50 - Amazon has the PS5 at $50 off its $499.99 MSRP. Needless to say, this is the lowest price we've ever seen the console by itself - excellent news if you've been holding out for a discount.
Also Available: Walmart: $449 | Best Buy: $449.99
Should you buy a PS5?
If you haven't already taken the new generation leap, there are likely two reasons why; you're still rocking the PS4 just fine or you're undecided between Sony and Microsoft's entries. If you find yourself in the former camp, and you have the cash to splash, it's well worth investing in the next generation. Obviously the PS5 is a massive step up from the PS4 Pro, with a huge graphical leap, a faster processor, improved cooling (and audio levels), and extra RAM to boot. Of course, you'll need a solid 4K TV to get the most out of your console, as well as a hunger for new generation exclusives.
The decision to buy a PS5 becomes a little more complex when you're torn between the Sony console and Xbox Series X. The size of the PS5 might be prohibitive if you don't have a lot of space to work with, but it's going to be those sweet exclusives that bring you over to Sony's side. With PS Plus now offering a Game Pass-competing library of titles to play as and when you like, and a similar level of power between the two devices you're going to have to decide whether you prefer Final Fantasy to Halo.
Has the PS5 ever been on sale before?
We've seen a few dollars off the PS5 in previous algorithm-driven pricing adjustments, but PS5 deals have never reached these $50 record discounts before. Before today, bundles offering a small $10-ish saving on a game would have been your best bet for saving on that lofty MSRP, so this weekend's value is unparalleled.
More of today's best PS5 deals
Whether you're after some of the best PS5 accessories to enjoy with your new device, or the latest cheap PS5 game deals to get you started, we're rounding up all the latest prices on some of our top picks just below.
Of course, we're also keeping you stocked with the best PS5 games yet, as well as the best PS5 headsets and best PS5 controllers.