May 4th, or 'Star Wars Day', has kicked in, and Lego's getting in on the action with some surprisingly good freebies.
If you spend a certain amount on Star Wars Lego at the official Lego site (or Lego UK) between now and May 7th, you'll be given a free set to go along with your purchase. Buy something worth $40 / £35 or more? You'll receive a miniature X-Wing model. Drop $150 and above? A little Death Star II will get thrown in there as well, all in honor of Star Wars day (though sadly it seems to be a US exclusive - sorry, fellow Brits).
Lego VIP members get an even better offer. Alongside the above, they'll get a coin gift set depicting the Death Star with any purchases over $85 / £80. Seeing as it's free to sign up to be a VIP member and also gets you discounts ($10 on a Dark Trooper helmet in the US or £10 on Mando's N-1 Starfighter, among others), that's not too shabby.
Considering the Ultimate Collector Series X-Wing just went on sale and retails for $239.99 / £209.99 at Lego, you could get all of the above to go with it. Similarly, grabbing the new Emperor's Throne Room or Endor Speeder Chase dioramas (which were revealed ahead of Star Wars Celebration last month) will also earn you the mini X-Wing at the very least.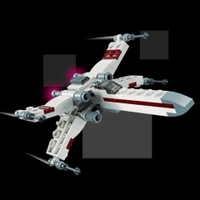 Star Wars Day promo | See the offers at Lego
Besides getting freebies if you spend over a certain amount, you're also able to save on certain kits if you're a VIP member. The sets on offer will vary depending on your region, so check out the Lego Star Wars Day page to see what's up for grabs.

UK deals: See the promotion at Lego UK

---
For all things merch from a galaxy far, far away, check out the best Star Wars board games, these Star Wars gifts, and the ultimate Lego Star Wars sets.