PS5 bundle deals were once a pipe dream, but now that stock has leveled itself out we're seeing more and more offers hitting the shelves. We're not at the point yet where these kinds of discounts are commonplace, though, which is why it's well worth jumping on rare savings when they do appear. The latest bundle to hit the shelves comes from Dell, with a copy of God of War: Ragnarok and a Cosmic Red DualSense controller packaged in with your disk edition PS5 console all for $589.99.
Taken separately, the PS5 console would normally set you back $499.99, God of War hits at $69.99, and the special edition controller carries a $74.99 MSRP. That means you're getting $644.97 worth of kit for a great price here, with a total of $54.98 in savings. Dell is touting a slightly smaller saving amount on its product page ($44.99), likely due to the fact that the standard God of War bundle by itself already slashes $10 off the price of the game.
It's worth noting, though, that that $10 saving is all we really tend to see. Stock might be well and truly out in the open, but PS5 deals like this are still hard to find.
This is a great offer for anyone looking to get their hands on a spare (and red) controller from day one. You're essentially picking up one of the more expensive DualSense models (standard editions sit at $69) for $45 - that's the cheapest we've ever seen a PS5 controller go, regardless of color.
If you're not fussed about the extra gamepad, though, there are cheaper PS5 deals to consider. The God of War bundle by itself is readily available at Amazon right now, for example, sitting at the regular $559 price point. That's not the biggest saving in the world (the aforementioned $10 off the game), but it takes a slightly smaller wedge of savings out the bank.
You'll find more information about both of these offers just below, and more PS5 deals further down the page.
Today's best PS5 bundles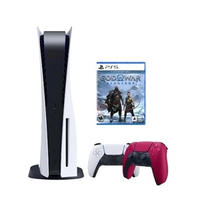 PS5 | God of War: Ragnarok | Cosmic Red DualSense controller | $634.98 $589.99 at Dell
Save $44.99 - While Dell is touting a $44.99 saving while taking the already discounted God of War: Ragnarok game into account here, you're actually saving a full $54.98 when you consider the $69.99 MSRP of the title and the DualSense's $74.99 price. Not only is that an excellent offer, but it's also rare considering we generally only ever see $10 off standard bundles.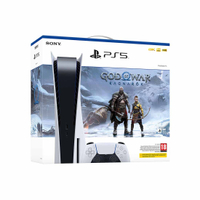 PS5 | God of War Ragnarok | $559 at Amazon
If you don't need that extra controller from day one, we'd recommend heading over to Amazon instead. There, you'll find stock of the standard $559 God of War Ragnarok bundle ready to go, and you're still saving $10 over the $69.99 MSRP of the game as well.

We called Kratos' latest adventure a 'beautiful world filled with things to discover' in our God of War Ragnarok review. Despite a slower, more emotional start, combat was as enticing as ever and balanced nicely with particularly satisfying puzzles. Once the first wedge of slightly unfocused gameplay is out of the way, everything kicks up. That 2018 showstopper comes back out to play, with a blockbuster of an experience that manages to hit character, storyline, and combat progression with an equal punch. We scored Ragnarok 4.5 / 5 stars, and it's an excellent place to kickstart your PS5 collection.
More of today's best PS5 deals
Whether you're after some of the best PS5 accessories to go with your new console, or you're simply after some cheap games to get you started, you'll find plenty more discounts across the web right now. We're rounding up all the latest PS5 deals on top tech just below, with our price comparison technology scouring the web for the lowest prices every half hour.
---
Of course, we're also rounding up all the best PS5 headsets and PS5 controllers to get you in the game as well. Or, take a look at the best PS5 SSDs if you're taking things digital.