Ah, storage. It's the one thing we all forget time and time again. Remember when we could all just put in a disc or cartridge and not worry about whether the console would have the capacity to play the game? Those were the days. Well, to help address any looming fears, we've found a great Nintendo Switch deal for a 1TB SanDisk memory card that brings the price down to its lowest ever at Amazon.
As part of Amazon's Lightning Deal offers, a 1TB SanDisk Ultra is available currently for as little as $99.99 (opens in new tab). That's a 27% discount or equivalent saving of $36 from its regular RRP of $136.99. Again, this is also the cheapest we've seen a MicroSD of this size since Black Friday last year.
A Nintendo Switch can run up to 2TB of additional storage via an SD Card with most games taking around 10GB of space on average, so that's more than enough. We've seen discounts of around $10 to $15 since then but nothing near this amount, hence why it's worth considering. If you play games on a regular basis, there is no doubt that an SD card like this is a must, however, if you are quite casual a 512GB SSD (like this one for $49.67 (opens in new tab)) will do the job just fine. It's ideal for anyone looking to pick up one of the best Nintendo Switch SD cards on the market today.
Additionally, it's known as one of the best Nintendo Switch accessories for a reason, while also working just as well for Steam Deck users. At the time of writing, 29% of the allotment has been claimed so if you are wanting to get in on this offer, we recommend acting fast. With Octopath Traveller II and Tears of the Kingdom just around the corner, it's a smart time to upgrade.
Today's best Nintendo Switch deal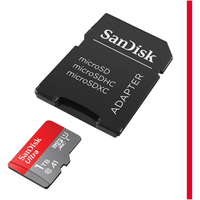 (opens in new tab)
1TB SanDisk Ultra MicroSDXC | $136.99 $99.99 at Amazon (opens in new tab)
Save $36 - A great saving on one of the best MicroSDs on the market. This is the cheapest we've ever seen at the retailer with a fantastic 27% discount applied.
UK price: £51.72 (512GB) at Amazon (opens in new tab)
More of today's best Nintendo Switch deals
Not made the jump to a Switch OLED yet? Check out the best cheap Nintendo Switch bundle deals that February 2023 has to offer. We've also rounded up the best SSDs for gaming to help with your further storage needs, along with how to upgrade your PS5 storage for under $100.