Nintendo Direct February 2023 - Everything announced
Plus all the live coverage from today's Nintendo Direct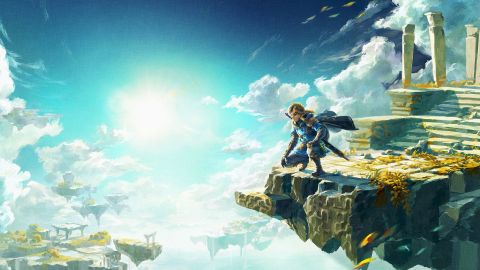 (Image: © Nintendo)
The Nintendo Direct February 2023 showcase is done and dusted, with almost 50 minutes of updates, reveals and more.
Let's recap everything we saw, starting with the biggest reveals:
You can read all the details as they happened below, including our (mostly wrong) Nintendo Direct February 2023 predictions below.
Refresh
As has been fairly common from Nintendo when announcing the Nintendo Directs of the recent past, it has gone out of its way to try and set some expectations ahead of time. Notably, the initial announcement for the new Nintendo Direct states in no uncertain terms that the event will be "mostly focused on Nintendo Switch games launching in the first half of 2023."
Technically, this doesn't mean there isn't going to be a surprise or two included in the announcements, but it does mean we should really expect more from what's coming between now and June 2023. Given that, there's one particular title that stands out from the rest…
ZELDA: TEARS OF THE KINGDOM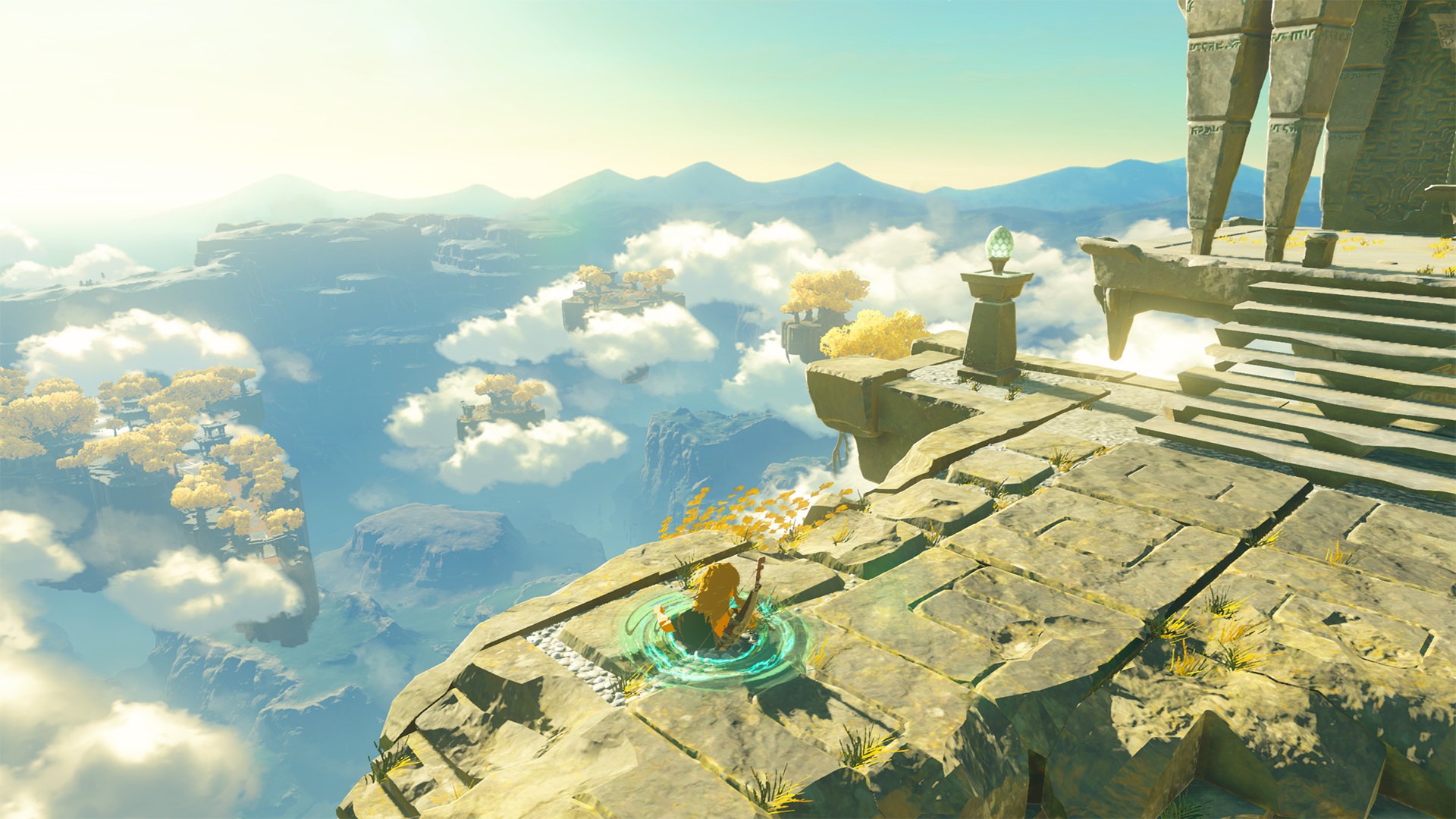 Here is what we currently know about The Legend of Zelda: Tears of the Kingdom.
It is the sequel to The Legend of Zelda: Breath of the Wild.
It takes players into the skies.
It is set to release on May 12, 2023.
…and that's roughly it. Despite the fact that the new Zelda title releases in just three short months, there's been essentially no significant amount of explicit information released by the company. Pretty much everything at this point is speculative at best with question marks hanging over every aspect.
As our own Ali Jones argues, this Nintendo Direct must go big on Zelda. It's such a beefy event that it seems like the stars have finally aligned for a full-on reveal of whatever it is that Nintendo has been hiding all this time.
OCTOPATH TRAVELER 2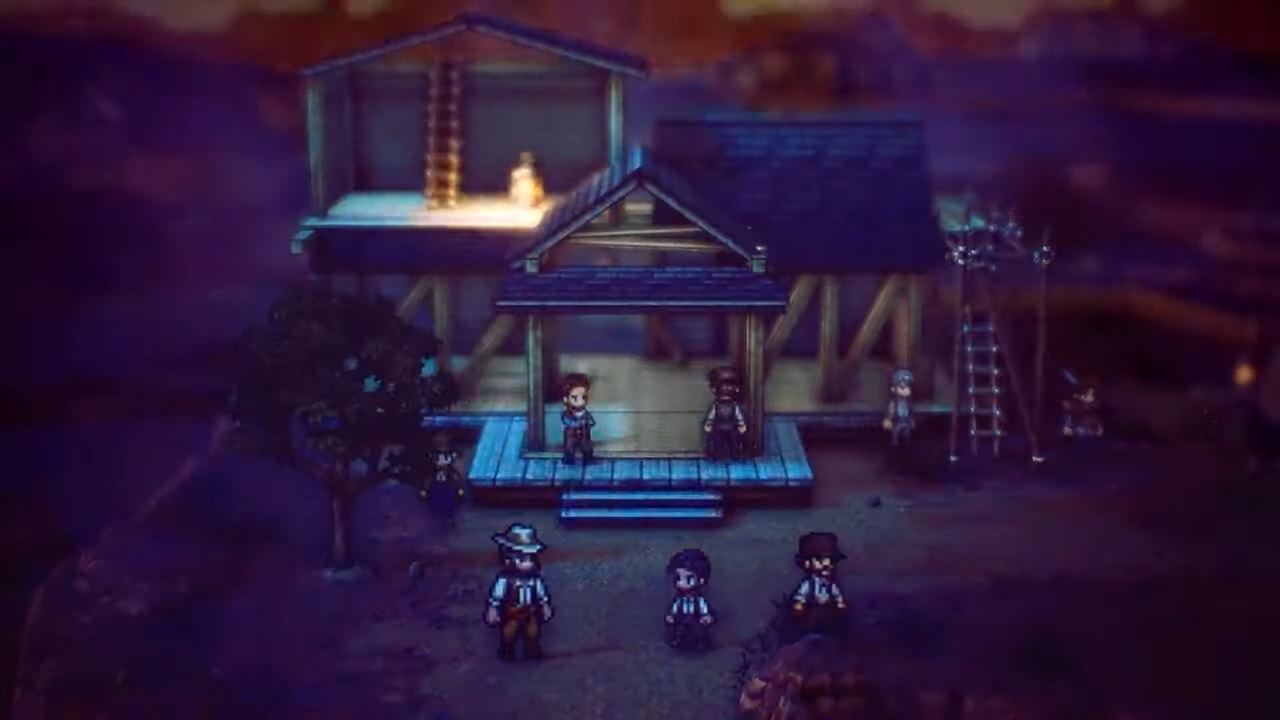 Octopath Traveler 2, the sequel to Octopath Traveler, is coming to Nintendo Switch on February 24. Given the upcoming release, it seems only natural to assume that at least some of the Nintendo Direct's time will be spent on it.
Lending this further credence is the fact that the announcement didn't explicitly state that it would be all about first-party Nintendo games, and Octopath Traveler 2 is from Square Enix. It seems likely that a gameplay showcase of some kind might feature within.
ADVANCE WARS 1+2: REBOOT CAMP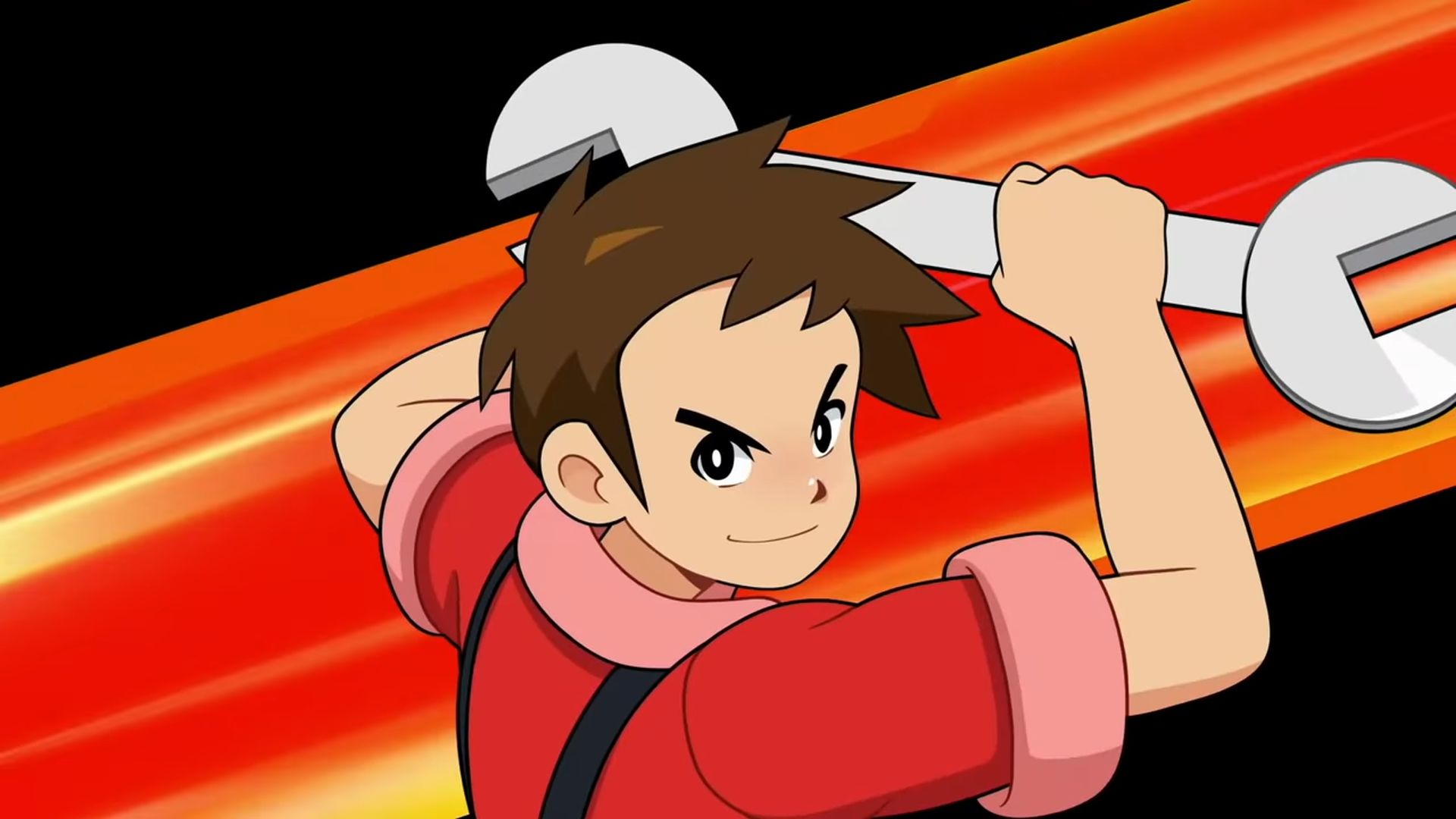 It's still radio silence from Nintendo when it comes to Advance Wars 1+2: Re-Boot Camp. While it had initially been set to release back in 2021, it was delayed once for improvements and then delayed further due to the Russian war with Ukraine. Given that the war is ongoing, and Nintendo has made no indication of exactly when to expect the rebooted Advance Wars compilation, it's hard to say whether today's Nintendo Direct will or won't include it.
Surely Nintendo can't sit on a completely finished Nintendo Switch game from an iconic franchise forever… right?
PIKMIN 4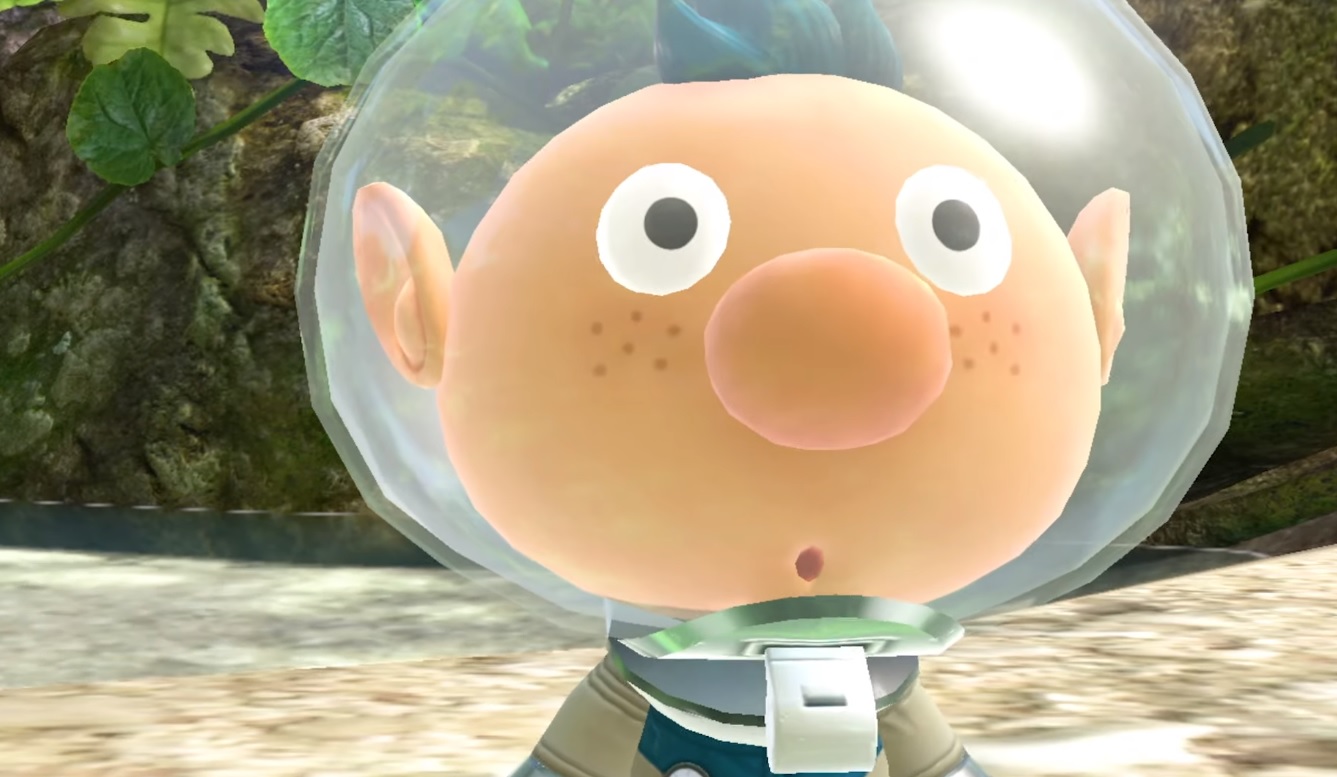 Beyond a big Zelda blowout, the title with the highest probability of showing up and having a release date announced during the Nintendo Direct seems to be Pikmin 4. Even before the official announcement of the Nintendo Direct, a retailer listing for Pikmin 4 cropped up online indicating a May 23 release.
Will May 23 be the official date? It's hard to say as retailer listings are notoriously hit-and-miss when it comes to getting it right. Will Pikmin 4 get a release date today? That seems more certain.
METROID PRIME 4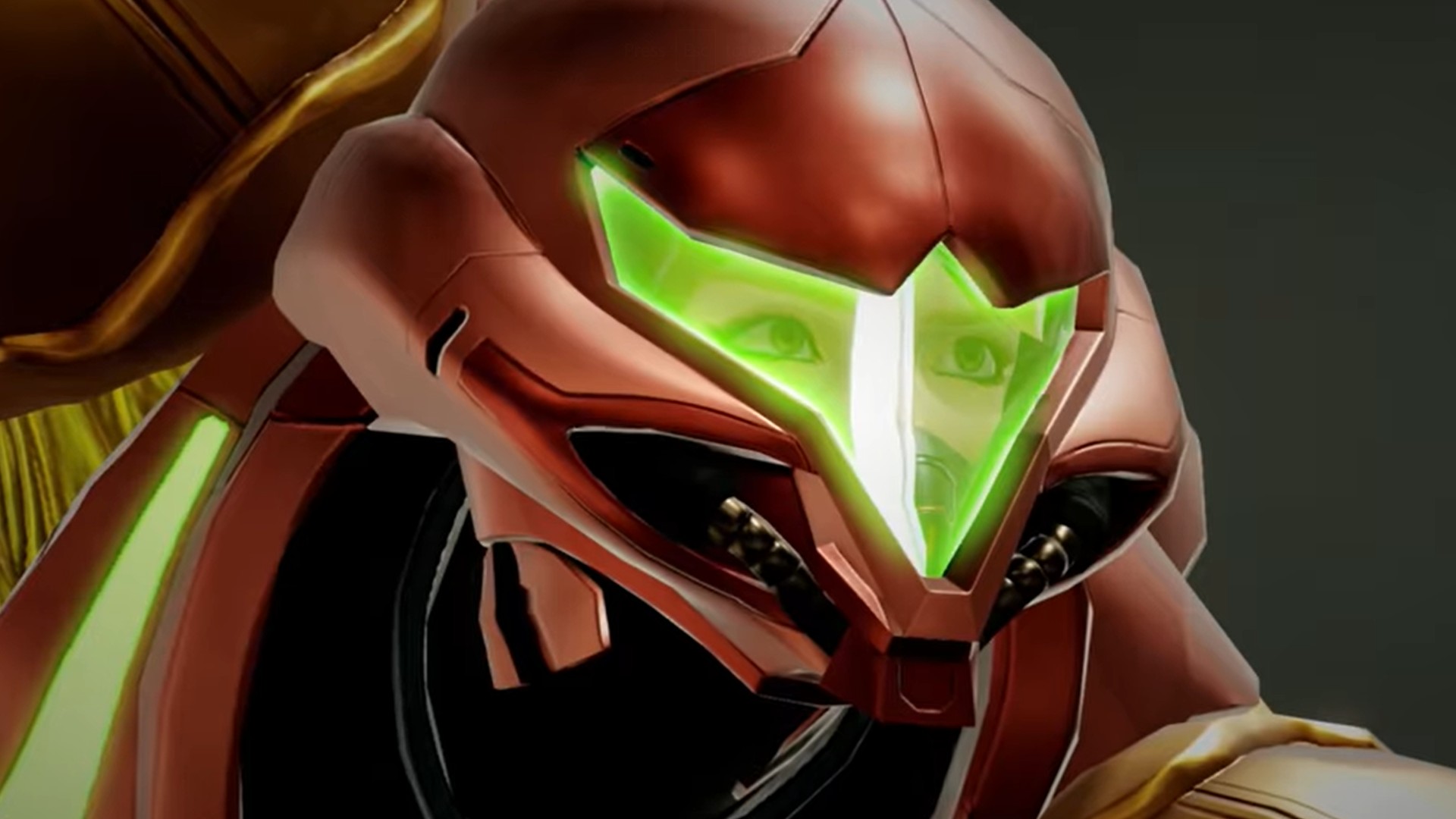 Let's first and foremost acknowledge that video game development takes a long time, and doing it right can take even longer. Nobody here is claiming that making these things are easy or even straightforward. OK, with that out of the way, it has also been over four years at this point since Metroid Prime 4 restarted development.
If ever there was a time to lift the veil on the long-awaited title, it seems like in the wake of a reduced profit forecast might be a good idea. It does seem a bit unlikely that Nintendo would reveal and release a new Metroid between now and June, but we live in hope.
BAYONETTA ORIGINS: CEREZA AND THE LOST DEMON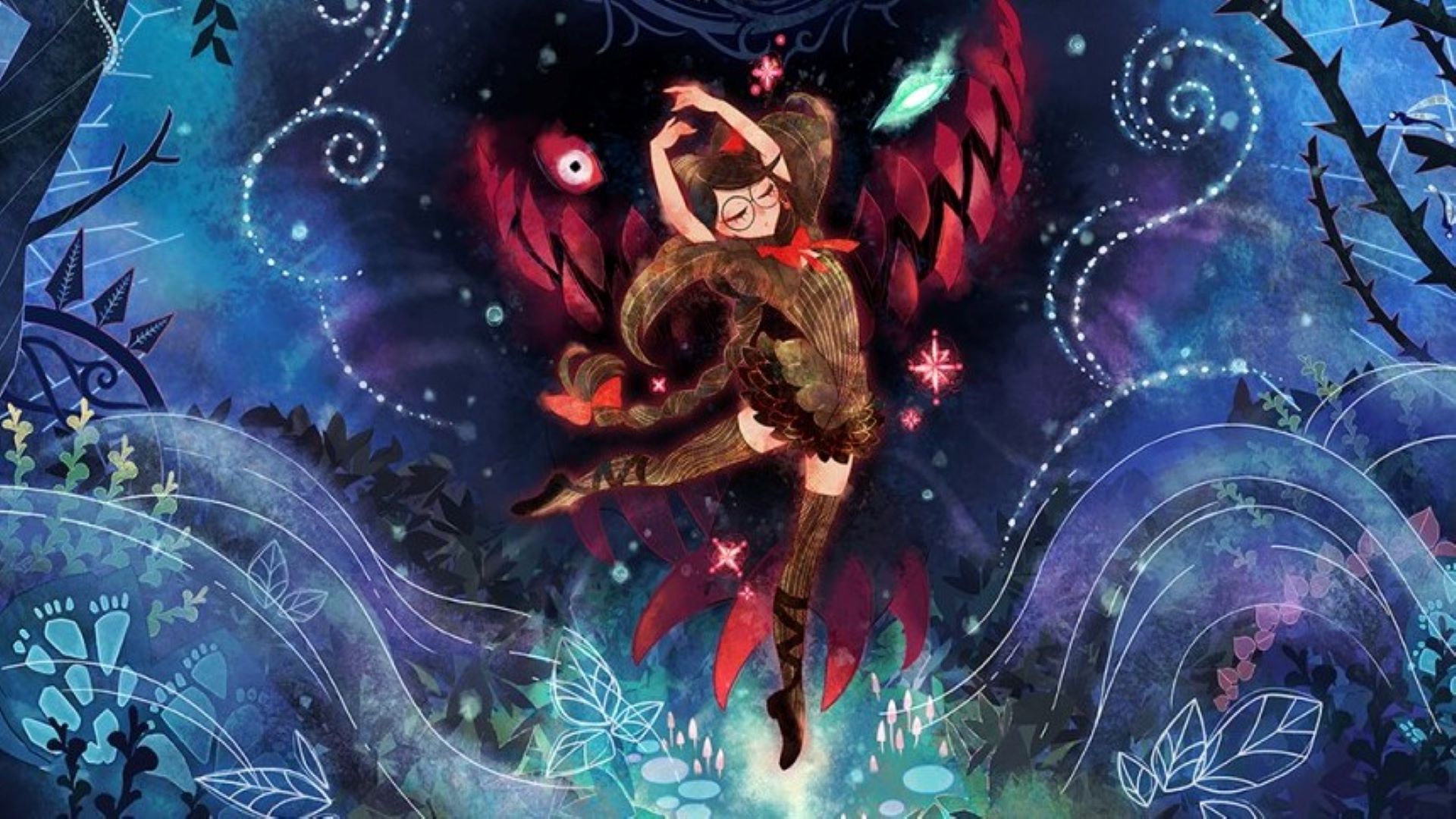 A somewhat cutesy take on the Bayonetta series, and an origin story to boot, Bayonetta Origins: Cereza and the Lost Demon is almost certainly set to make an appearance during today's Nintendo Direct. It's known that the game takes place long before Bayonetta became, well, Bayonetta, and that it will involve solving puzzles and fighting fiends, but this latest Nintendo Direct should include the best look yet at whatever the game actually includes.
POKEMON SCARLET AND VIOLET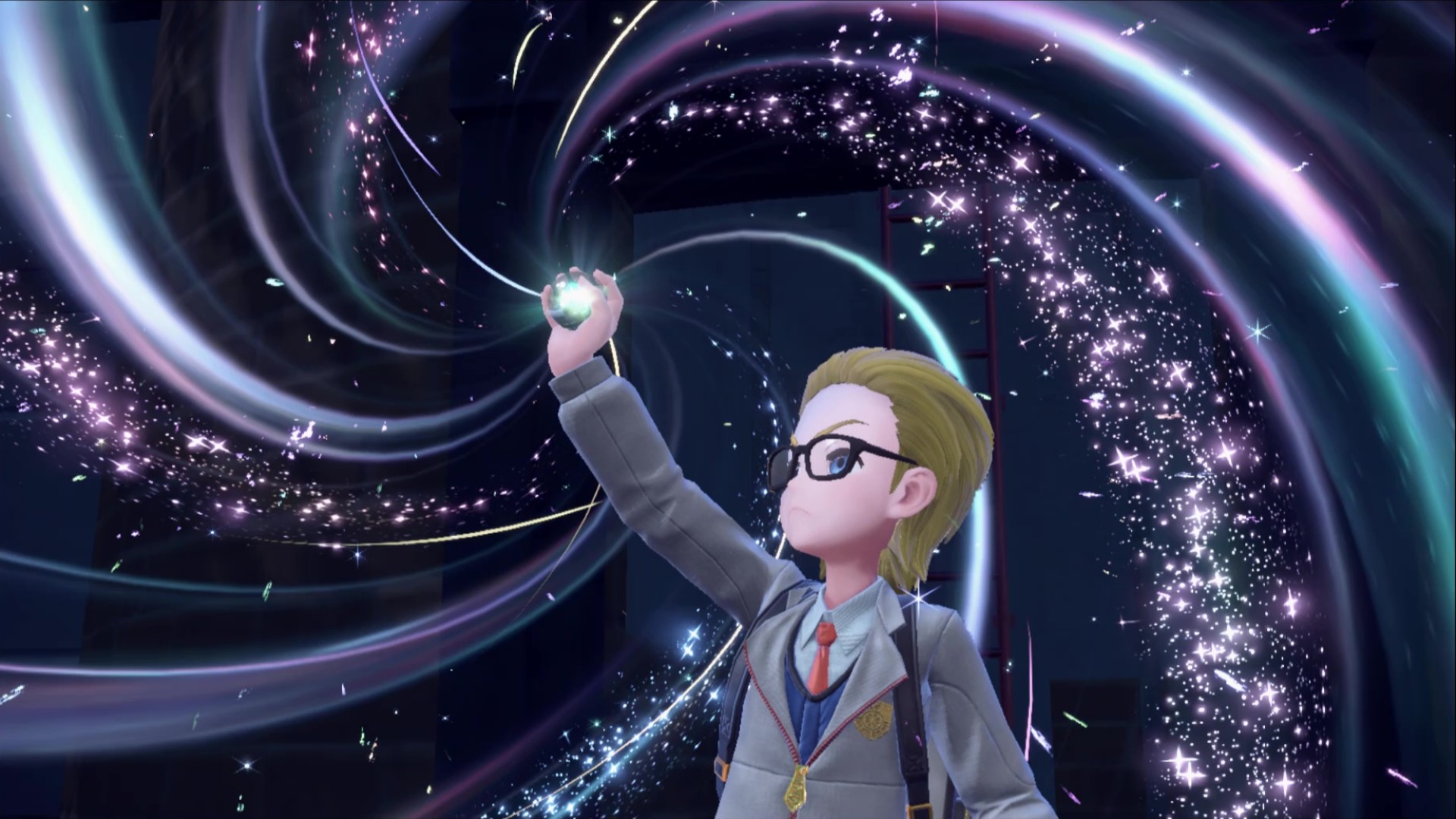 While it is known that there are updates waiting in the wings for Pokemon Scarlet and Violet, it seems unlikely that Nintendo will share anything during the Nintendo Direct about them. If you're at all familiar with the cadence of these things, you'll know that Pokemon-related announcements are often relegated to their own events, and with Pokemon Day 2023 swiftly approaching on February 27, it seems more likely that there will be news then rather than here and now.
Just under an hour to go!
Are you ready for the hype train?
SUPER MARIO ODYSSEY 2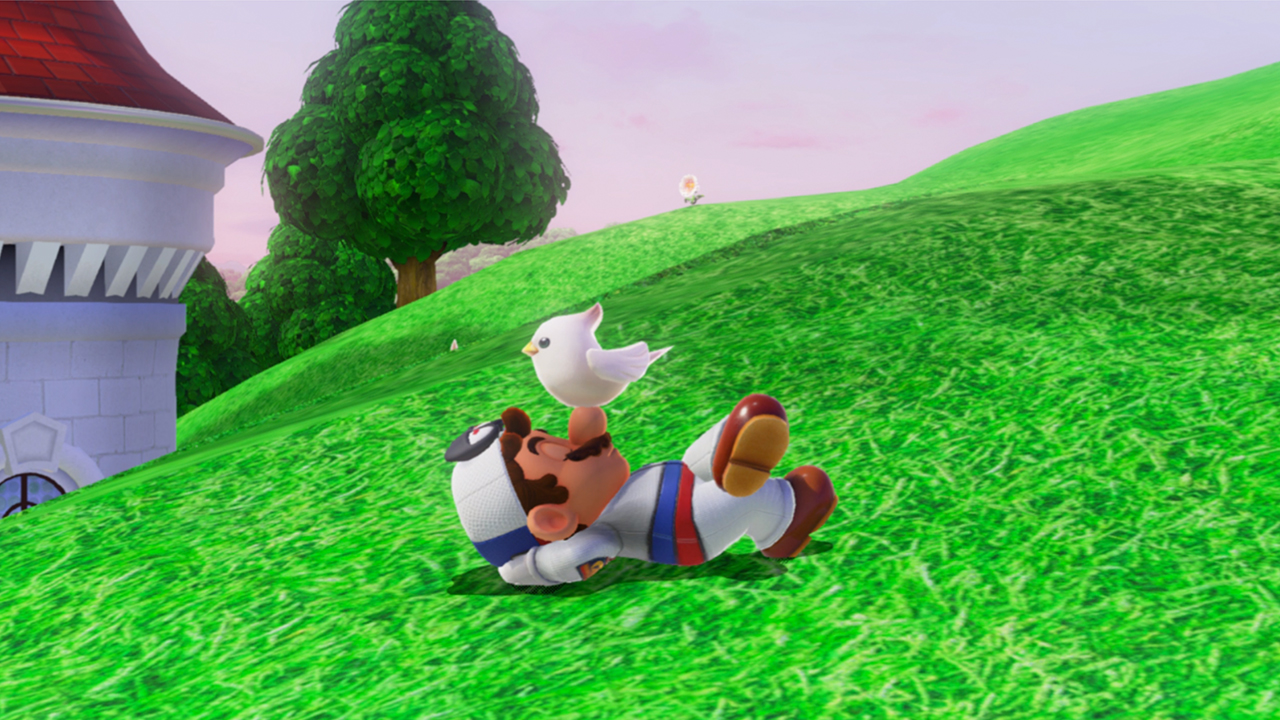 With the animated Super Mario Bros. Movie on the horizon, it seems like a hugely missed opportunity to not have a Mario game coincide with it. Unfortunately, and as GamesRadar+ Global Editor-In-Chief Sam Loveridge notes in our predictions, there's nothing really tangible to suggest that a sequel to Super Mario Odyssey could be announced…
But that won't keep stalwart fans from getting their hopes up regardless. Which, honestly, good for them. It's good for there to be a bit of completely unrealistic hope in the world.
WHAT HAPPENED AT THE LAST DIRECT?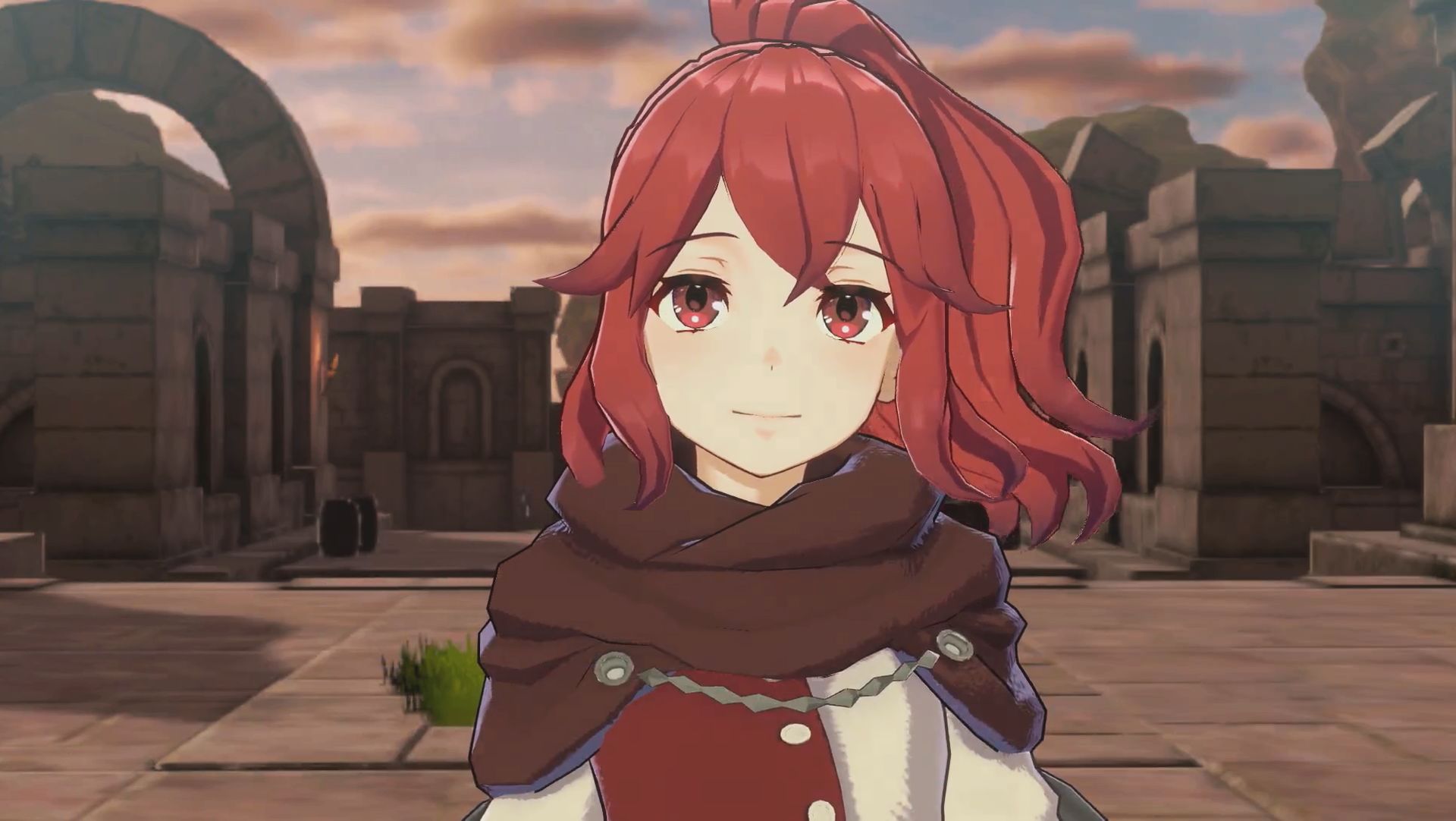 As a reminder, the last significant Nintendo Direct back in September 2022 officially gave The Legend of Zelda: Tears of the Kingdom its name and release date, revealed Fire Emblem Engage and Octopath Traveler 2, and officially showed off Pikmin 4 as coming this year. Given how long people waited for the Breath of the Wild sequel, it wasn't exactly beefy but still satisfying.
WHAT HAPPENED LAST FEBRUARY DIRECT?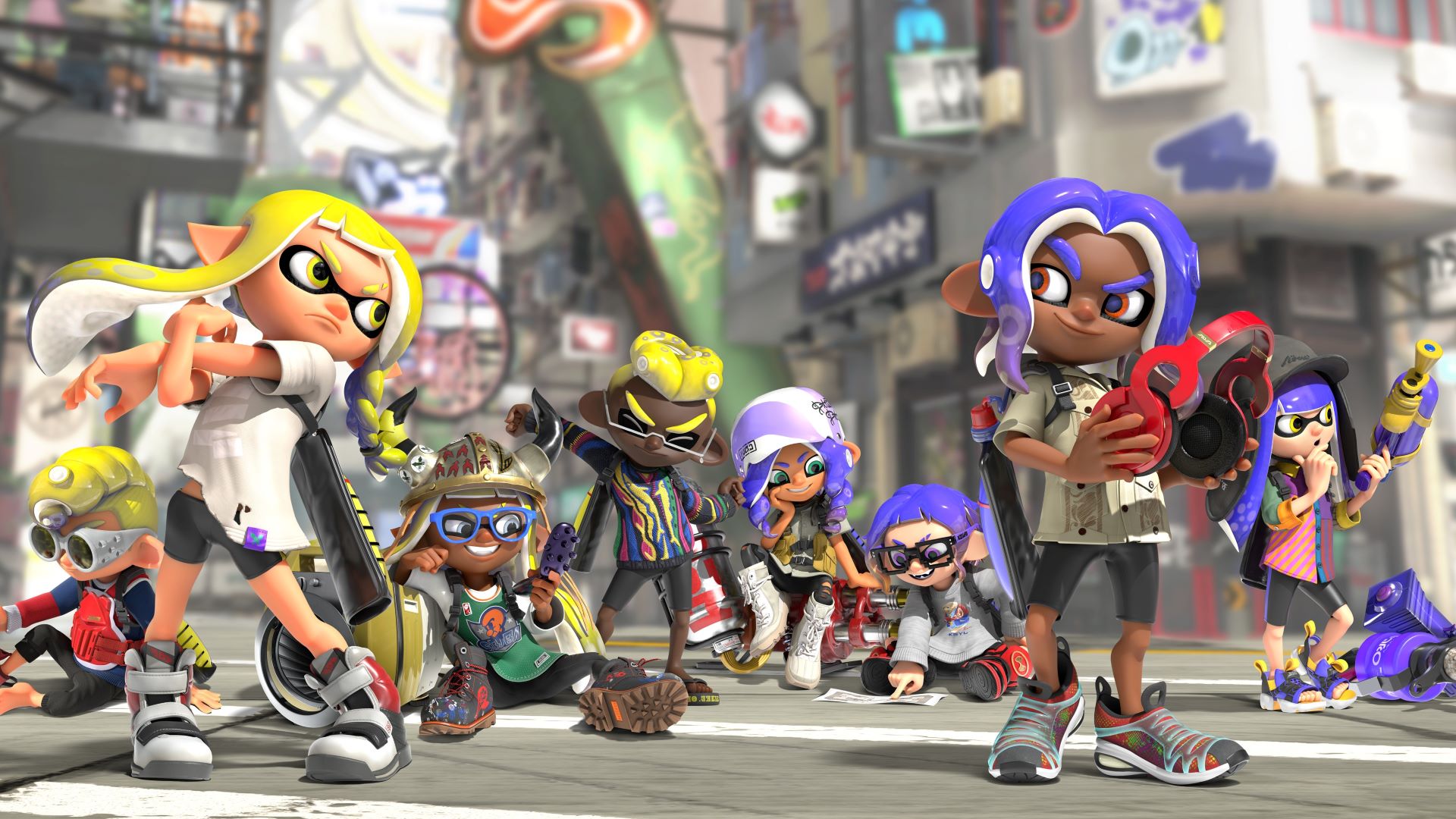 Prior to that, the February 2022 Nintendo Direct revealed Fire Emblem Warriors: Three Hopes, a new (since-missed) Advance Wars 1+2: Re-Boot Camp release date, the reveal of Mario Strikers: Battle League, more on Splatoon 3, and much more.
With how long today's Nintendo Direct is, there's a good chance that it would be more like the February 2022 one with a bunch of smaller announcements but equally as good a chance that a significant chunk is taken up by The Legend of Zelda: Tears of the Kingdom.
HOLLOW KNIGHT: SILKSONG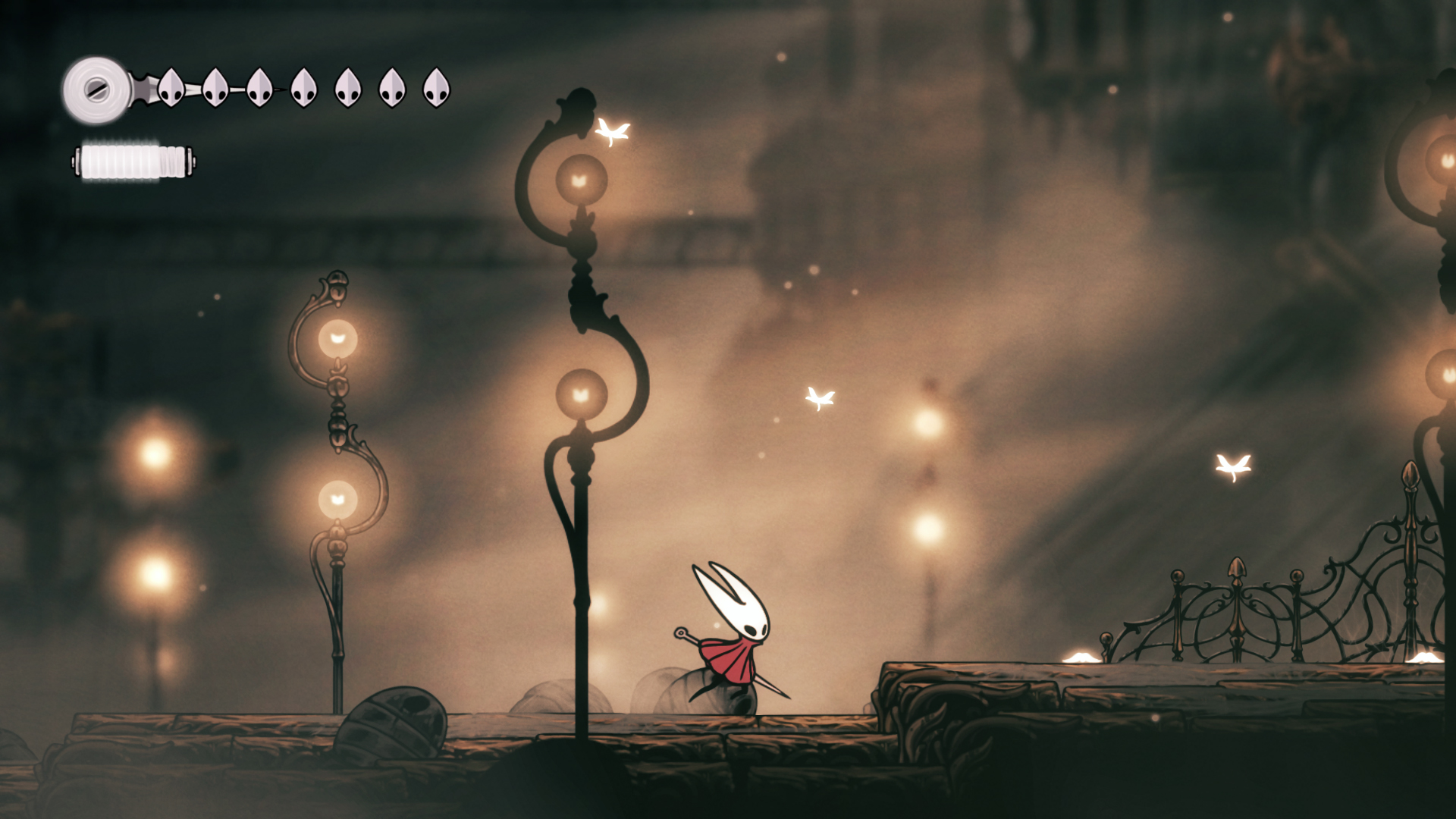 It's a new Nintendo Direct, which means there's a renewed request from fans for more on Team Cherry's Hollow Knight: Silksong. While these desperate pleas are a common refrain for every Nintendo Direct, there's at least some indication that this will, in fact, finally be the one.
Essentially, it is understood that Hollow Knight: Silksong is set to release before June 2023. Given that this Nintendo Direct is explicitly about video games releasing on Nintendo Switch by that point, it would seem natural to conclude that Silksong would be there – and hopefully with a firm, definitive release date.
30 MINUTES TO GO
What snacks we rocking?
E3 SKIP RUMORS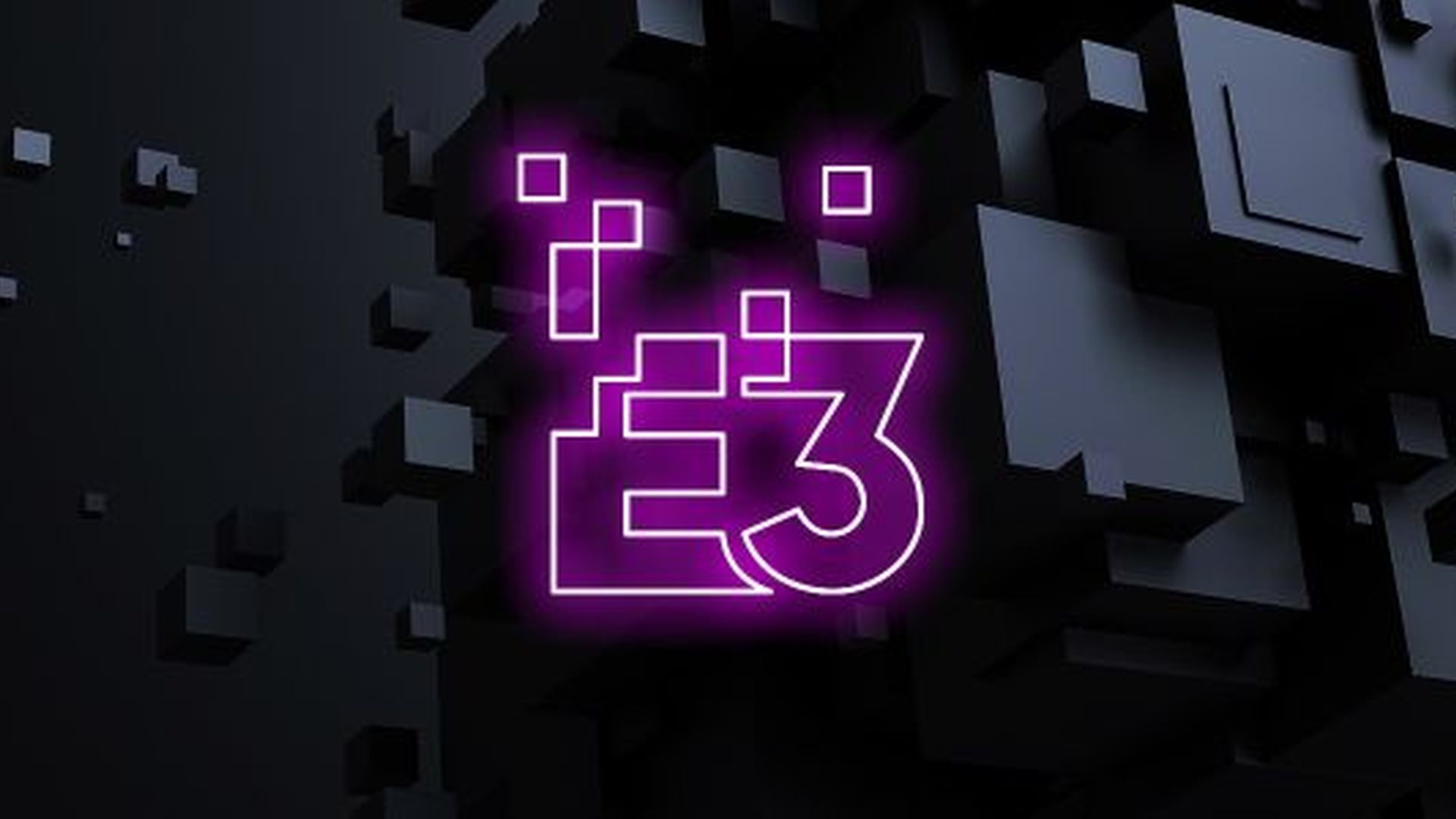 It's been previously reported that Nintendo is skipping the new-and-improved E3 later this year, and that the company might not even have enough major releases to show if it did attend. It's unclear whether this is true, but it might also be a moot point.
Increasingly, big developers and publishers have been skipping major trade events that might have skewed towards the press in favor of simply hosting their own digital versions. The Nintendo Direct itself, as a construct, is a perfect example of this bypassing. Even if Nintendo does completely skip out on summer showcases hosted by others, it doesn't necessarily mean anything as the company continues to march to the beat of its own drum.
SWITCH PRO RUMORS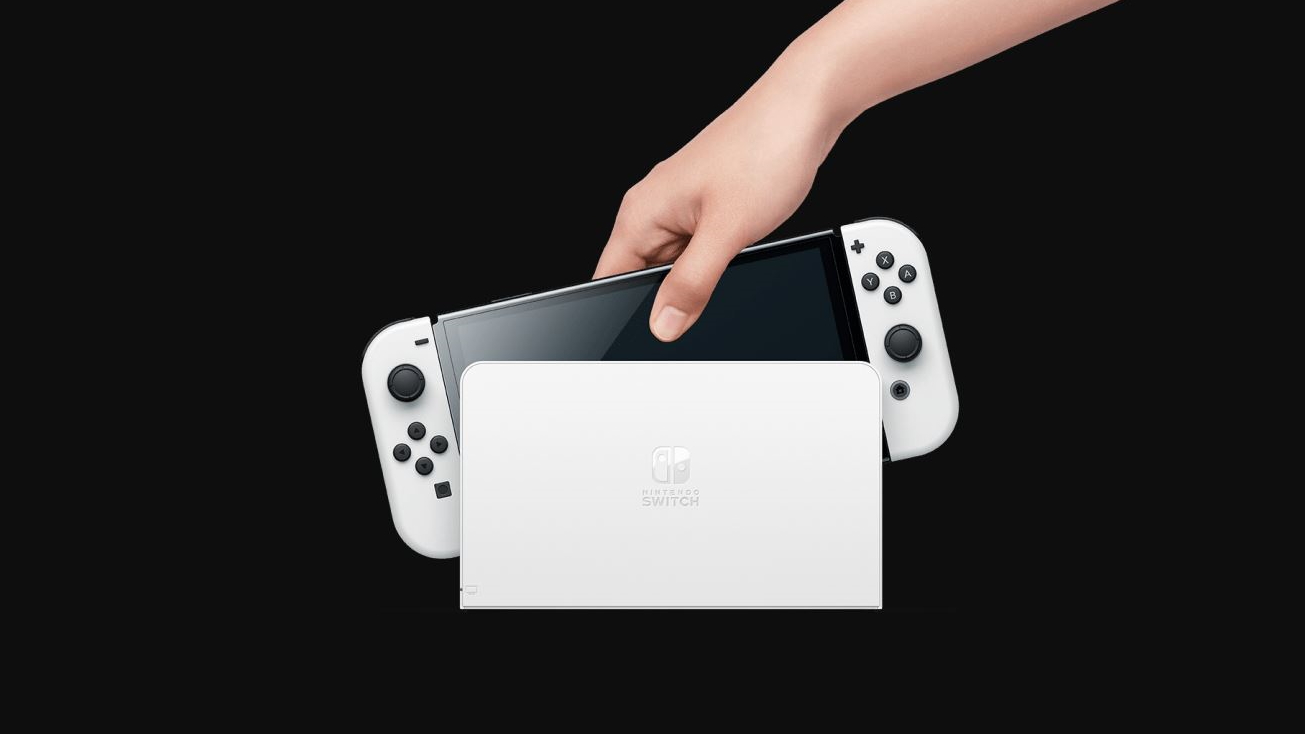 It is impossible to have a Nintendo Direct without also considering whether the long-running Switch Pro rumors will actually pan out. At some point, it is clear that Nintendo will announce a successor to the Nintendo Switch, and if the pipeline of upcoming major games is really as thin as the reports make it out to be it certainly seems like it might be sooner rather than later. What that might look like, and when it might actually get announced, is anyone's guess, but there is always the chance that today really is the day.
15 MINUTE WARNING 🚨
Get your thoughts together because we're kicking off in 15 minutes
UPCOMING SWITCH GAMES
To summarize a bit, here are the known upcoming Nintendo Switch games set to release in the time period this Nintendo Direct should cover.
Octopath Traveler 2 on February 24
Kirby's Return to Dream Land Deluxe on February 24
Bayonetta Origins: Cereza and the Lost Demon on March 17
The Legend of Zelda: Tears of the Kingdom on May 12
While the company could, in theory, talk about all of these and only these, it seems most likely that at least a couple more titles will have release dates revealed.
Let's a go!
And it's time. Don't forget you can tune into the Direct via the official Nintendo YouTube channel (opens in new tab).
Hell yes for some Pikmin 4 fun up first!
Garden-based antics getting the showcase here, with Ice Pikmin taking the stage
What is this adorable doggo?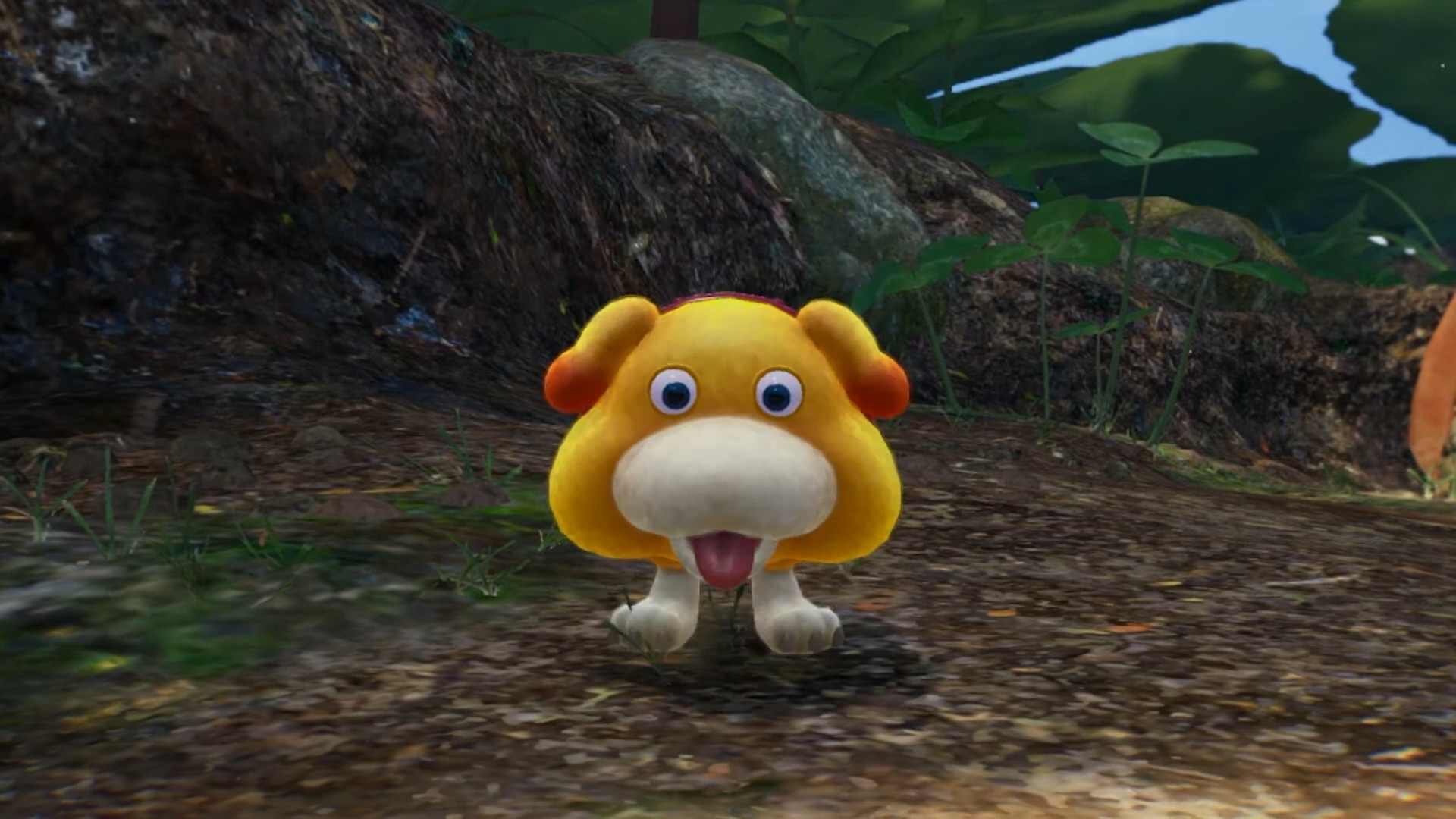 That's a July 21 release date for Pikmin 4!
Xenoblade Chronicle 3 Volume 3 Expansion Pass deets up now
Masha is our newest hero. Challenges with roguelike elements being added too, with heroes and special abilities as rewards.
Samba de Amigo: Party Central is what leaked earlier (opens in new tab) and looks like a cute Parappa rhythm action game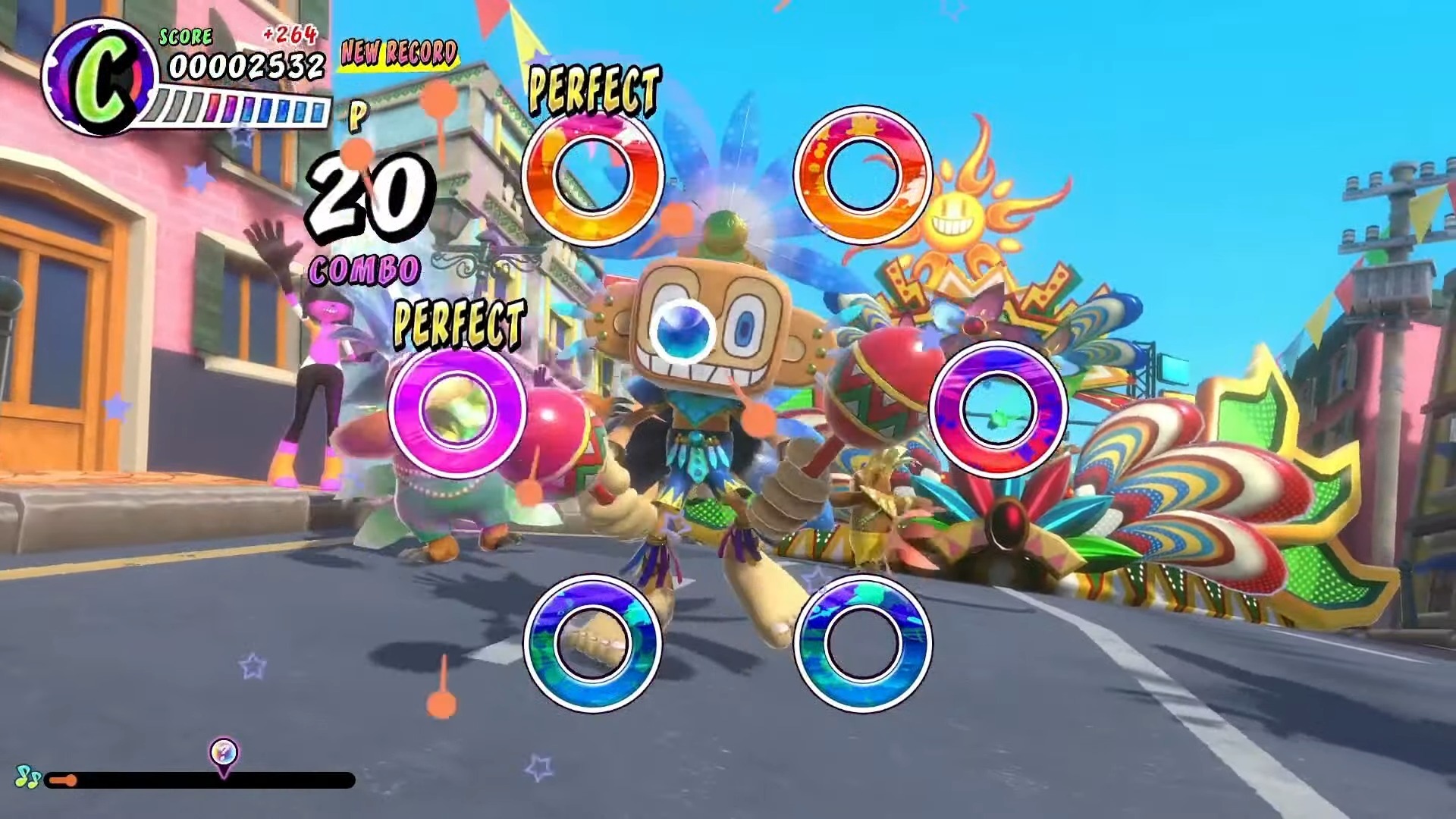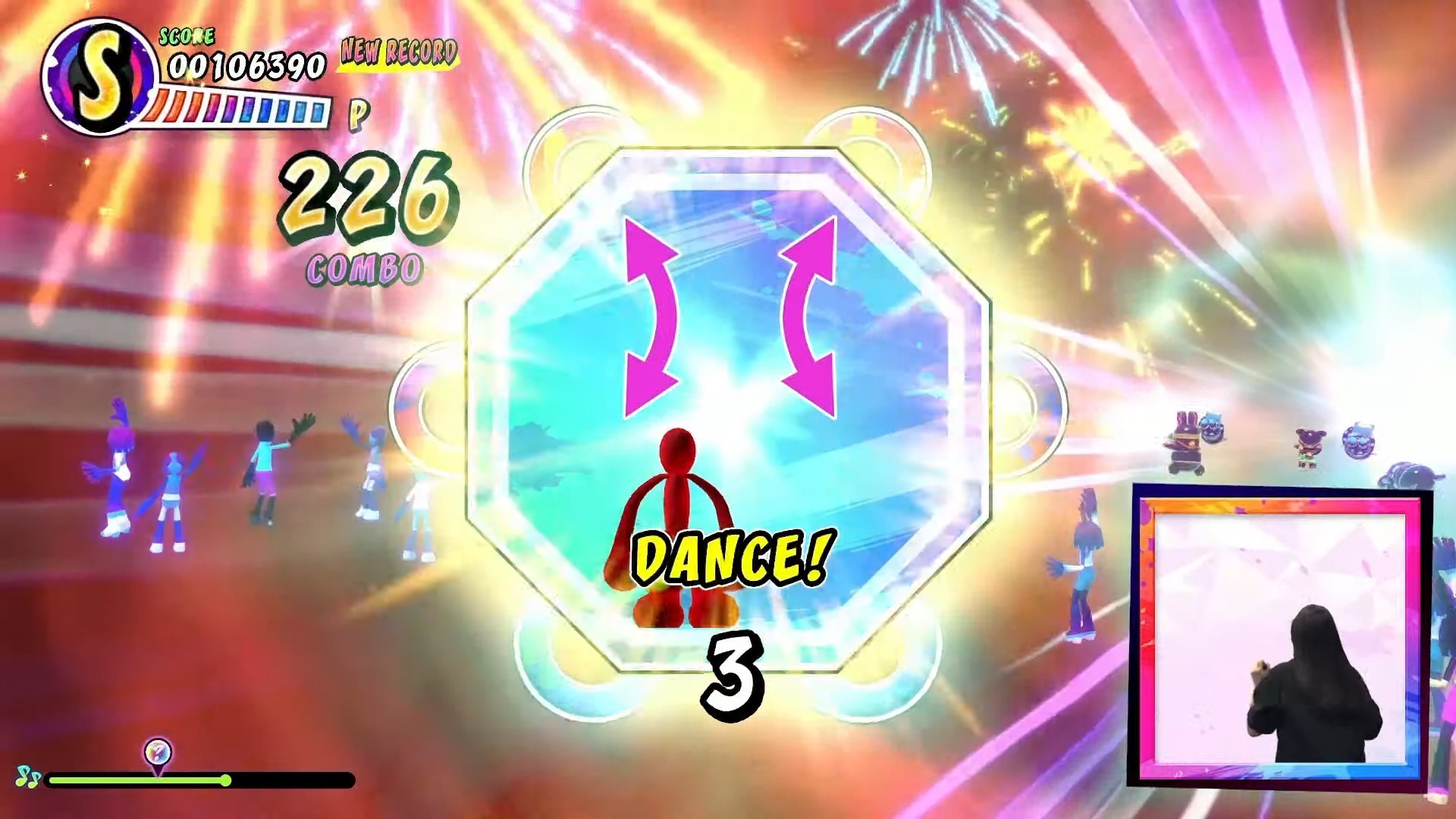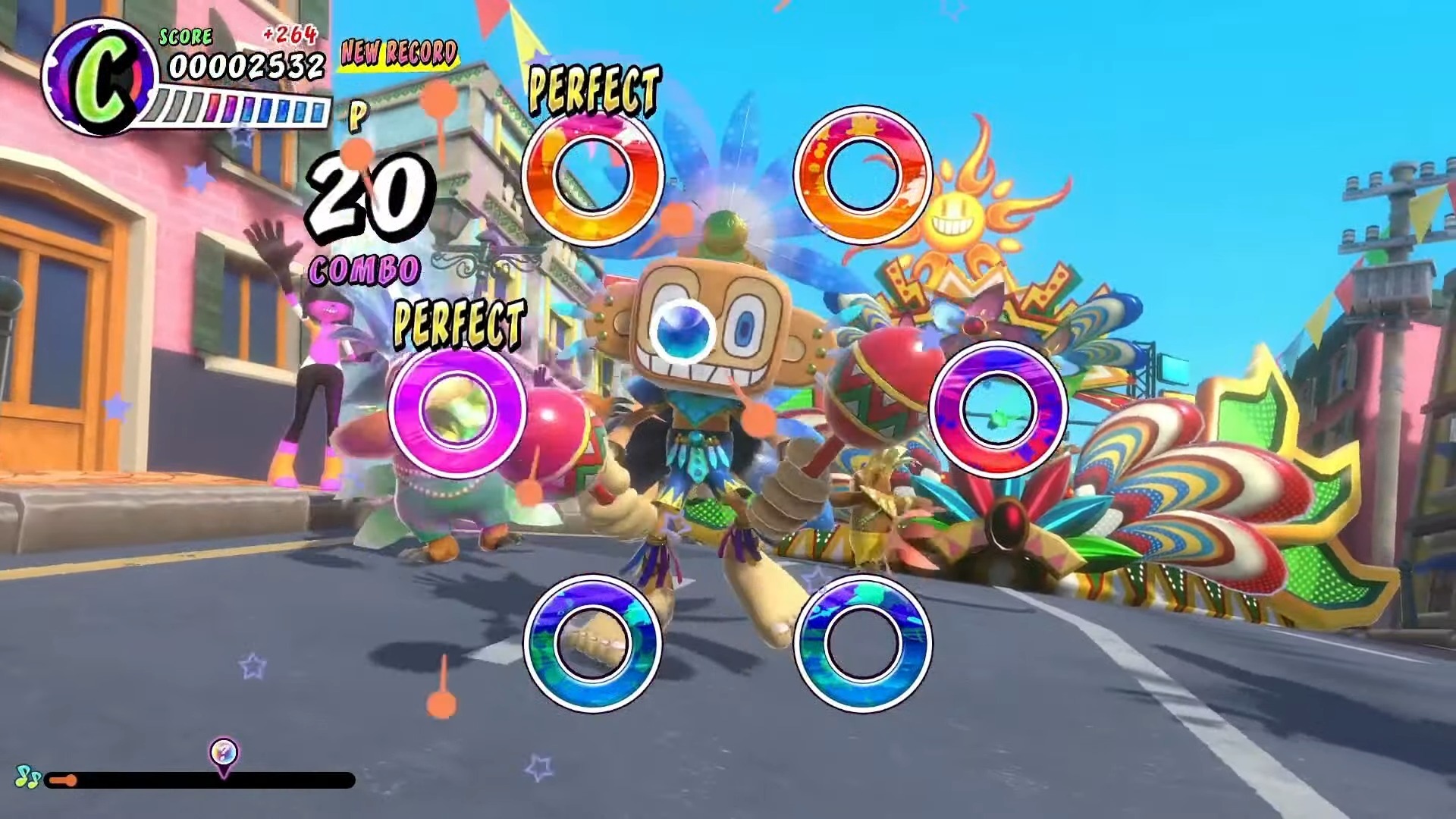 Well that was Fashion Dreamer... a fashion influencer game?
A little reminder that Dead Cells is getting a DLC / mini-expansion called Dead Cells: Return to Castlevania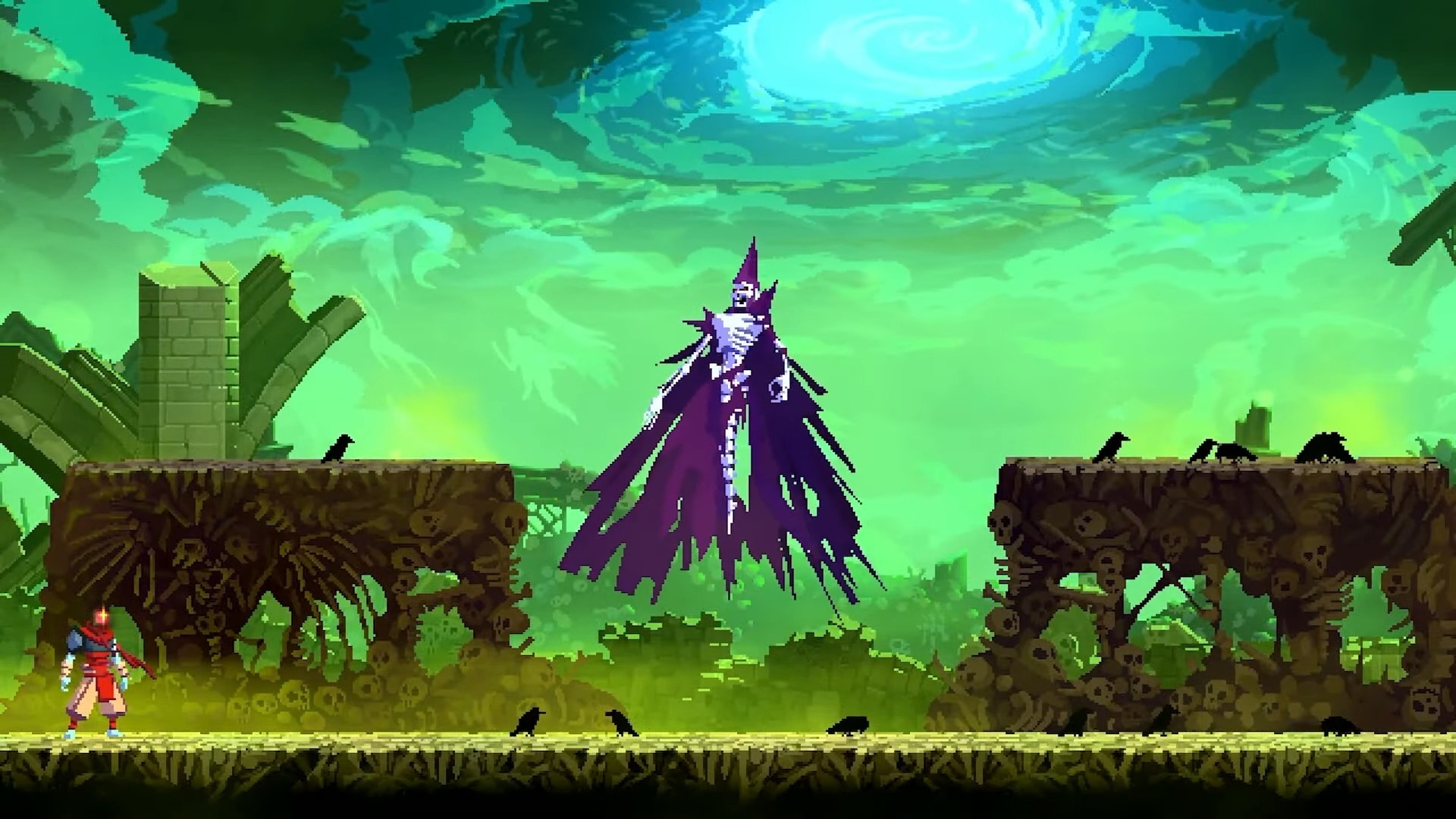 Ghost Trick: Phantom Detective coming to Switch this summer, and there was a Tron game back there!
DecaPolice is up now - got Professor Layton vibes but as a cop and with more.. combat?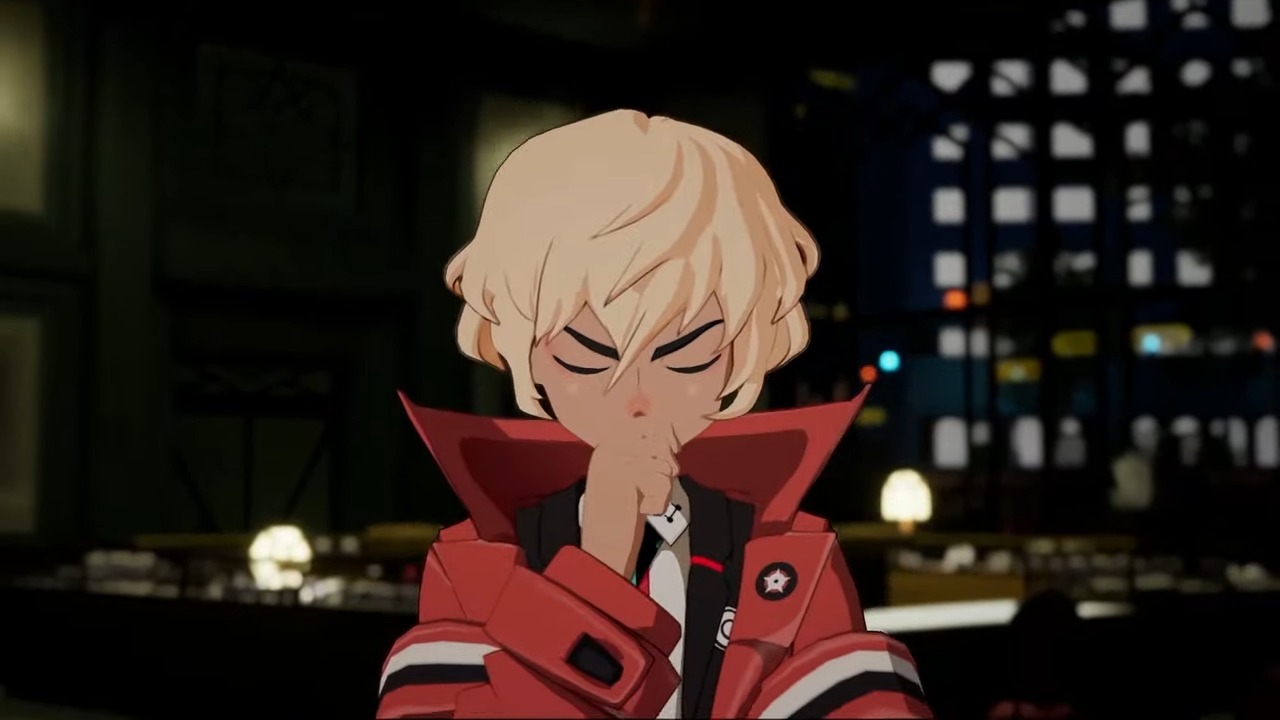 Coming sometime in 2023.
As expected, Bayonetta Origins: Cereza and the Lost Demon is getting a new trailer and extended gameplay demo. You'll control both a young Bayonetta (aka Cereza) and Cheshire the demon cat. Cereza can't attack but Cheshire can.
Gotta say, I love this art style so much!
That's coming out March 17, as we already knew, but obviously just around the corner now somehow
Splatoon 3 inking it up now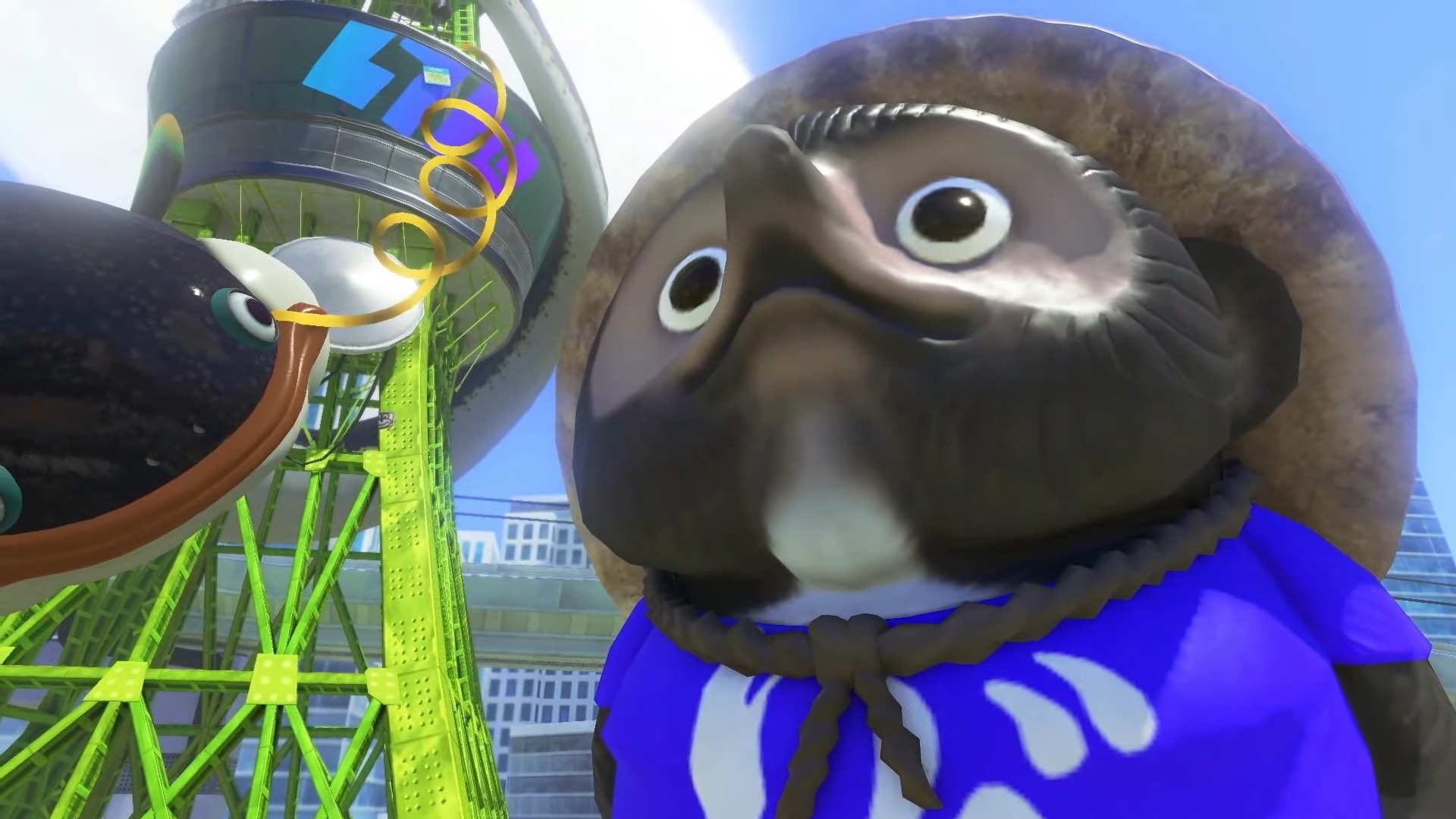 It's time for a Splatoon 3 Battle Pass - a paid expansion with two waves of content.
Ghost Trick trailer here if of interest!
Wave 1 is Inkopolis. Original location from the first game is back! New shops and items too.
It's coming this spring - the first wave anyway.
What's this Side Order for the Expansion Pass all about? It's Wave 2, and as our own Rollin states "you got your Splatoon 3 in my Nier Automata"
Disney's Illumination Island is up now, which was originally announced back at the Marvel Gaming showcase last year. It looks adorable, and like a great co-op adventure. That's coming out July 28, which is a new announcement.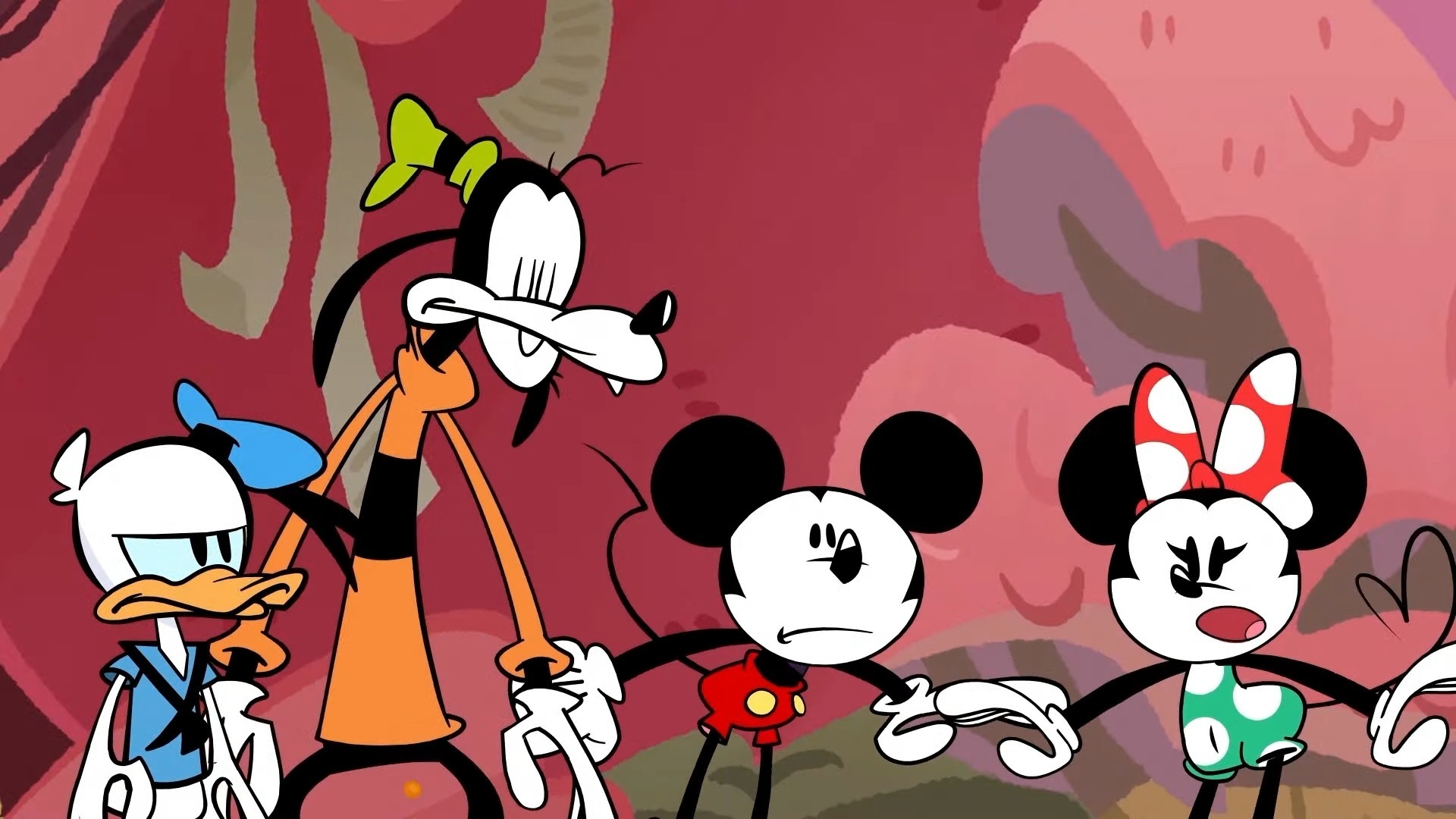 Oh wow and we're onto Fire Emblem: Engage now and Veronica from Heroes is coming to the game as DLC (plus a whole load of others). This is Wave 2 and it's launching today!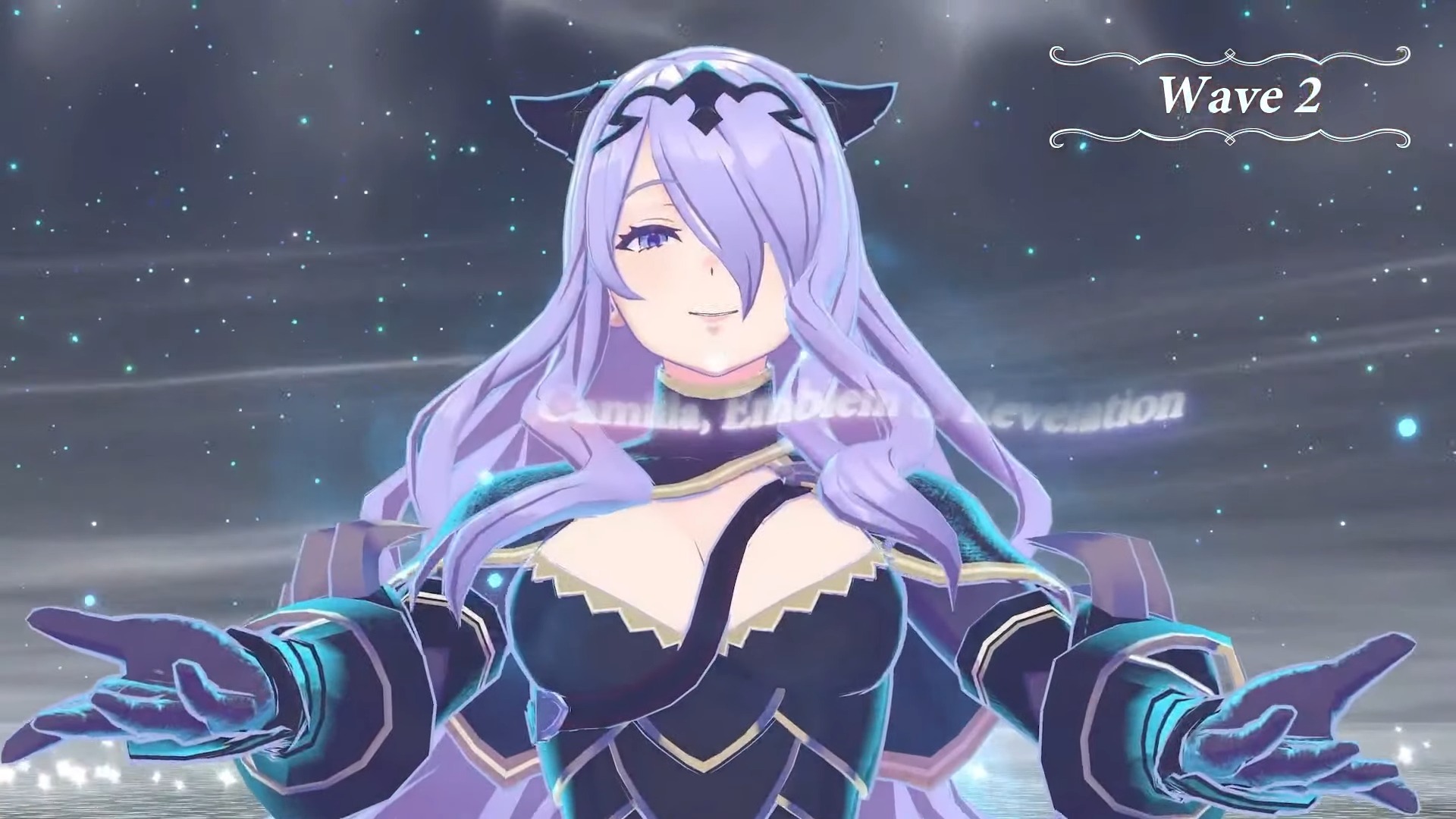 There's a brand new game from DONTNOD (of Life is Strange fame) coming this June called Harmony: The Fall of Reverie and it's coming this June! Looks great, and all story and decision making.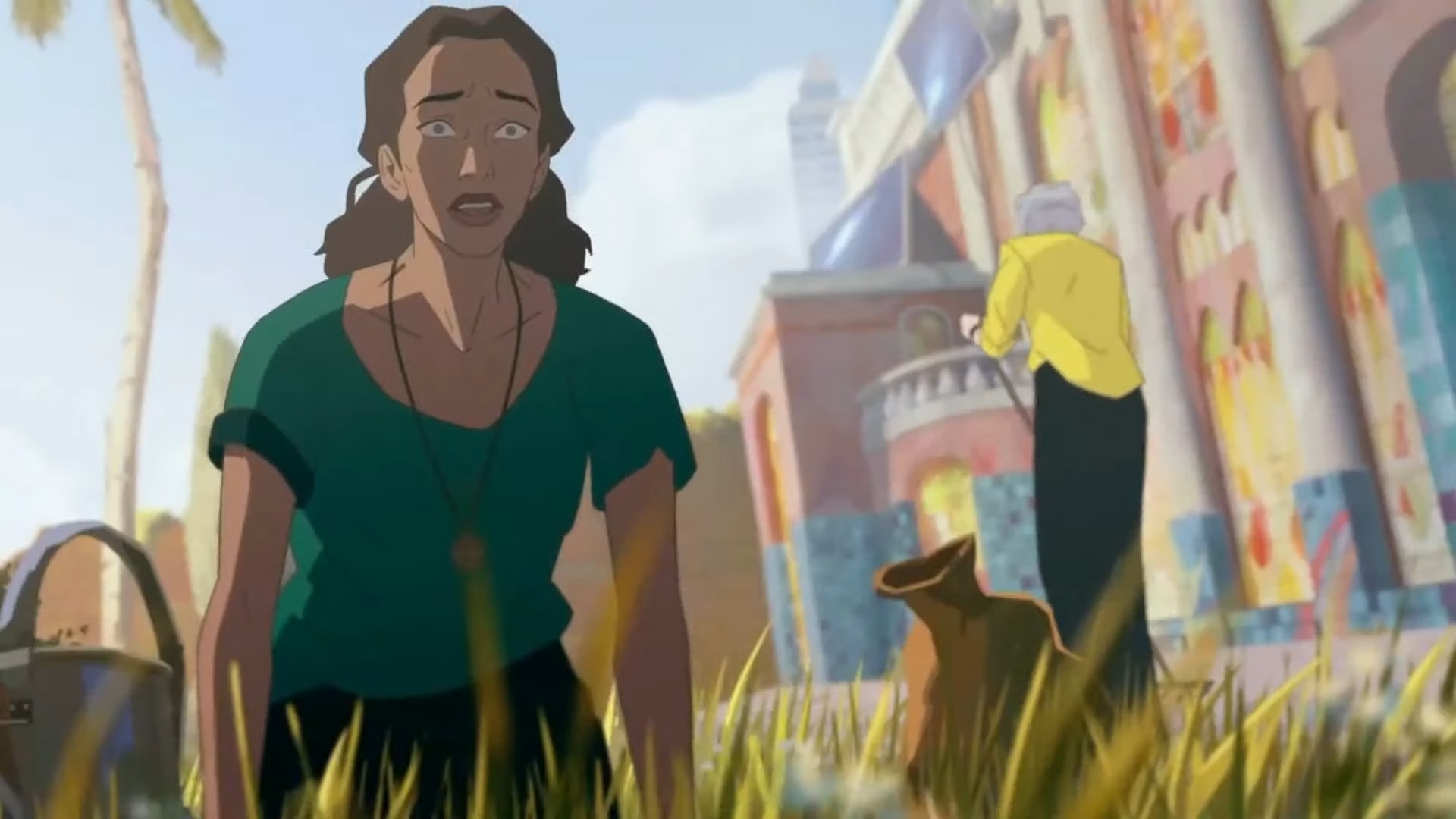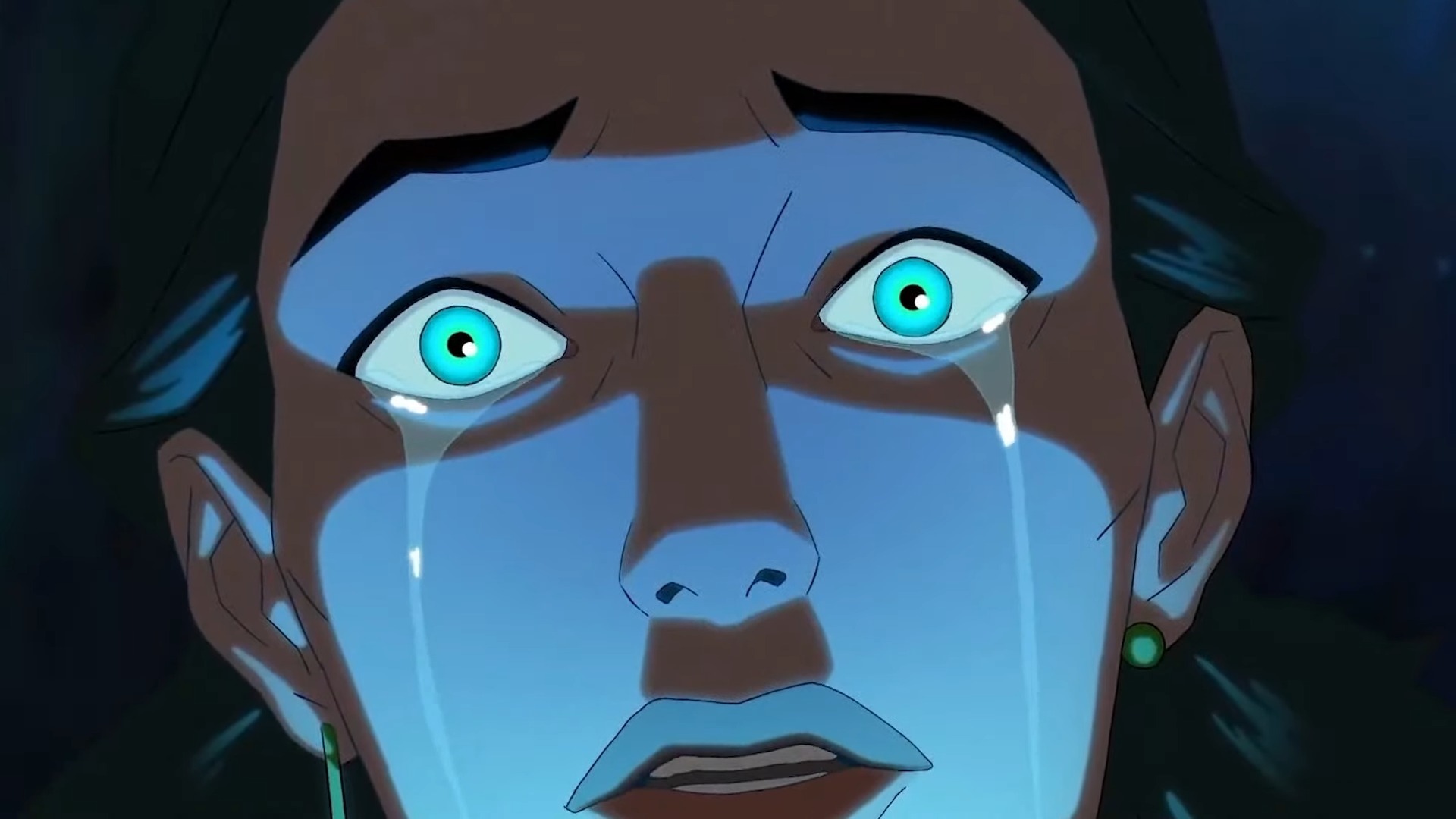 Octopath Traveller got a new trailer, and there's a new Katamari game?!
Sea of Stars got another showing too ahead of an August 29 release date, alongside multiplayer air-hockey inspired title Omega Strikers. That's coming April 27 though
The first three Etrian Odyssey games are coming to Switch too
Coming June 1 as both a trio package and sold individually.
Strategy fans were are you? Nintendo needs you because Advance Wars finally has some news
Advance Wars 1+2 ReBoot Camp coming April 21! At long last
Adorable little segment for Kirby: Return to DreamLand Deluxe here, reminding us how cute the original was
Kirby's Return to DreamLand Deluxe demo dropping after this Direct!
Oh OG Game Boy my old friend!!!!
Original Game Boy games coming to Switch Online! This is HUGE FOR ME
The games are:
Tetris, Super Mario Land 2 6 Golden Coins, The Legend of Zelda: Link's Awakening DX, Gargoyles, Game and Watch Gallery 3, Alone in the Dark, Metroid 2: Return of Samus, Wario Land 3, Kirby's Dream Land
There are three game filters, and more games are coming in the future.
Game Boy Advance games are being added to the Expansion Pack!
The games are:
Super Mario Bros 3, WarioWare Inc, KuruKuruKuruin, Mario Kart Super Circuit, Mario and Luigi Superstar Saga, Legend of Zelda: The Minish Cap.
Local and online play supported too.
More games being added soon too.
Both Game Boy (standard Switch Online tier) and Game Boy Advance (Expansion Pass) will be available later today.
Original Metroid Prime is being remastered for Nintendo Switch
Originally released on the GameCube, we're now getting Metroid Prime: Remastered on the Switch, with all its different visors and lock-on ability.
New dual-stick controls too.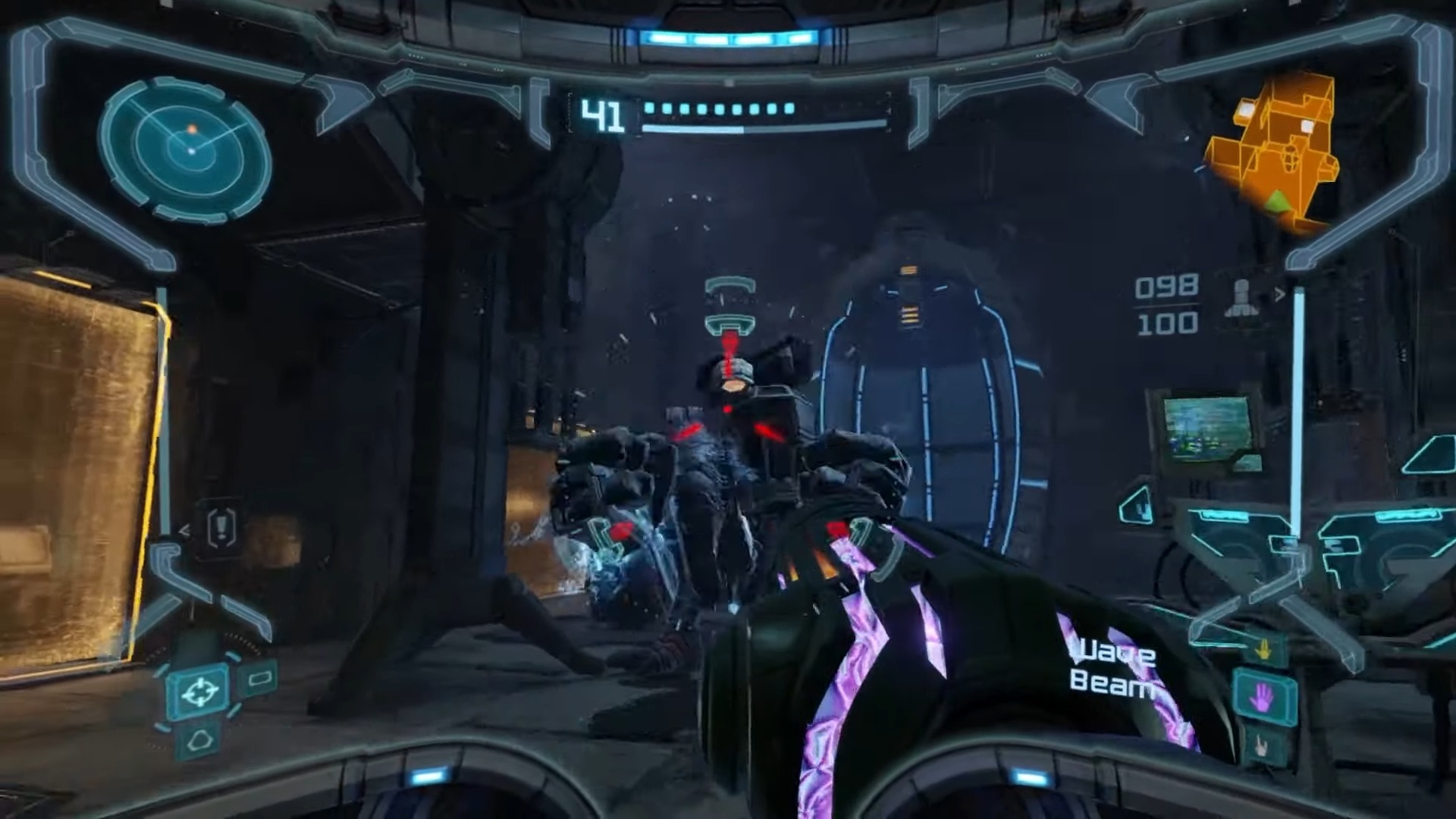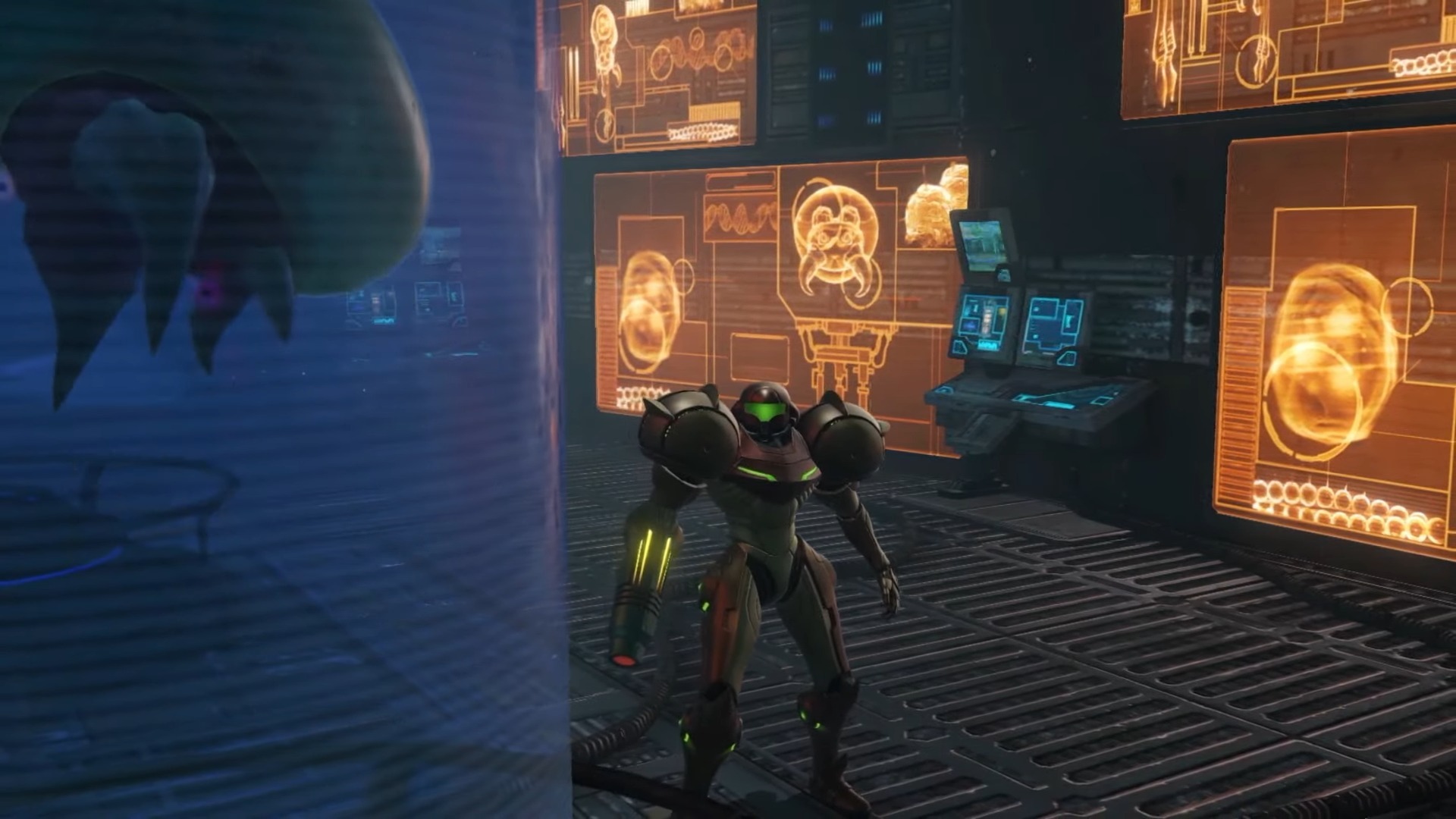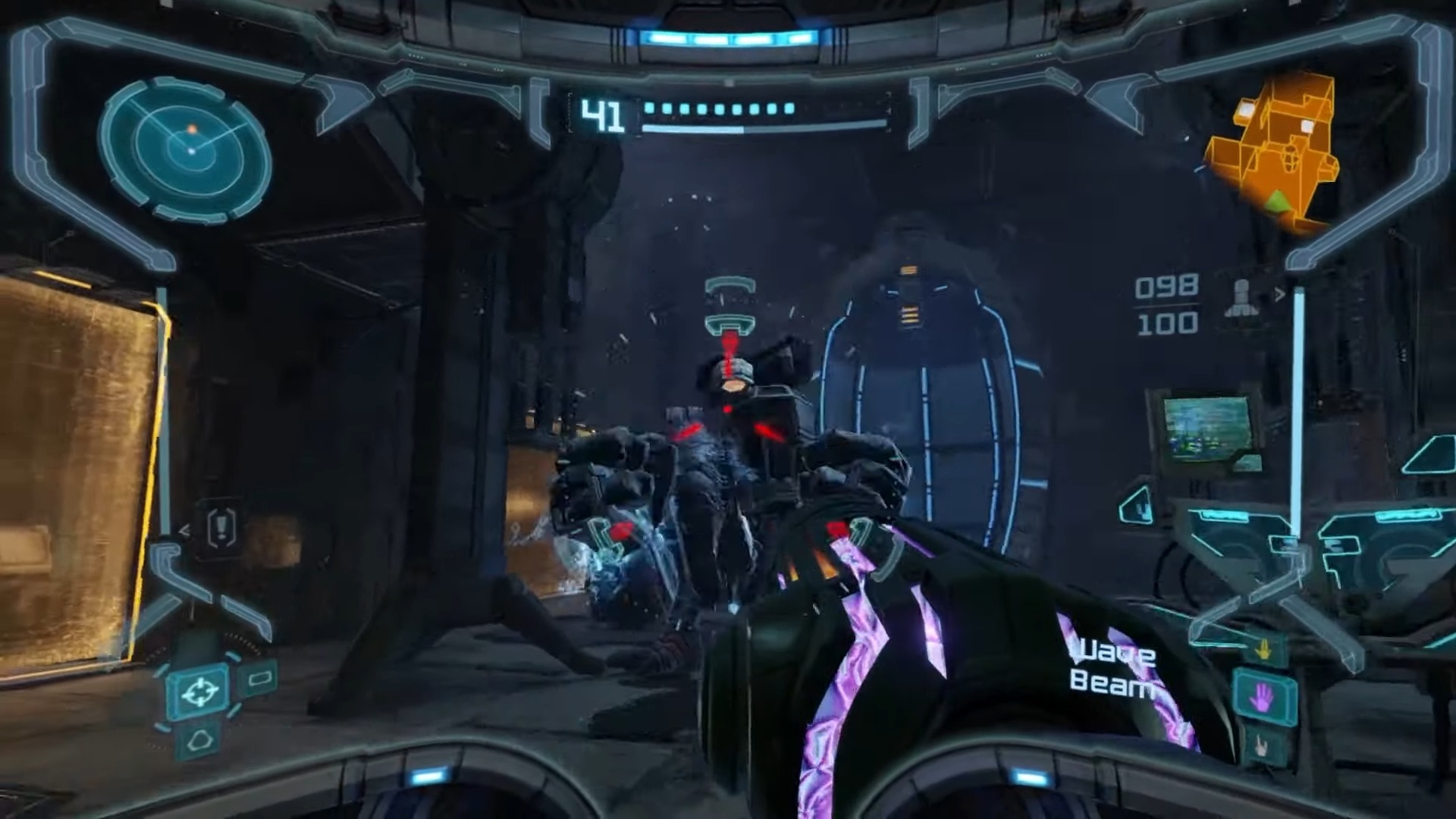 and the digital version of Metroid Prime: Remastered is out TODAY (physical next month).
Master DEtective Archives: Rain Code got announced and is coming June 30.
New Fantasy Life game revealed too, Fantasy Life i: the Girl Who Steals Time
Wave 4 for Mario Kart coming, and is bringing Birdo back! Spring 2023 release date.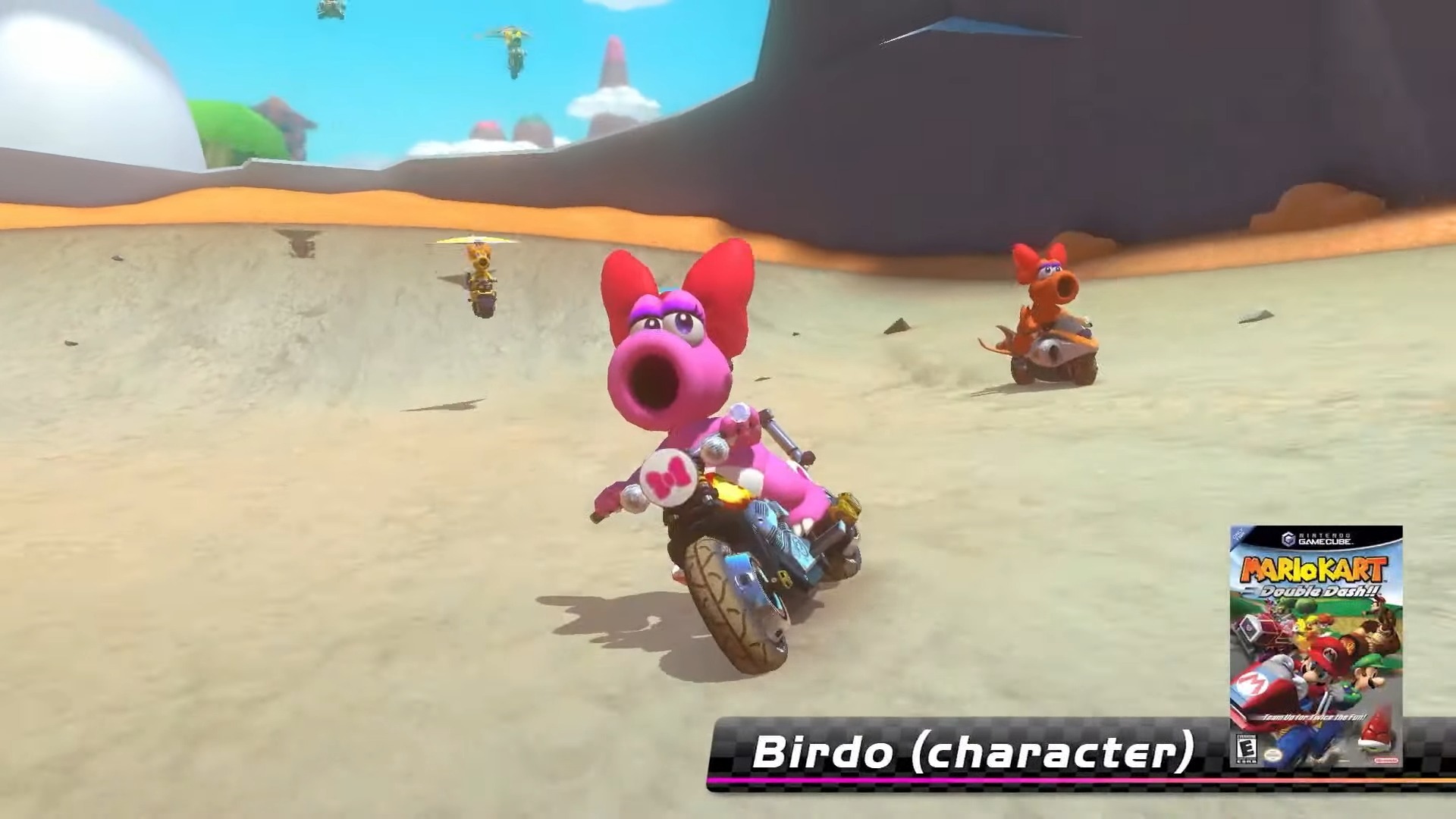 Round-up of a load of games here coming to Switch in the near future...
Wahoo! It's Zelda time. If they delay it, I will cry.
A fresh look at Hyrule here, rather than the sky jumping we've seen in previous trailers. Much more interesting look at the game than we've had so far in my opinion.
Still a bit of sky jumping though... obviously
Was that a grind rail back there?
PHEW. No delay for Zelda there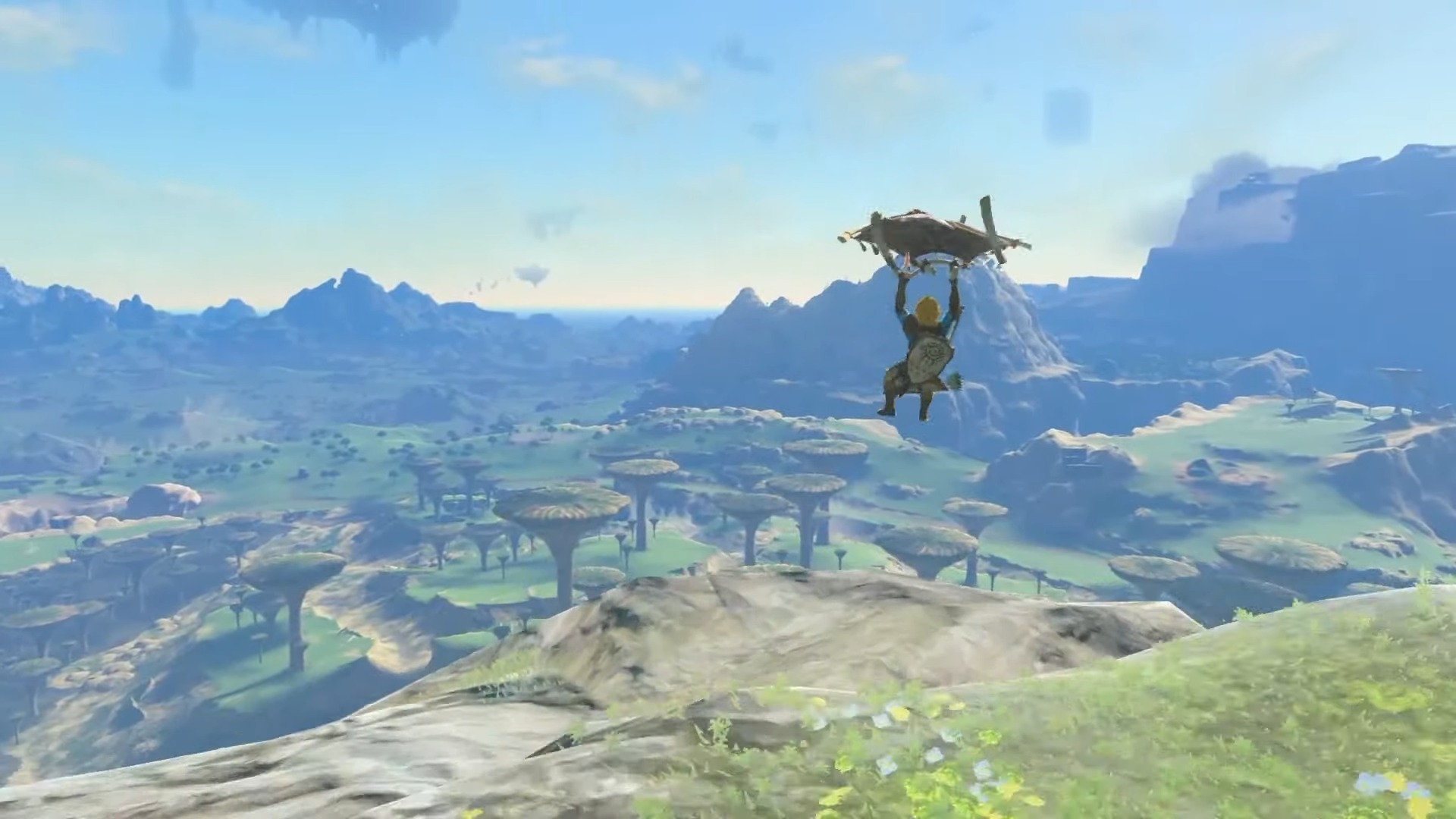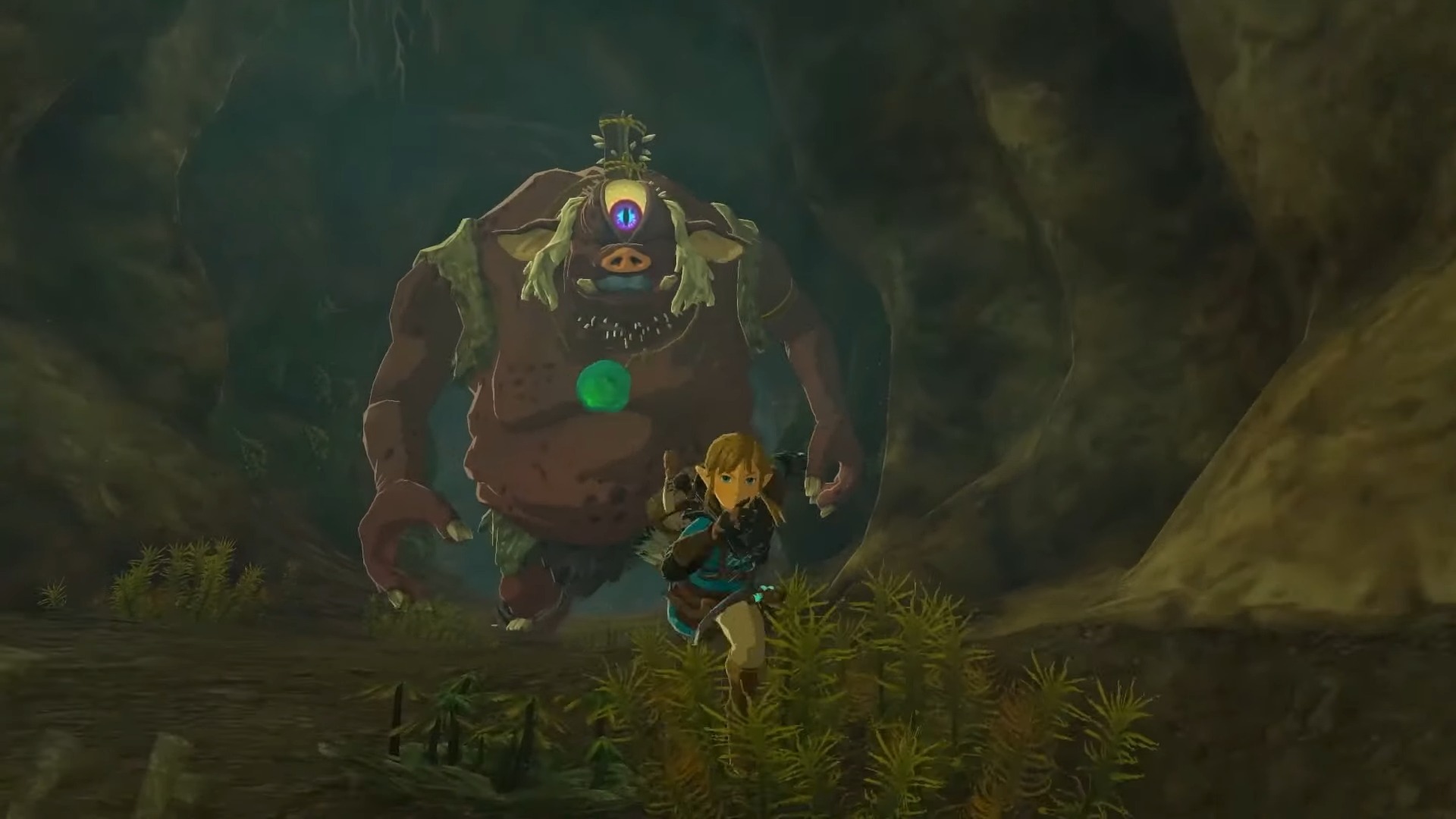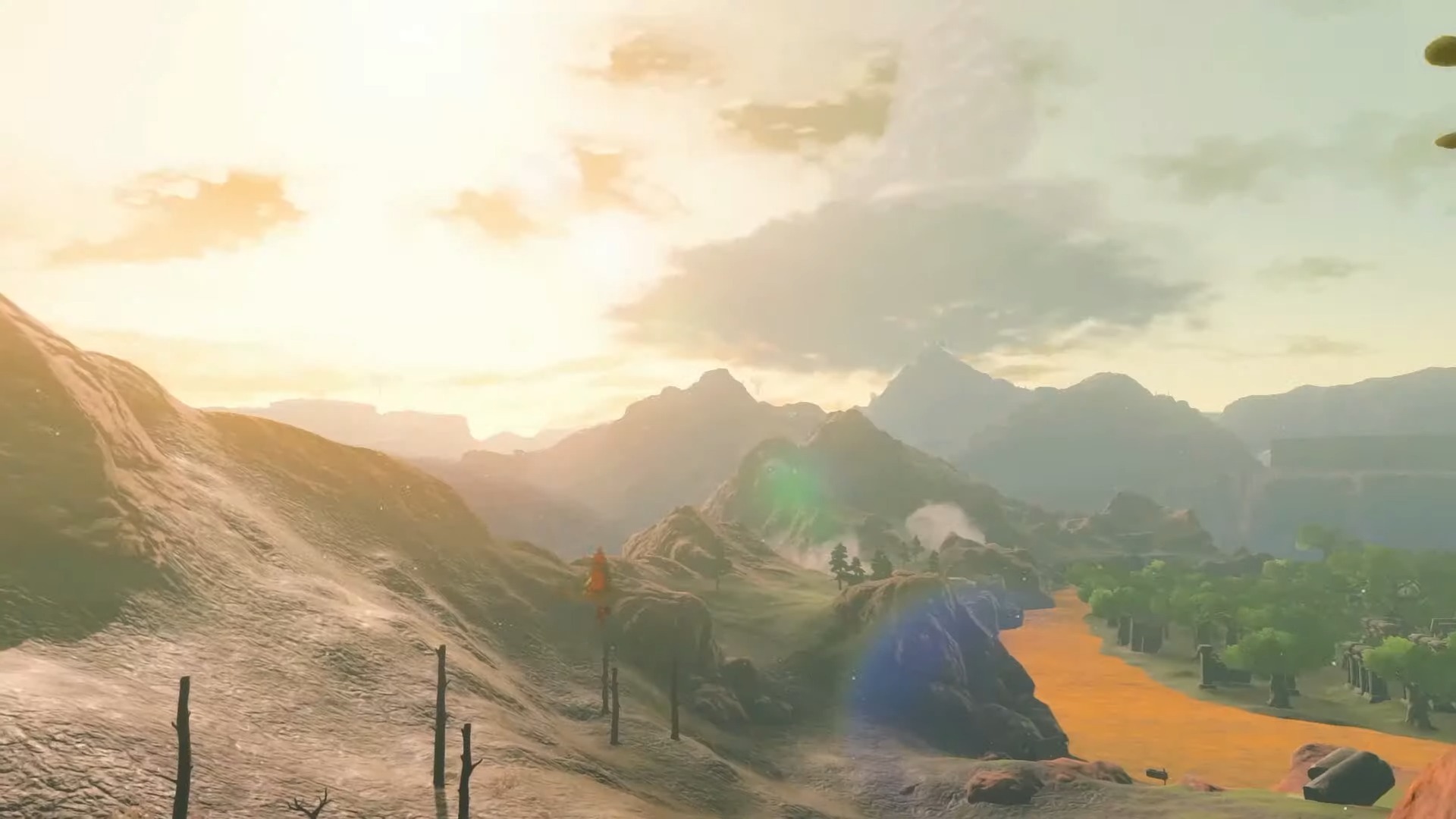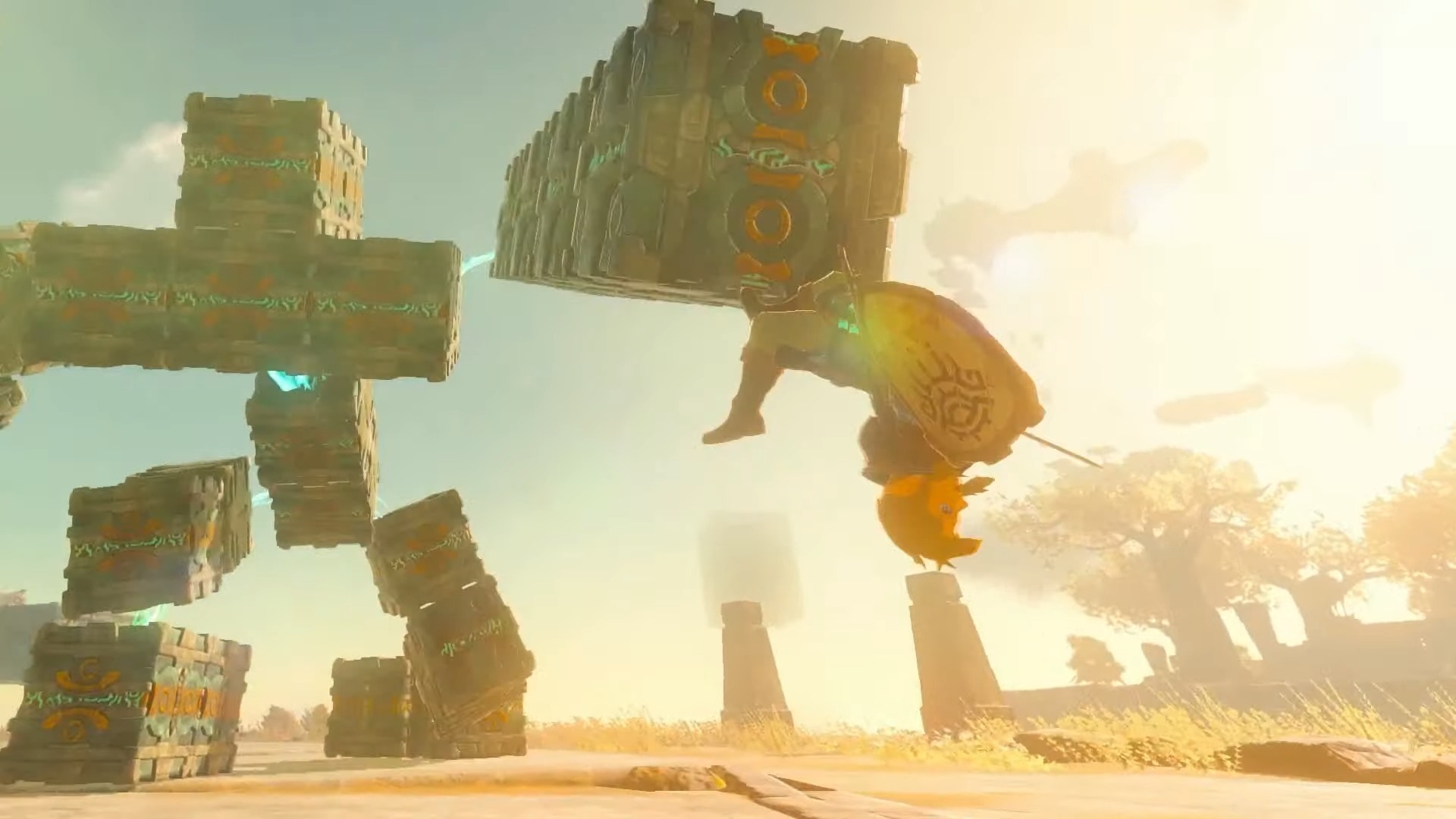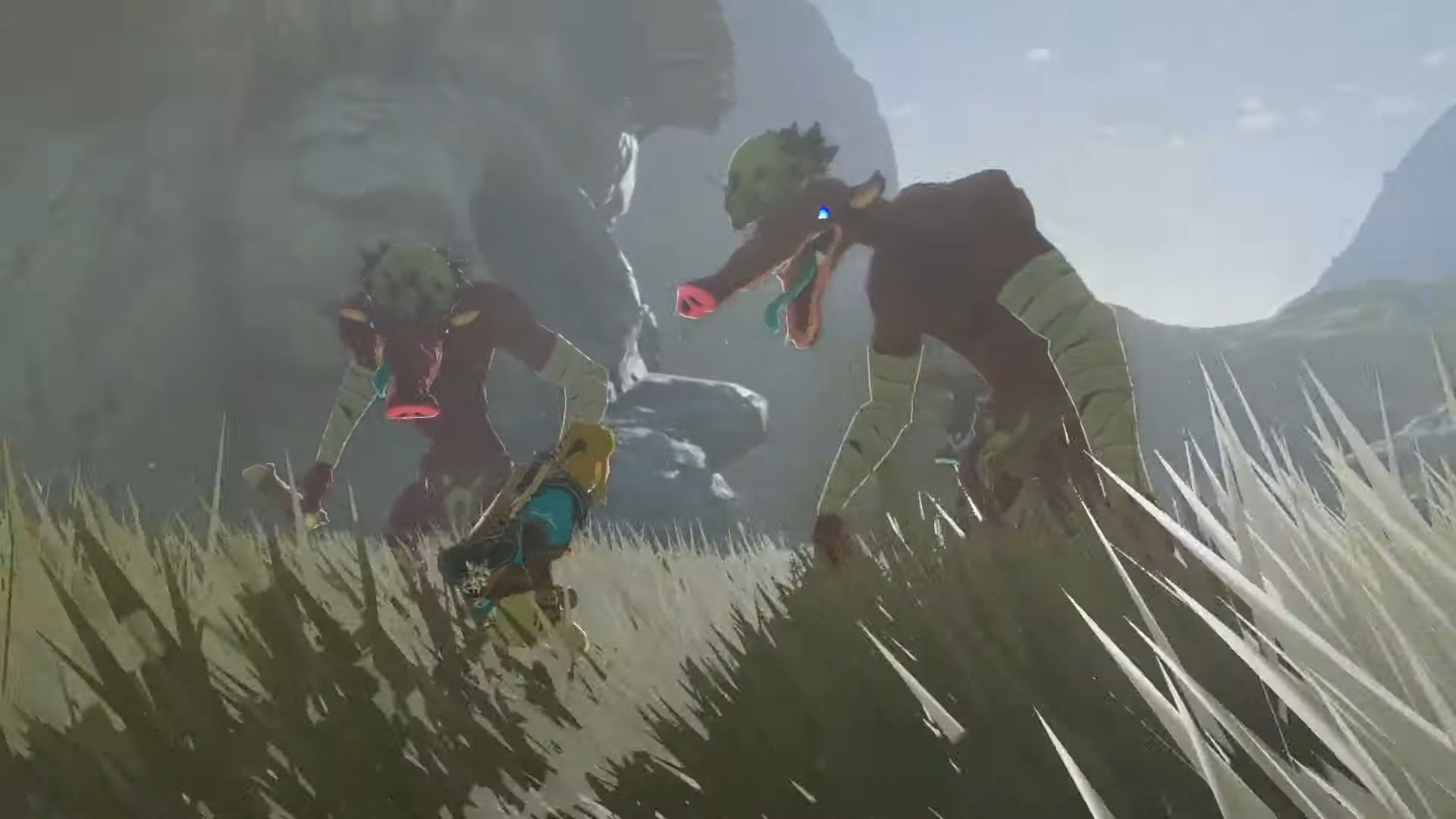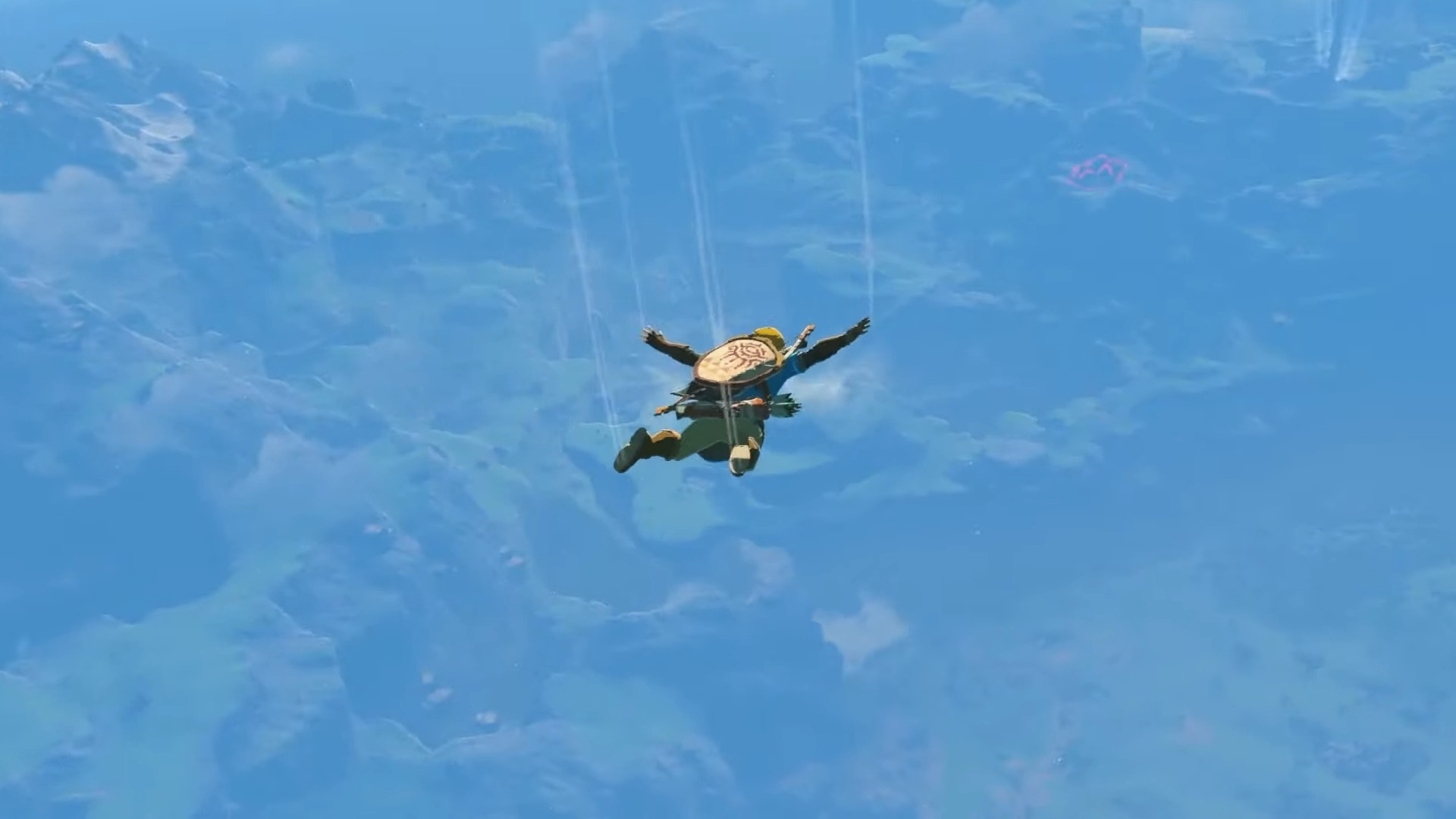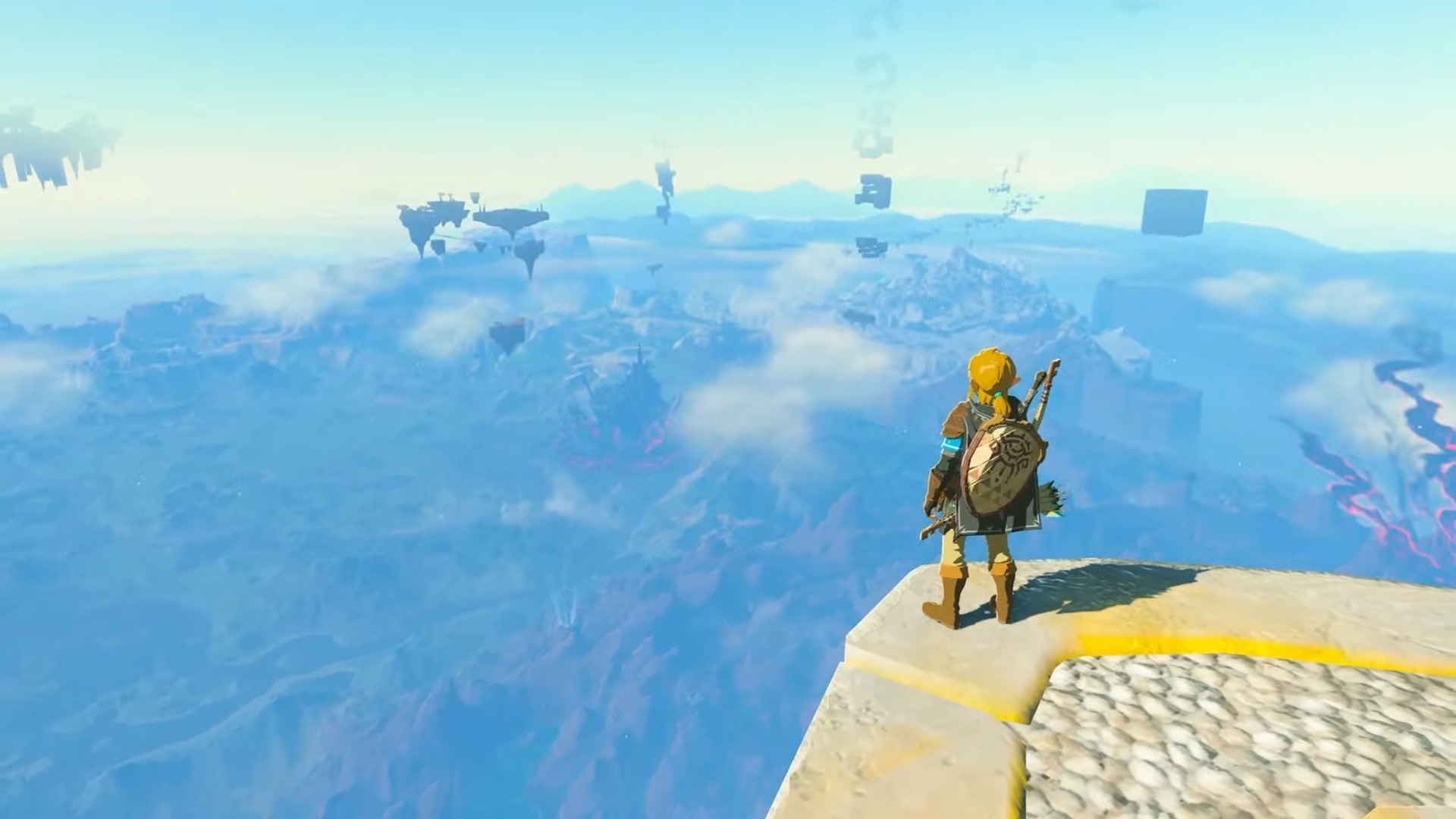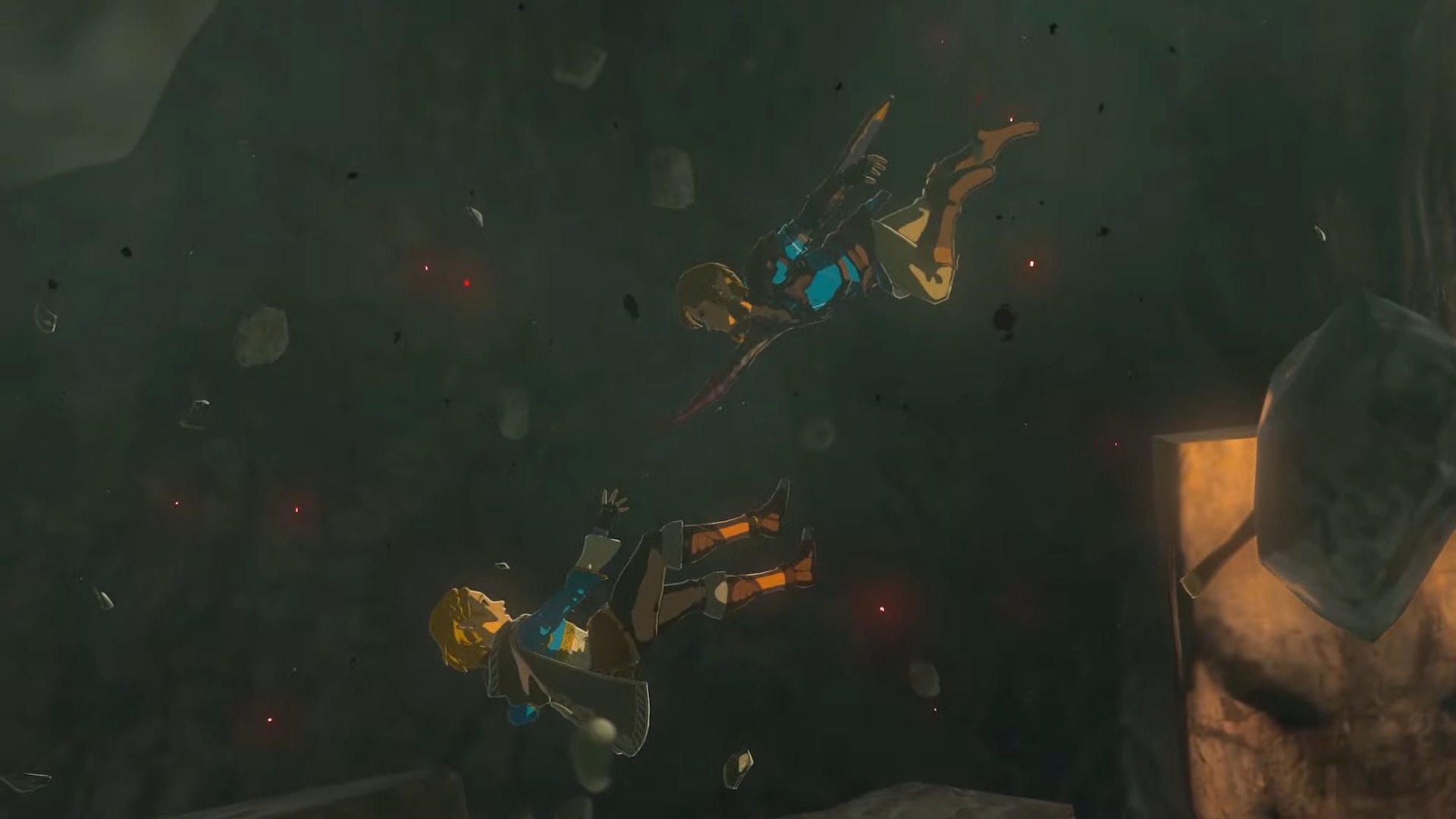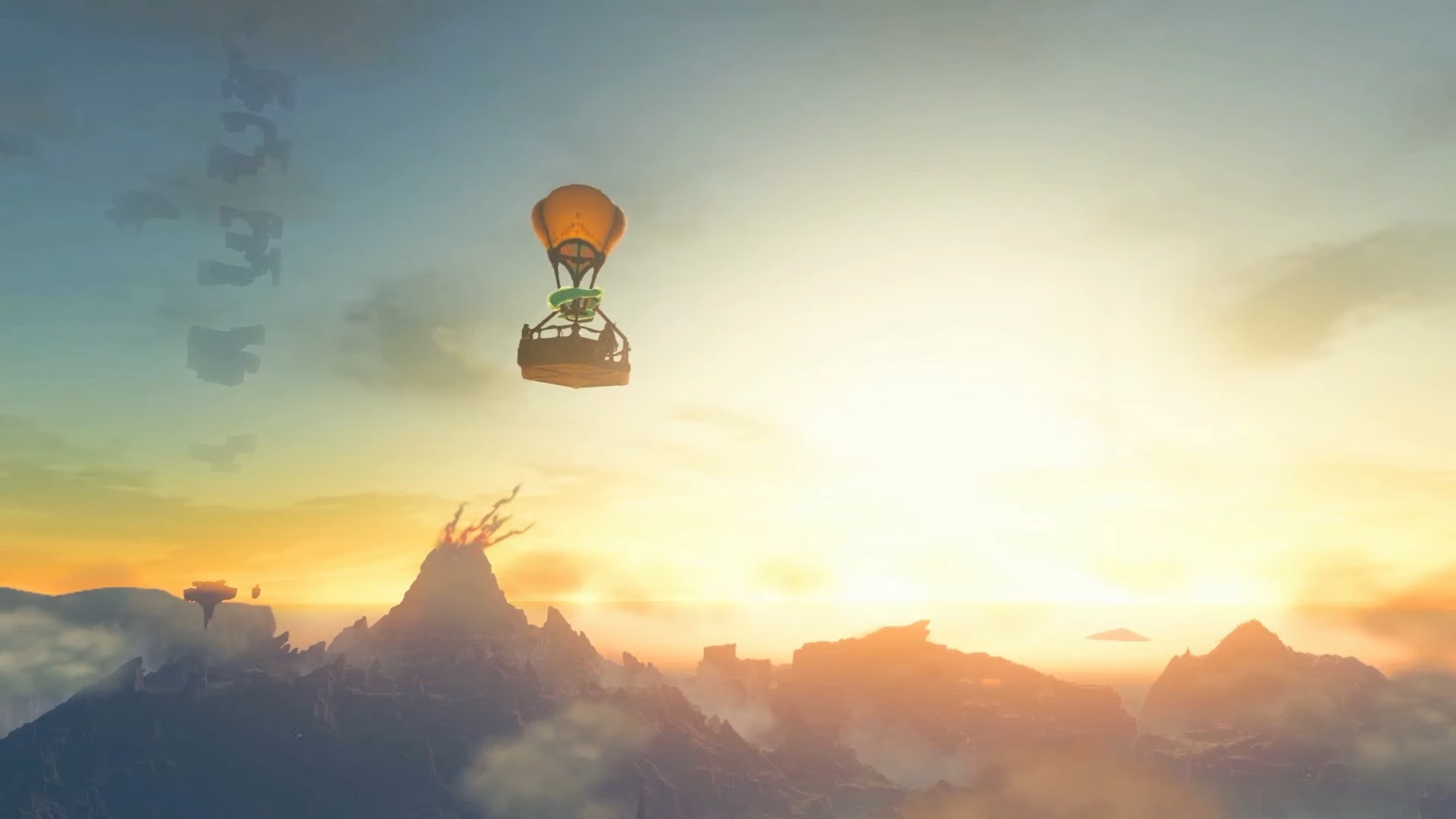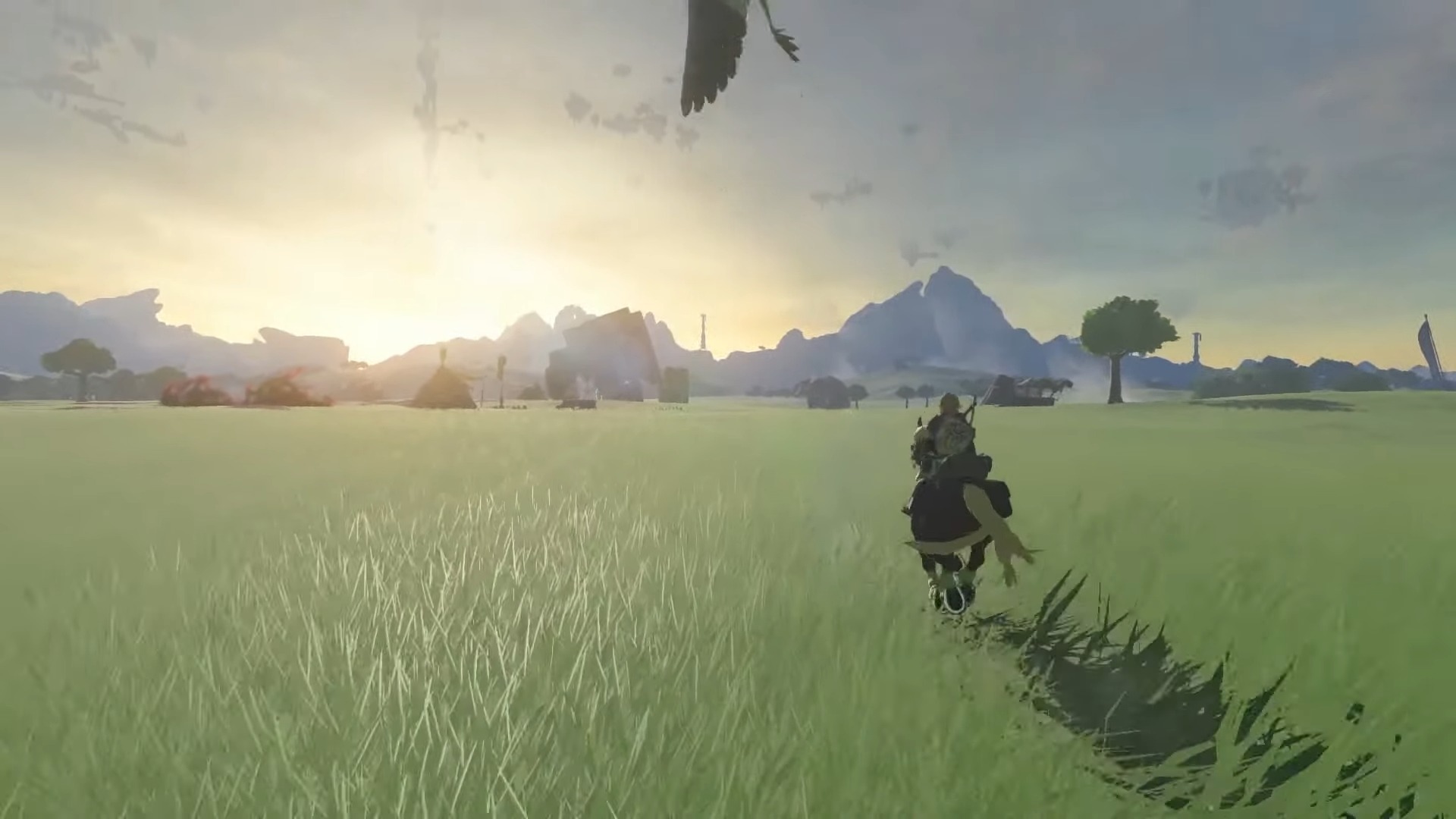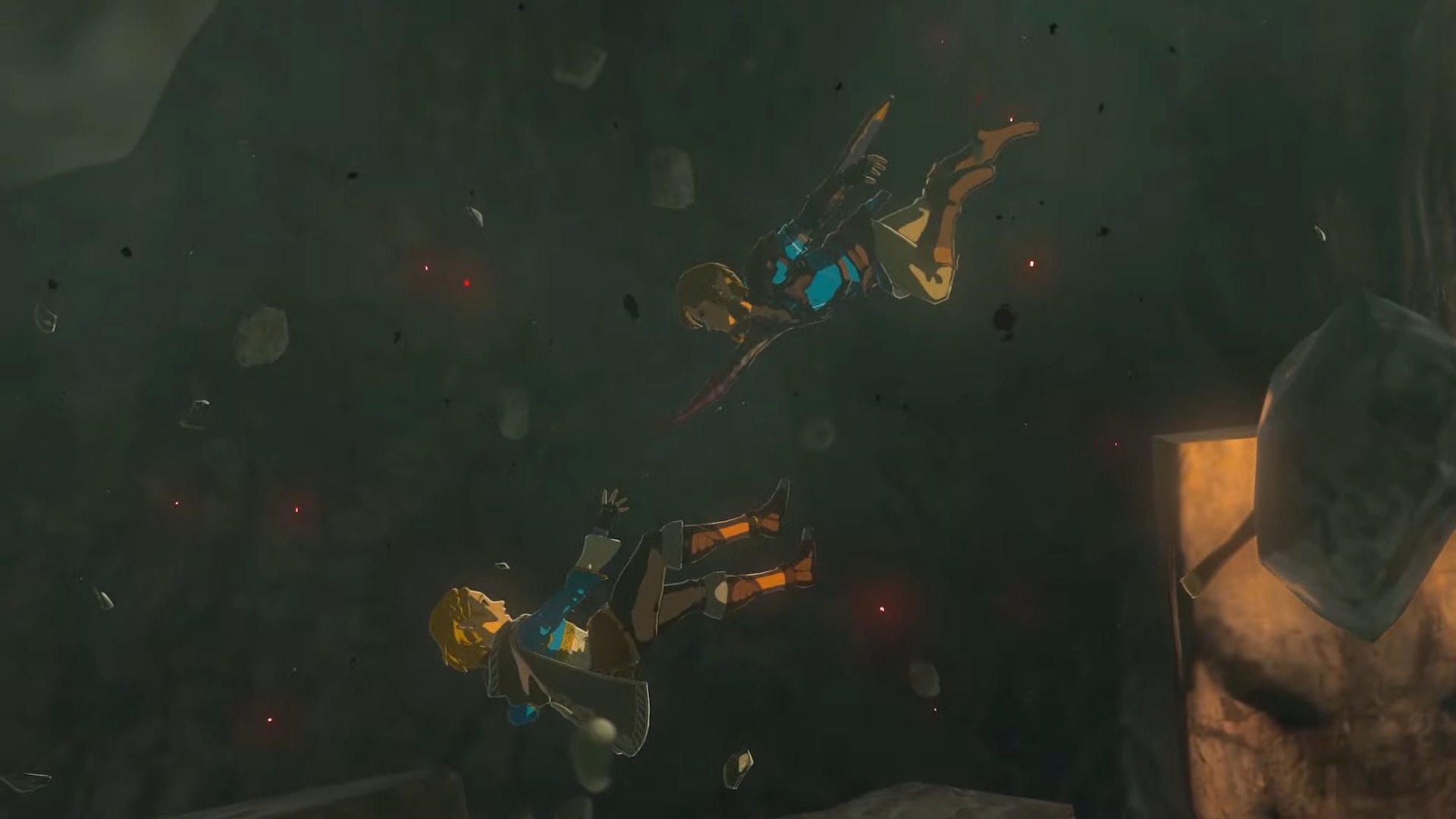 New Link amiibo also coming the day of release for Tears of the Kingdom - May 12.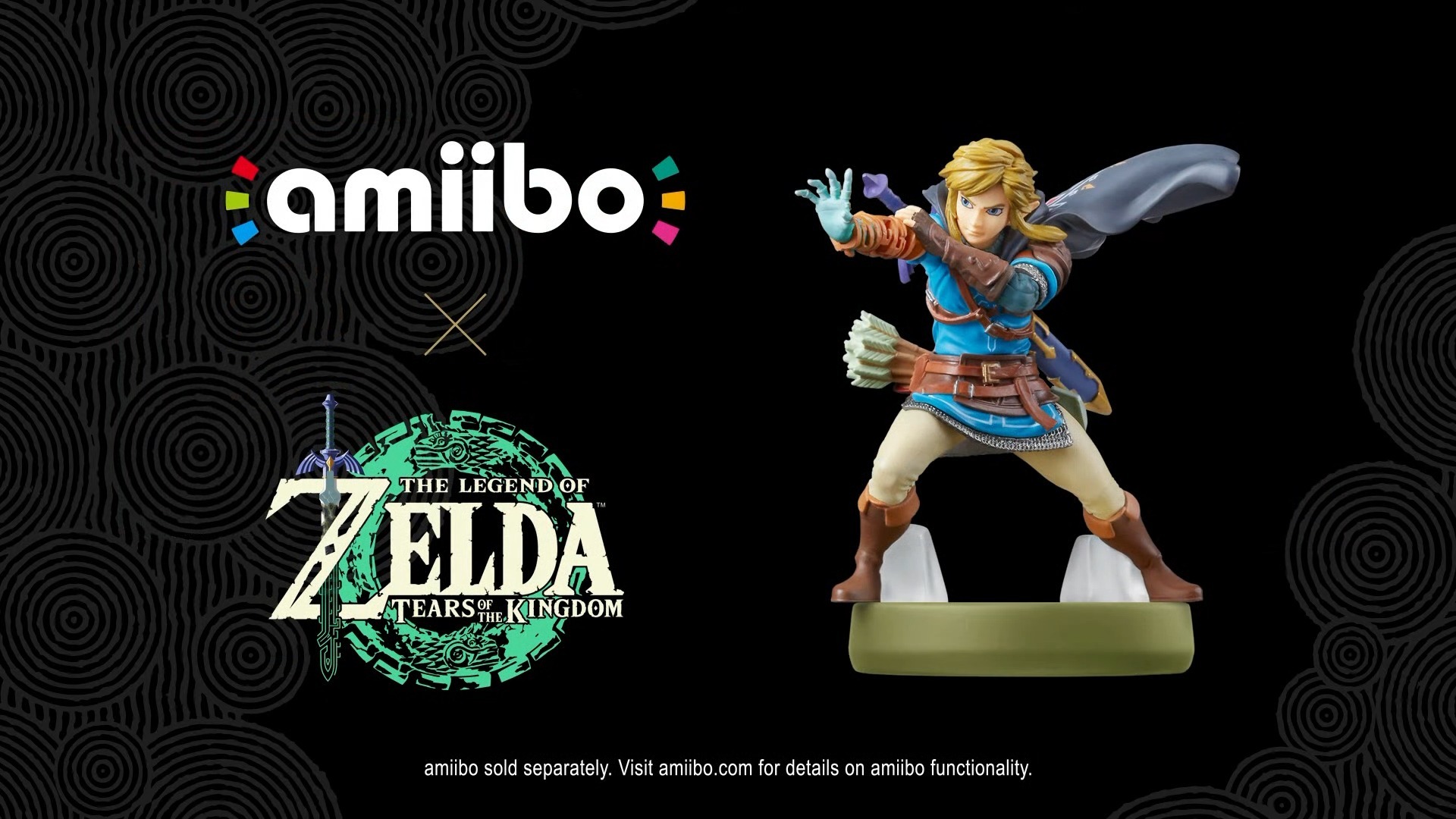 Gaming deals, prizes and latest news
Get the best gaming deals, reviews, product advice, competitions, unmissable gaming news and more!
Thank you for signing up to GamesRadar+. You will receive a verification email shortly.
There was a problem. Please refresh the page and try again.