There's a February Nintendo Direct coming later today, and we're expecting big things from the digital showcase. Set to go live over at the official Nintendo YouTube channel on Wednesday, February 8, 2023 at 2PM PST / 5PM EST / 10PM GMT, we're already working ourselves into a frenzy over the possibilities. That's why we here at GamesRadar+ are getting into the Nintendo Direct predictions game.
With Nintendo confirming that it is focusing on upcoming Switch games for the first half of 2023, it's possible to make some solid predictions ahead of this new Nintendo Direct. However, the publisher has been known to go against its own guidance in the past, so there's every chance that we might get a little update on the likes of Metroid Prime 4 or any of the other various first-party games that are in development but yet to be revealed. So keep on reading to find our Nintendo Direct predictions ahead of the main event.
The Legend of Zelda: Tears of the Kingdom detailed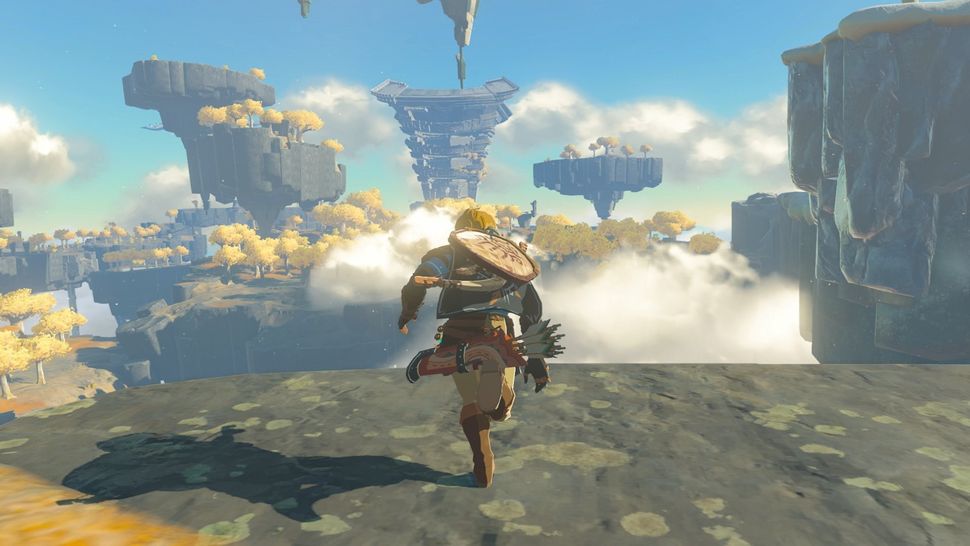 The Legend of Zelda: Tears of the Kingdom is fewer than four months away, but Nintendo has remained hyper-secretive about the game that's supposed to be its killer app for 2023 (and potentially the Nintendo Switch's last dance). As fan expectation rises, it's definitely time to set out what we can expect from our return to Hyrule. How is this game – a sequel in a franchise that doesn't really do sequels – aligned with Zelda: Breath of the Wild? What happened to Hyrule, Ganon, and Zelda herself to set the world up in the fragmented way that we've seen it? What tools will Link have at his disposal, and how will Tears of the Kingdom set itself apart from its predecessor? It's been a long, increasingly frantic wait since 2017, but as we near May 23, this Direct offers an excellent opportunity to send the hype train on its way. I'm expecting a lengthy overview, with Zelda leading the charge for the entire Direct.
Pikmin 4 gets a release date
During last September's Nintendo Direct, Pikmin 4's existence was re-confirmed with a handful of nice-looking snippets of the much-anticipated follow-up, but no actual in-game footage. But when Shigeru Miyamoto said we'll play "from the pikmin's perspective near the ground", as opposed to by way of the isometric views of the originals, the omission of a concrete release date (beyond a tentative "2023") and/or moving pictures seemed to matter less. It's been quiet since, however Greek retailer, Game Explorer, appeared to spill the beans this week by posting a May 26, 2023 release date to its storefront. At the time of writing, it's still there, and while this could be an error on the retailer's part, our guess is something in this vicinity will crop up at this forthcoming Nintendo Direct showcase to this end.
Advance Wars 1+2 Re-Boot Camp stealth drop
The release of Advance Wars 1+2: Re-Boot Camp has been a long-time coming. The remaster project was originally slated to launch on April 8, 2022, but was ultimately delayed because of the Russian invasion of Ukraine. The game has, presumably, been sitting on a shelf just waiting to be released ever since, and now rumors are starting to surface suggesting Nintendo is getting into the stealth drop game – something Xbox Game Studios recently saw success with, as you can discover in my Hi-Fi Rush review. As much as I love Intelligent Systems' Fire Emblem franchise, I have long thought of the Advance Wars series as being responsible for the best strategy games in Nintendo's library. The 15 year wait for Advance Wars' return has been tough, and I hope it ends with me being able to jump back into fray action later today.
A new Super Mario Bros. game
With so much chatter about the Super Mario Bros. Movie, it's only got fans hyped for something new in the Mario game space. We got the port of Super Mario 3D World to Switch with the new addition of Bowser's Fury back in 2021, but our old pal Mario has been pretty quiet ever since. (Mario Strikers: Battle League doesn't count, okay?) Super Mario Odyssey fans want a sequel so bad that an email from Nintendo has got their hopes up earlier this year, and although there are no truly tangible rumors for a Super Mario Odyssey 2, I can't help but keep my fingers, toes, and other appendages crossed for something Mario-shaped today. After all, it's still one of the best Nintendo Switch games, and seeing as the other top Switch title is getting a sequel this year, it's only fair that Cappy and co. eventually get a look in.
Kirby's Return to Dream Land Deluxe steals the show
Let's be honest, no Nintendo Direct is complete without an appearance from the loveable pink puffball. With the imminent release of Kirby's Return to Dream Land Deluxe this month, I hope we'll get to see more of the delightful adventure. After all, the original Wii version of Return to Dream Land is among our picks of the best Kirby games of all-time, and the fact that we're getting a new edition on Switch is a most welcome addition. While it was a big year for the small but mighty pink hero in 2022 – read my Kirby and the Forgotten Land review for more info on that one – this upcoming re-release means his time in the spotlight won't be ending anytime soon. Here's hoping Kirby gets some more time to shine during this Direct.
Long-rumored The Legend of Zelda ports
Hey, Nintendo. Is my suffering funny to you? It sure feels that way. I've spent years hoping for a Wind Waker HD Switch port (or even some Twilight Princess) to be teased during Nintendo Direct, and I'm disappointed every single time. It's like that clown meme at this point; another Direct is announced and the chances of a Zelda throwback are precisely 0%, yet here I am, putting on my shiny red nose and rainbow wig while muttering "maybe this will be the time." It isn't. We all know it. With Tears of the Kingdom on the horizon, there's no chance of a port. Revealing a Wind Waker encore would surely drag too much attention away from Nintendo's big gun. But you know what? A part of me still holds out hope.

---
Did you know that The Legend of Zelda: Tears of the Kingdom fans are playing bingo with today's Nintendo Direct? You can play along with them, but first you'll need to know how to watch the February Nintendo Direct.