Another Star Wars Lego set has been revealed by surprise via Lego's official store, and we can expect Darth Vader's Executor Super Star Destroyer to land in May - just in time for Star Wars day, as it happens.
Available to pre-order now for $69.99 direct from Lego (opens in new tab), or £59.99 in the UK (opens in new tab), this is a smaller kit at 630 pieces in total. It's very much in the style of the Death Star Trench Run diorama that launched last year, and much like that kit, this Star Wars Lego set comes with a special display stand and little accompanying ships on translucent stands to make it seem as if they're flying in formation. (Well, I say 'little' - these are the usually-massive Star Destroyers, showing how enormous Darth Vader's Executor Super Star Destroyer actually is.)
Fittingly, this set is designed to tied in with Return of the Jedi's 40th anniversary (the ship first appeared in that movie). This is just the tip of the iceberg when it comes to the celebration, because many other companies like Hasbro are getting in on this with special throwback collectibles of their own - like this wearable Scout Trooper helmet.
First spotted by BrickFanatics (opens in new tab), this kit is due to join Lego Star Wars sets on shelves for May 1. As the site points out, the item number - 75356 - was originally thought to belong to a rumored Jabba's Palace set. Considering how that hasn't materialized, perhaps we can expect it later in the year. (Closer to Star Wars Celebration, maybe?)
You can pre-order the set below.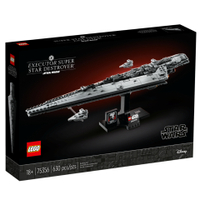 (opens in new tab)
Lego Exectutor Super Star Destroyer | $69.99 at Lego (opens in new tab)
Available May 1: This kit measures at more than 17 inches (43cm) long, making it ideal for putting on your desk or a shelf - it isn't one of the more ambitious and space-hungry sets that'll take up at least a few feet of real-estate. However, it does still come with a sleek display stand featuring the name of the ship and a commemorative 40th anniversary brick for Return of the Jedi.

UK price: £59.99 at Lego (opens in new tab)
---
Want to save money on the best Lego sets? Don't miss these Lego deals. Our bargain-hunting software is always on the prowl for reductions, so you should be able to find discounts on everything from Star Wars to the best Lego Super Mario sets there.