It is with great regret for your bank balance that we announce the release of the new Lego Disney Castle. Our thoughts are with you in this difficult time.
OK, let's be serious for a moment - the new Lego Disney Castle is now available to buy, and not just for Lego VIP members (they got early access from July 1). Seeing as it caused a lot of fans to have grabby hands when it was revealed earlier in June, we thought a quick PSA was worthwhile. You can see the full offer below, but for those who want to skip ahead, it's $399.99 via the Lego store or £344.99 if you're based in the UK.
It's a busy day for Disney fans; alongside the Lego Disney Castle, the new Lego Hocus Pocus kit also went on sale. At $229.99 / £199.99 on the official Lego store, it's a little cheaper. However, its release now means it (and the Castle) almost certainly won't be discounted as part of the Prime Day Lego deals. Sorry, bargain-hunters.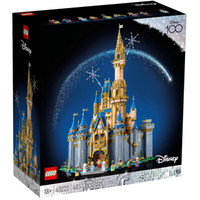 Lego Disney Castle | $399.99 at Lego
This enormous kit has been launched as part of Disney's 100-year celebration, and it replaces the old Disney Castle set that retired last year. This one's bigger and arguably better, with more rooms and minifigures to go with a redesigned facade and extra flourishes we didn't have before.

UK price: £344.99 at Lego

Should you buy the new Lego Disney Castle?
We're still in the process of making this kit to see where it ranks against the best Lego sets, but so far, we've been impressed. While the bare bones are very similar to Lego's old Disney Castle, this one adds bonus rooms with references to movies from across Disney's history. Even more detail had been added to the facade as well, not to mention a color scheme that more accurately reflects how its inspiration (the Walt Disney World Castle) looks now.
While it's a shame that the old minifigures of Mickey and Co we got last time have been being replaced with some of the Disney parks' most frequently-seen princesses, it does mean you're getting miniature versions of Cinderella, Prince Charming, Snow White, Prince Florian, Princess Tiana, Prince Naveen, Rapunzel, and Flynn Ryder instead. And honestly? These are probably a better fit for the set anyway.
Sure, this may not be a candidate for lists of Disney gifts unless you have a rather large budget. Plus, you'll need a lot of space to display this thing - it's massive. However, it really is a gorgeous set and will be something of a show-stopper when constructed. In addition, we'd argue that it's superior to the previous version thanks to the new color scheme and extra features.
---
For more brick-based shenanigans, check out the best Lego Star Wars sets, must-have Lego Super Mario sets, or these Lego deals.