I use the Genki Covert Dock every day, it's one of my favorite pieces of kit and, in my opinion, the best Nintendo Switch accessory on the market. It's a dock and charger capable of hooking your handheld up to anything with an HDMI port and it's pretty much the size of a standard wall plug. There's just one problem - it carries a fairly high price tag and discounts are extremely rare.
I've been waiting to write up this Nintendo Switch deal since I reviewed the Genki Covert Dock back in April last year, waiting for that price to drop so that more players can enjoy the feeling of travelling light. Today's that day. Amazon has the Covert Dock available for £49.50 (down from £74) right now, thanks to a combination of 19% off the listing price and a further £10 off with the on-page voucher. That's excellent value - the best £50 you can spend on your Nintendo Switch experience today.
Savings aren't limited to the UK, though discounts are more impressive this side of the pond - the US can also enjoy a small saving of $5, dropping the $74.99 MSRP down to $69.99. It might not sound like much, but that's still the lowest price we've ever seen and a considering we haven't seen any discounts in the past that's particularly impressive.
This is one of the rarest Nintendo Switch deals I've come across, but if you're after more discounts on the best Nintendo Switch accessories you'll find plenty other options further down the page.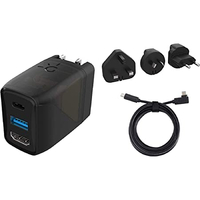 Genki Covert Dock | £73.88 £49.50 at Amazon
Save £24.38 - The Genki Covert Dock has hit a new record low price at Amazon, with nearly £25 off that stubborn £74 RRP. You'll find 19% off on the page itself, but be sure to check the £10 voucher box for the full savings. We very rarely see Nintendo Switch deals on this piece of kit, so this is a particularly lucrative offer.
Should you buy the Genki Covert Dock?
The Genki Covert Dock has completely revolutionized how I use my Nintendo Switch both around the house and on trips. It's a must-see for anyone looking to breathe new life into their Switch setup, especially those who regularly travel with the console. The whole system is incredibly well built, packing a compact form factor that slots directly into the wall and takes up very little space in a backpack. Combine that with the three regional outlet designs which can be hot-swapped in and out as you travel the globe, and you've got a big-screen solution wherever you are.
If you're concerned by the spate of Nintendo Switch killing devices early on in the system's life cycle rest assured that HumanThings has developed the Genki Covert Dock alongside Nintendo's own power delivery system. That means it's safe for use with the handheld console, and I've been using mine for well over a year without any problems.
Of course, anyone looking to replace their official dock should also be seriously considering this offer. Thanks to today's Nintendo Switch deals, it's currently cheaper than the official dock and provides additional flexibility to boot.
Buy if:
You travel regularly with your Nintendo Switch
You want to dock your console in different places around the house
You need to replace your official dock
More of today's best Nintendo Switch deals
Of course, there's plenty more kit out there. Nintendo Switch deals cover a wide range of controllers, cases, games and more right now, which means there's always a saving up for grabs. You can find all the lowest prices on some of our top tech just below.
We're also rounding up the best Nintendo Switch cases and the best Nintendo Switch chargers for more inspiration. Or, take a look at the best Nintendo Switch controllers to fully supercharge your setup.