The Cheval Marshall monster truck can be unlocked in GTA 5 by winning Stock Car Races - a marker for these races will appear on your map after you complete the Mr. Philips mission with Trevor.
You'll need to find a suitable ride to enter the first race - a muscle or sports car should do it. Win races to unlock the following vehicles, in order:
1: Burger Shot Stallion
2: Redwood Gauntlet
3: Pißwasser Dominator
4: Sprunk Buffalo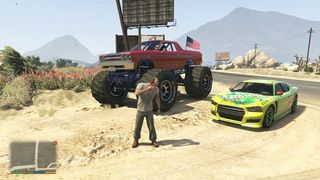 5: Cheval Marshall
Once unlocked, you can access the four stock cars from any of the characters' personal garages.
You can also collect the Cheval Marshall from Trevor's airstrip hanger in Grand Senora Desert, with a set of 25 different flag liveries to choose from.
Looking for more GTA 5 help? Then check out our Grand Theft Auto 5 cheats and guides: everything you need for PS4, Xbox One and PC.