Fizban's Treasury of Dragons is set to give these D&D mainstays their due; it promises fresh rules and a dive into the lore of tabletop's most iconic monster. The book also promises to explain why these monsters are so crucial to Dungeons & Dragons at large. Which makes sense, really. They form half of the game's name, after all.
This sourcebook also brings the classic Dragonlance setting back to D&D - well, sort of. Although Fizban's Treasury of Dragons doesn't explore Dragonlance itself, its point-of-view character hails from that world.
So, is Fizban's Treasury of Dragons worth getting? We've rounded up everything you need to know on the module here, including when it launches, what's in it, how it compares to previous Dungeons and Dragons books, and where to find the best deal.
Fizban's Treasury of Dragons - what to expect
What is the release date for Fizban's Treasury of Dragons?
Despite originally aiming for an October 19 release, shipping delays have knocked that back a week to October 26, 2021 (digital versions of Fizban's Treasury of Dragons will also launch on the same date). The book is available to pre-order now at Amazon (opens in new tab), Barnes and Noble (opens in new tab), and beyond.
As per usual, there are two versions of Fizban's Treasury of Dragons on offer this October; you can pick up the standard edition or a special cover with a soft-touch finish. The latter is supposed to be an in-store exclusive, but we've seen it floating around online as well.
What is Fizban's Treasury of Dragons about?
Announced via D&D Live earlier this year, Fizban's Treasury of Dragons is a one-stop-shop for all things draconic. What kinds of dragon are there? Where can you find their lairs, and how do you beat them? Rather than being a story-driven adventure, this book focuses on lore and stats instead.
More specifically, it includes an extensive bestiary with tips for creating all kinds of drakes, treasure hoards, and campaigns involving both. New character options for draconic ancestries and dragon-themed subclasses for rangers or monks will be available as well.
The book is full of deep cuts like that; as an example, it reintroduces gem dragons to the game. These creatures haven't been seen since the Third Edition of Dungeons & Dragons, so that's a big deal for fans who've stuck with D&D for years.
Additionally, Fizban's Treasury of Dragons wades into D&D lore by shedding light on the game's mythical 'First World' - the supposed birthplace of D&D's multiverse. Because legendary dragons Bahamut and Tiamat are involved, these events should demonstrate why these creatures are deserving of a place in the TRPG's title.
Does Fizban's Treasury of Dragons include Dragonlance?
As suggested by the book's name, we'll be guided through all that by Fizban the Fabulous - a "doddering archmage" from the Dragonlance setting. This classic universe began in the 1980s and has countless sourcebooks under its belt to go with over 100 novels, so we're hyped to see it referenced here... even subtly. However, don't get too excited. Fizban's Treasury won't explore the world of Dragonlance itself. This has been confirmed by D&D publisher Wizards of the Coast.
That doesn't mean we won't get a chance in the future, though. During a press briefing earlier this year, the D&D team pointed out that it's going to revisit classic worlds in 2022. While those projects haven't been announced yet, it's possible that Dragonlance will make the cut. We'll just have to wait and see.
Fizban's Treasury of Dragons - alternative cover
As with most Dungeons & Dragons releases (it was certainly the case for The Wild Beyond the Witchlight and will be for Strixhaven: A Curriculum of Chaos), Fizban's Treasury of Dragons will launch with a second cover. This is a soft-touch design that's a little more abstract, and it puts massive red and gold dragons front and center.
Just don't expect to get your hands on it easily. This Fizban's Treasury of Dragons alternate cover is an in-store exclusive, so you'll need to brave the outdoor world if you want it on your shelf. In theory, anyway - we have seen it knocking about online, so you'll have to try your luck if there isn't a participating brick-and-mortar shop near you.
Fizban's Treasury of Dragons - accessories
Most D&D launches hit shelves alongside themed dice and the like (much like you'd expect for one of the best tabletop RPGs), but Fizban's Treasury of Dragons is an exception to the rule. There are no accessories to go with the book, so you won't find any cool extras come release day at the end of October.
Luckily, there are plenty of other Dungeons & Dragons accessories to enhance your games. There are more than a few awesome WizKids miniatures to represent these creatures in your games, and there are more themed dice (opens in new tab) out there - many of which include dragons - than we can count.
Pre-order Fizban's Treasury of Dragons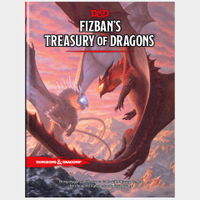 (opens in new tab)
Fizban's Treasury of Dragons | $50 $29.97 at Amazon US (opens in new tab)
Considering the fact that it was only recently announced, that massive 40% discount isn't one to be missed - you'll get one of the latest D&D books for almost half-price ahead of its October 26 release date.

More Dungeons & Dragons
If you want more D&D, be sure to take a look at our guides below. As well as giving you a heads up on the best Dungeons and Dragons books, they'll run you through the basics (such as how to find a game online). You can also check out our Dungeons and Dragons Starter Set review if you want an introduction to the tabletop RPG.
---
Want more tabletop recommendations? Don't forget to check out the best board games. And even though it's a little way off, it's worth bookmarking our Dungeons and Dragons Black Friday page and Black Friday board game deals guide to make sure you're ready for this year's discounts.