Currently The Division 2 plays well but hasn't really shown a huge reason to invest in its otherwise slick gunplay. Our recent hands on with The Division 2 gameplay has revealed a game full of great mechanics and a satisfying fell but without a wider story to frame it all it's hard to get into - played against endless bots in the Dark Zone that can only go so far.
The co-op persistant world shooter has promise though with a recent story trailer teasing an America on the verge of civil war. Seven months after the original viral outbreak the country is rebuilding; clawing it's way back from the brink of an apocalypse. Perhaps the most interesting part of the new trailer is the tease of some sort of counter-Division agents. They look like an evil version of the world saving good guys but what are they trying to achieve?
The Division 2 release date is set for March 2019
You'll be able to play The Division 2 on PC, PS4, and Xbox One when its release date arrives on March 15, 2019. For your reference, that's just over three years after the original game came out on March 8, 2016 - though primary developer Massive Entertainment has kept busy with substantial post-launch updates since then.
The Division 2 private beta is arriving February 7
The Division 2 beta release date is currently set for February 7. However, you'll need to pre-order the game for guaranteed access into the private beta. However, you can also sign up for a chance of getting in by registering interest at the game's official website. There's no details yet on what The Division 2 beta will entail, although based on what the beta included for the original game it could be quite a big chunk of stuff. Out hands on so far suggests a game that needs a reason to be played - loot, risk and long terms goals so hopefully the beta will include all that as well as a chance to keep some of the progress for the main game.
The Division 2 locations include the White House, Air and Space Museum, and Roosevelt Island
At Gamescom 2018, Ubisoft confirmed some of the specific places you'll be visiting in The Division 2, and it spreads far beyond the National Mall. Here's what Ubisoft had to say about each of the confirmed locations to our sister site, PC Gamer:

Roosevelt Island: "Roosevelt Island is forested, people go walking in there, they go hiking and for us this is a mysterious place."

Air and Space Museum: "Anybody who ever talks about it does so with a smile—it's got aviation, it's got space exploration, people often went there as children. Looking at the space alone looks fun, and it represents something for players to explore."

The White House: This place stirs "strong emotions" in people, which is definitely putting things lightly, for better or worse.
The Division 2 trailer takes you to Washington D.C. and teases a rival... Division?
The original Division was all about New York City in the winter, beginning just weeks after a deadly strain of flu struck down most of its population and chaos seized the rest. The Division 2 will pick up months later in Washington D.C., which is looking downright apocalyptic at this point. Apparently the quarantine efforts failed pretty hard. Now it's on you, an agent of the secret government sleeper group called The Division, to put things back together.
The story trailer builds on this attempt to reestablish society with an impassions plea from the President as factions fight, effectively putting the country in a state of civil war. Where things get a bit 'wait what?!' is what appears to be a group of anti-Division agents turning up with order to eliminate you with 'extreme prejudice'. Given that most of the game's enemies are usually rag tag gangs with junk armour, how will a well funded, apparently well equipped rival mean?
The Division 2 gameplay has a strong emphasis on the endgame
You still won't pick a class when you start playing The Division 2, but you sort of will after you finish the campaign. The sequel introduces multiple Specializations that agents can pick up just as they're getting ready to head into the endgame; selecting one will give you access to exclusive weapons like sniper rifles and grenade launchers, and unique variations of agent abilities. It's sort of a class-lite system, and it sounds like a cool way to encourage planning for the new Raids. Yep, watch out Destiny - The Division 2 is getting raids, and they'll support teams of up to eight players.
The Division 2 DLC will give away at least three new episodes for free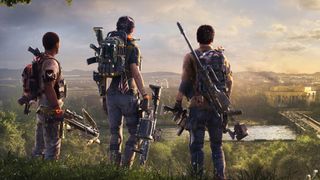 No word on whether The Division 2 will offer paid DLC - though it's a good bet - but Ubisoft has already confirmed that every major expansion in its first year will be free to all players of the game. That said, there will be a "Year One Pass" for those who wish to cough up some extra money for all that The Division 2 will provide over its first 12 months, which includes a week's early access to all major DLC, alongside a bunch of other cosmetic goodies and otherwise.