It's a new year, and cheap Pokemon cards are on the menu in the UK. Both Zavvi and Magic Madhouse's after-Christmas sales are still going strong, and you can save up to £12 across a variety of sets.
That includes the Pikachu Pokemon Go gift tin for £17.99 at Zavvi (opens in new tab) instead of £22, a saving of £4 overall. Along with the usual four booster packs, this bundle comes with a foil promo card featuring the electric mouse designed to help you track down items within your deck. In addition, it includes an additional foil card with either Pikachu, Snorlax, or Blissey. So far as cheap Pokemon cards go, that's not bad value for money.
Another standout is the Pokemon Go Elite Trainer Box for £39.95 at Magic Madhouse (opens in new tab) (was £52.50). Offering a reduction of £12.55 on a pack that gets you 10 Pokemon Go Boosters, a set of themed dice, and a Mewtwo promo card. It's certainly one of the more tempting cheap Pokemon card deals available on the site right now.
Want to take a look for yourself? You can check out the Zavvi sale here (opens in new tab), or head to the Magic Madhouse deals (opens in new tab) via the link. It's worth a quick browse if you're keen to boost your collection for less.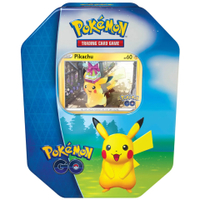 (opens in new tab)
Pokemon Go Gift Tin (Pikachu) | £21.99 £17.99 at Zavvi (opens in new tab)
Save £4 - While that's not a massive saving on the face of it, it's a good way of grabbing some extra boosters on the cheap. One of the best, actually; we've only ever seen this pack drop to £19 or so on rival sites like Amazon, so you're getting better value for money than usual here. Speaking of which, you can also grab all three Pokemon Gift Tins for less at Magic Madhouse; the triple bundle is £49.95 (opens in new tab) instead of almost £66.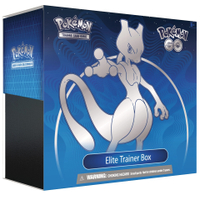 (opens in new tab)
Pokemon Go Elite Trainer Box | £52.50 £39.95 at Magic Madhouse (opens in new tab)
Save £12.55 - The biggest straight discount in today's cheap Pokemon card deals is this Mewtwo set, currently enjoying what seems to be its lowest price by around five pence. Because it includes 10 boosters, it's a really easy way to get cards en-masse for a lot less.

More card game deals
There are always savings to be found on the best card games, and we've got our bargain-hunting software looking for the most tempting offers below.
---
Want some recommendations? Don't forget to check out the best board games, the best tabletop RPGs, and the ultimate gifts for gamers.