For those who have been eyeing a Disney Plus sign-up but haven't pulled the trigger yet, this cheap Disney Plus deal might convince you. The House of Mouse is now offering Disney Plus, Hulu, and ESPN+ as a single bundle costing $12.99 per month. That's the same price as a normal month of Netflix for triple the amount of content, and you'll be saving a good $5 every four weeks. What's more, Disney Plus comes in 4K with HDR as standard (which is pretty cool considering the fact that most of the competition charges extra for Ultra-HD). Short of the Disney Plus gift card, you're unlikely to find a better discount.
Try before you buy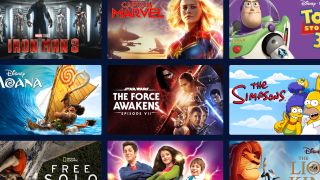 (Image credit: Disney)
Disney Plus free trial
Want to try before you buy? Although it's not possible to get a free trial with the Disney Plus, Hulu, and ESPN+ bundle, there's no reason you can't use up the standard membership's seven day free trial first before cancelling and swapping over.
This cheap Disney Plus deal also has something for everyone - it's falling over itself to offer sports, movies, TV, and documentaries to suit a range of ages and tastes. Because live-action Star Wars series The Mandalorian is now available on Disney Plus in its entirety as well, there's plenty to get excited about.
Already have ESPN+ or Hulu? Don't worry, Disney will reduce your bill accordingly. Yes, this bundle means that you can't get a free trial for Disney Plus, but there's no reason why you couldn't grab a standard membership, use up its grace period, cancel once it's over and before you're charged, and swap to this offer afterward.
Still not convinced? Don't fret, it's not the only cheap Disney Plus deal kicking about. Besides the gift card we mentioned earlier, there's a Verizon offer where you get a free year of Disney Plus with certain schemes. Because a full 12 months of Disney Plus would cost around $70, getting it for free with a data plan you may need anyway is handy indeed.
For the full range of offers, check out our list below.
Cheap Disney Plus deals
Disney Plus, Hulu, ESPN+ | $12.99 per month
This deal gives you access to three streaming services for a very reasonable cost - it also offers something for all the family.View Deal
Disney Plus | $6.99 per month
This is the standard subscription for Disney Plus. It's a bargain - there's 600+ movies, TV shows, and documentaries here.View Deal
Disney Plus gift subscription card (1 year) | $69.99 (save almost $14)
Give a loved one the gift of Disney Plus this holiday season via a digital card - it'll get the recipient a year of the service.View Deal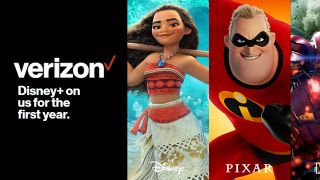 Verizon plans with a free year of Disney Plus
Considering upgrading your data plan? This Verizon deal gets you a free year of Disney Plus.View Deal
If you're still on the fence when it comes to Disney Plus, it's worth checking out everything that's currently on the service (including Captain Marvel, every episode of The Simpsons, and National Geographic documentaries). Don't hang around too long, though - it's not clear if or when these promotions will end.