Gremlins Team Pack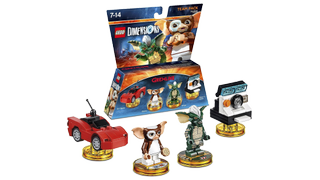 If you don't immediately fall in love with Gizmo the minute he's emptied out of the bag in pieces, there's probably something wrong with your heart. While there's no campaign level included with this pack, both Gizmo and the ultra evil Stripe are brilliant additions to the Lego roster and the unlocked Adventure world that includes locations from both Gremlins 1 and 2 will take hours to explore fully. Talent wise, Gizmo can shoot targets and has the ability to blow up silver Lego bricks, while Stripe can cut vines, dig and has acrobatic abilities. He also looks over at Batman and tells him he looks like a Gremlin so he can definitely spend more time on my portal.
Back to the Future Level Pack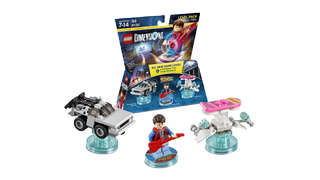 Lego? Where we're going we don't need Lego! Well, no, that's not entirely true. You probably do need this Level Pack. Once again fuelling our ever burning nostalgia fire, the Back to the Future pack comes with Marty McFly, his trusty Hoverboard and, of course, the DeLorean. Not only is this lovely to build but it can be upgraded to the flying version from the second movie. The level is an enjoyable highlights reel of the original movie but there's more fun to be had in the picture perfect recreation of Hill Valley in the accompanying world unlock. Chances are that the Hoverboard is going to end up on your portal constantly, not just for the fact that you can fly but getting your favourite characters to surf through the various worlds is a ridiculous high.
Doctor Who Level Pack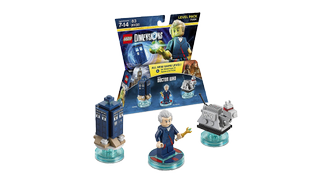 So it turns out that it's not just the TARDIS that's bigger on the inside. The Lego Doctor is too. While he might only look like one tiny plastic man, every single Doctor is playable with this one minifigure. From William Hartnell all the way through to Peter Capaldi, they're all here. While that's probably cool enough to justify this entire pack, TT Games shows off its clear love for the classic show because every change of Doctor alters the interior of the TARDIS to exactly how it was during that Doctor's run. There's even the soundtrack to match and every Doctor has his own accessories and dialogue. The level itself, The Dalek Extermination of Earth, is classic Who fare and thoroughly enjoyable. Add in the love letter to the series that's the accompanying hub world and the tiny Lego TARDIS and this is one not to be missed.
Joker and Harley Team Pack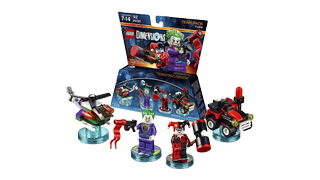 Just like Superman, The Joker and the delightful Ms Quinn won't unlock or open any new areas but do bring a whole new blend of villainy to your Lego Dimensions team. The Joker is armed with a pistol for hitting targets but also battling enemies, while Harley is equipped with a ridiculously fun to build hammer for smashing foes and everything else into tiny studs. Vehicle wise, The Joker's Chopper is a lovely little build that means you can buzz around the skies, while the Quinn Mobile is a stylish build but isn't really useful for much until it's upgraded. This team pack is positively bursting with character and there's a lot of fun to be found in building the vehicles, but if you're not a DC Comics fan, there's not really a reason to invest in this villainous pair.
Superman Fun Pack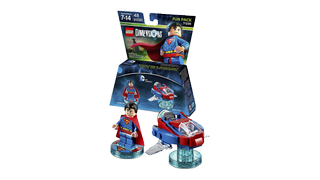 Despite the fact that this tiny plastic Man of Steel doesn't actually unlock any new areas, Supes comes in exceptionally handy across the world of Lego Dimensions. Not only can he fly, making exploring Adventure worlds endless fun as you discover the verticality on offer - or letting you cheat when you can't quite reach a platform - he's also got the laser ability, super strength for those pesky handles, dive, X-Ray vision and (despite the fact that you don't need it for anything as yet) is the only character you can buy with the freeze breath ability. Supergirl has this too but unless you bought the starter pack on PS4 where she's a special edition offering, there's no one else on the roster that can put out fires in the same way. Add in the Man of Steel's jovial narcissism and he's an excellent addition to your portal.
Ninjago Team Pack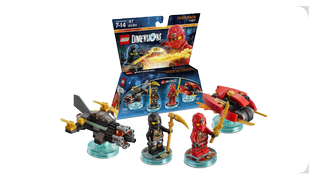 When it comes to Ninjago, all you need to know is one word; Spinjitzu. This is a Ninjago specific ability that comes with both Kai and Cole and you'll suddenly realise exactly how many Spinjitzu switches you've had to ignore so far as soon as you start exploring with this pair. The duo open up a full Ninjago Adventure World to explore, which is suitably massive and will appeal to fans of the Ninjago animation and Lego toy sets. If you aren't too fussed by Ninjago itself and only want the Spinjitzu ability, one of the Ninjago fun packs with only one character will be a cheaper option.
Knight Rider Fun Pack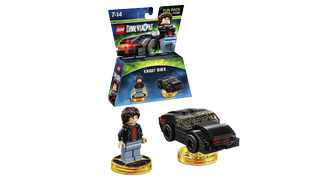 If Knight Rider was your bag back in the '80s then this very specific Fun Pack starring Michael Knight is just for you. For those that didn't grow up with K.I.T.T, the unlocked Adventure world will be a bit like sitting with your friends while they talk about the D&D session you missed last night, but for fans, there's plenty of references in this sunset hued slice of Americana. There's plenty of characters from the series and amusing nods but, the fact that there's no exclusive abilities for Knight or his shiny car means that only hardcore '80s fans need apply.