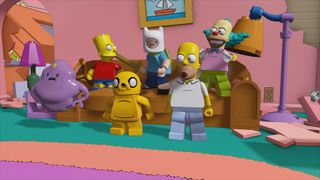 Plastic fantastic
Lego Dimensions already has one of the most entertaining campaigns in a Lego game for years but that's only the beginning of the brick-rolling action. There are veritable seas of characters to collect and build, entire worlds to explore and ultra nerdy jokes to chortle at. Whether you want to head to Hogwarts, explore Aperture Science or mind the dinosaurs of Jurassic World, there's far too much to do. Add in all those enticing abilities for
Plus, if you want to unlock everything that Lego Dimensions has to offer, you'll need some extra abilities to access those hard to reach gold bricks and that means investing in characters who can give you the most abilities for the least amount of cash. Early tip: Get your hands on Adventure Time's Jake. He's a veritable plastic swiss army knife. Here are the the very best Lego Dimensions packs and characters so far, and we've listed the the best price for them to make sure you can complete your collection for less.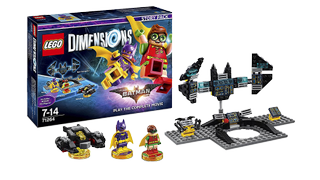 Lego Batman Movie Story Pack
Make sure you see the movie first so you don't spoil the fun here but Lego Batman's Story Pack is just as hilarious as you would expect. Including Batgirl and literally the most adorable Lego Robin figure you've ever seen, this story pack lets you rebuild your portal as the minimalist Batcave before hurtling you through the story of the movie in six levels.
Once again TT Games has outdone itself with the levels themselves but it's even built an all new Lego Batman Movie Adventure world to explore and earn bricks in another version of Gotham. Throw in the new Batman ability to fire promotional goods with his merch gun to stun enemies and this is a hilarious and charming addition to the story packs on offer. It might seem expensive but there's hours of story here before you even get onto the hub world, making it a serious investment of time with plenty to do and unlock. Batarangs at the ready.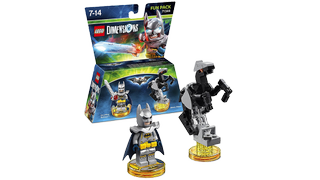 Lego Batman Movie Fun Pack
Because why shouldn't Batman have an enormous sword and a flame eyed steed? This absurd fun pack hands over a plastic version of Excalibur Batman and a horse that I just don't think is in the movie but TT Games clearly wanted to build anyway. The Bionic Steed is ridiculously fun to build and in game you can bounce sky high as you ride around, which is equally absurd. Excalibur Batman comes with a slick upgraded cloak in real life - oooh soft - but it's his abilities you'll probably want him for.
This Dark Knight can interact with sword switches like Adventure Time's Jake, vine cut, do stealth, grapple, master build and has super strength, making him a great all rounder for a multitalented team. Most importantly, Excalibur Batman gives you the cheapest access to the Lego Batman Movie adventure world so makes a great investment if you don't fancy the Story Pack. Plus, did I mention that he has a sword?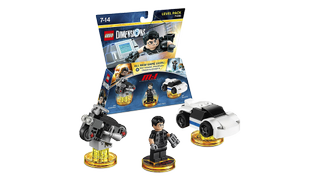 Mission Impossible Level Pack
You're already humming the theme song, aren't you? Goooood. While it might seem an unlikely franchise for the Danish brick treatment, Mission: Impossible somehow fits perfectly into Lego Dimensions with one of the strongest level offerings available. Split across key scenes from the movie, the brilliant level is lengthy with plenty of variation which largely comes down to Ethan Hunt's impressive array of abilities.
Chances are that if you've spent any time exploring Lego Dimensions you'll have seen Tom Cruise's face pop up as you attempt to extricate the odd gold brick. That's because on top of being an acrobat, Hunt can use tech panels, fuse boxes, blow up silver bricks, use magnetic gloves to climb, interact with drone mazes and scan enemies to turn into them. While some of these are available from other characters such as Doc Brown, the combination here makes Hunt unmissable.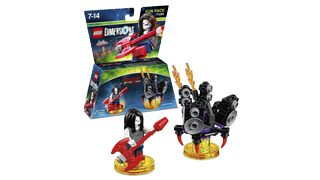 Adventure Time Fun Pack
If you've already got the Adventure Time Level and Team Packs then surely Marceline is on your must buy list. It turns out that the Vampire Queen is genuinely one of the most happy making characters to tumble out of a Fun Pack for ages. Armed with her trusty guitar she'll happily dance away to her own music while idling but isn't just a pretty face. Marceline can transform into a bat to flap around each level, a dog to go digging for treasures and, like Finn, has the ability to take out Red Demon bricks.
If that wasn't enough, she's also got stealth, tracking, acrobatic abilities and mini access. What's not to love? Add in her incredible float instead of walking technique and her frankly ridiculous Lunatic Amp vehicle and the Vampire Queen is brilliant. Plus, if you don't have any Adventure Time packs so far, she'll give you the direct cheapest access to the Adventure Time hub world and has a stack of the abilities you'll need.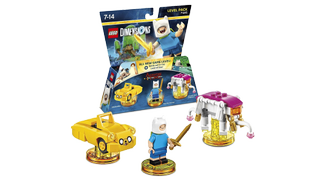 Adventure Time Level Pack
Pick an enthusiastic Finn and Jake-ism and you'll probably end up squee-ing it repeatedly during the lengthy technicolour campaign level that comes with popping Finn on your portal. It wouldn't be grown up of me just to shout 'Mathematical!' but it's testament to the heady heights of the high quality of Lego Dimensions levels that this manages to raise the bar even higher as you explore the land of OOO.
Ideally you should pair this up with the Team Pack for full on Adventure Times with the rest of the characters but Jake is in the level itself for some bro time and the Ancient Psychic Tandem War Elephant is an ultra useful vehicle to fly around on, complete with laser powers. Plus Finn's multiple sword abilities come in handy for taking down vines, decimating Red Demon bricks and he can deflect lasers. He's also great fun for swinging on ropes and nailing targets with his crossbow.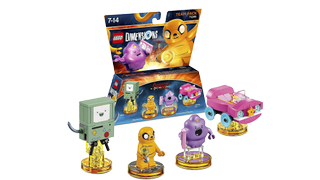 Adventure Time Team Pack
A perfect accessory for the mathematical Level Pack or just a different way into the gorgeous Adventure Time world, the Team Pack includes Jake, Lumpy Space Princess, BMO and LSP's Lumpy Car. While it's adorable to run around on BMO and the building of the little Game Boy-alike IRL is a lot of fun, you really want this pack for one reason. Jake. This shapeshifting yellow dog might just be your new best Lego friend. Not only does he have the grappling ability, tracking, digging, and rope swings, he's also got a shapeshift ability. This lets him do sonar switches, turn into a sphere for Gyrosphere switches, have super strength, be a drill, shrink, dive and do drone mazes. Multitalented just isn't the word. He's a veritable stretchy Swiss army knife.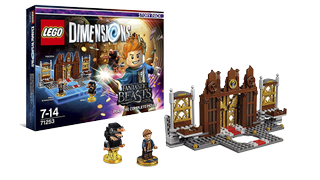 Fantastic Beasts Story Pack
Because who doesn't want a Niffler in their living room? Have all the joys of having a delightful duck-billed mole without any of the jewellery stealing chaos. The Fantastic Beasts Story Pack gives your portal a magical makeover with the intricate MACUSA doorway and hands over six huge new wand waving levels that follow the story of the movie. Like the film itself, the result is downright spectacular and Newt and co hurtle through gorgeous recreations of 1920s New York. When TT Games offers up such genuine and hilarious adaptations, why would you want to play movies in any other form? The Fantastic Beasts free roam world that's also unlocked has another stack of gold bricks to earn and structures to rebuild, adding plenty of wizarding fun. You'd be Knuts to miss it.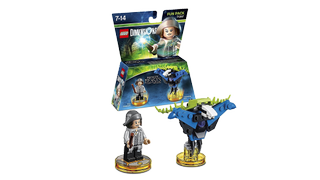 Fantastic Beasts - Tina Goldstein Fun Pack
If you don't fancy shelling out for the full Fantastic Beasts story pack, this is the perfect way to experience the beautiful hub world without the hefty price tag. With both Tina Goldstein and the ultra fun to build Swooping Evil, this little pack gives you access to the ridiculously gorgeous 1920s New York sandbox. It's almost worth it just to fly around as Swooping Evil but if you're looking for a multitalented character to add to your haul, Tina comes in useful in a stack of situations. Not only does she have the traditional wizard Diffindo spell, she's also got water spray, stealth, hazard cleaner and comes in handy with her deflection ability.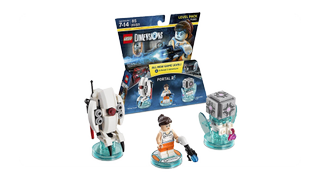 Portal 2 Level Pack
If there was one franchise that could draw the gaze of the entire gaming world like Sauron's Eye, it was always going to be Portal. Somehow TT Games has been allowed to play in Valve's sandpit and the bricky result is glorious. From the incredible level where you'll get that much sought after genius feeling as you solve an enjoyably tricky puzzle, to the full Aperture set hub world where GLaDOS herself - Ellen McLain - will chastise you for destroying everything in sight, this is a exceptional mash up. The humour is spot on, Lego figures utterly adorable and the only problem you'll have is that you'll want a full game in stud form. Oh, and I'm making a note here, there's cake. No lie.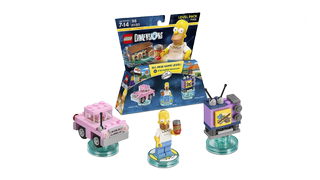 Simpsons Level Pack
If the early section of the full Lego Dimensions campaign felt like an unfair tease of the delights of Springfield, consider this level pack a ticket to the ultimate Simpsons theme park. Complete with can of Buzz Cola - Lego doesn't do booze - Homer comes with his iconic car and the referential Taunt-o-Vision gadget for blowing up silver Lego bricks. The level itself revolves around Homer's hallucinations after he consumes Chief Wiggums' insanity peppers and is a brilliant slice of Simpsons action with plenty of humour.
Abilities wise, no one really stands out but it's worth noting though that Homer's car can be upgraded to the SubmaHomer which does let you destroy silver bricks underwater. As someone who spent hours despairing underwater in the Scooby Doo Adventure World, this isn't a combo known for its frequency. Add in the intimidating Simpsons sandbox to explore with a stack of gold bricks to earn and you should definitely head down this particular yellow brick road.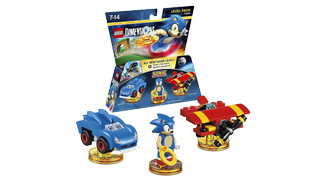 Sonic the Hedgehog Level Pack
While Sonic appeals to all ages, it's going to be grown ups that'll fall hardest for this little rattly box. From the "SEGA" loading screen to the Blue Blur's jumping sound, TT Games has gone for full '90s kid nostalgia and the result is positively tubular, (dude). Just like all level packs, Sonic offers up a lengthy campaign section full of characters like Tails and Shadow, as well as unlocking a full Sonic themed hub world to explore. The level itself is bricky joy. From Greenhill Zone to Labyrinth - which, hilariously, Sonic really doesn't like - it's a colourful nostalgia-fest full of hidden areas, complete with tube running bonus rounds. Add in the 28 gold bricks to earn via quests in the hub world and the fact that studs have been magically transformed into tiny rings, and there's hours of fast-paced fun.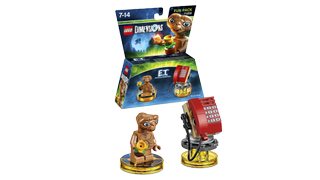 ET: The Extra Terrestrial Fun Pack
As the world appears to be split into those who are somewhat scared of E.T and those who think he's adorable, loving this this pack will depend entirely on you being in the latter camp. He has a tiny Lego flower for pity's sake. Personally I think it's worth it just to watch E.T pad around and arrive with a cry of "Home…? Home.." but the Adventure world that's unlocked is ludicrously beautiful. Everything is here, from the school to E.T's spaceship in the woods, and it's a bit like piping the '80s straight into your eyes. Plus Phone Home, E.T's adorable little plastic phone isn't just a cute build but also a useful gadget that lets you use it for accelerator switches and to call Elliott who zooms in on his bike and dresses E.T in a certain disguise…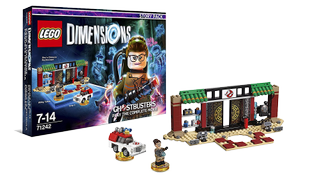 Ghostbusters Story Pack
Yet another perfect example of TT Games owning the movie adaptation world, this slice of Ghostbusters action follows the plot of the latest movie with even more humour sprinkled in. Six levels await and, just like Fantastic Beasts, you can give your dimensional portal a full makeover. It's these little extras that really take Story Packs to the next level and there's plenty of fun to be found in building Zhu's Chinese Restaurant and the utterly adorable Ecto-1. The levels themselves are some of the most inventive we've seen so far and then there's the fact that supplied character Abby Yates can actually transform into the other members of the Ghostbusters who each have their own skills. It's also worth noting that Abby comes in seriously useful in a stack of places across the Dimensions world as she's the only character with the charge transfer ability.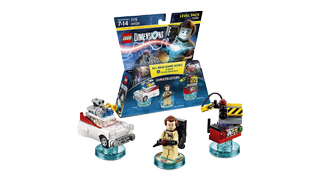 Ghostbusters Level Pack
If you just can't get enough of crossing the streams, the Ghostbusters Level Pack goes back to the original crew and includes a Peter Venkman figure which, just like Abbey Yates, can let you transform into the other jumpsuited members of the team. Buy one, get three virtual Ghostbusters free definitely isn't a bad deal. The level is probably the best playable version of the original Ghostbusters movie well, ever, and of course features Slimer and an impressive showdown with Gozer. If nothing else could convince you, there's even a Lego Sigourney Weaver to catch up with.
The accompanying toys, Ecto-1 and the Ghost Trap, are fun to build and the latter is the only gadget to be able to capture spirits. This only comes in useful in Ghostbusters packs so far but maybe it'll appear elsewhere. Like all level packs, this opens up a brilliant Ghostbusters world to just let you wander around listening to the original 1984 soundtrack. Who's afraid of ghosts? I ain't.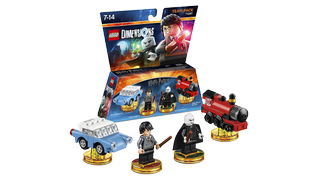 Harry Potter Team Pack
Three words. Harry. Potter. World. Saving you the thousands it would cost to travel to Universal Studios, this pack unlocks the magical snowy open world Potter sandbox full of fun quests and bricks to find. Whether you're playing as Harry or He Who Must Not Be Named, you can fly around (Potter on his broom and Voldy on sheer villainy) to take in the glorious sights of London, Hogsmeade and an impressively intimidating Hogwarts, complete with Great Hall. B
oth the Weasley's Ford Anglia and miniature Hogwarts Express that come with the pack are ridiculously charming to build and scoot around in when you play the game. Plus, if you're being shrewd, it's worth noting that Harry is an exceptionally useful character outside of the Wizarding World. With both Diffindo and his Parseltongue ability, he comes in very useful for the Adventure Time Level Pack.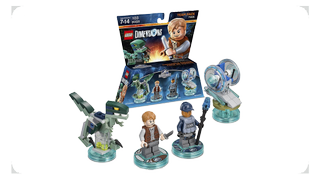 Jurassic World Team Pack
While there are few things more fun than building a Lego velociraptor with legs that can really run and comes with actual miniature claws, the Jurassic World Team Pack manages to slightly disappoint with its hub world offering. It's nice to wander around the theme park itself but it all just feels a bit empty and soulless which is a shame given TT Games' brilliant Jurassic Park section in its full Lego game. The characters here aren't particularly inspiring either - who's the guy with a stick instead of Bryce Dallas Howard? - but you do get ride a raptor around and the Gyroscope comes in particularly useful across the grander Dimensions world. Plus in peak Lego nerdery, there is no greater joy than to pop Batman on the back of a velociraptor and ride through Middle Earth.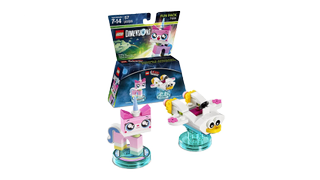 Lego Movie Unikitty Fun Pack
The Lego Movie world is already unlocked with the Lego Dimensions starter pack but Unikitty comes in seriously handy across various worlds. The adorable unicorn/feline hybrid is currently one of the few Lego Dimensions characters who can interact with rainbow bricks which means you've probably already encountered a stack of bonus bits that you can't get without building yourself the ultra cute cat. Other than the Rainbow Cannon - an upgraded version of the Cloud Cuckoo Car that comes in the box - only Lumpy Space Princess from Adventure Time can blow up rainbow bricks so consider this a must buy if you want everything Dimensions has to offer. Her furious alter-ego is a fun addition too. You'll like her when she's angry.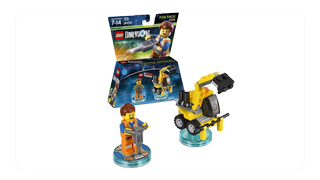 Emmet Fun Pack
Everything is awesome when you've got Emmet to run around with in Lego Dimensions. The bricktacular star of the Lego Movie, this Emmet figure comes with his very own 'Emmet Excavator' which is great fun to build. Again, like Unikitty, you'll already have the world that's unlocked by Lego Movie characters but Emmet has the very useful drill ability - also favoured by Adventure Time's Jake and Bane's Drill Diver vehicle - to help you collect some new gold bricks across the galaxy. He's also just super chipper, even when he dies (he says: "Ow, should have worn my hard hat") and, like other Lego Movie characters Wyldstyle and Unikitty, can master build to his heart's content. Awesome indeed.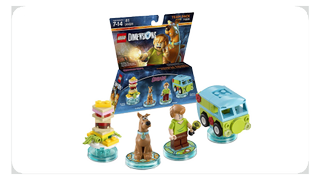 Scooby Doo Team Pack
Hungry? Time for a Scooby Snack. If the Scooby Doo level of the campaign got you wanting more cartoon fun then this Team Pack unlocks a gorgeously creepy hand-drawn world that you can run around in as both Scooby and Shaggy. The pair are perfectly recreated in Lego as Shaggy trembles holding his torch and Scooby lollops around happily when you aren't using him for his useful tracking ability. For fans of the series, this world is an absolute joy and there's the added fun of chowing down on the included Scooby Snack as Scooby or Shaggy to give them Super Strength. In a fun bonus, if you've got Gizmo on your team from the Gremlins pack then he'll transform into a Gremlin when you feed him. It's always after midnight after all.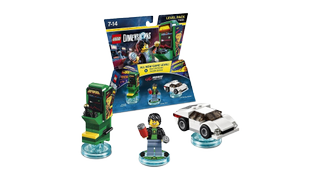 Midway Arcade Level Pack
Another box more swayed towards those that actually buy the bricks but not one to be missed by anyone, the Midway Arcade Level Pack opens up a stack of classic arcade games. While the pretty non-descript Gamer Kid comes with handy super strength, laser, stealth (via drinking a can of invisible cola) and invulnerability skills, the joy here is in the slew of retro classics. Gamer Kid is tasked with fixing the arcade world when all goes awry and you get to play an emulated version of 23 games including Paperboy, Badlands, Blasteroids, Defenders 1 and 2, and Robotron. It's a weird mash up but somehow just works and you'll be diving back in for more seriously addictive 80s pixel joy. It also doesn't hurt that the arcade cabinet is adorable to build.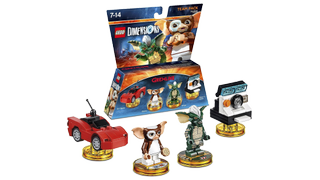 Gremlins Team Pack
If you don't immediately fall in love with Gizmo the minute he's emptied out of the bag in pieces, there's probably something wrong with your heart. While there's no campaign level included with this pack, both Gizmo and the ultra evil Stripe are brilliant additions to the Lego roster and the unlocked Adventure world that includes locations from both Gremlins 1 and 2 will take hours to explore fully. Talent wise, Gizmo can shoot targets and has the ability to blow up silver Lego bricks, while Stripe can cut vines, dig and has acrobatic abilities. He also looks over at Batman and tells him he looks like a Gremlin so he can definitely spend more time on my portal.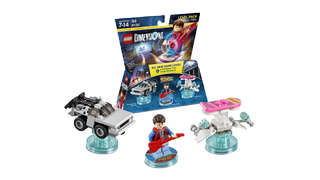 Back to the Future Level Pack
Lego? Where we're going we don't need Lego! Well, no, that's not entirely true. You probably do need this Level Pack. Once again fuelling our ever burning nostalgia fire, the Back to the Future pack comes with Marty McFly, his trusty Hoverboard and, of course, the DeLorean. Not only is this lovely to build but it can be upgraded to the flying version from the second movie. The level is an enjoyable highlights reel of the original movie but there's more fun to be had in the picture perfect recreation of Hill Valley in the accompanying world unlock. Chances are that the Hoverboard is going to end up on your portal constantly, not just for the fact that you can fly but getting your favourite characters to surf through the various worlds is a ridiculous high.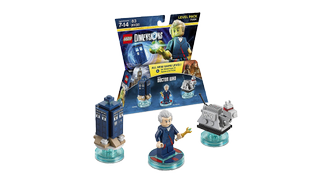 Doctor Who Level Pack
So it turns out that it's not just the TARDIS that's bigger on the inside. The Lego Doctor is too. While he might only look like one tiny plastic man, every single Doctor is playable with this one minifigure. From William Hartnell all the way through to Peter Capaldi, they're all here. While that's probably cool enough to justify this entire pack, TT Games shows off its clear love for the classic show because every change of Doctor alters the interior of the TARDIS to exactly how it was during that Doctor's run. There's even the soundtrack to match and every Doctor has his own accessories and dialogue. The level itself, The Dalek Extermination of Earth, is classic Who fare and thoroughly enjoyable. Add in the love letter to the series that's the accompanying hub world and the tiny Lego TARDIS and this is one not to be missed.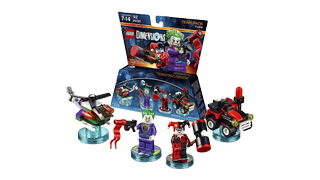 Joker and Harley Team Pack
Just like Superman, The Joker and the delightful Ms Quinn won't unlock or open any new areas but do bring a whole new blend of villainy to your Lego Dimensions team. The Joker is armed with a pistol for hitting targets but also battling enemies, while Harley is equipped with a ridiculously fun to build hammer for smashing foes and everything else into tiny studs. Vehicle wise, The Joker's Chopper is a lovely little build that means you can buzz around the skies, while the Quinn Mobile is a stylish build but isn't really useful for much until it's upgraded. This team pack is positively bursting with character and there's a lot of fun to be found in building the vehicles, but if you're not a DC Comics fan, there's not really a reason to invest in this villainous pair.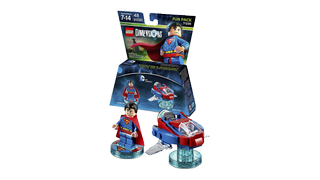 Superman Fun Pack
Despite the fact that this tiny plastic Man of Steel doesn't actually unlock any new areas, Supes comes in exceptionally handy across the world of Lego Dimensions. Not only can he fly, making exploring Adventure worlds endless fun as you discover the verticality on offer - or letting you cheat when you can't quite reach a platform - he's also got the laser ability, super strength for those pesky handles, dive, X-Ray vision and (despite the fact that you don't need it for anything as yet) is the only character you can buy with the freeze breath ability. Supergirl has this too but unless you bought the starter pack on PS4 where she's a special edition offering, there's no one else on the roster that can put out fires in the same way. Add in the Man of Steel's jovial narcissism and he's an excellent addition to your portal.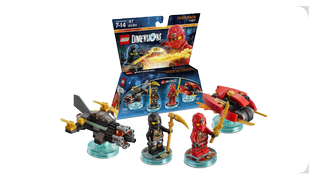 Ninjago Team Pack
When it comes to Ninjago, all you need to know is one word; Spinjitzu. This is a Ninjago specific ability that comes with both Kai and Cole and you'll suddenly realise exactly how many Spinjitzu switches you've had to ignore so far as soon as you start exploring with this pair. The duo open up a full Ninjago Adventure World to explore, which is suitably massive and will appeal to fans of the Ninjago animation and Lego toy sets. If you aren't too fussed by Ninjago itself and only want the Spinjitzu ability, one of the Ninjago fun packs with only one character will be a cheaper option.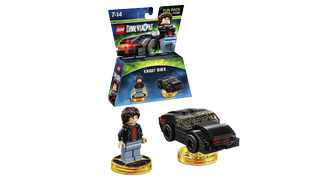 Knight Rider Fun Pack
If Knight Rider was your bag back in the '80s then this very specific Fun Pack starring Michael Knight is just for you. For those that didn't grow up with K.I.T.T, the unlocked Adventure world will be a bit like sitting with your friends while they talk about the D&D session you missed last night, but for fans, there's plenty of references in this sunset hued slice of Americana. There's plenty of characters from the series and amusing nods but, the fact that there's no exclusive abilities for Knight or his shiny car means that only hardcore '80s fans need apply.