You can try out Atomic Heart on Xbox Game Pass and PC Game Pass right now, allowing you to easily dive into the killer robot-infested Facility 3826. You obviously need a Game Pass subscription for your chosen platform (Xbox or PC) if you want to download Atomic Heart without buying it directly from the store. If you've got a Game Pass Ultimate subscription, you can benefit from Smart Delivery with Atomic Heart, allowing you to play the game with cross-progression between your Xbox and PC - you could even try streaming the game to a mobile device through the cloud if you want to try Atomic Heart on the go. Here's what you need to know about Atomic Heart on Xbox and PC Game Pass.
How to get Atomic Heart on PC or Xbox Game Pass
If you've already got an Xbox or PC Game Pass subscription, you just need to find Atomic Heart in the Microsoft store on your PC or console and you should have the option to just install the game right away as it's included with Game Pass. Otherwise, sign up for either an Xbox Game Pass, PC Game Pass, or Game Pass Ultimate paid subscription and you'll be able to install Atomic Heart just as I've mentioned above. If you're looking for a similar deal on PlayStation, Atomic Heart is currently not available on any tiers of PS Plus.
How long is Atomic Heart?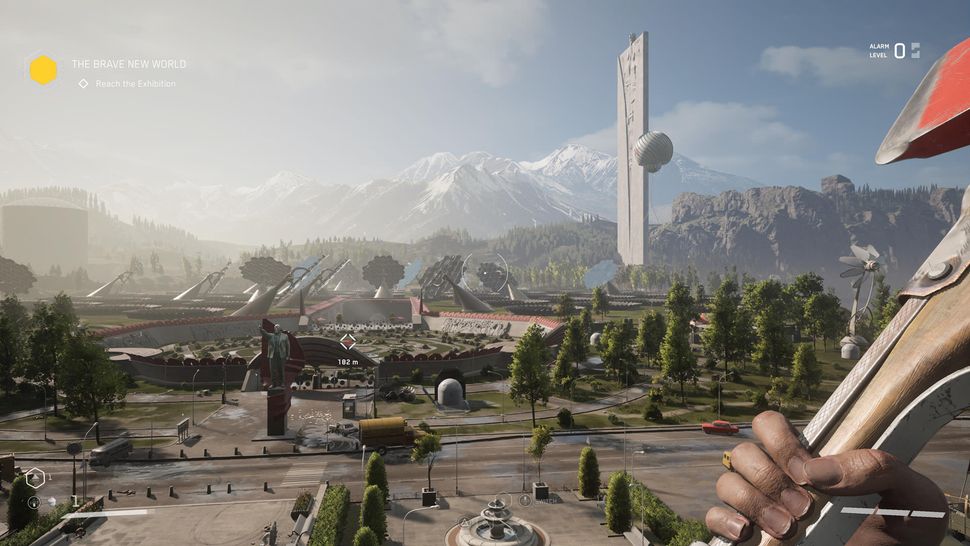 Check out our Atomic Heart length guide to see how long it takes to beat before you download it on Game Pass
If you've got a Game Pass Ultimate subscription, you can also try streaming Atomic Heart to other devices thanks to the Cloud Gaming feature. However, Smart Delivery also means you can start the game on your Xbox console and switch back and forth to your PC without losing progress. Obviously you'll need a Game Pass Ultimate subscription to do this without paying for a copy of the game on either platform.

As our Atomic Heart review shows, it's not likely to be one of the best Xbox Game Pass games, but it might be worth trying out if you're curious about the Soviet utopia gone wrong – you might want to check out the best Xbox Game Pass deals too. It's not been confirmed as to how long Atomic Heart will be available on Game Pass but expect it to stick around for at least a few months.

If you've already got to the Atomic Heart ending, you might be pleased to hear that the game will also be getting four DLCs at some point, promising to add new areas, weapons, and enemies, but you'll need to own the Atomic Pass to gain access to those when they launch. While you can buy the Atomic Pass separately for £32.99/$39.99, remember that if a game that you own DLC for leaves Game Pass, you won't be able to access the game or the DLC unless you buy the full game via the Microsoft store or the game returns to Game Pass while you're still subscribed.
See what other games you can try on Xbox and PC Game Pass with this Xbox Game Pass list.