Now's probably a good time to head over to Hasbro Pulse if The Mandalorian's latest season has you feeling all tempted to grab some Star Wars merch; the official store currently has a sale that allows you to save 30% or more on a wide range of products from a galaxy far, far away.
Called the Warehouse Sale 2023, you can get 30% off Star Wars merch (and beyond) if you spend $75 / £60 and use the code WAREHOUSE30. Meanwhile, Hasbro Pulse Premium members can save even more with the code WAREHOUSE35 - they can get a reduction of 35% if they spend $75 / £60. You can see all eligible items from the sale here (opens in new tab), but it includes big-hitters from The Mandalorian like a premium Black Series replica of Mando's helmet (opens in new tab) (which would drop to around $91.99 instead of nearly $132) and a recreation of the Darksaber.
Because high-end lightsabers such as this are usually well over $200, that 30-35% off is actually quite a big deal. As an example, Obi-Wan's saber from his recent Disney Plus series should drop down to around $191 after using the WAREHOUSE30 code - a damn sight more palatable than the standard $278.99 MSRP. Like I said in my Obi-Wan Kenobi Force FX Elite Lightsaber review, the effects are second to none, and "it's a king amongst Star Wars gifts." It's a similar story with Hasbro's version of Vader's weapon, which my Darth Vader Force FX Elite Lightsaber review said: "looks fantastic, boasts best-in-class effects, [and] is probably the closest you'll get to the on-set prop without raiding Lucasfilm's archives."
Although most of the items on offer here aren't going to get the biggest reductions (they're mostly action figures), there's a chance to save big here on products that rarely see such an enormous saving.
Just remember, the sale ends on March 20th.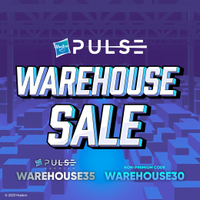 (opens in new tab)
Warehouse Sale 2023 | Save up to 35% at Hasbro Pulse (opens in new tab)
So long as you spend $75 / £60 and use the code WAREHOUSE30 (or WAREHOUSE35 if you're a Hasbro Pulse Premium member), you can save a massive chunk of cash in this wide-ranging sale.
---
For more discounts on all things Star Wars, check out our guide to the best Lego Star Wars sets. Besides being filled with some of the best Lego sets overall, its entries are regularly hit with Lego deals.