Looking for the best gaming mouse? It's a great time to be shopping for one. There is an incredible bounty of great mice on the market right now, and they range from incredible ergonomic works of modern art to the most sleek, understated, powerful gaming mice we've ever seen, and in between those two poles is a growing field of amazing competition. Increasingly, manufacturers are adding new features (and gimmicks) to mice in an attempt to make them stand out, and while some of these are inevitably duds, others are redefining how mice work and their construction and portability, things like onboard storage or dedicated microprocessors built into the mice themselves. If you're looking for a breakdown of what all this terminology means, bop on over to the mouse section of our massive hardware glossary. And for a breakdown of how we go about evaluating mice for this roundup, check out our testing guide.
Best deal now
Razer DeathAdder Elite is $49.99 at Amazon (save 29%)
This is one of the most accurate, most comfortable gaming mice available in 2019, and you can get it for the lowest price is has ever been. Get it in the UK for £59.99 and save 14%.
So what should you prioritize when you're looking for a new pointer? For one, consider the games you play - if you're a big fan of strategy games or more slow paced titles, I heartily recommend an ergonomic mouse like the Logitech MX vertical, which is constructed from the ground up to release tension in our arm and avoid write and hand pain/fatigue. On the other hand, if you're looking for something to play the latest shooters and battle royales, or any sort of twitch gaming, you should consider a unit with a higher CPI. so that you can perfectly, reliably line up headshots, and a high IPS rating, so that when you're wildly spinning around to take pot shots at the ambusher sneaking up behind you in Apex Legends the mouse won't lose tracking.
And of course you want something comfortable, that will suit your hand - if you have larger paws, you should consider something like Corsair's Ironclaw, or if your hands are slightly more dainty, perhaps something in the Logitech MX518 range. Naturally, aesthetics are important too, so consider whether you're looking for something in matte black that won't stand out too much, or something blinged out with customizable RGB lighting that will be a set piece and a conversation starter.
Naturally, you'll need an awesome machine to plug one of these mice into, so check out our guide to the best gaming PC, and find the best gaming keyboard to keep it company.
Best gaming keyboard | Best gaming PC | Best controller for PC gaming
Best gaming chair | Best graphics card | Best CPU for PC gaming
1. Logitech MX518
The revival of a genuine classic
CPI: 16,000 | Interface: Wired USB | Buttons: 8 | Ergonomic: No | Features: Customization via Logitech Hub, 1,000 Hz report rate
Excellent, highly accurate sensor
Sleek design that fits the hand well
Eight programmable buttons and broad CPI settings
Slightly narrow
The original Logitech MX518 is one of the best regarded gaming mice the company has ever produced, but since its launch way back in 2005, mouse technology has come a long way. Logitech decided to gulf that broad divide and refresh the legendary design with a bundle of new hardware, packed into the same, beautiful chassis that has served so well for nearly 15 years, and the result is one of the best gaming mice I've gotten my hands on.
The new MX518 replaces the aging 1,800 CPI sensor with Logitech's cutting edge HERO unit, rated at a ridiculously accurate 16,000 CPI for incredible precision. And while it retains most of the original's form factor and exterior design, it has replaced the distressed metallic look with a slick looking Nightfall finish, giving the understated aesthetics a touch of elegance. It's incredibly comfortable, high performance, and a perfect fit for both frenetic gamers and dedicated office workers.
2. Logitech G502 Proteus Spectrum
CPI: 12,000 | Interface: Wired USB | Buttons: 11 | Ergonomic: No | Features: Customization via Logitech Gaming Software, 1,000 Hz report rate, adjustable weights
Flexible featureset
Highly customizable
PC only
No left-handed option
For PC users that want quality construction, high levels of precision at an affordable price point, and plentiful customization options, Logitech's G502 Proteus Spectrum is a contender. Five user-adjustable 3.6 gram weights allow you to make the mouse as heavy or as light as you'd like in a variety of configurations that also adjust of the mouse's overall weight distribution.
All 11 buttons can be programmed to your specifications, as can the mouse's RGB LED lighting effects, via Logitech's aptly named Gaming Software. Fear not: mouse lighting is more cosmetic than functional - but it does look cool. This software also grants access to the G502's full range of sensor resolutions, from 200 CPI all the way up to 12,000 CPI. Granted, 12,000 CPI will be unusably high for most players who want a mouse for all occasions, but it's nice to have the headroom to adjust when extreme accuracy is required.
3. ROCCAT Kova
An affordable, quality option for left-handed gamers
CPI: 3,500 native, 7,500 simulated | Interface: Wired USB | Buttons: 10 | Ergonomic: No | Features: Customizable via ROCCAT Swarm, supports Windows 7+, 1,000 Hz report rate, 99 grams
Ambidextrous
$100-ish less than the G900
Lackluster software
No visual CPI indicator

Fear not, lefties, for there is a great, very affordable option in ambidextrous gaming mice. The ROCCAT Kova is comfortable, accurate and very capable, thanks to its unique "Smart Cast" buttons that flank each primary button for easy access. The Kova also employs ROCCAT's "Easy-Shift+" tech, which allows users to assign both primary and secondary functions to each of the 10 programmable buttons.
The main issue with the Kova has nothing to do with its hardware, but rather its convoluted software suite, Swarm. As with Synapse and Logitech Gaming Software, Swarm allows the user to customize the Kova's LED colors, button layout and sensor resolution. Unfortunately, Swarm's UI is less intuitive than the competition's and can be annoying to work with, due to confusingly labeled menu options and limited slots for game-specific profiles.
There's also no visual indicator on the Kova for which of your presets is active, and since the CPI toggle cycles through presets instead of allowing you to increase/decrease at will, it can be inconvenient to find exactly what you're looking for. Beyond these shortcomings, however, the Kova is an excellent option for anyone in need of an affordable, ambidextrous gaming mouse.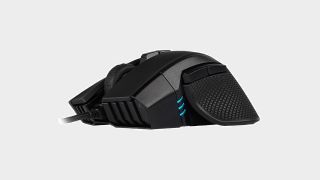 4. Corsair Ironclaw RGB
The best mouse for larger hands
CPI: 18,000 | Sensor: Optical | Interface: USB | Buttons: 7 | Ergonomic: No | Features: Customizable via iCue, supports Windows 7+ and OSX 10.8+, 1,000 Hz report rate, RGB lighting, 105 grams
Extremely comfortable, wider mouse
High performance sensor
Thoughtful software features
A bit heavy for a wired mouse
Corsair's brand new Ironclaw, announced at this year's CES conference, is a fantastic, wide form factor mouse that's perfect for gamers with larger hands, though it's not so big that it overwhelms even the petite-handed. It's built of a variety of different materials, tailored to suit each independent panel of the mouse, from grippy diamond pattern rubber on the sides to the smooth matte plastic of the central panel and main buttons.
It's also incredibly precise at up to 18,000 CPI and with a tolerance of 400 IPS, so throwing it around even at high speeds won't cause it to lose tracking. And it's packed with thoughtful features, from the tasteful RGB lighting behind the logo, CPI indicator, and scroll wheel to the surface calibration tool in the iCue software suite. It's also got a nice reinforced, braided USB cable and some slick plastic feet for durability and ease of use. It's incredibly comfortable to hold and use and specced to perform in a league with the very best - definitely our top choice for a slightly larger mouse.
5. SteelSeries Rival 600
Elite performance at startlingly competitive price
CPI: 12,000 | Interface: Wired USB | Buttons: 7 | Ergonomic: No | Features: Customizable via SteelSeries Engine3, supports Windows 7+ and OSX 10.8+, 350+ IPS, 96-129 grams adjustable
Incredible performance and feature-set
Remarkably low price for what's on offer
Adjustable weight and balance
Price slightly higher than entry-level (if not by much)
The Rival 600 from the reemergent Danish gaming peripherals manufacturer SteelSeries is a tremendous mouse, the sort you'd expect to pay double the asking price or more for. Not only does it boast a very precise 12,000 CPI to match its lightning quick 350 inches-per-second speed rating (i.e. the rate at which the mouse pointer moves across the screen), but it's packed with features that range from truly useful to attractive bells and whistles.
For anyone frustrated with drift or jerking when you lift a mouse to reposition it, the Rival 600 alleviates that problem with its brilliant depth sensor, eliminating nearly any drift any time you pick up the mouse. It also includes detachable sides into which you can slot 4 gram weights to shift the center of balance or just alter the weight to suit your preference. Comfortable design, eight zone RGB lighting, and SteelSeries' intuitive software suite round out a mouse that you'll feel like a thief for getting for under $100.
6. Alienware AW959
A versatile mouse with a customizable set of buttons
CPI: 12,000 | Interface: Wired USB | Buttons: Up to 11 | Ergonomic: No | Features: Customizable side modules with additional buttons, RGB lighting, supports Windows 7+, 1000 Hz report rate, customizable weight (5 gram add-ons)
Extremely versatile with a bunch of customizable options
Great optical sensor and performance
Quite large, especially with the optional side modules attached
After a lengthy hiatus, Alienware has stepped back into the realm of peripherals with recent releases of a new wireless headset, keyboard, and a high quality gaming mouse. The AW959 is an attractive piece of tech designed to appeal to a broad audience. Its default setup has a slimmer profile and two side buttons, but interchangeable side panels allow you to add an additional two side buttons and a wider base to rest your hand on. The buttons in either configuration are nicely tactile, and the in the four button configuration the higher pair are pronounced so that there's no chance of accidentally pressing one from the wrong pair. They also require a firm click, so you won't trigger them just picking up or handling the mouse.
The AW959 has a great optical sensor and at 12,000 CPI is plenty precise. It also has some nice lighting features via the AlienFX software and, if you want to adjust the weight, comes with two additional 5 gram add-ons that slot neatly into the rear of the mouse. While it seems designed for gamers with larger hands, being both slightly longer and, if you have the optional side panels attached, wider than an average mouse, it's a modders dream that you can tweak to your heart's content.
7. Logitech G900 Chaos Spectrum
Luxury for every occasion
CPI: 12,000 | Interface: Wireless 2.4Ghz, Wired USB | Buttons: 11 | Ergonomic: No | Features: Customizable via Logitech Gaming Software, supports Windows 7+, 1,000 Hz report rate, 107 grams
Ambidextrous, swappable side buttons
Wired and wireless modes
Expensive
PC only

The Logitech G900 Chaos Spectrum is a highly configurable and versatile gaming mouse, a powerful, attractive choice for those with disposable income to burn and who demand the very best. For those that can stomach the cost of entry, or who aren't opposed to a second mortgage to finance their top-end gaming peripherals, the G900 sets the industry standard for luxurious flexibility.
A pair of buttons can be mounted to either side of the G900, with the unused socket on the opposite side concealed by a nigh-seamless blank insert. This makes the device completely ambidextrous, which is a rare luxury in gaming mice regardless of price point. The G900 can also function as a wired or wireless mouse - up to a reported 32 hours of continuous wireless usage with lighting effects disabled, or 24 continuous hours with the lights on full.
Logitech claims a 1ms response time for the G900 even in wireless mode, though for tournament levels of consistency we would recommend wired usage. That wireless 1ms figure is under prime conditions, and since the G900's wireless chip broadcasts at 2.4Ghz - the most common frequency for wireless devices - there's a lot of potential for interference. That minor quibble aside, the G900 is a masterclass in mechanical form, function and flexibility, with a price tag to match.
8. Logitech MX Vertical
An ergonomic mouse for the ultimate in comfort
CPI: 4,000 | Interface: Wireless, USB-A to USB-C charging | Buttons: 4 | Ergonomic: Yes | Features: Neutral posture ergonomic design, four month battery life, supports Windows 7+, 1,000 Hz report rate, 115 - 135.5 grams
The best ergonomic mouse available - extremely comfortable resting posture
Wireless with amazing battery life, up to three hours on a one minute charge
Not the highest CPI compared to traditional gaming mice
Only suitable for right-handed people
If comfort is your main concern, there's no better option than Logitech's Vertical MX. Its ergonomic form factor is designed to reduce muscle strain and let you rest your hand on it in a cozy, neutral position, so you can use it for hours on end with virtually no strain. While it's 4,000 CPI optical sensor isn't the best in class, it's still very precise - above 3,000 CPI any mouse is likely to start feeling a bit too twitchy and hyperactive anyway, except in very specific use cases. For marathon sessions of Civilization or Total War, or any situation where you'll be holding your mouse for hours at a time, the MX Vertical is a great go-to.
Connectivity and battery life are another selling point. The MX Vertical is wireless but can be paired through Bluetooth or through the included Logitech Unifying Receiver/USB-A to USB-C cable, and the advertised battery life on a full charge is a ridiculous four months. Even a quick one minute charge will yield up to three hours of battery life, so you'll never be stuck having to wire it up to jump into a long gaming session.
9. Razer Naga Chroma
Keep your entire action bar on-hand
CPI: 16,000 | Interface: Wired USB | Buttons: 19 | Ergonomic: No | Features: Customizable via Razer Synapse, supports Windows 7+ and OSX 10.8 - 10.11, 1,000 Hz report rate, 135 grams
Buttons for days 
In-game customization overlays (PC only)
Expensive
No left-handed version of current-gen Naga
MMO enthusiasts that play melee classes or participate in competitive play modes often have to balance accuracy and agility, while still maintaining quick access to a laundry list of spells and abilities. Enter the Naga Chroma, Razer's latest in its storied line of MMO-focused mice.
In addition to Razer's highest resolution optical sensor and the myriad customization options that the Synapse software provides, the Naga Chroma is equipped with an absurd/impressive 12 thumb buttons, for a total of 19 configurable buttons overall. That's an entire World of Warcraft action bar's worth of abilities and/or macros that can be activated by your thumb alone, allowing the rest of your fingers to focus on movement. Razer has also developed in-game configuration utilities for many popular MMOs, meaning you can rearrange your button configurations during a raid break without having to back out to the desktop, or play in windowed mode.
Unfortunately, those custom in-game utilities are only available on the PC, but the rest of the Naga Chroma's capabilities function without issue on the Mac. Don't get too excited about that optical sensor though - 16,000 CPI is an absurdly high resolution that only the most controlled, surgeon-like mouseketeers will be able to use even halfway capably.
The lack of a left-handed model is a bummer, considering the 2014 series of Naga came in both right and left-handed flavors, but overall the Naga Chroma is an exceptional choice for anyone who needs performance, accuracy, and instant access to 12+ different functions.
10. Razer Mamba Wireless
A wireless mouse that delivers wired performance
CPI: 16,000 | Interface: Wireless via dongle or wired USB | Buttons: 9 | Features: RGB logo and scrollwheel, 1,000 Hz report rate, 96 grams
Virtually no lag/latency
Extremely lightweight for a wireless mouse
Precise and comfortable
Slightly odd looking side panel design
Razer's Mamba Wireless is the new pinnacle of their peripherals offering, a superb gaming mouse that's ridiculously precise, comfortable to use, and well designed both functionally and aesthetically.
At 16,000 CPI and 450 IPS, the Mamba will keep up with even the most demanding tasks in gaming, from precision sniping to whipping the camera around in Fortnite. I awarded it a near perfect four and a half stars in my review, and only marked it down slightly because of the odd look of the rubberized grips on the side panel. I'm not a huge fan of Razer's seemingly prerequisite RGB lighting, but its appearance here is relatively low-key: only the logo and two strips alongside the scroll wheel are lit-up. And for a wireless mouse, it's remarkably light, coming in around 106g, so it's easy to push around atop its slick plastic feet. As I said in my review, sliding it across a rigid mouse pad was like slipping silk across glass. Of course, it can be used wired as well, though you'll hardly need to, with its nearly 50 hours of battery life and brisk charging speed.
11. HyperX Pulsefire Surge
Simple elegance that will suit almost any hand
CPI: 16,000 | Interface: Wired USB | Buttons: 6 | Features: Customizable via NGenuity, 1,000 Hz report rate, 100 grams
Fits comfortably in almost any hand
Precise and customizable

Software can be finicky
HyperX has been making strong moves into the PC peripheral space since their first forays in the headset space, and the Surge proves that they've learned a lot of important lessons about feature design and production values along the way. The Surge combines simple elegance in its basic, curved design—one that suits almost any hand with little or no adjustment to your mousing grip—with advanced aesthetics, best illustrated by its ring of bold RGB lighting. It's very comfortable to use over lengthy sessions, and the two thumb buttons are an easy reach and feel satisfyingly clicky and responsive. That said, if you're frequently picking up the mouse to set it aside or to move the cord out of the way, it's easy to accidentally trigger one of those side buttons, though it almost never happens during normal usage.
The Surge is a great entry in Pulsefire's hardware lineup and a pleasure to use; comfortable, responsive, and intuitive, with handy little touches like an onscreen display that indicates when you change the CPI setting (which ranges all the way up to an ultra-sensitive 16,000). Though the software suite can be a little finnicky, it's also a great tool for setting individual profiles for any game that calls for custom button configurations, and is intuitive to use. It rounds out a fantastic mouse that's quickly leapfrogged a lot of its competition.
12. SteelSeries Sensei 310
CPI: 12000, 100 CPI Increments | Interface: Wired USB | Buttons: 8 | Features: Customizable via SteelSeries engine software, supports Windows 7+ and OSX 10.8+, 1,000 Hz report rate, 92.1 grams
Ambidextrous
Designed for comfort
Slightly larger overall, may be a challenge for smaller hands
Sturdy with weight distributed towards the back
The Sensei is a larger, slightly more upmarket product from SteelSeries, a mouse with a concave profile significantly different than most of its contemporaries. With an ambidextrous design, rubber grips, and buttons on both the right and left side, it fits the hand well and is an excellent choice for gamers regardless of handedness. It comes with a robust software package that allows for full customization of each button and an intuitive suite of options for macro design. While not a particularly heavy mouse, the feel of the Sensei is very pleasant if you're familiar with the feather-light, cheap plastic mice that are mass produced by PC manufacturers, but weight is shifted a bit towards the back in a way that feels slightly off when you're rapidly pushing it around in an FPS or MOBA.
The buttons are clicky and responsive in a very satisfying way, though the slightly wider than average gap between them feels odd and unnecessary. The middle mouse button on the wheel is firm and responsive, though the wheel spin is a bit loose, which can be either a bane or boon depending on the game in question. It's fantastic for quickly zooming in quickly in an RTS or strategy game, but for setting scope distance or similar functions a clickier spin would be preferable. Regardless, if you're looking for something solid and substantial that feels and performs great, the Sensei is an excellent choice.
13. Roccat Kone Aimo
The best PC gaming mouse for bigger hands
CPI: 12,000 | Interface: Wired USB | Buttons: 3 | Ergonomic: No | Features: Customisable using Roccat Swarm software, compatible with PC only, 512KB on-board macro memory, 1ms response time, 130 grams
Incredibly comfortable to use over long periods of time
Adjustable lift-off distance
Software is excellent
Only three customisable buttons, which may be an issue for some
Right-handed only
If you're cursed/blessed with big hands, getting a PC gaming mouse that's comfortable but also functional can be a bit of an issue. You can often be left pressing multiple of those tiny macro buttons with your oversized fingers in the heat of a moment, which isn't ideal for anyone. But fear not, your fellow big-handed friend is here for you and the Roccat Kone Aimo is the way to go. The Aimo's smooth, curved design (and lovely matte finish) almost moulds to a bigger palm, with your thumb fitting neatly into a special groove where all the Aimo's additional buttons live. And those buttons are part of the appeal. The long button at the bottom is known as the Easy Shift+ (but is labelled T3) and actually lets you assign macro shortcuts for specific games - there are preset profiles for 43 games including Overwatch, GTA 5, League of Legends and CS:GO. In-game the buttons below the scroll-wheel even let you switch between five different profiles for ultimate button flexibility. It's not always clear which you've got enable unless you turn on the ridiculous audio feedback though.
It does also come with an excellent sensor and adjustable lift-off distance, if you're one of those gamers who finds it easier to pick your mouse up for speed. The colour customisation is lovely too, but not so in your face that you'll be lighting up the entire room with your rainbow power.
Some online stores give us a small cut if you buy something through one of our links. Read our affiliate policy for more info.