Your choice of gaming monitor could make or break your Starfield PC experience when it lands on Steam, but high spec screens often come with astronomical price tags. Thankfully, decent display discounts pop up from time to time, and I've just come across a great 49-inch Samsung Odyssey curved ultrawide panel with $900 off. If you're looking to invest in an immersive portable and traverse the stars using an immersive premium portal, this might be your chance.
Over at Amazon, you can now grab the Samsung Odyssey G9 Curved Gaming Monitor for $1,299.99 (was $2,199.99), thanks to a 41% discount. While discounts on the best gaming monitors aren't uncommon, this Samsung Odyssey display isn't too far off its lowest ever price, and it should pair nicely with gaming PC builds based on Bethesda's Starfield system requirements. Not to mention it's one of the biggest panels you can pair with your rig, meaning it's great for non-gaming activities too. Y'know, for when you want to come back down to earth in between gaming sessions.
Sure, there are models out there that pack a bit more of a punch, like the newer Samsung Odyssey G9 OLED version, but there's perhaps little sense in spending a chunk extra on specs that your graphics card can't handle. This particular Samsung Odyssey display boasts an ultrawide 1440p 240Hz QLED panel, HDR1000 support that'll make Starfield's stars twinkle, and a tremendous 1800R curve that'll feel like you're actually sitting in a cockpit.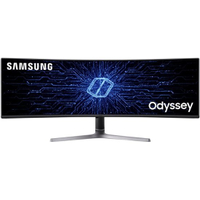 Samsung Odyssey G9| $2,199.99 $1,299.99 at Amazon
Save $900 - This 49-inch curved ultrawide gaming monitor is perfect for anyone looking to immersive their senses playing the latest games, and it could be the perfect portal if you're looking to play Starfield on PC.

Buy if:
✅ You're looking for a premium 1440p display
✅ You're looking for an immersive Starfield screen
✅ You've got the space for a 49-inch monitor

Don't buy if:
❌ You're looking to play PC games at 4K
❌ You've got the budget to invest in a newer model
In addition to its colossal size and curvy capabilities, the Samsung Odyssey G9 also comes armed with a collection of gaming features that'll make a difference. For starters, it's armed with AMD FreeSync support, which should kick any stuttering when playing Starfield, or any of the latest PC games to the curb. It's also 240Hz, so it's going to feel good no matter what FPS game you play.
Naturally, not everyone is going to be able to afford a screen that's over $1,000, but if your budget allows it, you won't be disappointed with the Samsung Odyssey G9. This current deal means it's one of the cheapest 49-inch curved ultrawide displays currently available, and playing Starfield on this bad boy is going to spoil your eyes.
It's worth noting that the Samsung Odyssey G9 previously fell to $1,150.99 on the week of Black Friday 2022, but $1,299.99 is still a great price outside of the sales period. Plus, if you're looking for a screen to play Starfield with well before November, it's probably worth grabbing the current discount rather than holding off. We've also only witnessed the screen fall to that level once, so there's no guarantee it'll drop further any time soon.
Should you buy a curved ultrawide gaming monitor?
It takes a little getting used to, but using a curved ultrawide gaming monitor will completely change the way you perceive PC games. I'm personally struggling to adjust to the flat life after recently using the LG UltraGear 45GR95QE-B, as the extra field of view and curvature trained my brain to filter out everything else surrounding the screen. I'm not saying a curved ultrawide monitor can compete with the best VR headset in terms of immersion, but it's certainly the next best thing if you're not into virtual reality goggles.
If the Samsung Odyssey CRG9 featured above isn't to your liking, we've got you covered, as there are other curved ultrawide deals to be had:
---
Looking for a new screen for your console? Check out the best monitors for PS5 and pair Sony's powerhouse with the perfect panel. Alternatively, take a peek at the best gaming TVs for our favorite living room displays.