The best monitor for PS5 might be even better than a good gaming TV for appreciating the console's visuals. Although a great TV is a go-to choice for the majority of console gamers, 4K monitors offer some really impressive features that will look stunning if your setup revolves around a desk. The PlayStation 5 is a huge technical leap over every Playstation that's come before, so it deserves a cutting-edge monitor to match.
The downside of the PS5's upgraded video output capabilities is that you'll need to take a bit more care when browsing the best PS5 monitor. This is particularly true if you want to unlock all of PS5's visual capabilities: 4K, 120Hz refresh, variable refresh rate, and HDR - the PS5 does it all. Thanks to a firmware update, it can even support 1440p, making your monitor options even broader. Critical to all of the above is finding a monitor with the right video interface. An HDMI input is required, naturally, but not any old HDMI. Only the very latest HDMI 2.1 socket can fully unleash the PS5's graphical goodies, but more and more of the best gaming monitors offer that these days.
Unfortunately, delivering all those core capabilities in one screen can be costly. For example, the best 4K monitor for gaming with both high refresh and true HDR capability will currently set you back around $1,000/£1,000. Some fantastic screens can be had for half of that money - or even less. But with lower pricing there often come compromises. To suit the widest array of setups and budgets, we've rounded up the best PS5 monitors down below.
The best monitors for PS5 in 2023
Sony has brought out its own PS5 monitor and boy is it an absolutely beautiful beast. The Inzone M9 is a gorgeous monitor boasting a 27" 4K HDR screen and a sleek PS5-inspired design that looks oh-so-good next to your Sony console.
The Sony Inzone M9 has loads of ports which means you could easily connect your PC, PS5, and Xbox Series X/S (if you're feeling cheeky, why not) without having to unplug any cables. There are two HDMI 2.1 ports, a USB-B port, a USB-C port, three USB-A ports, and a standard DisplayPort. An Inzone Hub app makes adjusting the monitor's settings and swapping through one of its five display modes incredibly easy - which is great since it can be a bit annoying to reach behind the dang thing.
With some exclusive PS5 features that include autoswapping between cinema and game modes and automatically optimizing HDR settings upon booting up the console. This means you won't have to fiddle with any settings on your monitor when going between PS5 and PC use, which is a lovely little feature that not a ton of gaming monitors have.
In short, this is a stunning monitor in both display and design, and an excellent option if you're looking to make your setup even better - especially if you're a PS5
Read more: Sony Inzone M9 review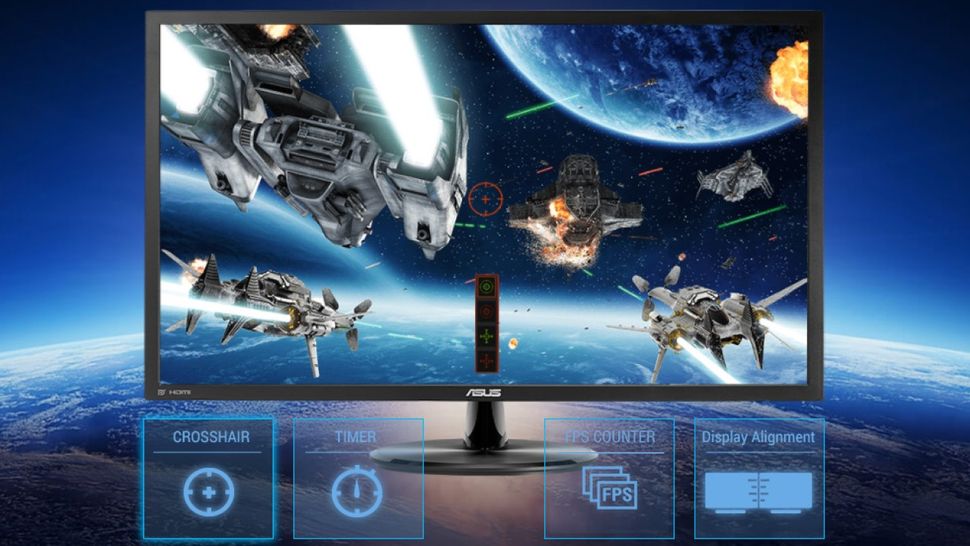 The PS5 is capable of 4K and 120Hz. But the reality is that relatively few games will be capable of achieving both at the same time. That's doubly true of the latest and most graphically intensive games. You're not going to get close to 120Hz running at 4K. So, if you fancy 4K and can't stretch to a high-refresh monitor, the ASUS VP28UQG could be just the thing.
Priced around $240 / £240, it's remarkably affordable for a 4K 28-inch panel. And thanks to an HDMI 2.0 interface, it's fully compatible with the PS5. ASUS has also included DisplayPort 1.2 connectivity, so this monitor will happily tag team with a PC, too. Along with no support for 120Hz refresh, HDR capability is also conspicuous by its absence. But, again, most so-called HDR monitors aren't truly capable of HDR visuals.
Likewise, what does matter for many gamers is speed in terms of pixel response. Here the ASUS VP28UQG scores with its 1ms-capable TN panel. Granted, TN tech isn't the best when it comes to colours, contrast, and viewing angles. But you'd be surprised just how close it now comes while maintaining an edge over IPS and VA technology for pure speed.
The ASUS TUF VG27AQ is not exactly a flashy entry to our best gaming monitor list but it is bursting at the seams with quality - and for that reason, it's a great pick for your first 1440p PS5 monitor now that support for that resolution has been rolled out.
It's ordinary-looking but that didn't fool us, as it packs a punch and offers an incredibly speedy monitor for gaming. There's a 165Hz (featuring Adaptive Sync Support), a 1ms response rate of 1ms, and it is both G-Sync and FreeSync compatible. Add into this ASUS' own Extreme Low Motion Blur Sync technology and the in-game pictures this monitor provides are some of the smoothest and best you can get on a 1440p monitor.
When we tested the monitor, the image quality was excellently crisp, too - it's not all about the speed. Stir in a rating of HDR10 high dynamic range for colour and brightness levels, too, and they are some of the nicest images we've seen on a 1440p. The VG27AQ does a great job of balancing overall picture quality, speeds, and, importantly, the price point. It's a great do-it-all monitor that we think will serve people well for PC gaming and console gaming - and the fact that it's a little older means the prices you can get on it now are excellent and extremely good value.
Read more: ASUS TUF Gaming VG27AQ review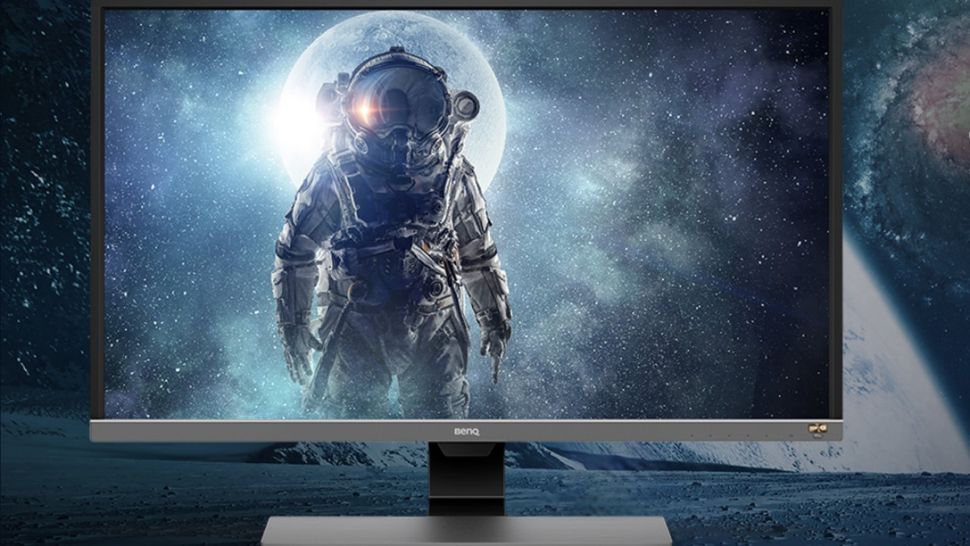 If you want premium 4K visuals at an affordable price, you could do a whole lot worse than the BenQ EW3270U. OK, it's an older model and not a true HDR display even though it will process an HDR input. But thanks to its VA panel, it has fantastic 3,000:1 static contrast and seriously punchy colours. Of course, at this price point, you're not going to get 120Hz support. Likewise, variable rate refresh is not on the menu. Oh, and VA panels are not the last word in pixel response, either.
If that makes the BenQ EW3270U sound like a bum choice, you do get all 3,840 by 2,160 pixels and really nice core image quality in a generous 32-inch package. At this price point, you'd normally expect to find 27-inch 4K monitors. Throw in a slim-bezel design that looks far more expensive than it is and it's a very compelling overall package. OK, it's a compromise, the EW3270U. It doesn't unlock all the PS5's capabilities, most notably that sweet, smooth 120Hz refresh. But something's got to give at this end of the market and if 4K is a priority, the BenQ is well worth a look.
The Philips Momentum 5000 27M1F5800 is a new model that can easily be an all-singing, all-dancing PS5 monitor with a beautiful Nano IPS panel that steals the show and makes your games shine. It has a simplistic design that looks professional atop a work-from-home desk, but a stand that gives it a bit of gaming soul. For that reason alone, this is absolutely up there those monitors of recent months and years that are designed with a dual-platform setup in mind.
For a 4K PS5 monitor from a big-name brand, it's surprisingly affordable, and for the quality of panel you get, we'd argue it has excellent value for money. In terms of display connectivity, you get two HDMI 2.1 ports and two 1.4 DisplayPorts, and you'll also get a USB upstream port, four USB 3.2 Gen 1 ports, and a 3.5mm audio connection. The 4K Momentum 5000 has a 27-inch display with a refresh rate of 144Hz, HDR 600 certification, and Adaptive Sync technology; all good ingredients for speedy and gorgeous PS5 play.
As a result, this is a PS5 monitor that has all the makings of a terrific gaming screen and as long as you don't mind a fairly lacklustre UI, it'll serve you very well indeed. In testing, we were awe-struck with how good it made games look, even when dropped down to 2K or full HD. Besides some minor contrast and brightness issues, this is up there.
Read more: Philips Momentum 5000 27M1F5800 review
Our favourite 4K monitor is also great for PS5, and we love it. It'll stand out and perform particularly for those with a mixed console-and-PC setup due to it's full set of features and specs , it's a premium fit for anyone looking for a one-and-done solution for such a setup.
The ASUS XG27UQ brings a whole host of the best possible specs to a screen offering 4K resolution, 144HZ refresh rate, a 1ms response time, for around $800/£800. It's still a hefty price tag, don't get us wrong, but it's far cheaper than the other top-tier offerings claiming to offer similar specs.
And while this 4K monitor will top out at 60Hz for the PS5 due to its HDMI 2.0 port, the picutre quality is really something else: Cyberpunk 2077 had my jaw on the floor, with stunning lighting effects and texture detail throughout Night City. As did Assassin's Creed Valhalla, with the sunrays splitting the treetops. If you're looking for one of the best looking 4K screens to team wiht your PS5 - while also keeping an eye on a PC setup too - then this is the one to go for.
Read more: ASUS XG27UQ review
For those looking for a speedster of a 1080p screen for their pick of the best PS5 monitors, the Acer Predator XB253QGX is absolutely worth a look. For esports aficionados and competitive PS5 gamers, the priorities are frame rates and response times, and the Acer XB253QGX nails it.
Resolution-wise, it's only 1080p from a 25-inch panel. But it clocks in at fully 240Hz refresh and is good for an ultra-low MPRT pixel response time of 0.5ms (GtG response is 1ms claimed). HDR support is entry-level stuff in the form of DisplayHDR 400 certification. But that at least ensures punchy peak brightness of 400cd/m2.
The IPS panel tech likewise makes for more accurate and vibrant colours than an equivalent TN screen. For online shooters right through from Counter-Strike: Source to Call of Duty: Warzone, this panel is a peach. It's very quick and blur-free and feels super responsive.
It's less impressive rendering the latest eye candy in the likes of Cyberpunk 2077. The relatively low res makes for much fuzzier image quality than 1440p or 4K panels. But if speed is what you demand for in PS5 play, the Acer Predator XB253QGX does that better than most while not entirely giving up on image quality.
Read more: Acer Predator XB253QGX review
Good image quality. High refresh. Fast pixel response. All for a price you can afford? Yup, the Gigabyte G27F ticks some very important gaming boxes for a PS5 monitor. Of course, at this price point, you can't have everything. Most notably, you can't have all eight million pixels that come with full 4K; this is a 1080p model.
This does mean that the lower resolution leads to faster frame rates which can be critical in online shooters and battle royale games, including the likes of Fortnite, where low latency is king in a very competitive environment.
There's no HDR support here, but it's worth remembering that an awful lot of supposedly 'HDR' monitors are nothing of the sort. In fact, hardly any monitors are capable of true HDR visuals, so, the Gigabyte G27F's lack of HDR is largely academic. And it's not as if it implies poor panel quality: Gigabyte says the G27F is good for 95 percent of the DCI-P3 gamut, which is better than some content creation panels.
If there is a weak spot, it's likely to be the response time. Gigabyte claims 1ms pixel response, but courtesy of the MPRT metric. The best IPS monitors achieve 1ms via the more demanding gray-to-gray standard. Still, the Gigabyte G27F is hardly a slouch and, for the money, it's very appealing.
If your budget is plentiful and you're after a PS5 monitor that crams every top specification you could possibly want from any gaming monitor then the AOC Agon PD32M is it.
It's a truly premium experience, and to get all the features it offers in one screen is something spectacular - and that's why its price tag is higher than most other 4K PS5 monitors. That price is hard to ignore as it's just, objectively, a lot of money, however, when you factor in all of the specs, features, and performance, it's not as ridiculous an investment as one might think - similar MiniLED 4K panels can cost thousands and thousands.
But anyway, if you're looking to invest in a display that ticks all the boxes - beyond being just a phenomenal PS5 monitor - then the PD32M will not let you down and you will not regret it. Laying it out simply, the PD32M is a 32-inch 4K IPS panel with a 144Hz refresh rate and a 1ms response time. It's also got that sweet, sweet mini-LED backlighting, 600 nits in its brightness, and it is Vesa-Certified to a level of DisplayHDR 1400 (!). The actual real-world gaming performance that results is breathtaking - games look superb, run super smoothly, and produce one of the top gaming experiences we've ever seen. Seriously, it's hard to go back to anything else once you've seen the full whack of the PD32M's capabilities. It's stacked with connectivity options too so it's perfect for someone with a PS5 and PC setup, or multi-purpose and device setup.
Caveats (aside from the investment required) are relatively few: the monitor is a big chunky boy though so you'll need a fair bit of desk space - though it is a flat-screen so doesn't hog up too much extra space with a stand; the RGB lighting is not really necessary, and it can be tricky to optimise the screen for your use or different games as it is so bright and colourful.
Having said the above about the design though, it is very cool and oozes that Porsche Design chic-ness to make a great-looking bit of kit. Overall, it really could be all the gaming monitor you ever need.
Read more: AOC Agon PD32M review
It's refreshing to see monitors dedicated to, or at least aimed at, console gaming making solid appearances in best lists in recent years. And this is a seriously great console monitor that will be in with a shout for best PS5 monitor lists across the internet this and next year. The CG32UQ is a console-focused gaming monitor and has serious gaming pedigree and stock behind it coming from ASUS.
It is a little expensive but you get some serious monitor, tech, and performance for your money. Its main headline, if you will, is that it is a 32-inch 4K VA-panel monitor - this is incredibly useful, right off the bat, as it'll make transitioning from a 4K TV that many consoles are currently hooked up to, easy to undertake. You'll still get the same resolution and, extra importantly, the effects of HDR as the CG32UQ has a DisplayHDR 600 rating. This HDR excellence is backed up by glorious colors and contrasted gained by the monitor's 95% DCI-P3 rating and contrast ratio of 3000:1.
The AuraSync lighting feature is a real highlight on this monitor too. Offering the ambient lighting that only some TVs do (in the UK), the backlighting effects that this monitor offers, really helps to separate it from the pack. It's not just a gimmick too as it'll mimic on-screen colours and make for an immersive, impressive show.
On top of that, you will still get some of ASUS's quality monitor techs as standard: FreeSync, GameFast mode, flicker-free pictures, and a very handy remote control. For a full verdict check out our ASUS CG32UQ review.
On a tight budget? Don't panic. Because it's actually possible to bag a high-refresh 1080p monitor with a curved premium panel from one of the biggest brands in the business. And all for Under $150 / £150. We give you the Samsung GRG5 in 24-inch trim.
The highlights start with a 24-inch curved VA panel. It's not HDR compliant. But thanks to the 3,000:1 contrast, it's actually capable of more dynamic range than many monitors that claim HDR capabilities. It also sports an 1800R curve, for added immersion.
Predictably, at this price point, we're talking 1080p rather than 4K. But then if you want that super smooth high-refresh experience, you're not going to get it at 4K. Likewise, at 24 inches this is hardly a huge or cinematic screen. But, once again, something has to give to hit this level of affordability.
As a gaming-focused monitor, it has several additional gaming-friendly features including low input lag mode. If there is a catch, it's probably pixel response. Samsung quotes 4ms, which isn't too shabby. However, that's a grey-to-grey time and this is a VA panel, so expectations in terms of pixel speed probably need to be kept in check.
Acer's beastly 43-inch Predator CG7 has been updated with HDMI 2.1 support, and that helps to make it one of the best PS5 monitors going now. As ever, the branding of the new variant is confusing. It's the Acer Predator CG437KP you want, the additional 'P' on the end being the critical indicator of the updated model - the prices you see here are for that and the links will take you to the right place.
Specs-wise, the VA panel is the real 4K deal and good for fully 1,000 nits of brightness and 1ms responses, albeit that 1ms stat is not the usual gray-to-gray, but Acer's Visual Response Boost mode, which comes at the cost of brightness. Just as important it'll hit the full 120Hz thanks to that HDMI 2.1 upgrade (connected to a PC it'll go even faster - 144Hz).
As for colour accuracy, Acer reckons the CG7 is good for 90 percent of the DCI-P3 gamut, which isn't too shabby. The CG7 is also DisplayHDR 1000 certified. However, it only has 14 edge-lit dimming zones rather than full-array local dimming, so it's not the full HDR deal. That said, the inherent 4,000:1 contrast of the VA panel combined with that powerful 1,000 nits brightness means that this is about as good as it gets with having full-array dimming.
Read more: Acer Predator CG437K review
The 27-inch panel sports a tight 1500R curve for that immersive, wrap-around feel and is based on VA technology. The implications of VA tech include outstanding static contrast of 3,000:1, plus punchy colours and good viewing angles. VA technology used to suffer from poor pixel response. But the latest generation of panels is much improved. Consequently, ViewSonic reckons the VX2768-PC-MHD is good for 1ms response times.
The kicker, of course, and the key enabler of high frame rates is the 1,920 by 1,080 as opposed to 4K native resolution. It is a significant step down versus 4K when it comes to detail and sharpness. But 1080p is still two million pixels and for fast-paced games, the improved response and buttery smooth frame rates are arguably more important than the pixel count.
You don't get HDR support either. But then true HDR was never going to be available at this ultra-aggressive price point. In short, this monitor represents an awful lot of high-refresh fun for the money and makes a neat, underrated PS5 monitor contender.
Best monitor for PS5: FAQs
Does the PS5 support 1440p?
While originally the PS45 did not support 1440p resolutions, it is a joy to say that now (as of autumn 2022) it does! Going through the Software Beta first and now in full circulation, the support for 144p resolutions came through a firmware update, and now unlocks a whole set of native-1440p PS5 monitors that will now be open to use at their natural resolution. This is of course subject to game compatibility, but the signs are good for that. And all you have to do is go into your Screen and Video settings and select the resolution there.
However, remember that ultra-wide resolutions are still not supported yet, however, so are a poor fit with the PS5.
Is 4K 60Hz good for PS5?
Yes! And this is widely seen as the goal for gaming on a PS5 really (in a way). If PS5 games are able to run at 60 frames per second, at genuine 4K resolution and do it reliably then this is probably the ideal for almost everyone. Thus, if your PS5 monitor has these two key specs then you'll be well placed to enjoy most of your games in great quality and smoothness.
Should I get a 144Hz monitor for PS5?
Well, on the face of it, a 144Hz won't really get the best out of your PS5 and is a bit overkill. The one area that it will help is in frames per second of some games. The PS5 is capable of 120Hz, and thus frames per second, so having a monitor that has you covered on that front is worth it if that's what important to you, though this is likely to only be at 1080p (or maybe 1440p if Sony introduce support for that resolution in the future). As mentioned in this guide, if you're aiming for the most well-rounded monitor package, it might be better to aim for something that's 4K and 60hz.
What monitor should you use for PS5?
While 'any' monitor with an HDMI connection will work perfectly well with a PS5 there are always certain ones that will work best - and that's why we recommend all those that are right here on our best PS5 monitor guide. Whether you're after something that houses a 4K resolution, a fast refresh rate, and all the bright, colourful gaming chops you could ever want - like the AOC Agon PD32M, for example - or you're after something cheap and cheerful in the 1080p end of the spectrum to just ensure you have a solid Full HD partner for your PS5 - like the ViewSonic VX2768-PC-MHD - then our list has you covered.
What is the best monitor specs for PS5?
Now, the minutiae of individual specs across console monitor contenders is where we can start to differentiate between the two new-gen machines a bit.
But first, if we are to take a purely objective approach, these are the specs you'll definitely want in a PS5 monitor: a 4K (3840x2160) resolution, HDR, and HDMI 2.1 (to ensure 120Hz refresh rate). These are the specs that will you get the most out of your console companion - but that's not the be-all and end-all. And compromises are always around the corner. For example, an all-singing, all-dancing, 4K 120Hz monitor is going to be a large investment, so you might be content with 4K at 60Hz, or you might prefer the speed, so would be content with a 1080p 144Hz (or higher) model to ensure you're getting those sweet, sweet framerates.
The difference and potential helpful decision-=maker right now could be that the PS5 does not support 1440p resolutions. For now. We reckon that the PS5 will do eventually, but for now, this could be something that folks will use to push them one way or another on a PS5 monitor.
---
Remember, if you're after something different you can browse our guides to the best Xbox Series X monitors, best PS4 monitors, best G-Sync monitors, and best G-Sync compatible FreeSync monitors to complete your research.
If you're after something 'traditional' then head over to our best gaming TV guide as well as our best TV for PS5 and Xbox Series X, best OLED TV, and best 120Hz 4K TV guides which will all see you right.