The best monitor for Xbox Series X is fast becoming a genuine, plausible, and excellent display option for owners of Microsoft's current-gen consoles. With the Xbox Series X offering 120Hz high-refresh capability, and both the Series X the Series S offering 1440p resolutions, it is now a plain fact that home consoles are offering some specs and features that would be equally at home on a monitor as well as a TV.
What's more, the new generation of home consoles has been with a new generation of monitors which have been designed to happily accommodate and match up with these machines: many pack HDMI 2.1 and so plenty of bandwidth to support ultra-high res 4K rendering at 120Hz with variable refresh and all the HDR bells and whistles turned on. Of course, many TVs now offer the very same functionality. But TVs can come with downsides, such as input lag, poor pixel response, and overly aggressive image processing; things not present on the best gaming monitors for Xbox, for example.
Displays designed for the Xbox Series X, however, are fine-tuned for what really matters for gamers, namely response, low latency, and accurate rendering. And you're not paying for features like SmartTV interfaces or digital tuners that aren't relevant for gaming, making the best monitor for Xbox Series X a specific and accurate solution.
You can also get Xbox Series X monitors that pack that full feature set in much smaller and more ergonomic packages than TVs - like the best 4K monitors for gaming, for example. Sure, 30-inch and even smaller TVs are available. But not with 120Hz panels, 4K, or 1440p native resolution, and HDR support. If you want 120Hz gaming with 1ms response and HDR support in a desk-sized package, maybe with a DisplayPort input for tag-teaming with the best gaming PC or best gaming laptop, well, a monitor is definitely the way to go. Nonetheless, in many scenarios, depending on your needs, preferences, and budget, a console-optimised monitor could be your gaming weapon of choice.
The inbound Black Friday gaming monitor deals are going to be the perfect opportunity to save a bunch of cash on a new Xbox Series X monitor. We reckon it'll be worth paying particularly close attention to the Black Friday 4K monitor deals, and the Black Friday 1440p monitor deals for an Xbox-focused monitor.
The best gaming monitors for Xbox Series X in 2022
Why you can trust GamesRadar+ Our expert reviewers spend hours testing and comparing products and services so you can choose the best for you. Find out more about how we test.
One of the advantages of a gaming Xbox Series X monitor over a TV is the option to pack all those next-gen display features into a compact package. This is exactly what the new Acer Nitro XV282K is all about.
Based around a 28-inch IPS panel, it ticks an awful lot of boxes, starting with up to 144Hz refresh and the full 120Hz over HDMI 2.1. Thanks to the use of a modern IPS panel, the response is rated at a nippy 1ms. And that's 1ms by the gray-to-gray metric, not the less demanding MPRT measure.
There's variable rate refresh support for liquid-smooth rendering, too, plus a focus on delivering low latency. There aren't all that many games that will run at 4K and 120Hz on the Series X. But for those that will, including Halo: The Master Chief Collection, this Acer panel is surely the weapon of choice. It also has basic HDR capability thanks to HDR 400 certification. With that comes 400 nits of brightness.
With both HDMI 2.1 and DisplayPort 1.4 connectivity, the Acer Nitro XV282K is likewise the perfect tool for tag-teaming with both a Series X and a PC. Even better, the XV282K also has USB Type-C connectivity with 65W of charging. If you're planning on sharing your screen with a laptop, in other words, this model makes that super simple thanks to single-cable connectivity to drive the display, charge your laptop and connect peripherals.
It all comes in a slick chassis with slim 7mm bezels on three sides of the panel, which ensures that this is about as compact as a 28-inch monitor can get. It also offers a full range of adjustments, including height, tilt, swivel, and even rotation into portrait mode.
If you're looking for a responsive, 4K gaming monitor for Xbox Series X on a budget, something's gotta give. That something is 120Hz high refresh support. Of course, for many of the very best looking games, 120Hz is arguably a moot point, given 4K means driving over eight million high-quality pixels to your panel of choice every second. 60Hz or 60fps is, still, plenty.
Enter, therefore, the BenQ EL2870U, a tried and tested 28-inch 4K monitor with a strong gaming feature set. What it doesn't have, however, is HDMI 2.1 support. So it can only hit 60Hz. It's also TN rather than IPS in terms of panel tech. So, don't expect the best contrast and viewing angles. Oh, and it's rated at 300 nits, so it won't exactly burn you a new set of retinas, either.
But don't let that put you off. Along with the full 3,840 by 2,160 4K native resolution, the BenQ EL2870U gives you a 1ms response and ultra-low latency. And that's 1ms TN-style, which tends to be faster in the real world than 1ms from an IPS screen. If you want super speedy, blur-free visuals in shooters like Fortnite, this is about as good as it gets. BenQ has also included variable rate refresh support over both HDMI and DisplayPort.
As for HDR support, the EL2870U will accept an HDR signal and render colours correctly, though there's no VESA HDR certification and no local dimming. With a DisplayPort 1.4 socket, it'll make for a decent desktop PC monitor, too.
The Xbox Series X's ability to run games at fully 4K and 120Hz grabs all the headlines. But depending on your budget - and whether you play on an Xbox Series S - aiming for a monitor of 1440p resolution could actually be more significant. Sometimes known as 2.5K, 1440p refers to a native resolution of 2,560 by 1,440 pixels.
All told it's fewer than half the pixels of 4K and that means lower GPU load, higher frame rates, and a more responsive feel. But does that also come with less visual detail? Not necessarily. At least, not in terms of pixel density if you compare the 1440p Gigabyte M27Q with, say, a 55-inch 4K TV. It's this Gigabyte panel that has more pixels per inch.
It's also dramatically cheaper than a comparable 4K panel, as in less than half the price. After all, the Gigabyte M27Q has one heck of a feature set. Its IPS panel is good for 0.5ms pixel response (albeit by the MPRT rather than more demanding GtG metric) and 170Hz refresh. The M27Q is also DisplayHDR 400 certified, supports variable refresh rate, and is rated at 92 percent coverage of the DCI-P3 colour space. It even has USB Type-C, though only with 10W of charging power.
All that in a 4K monitor? It costs megabucks. With this little 27-inch 1440p beauty, it's so much more affordable. Not only will you probably not miss the extra pixels much of the time compared to a 27-inch 4K monitor, but the higher frame rate will also reduce latency and improve responsiveness. As an all-around solution for pretty much any kind of gaming, 1440p isn't so bad after all.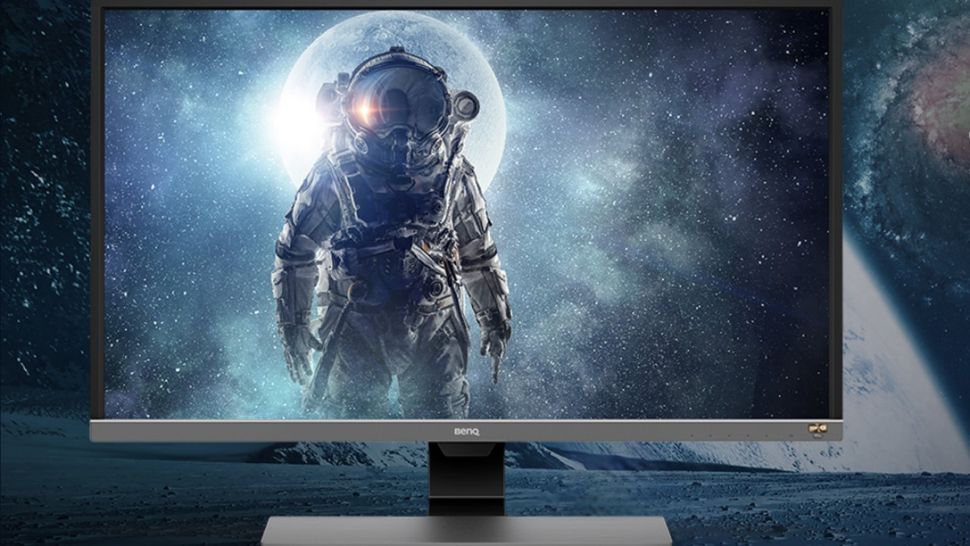 BenQ's monitors hit a number of different excellent value-, price- and performance points and the BenQ EW3270U is one that will offer a great contender for best gaming monitor for Xbox Series X mainly because it's another attractive, 4K panel that doesn't break the bank. While it's a slightly older model and not a true HDR display, it will process an HDR input like the above EL2870U, but it will also - thanks to its VA panel - give you a fantastic 3,000:1 static contrast and some seriously vivid and bright colours. Yup, you won't get that 120Hz again, but the offering is still an attractive one here.
You do get all 3,840 by 2,160 pixels and really nice core image quality in a generous 32-inch package. At this price point, we'd expect to see monitors of a good handful of inches smaller in size. Throw in a slim-bezel design that looks far more expensive than it is and it's a very compelling overall package.
It won't truly unleash the full fury of the Xbox Series X, but if you're willing to prioritise 4K resolution, excellent colours, and large monitor size, then this BenQ is well worth a look.
Acer's beastly 43-inch Predator CG7 has been updated to offer HDMI 2.1 support, and that makes it a shoo-in for our best gaming monitor for Xbox Series X guide now. An early note: as ever, the branding of the new variant is confusing. It's the Acer Predator CG437KP you want, the additional 'P' on the end is the critical indicator of the updated model - the prices you see here are for that and the links will take you to the right place.
Specs-wise, the VA panel is the real 4K deal and good for fully 1,000 nits of brightness and 1ms responses, albeit that 1ms stat is not the usual gray-to-gray, but Acer's Visual Response Boost mode, which comes at the cost of brightness. Just as important it'll hit the full 120Hz thanks to that HDMI 2.1 upgrade (connected to a PC it'll go even faster - 144Hz).
For the record, Acer says it will also run at 120Hz at 1440p on the Xbox Series X, giving you the option to step down the resolution in return for more speed and response. That makes this panel suitable for twitchy online shooters like Fortnite, while the sheer scale and punch of the VA panel is also a good fit for graphics fests like Assassin's Creed: Valhalla.
As for colour accuracy, Acer reckons the CG7 is good for 90 percent of the DCI-P3 gamut, which isn't too shabby. The CG7 is also DisplayHDR 1000 certified. However, it only has 14 edge-lit dimming zones rather than full-array local dimming, so it's not the full HDR deal. That said, the inherent 4,000:1 contrast of the VA panel combined with that powerful 1,000 nits brightness means that this is about as good as it gets with having full-array dimming.
Read more: Acer Predator CG437K review
Limited to a budget of around $200 / £200? Don't despair. A high-refresh monitor with a decent IPS panel is within reach that will still be a top Xbox Series X gaming monitor. Enter the AOC 24G2 and its closely related AOC 24G2U sibling. Inevitably, some compromises have to be made. The 24G2 / 24G2U are mere 24-inch monitors with a modest 1,920 by 1,080 resolution, otherwise known as 1080p. The difference between the two? The 24G2U adds a USB hub.
Good for a seriously zappy 1ms pixel response and with both variable refresh rate support and a low input lag mode, they run at a fulsome 144Hz, albeit you'll only be using 120Hz of that on your Series X. Of course, that's far lower resolution than a 4K panel with just one quarter the number of pixels. But then fewer pixels means more frames and lower latency.
In other words, you'll actually be able to make full use of the Series X's 120Hz capability and the FPS Boost feature, which might just give you that critical edge in your Battle Royale or team-based shooter of choice, be that Apex Legends, Call of Duty: Warzone, Battlefield 5 or Overwatch.
One obvious omission, spec wise, is HDR capability of any kind. But then very few monitors deliver a true HDR experience. So, at least AOC doesn't tease you with the promise of HDR only to ultimately disappoint. What's more, with slim bezels and both height and tilt adjustment, this panel doesn't feel or look like a budget option.
Until now, 4K60fps+ gaming has been a concept only attainable by the hardcore enthusiasts who dedicate everything they have to PC gaming and their best gaming monitors. Not anymore. Thanks to the new-gen consoles, and the launch of the 30-series cards from Nvidia, and AMD's RX series equivalents, it's finally affordable for those who desire it.
The ASUS XG27UQ changes that entirely, bringing almost the best possible specs on a 4K screen down to a reachable tier for everyone - including Xbox Series X players. It's still not cheap, but a 4K monitor with 1ms response time and a 144Hz refresh rate going below the $1k mark is quite something. And it does that quite considerably too, coming in at around $800/£800. It's still a hefty price tag, don't get me wrong, but it's far cheaper than the other top-tier offerings.
The ASUS XG27UQ is like a gaze into what gaming can really be like: Cyberpunk 2077 had my jaw on the floor, with stunning lighting effects and texture detail throughout Night City. As did Assassin's Creed Valhalla, with the sunrays splitting the treetops. You will not be disappointed with this contender for best gaming monitor for Xbox Series X.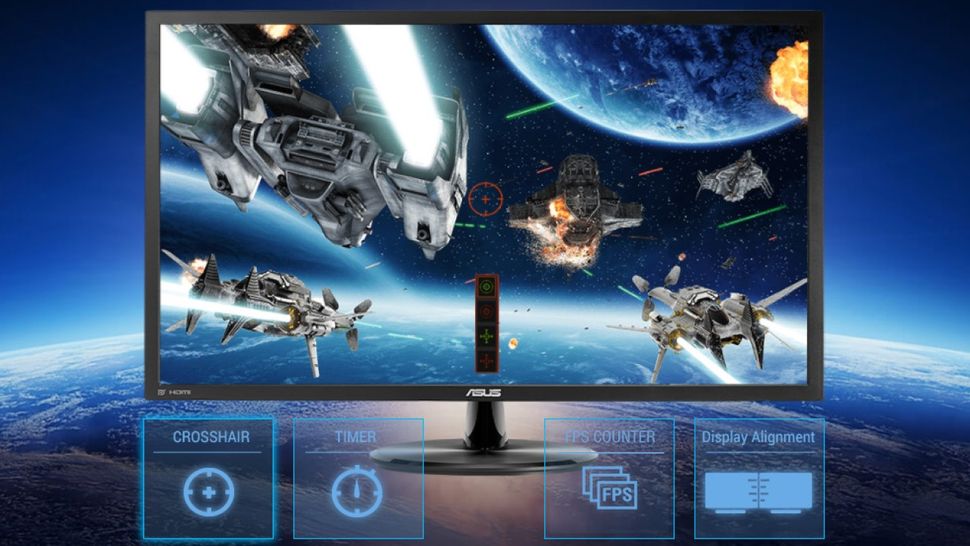 If you're looking to be ruthlessly realistic in your Xbox Series X monitor search, the cold, hard truth is that only a very few games will actually run at the 120fps that we'd all love. Paritcularly, if they are graphically intensive games - you just aren't going to get close to 120Hz running at 4K. As a result, if you're willing to compromise and stick to 60Hz with your 4K resolution then options like the ASUS VP28UQG could be just the ticket.
Priced around $240 / £240, it's remarkably affordable for a 28-inch panel that offers a full 4K resolution. Including the necessary HDMI 2.0 connection, the monitor also sports DisplayPort 1.2 connectivity, meaning this could easily fit into a setup that has a PC too. Another caveat is that another absent spec is HDR capability - but, again, most so-called HDR monitors aren't truly capable of HDR visuals.
Likewise, what does matter for many gamers is speed in terms of pixel response. Here, the ASUS VP28UQG scores big with its 1ms-capable TN panel. Granted, TN tech isn't the best when it comes to colours, contrast, and viewing angles. But you'd be surprised just how close it now comes while maintaining an edge over IPS and VA technology for pure speed. And lastly, this is an incredibly good value monitor that will ensure your bucks go far.
We'd all love a 4K, 120Hz, HDR Xbox Series X monitor with a mini-LED backlight that cranks out 1000 nits and delivers 1ms pixel response. However, in the real world, these panels barely exist - especially in affordable price ranges as anything that comes close costs megabucks.
This is where the Samsung U32J590 comes in as an option. For not much more than 300 bucks, you get a big, beautiful 32-inch 4K panel with excellent 3,000:1 contrast thanks to a quality Samsung VA panel. Of course, VA tech isn't exactly synonymous with speedy pixels. But Samsung is the master of fast VA panels and this one is rated at a decent 4ms GtG.
Inevitably, the specs are a little limited in other areas. Refresh is pegged at 60Hz, so there are no 120Hz thrills. You also don't get HDR support, local dimming, or any of that fancy next-gen backlight technology. Indeed, peak brightness is quoted at 270 nits, which is towards the lower end of what we'd deem acceptable. But it should be good enough for all but the very brightest environments.
As an affordable gaming monitor for Xbox Series X and introduction to the XSX's 4K highs, this is a very appealing proposition.
On paper, the new ASUS ROG Strix XG43UQ absolutely nails the 'best of both worlds monitor-TV hybrid' brief. How so? It starts with the 43-inch panel size, which is enough for a big-screen TV experience but just about compact enough for plausible desktop use.
Next up, connectivity is well covered, with both a pair of HDMI 2.1 ports, ensuring you can get the most out of the Xbox Series X's advanced, bandwidth-hungry feature set, plus DisplayPort 1.4 for optimal PC compatibility. The only omission is USB Type-C - though this is mainly of benefit for connecting laptop PCs.
As for image quality, the specs look strong. The full 4K panel runs at up to 144Hz on PC and does the full 4K@120Hz thing with the Series X. There's DisplayHDR 1000 certification and a maximum brightness of 1,000 nits, variable refresh support for the Xbox plus G-Sync, and FreeSync adaptive refresh compatibility for PC. What's more, Asus claims 1ms response and includes technologies like Extreme Low Motion Blur (ELMB) which promise an exceptional responsive experience.
In practice? This Asus panel is incredibly punchy and earns a shot at being the best gaming monitor for Xbox Series X. The VA panel and strong backlighting, plus the 4K pixel grid and 120Hz-plus refresh, make for a spectacular experience in brighter gaming scenes. You haven't seen Cyberpunk 2077 in its full glory unless you've experienced a big, powerful panel like this.
Where we to totally ignore prices and costs, this is probably the most all-singing, all-dancing monitor for Xbox Series X you can get. The PD32M simply has every top specification you could possibly want from a gaming monitor - any gaming monitor - let alone a 4K one.
It's a truly premium experience, and to get all the features it offers in one screen is something spectacular. If you're looking to invest in a display that ticks all the boxes, then the PD32M will not let you down and you will not regret it. To get specific you're getting a 4K monitor that is: 32-inches; an IPS panel; 144Hz in refresh rate; 1ms in response time; mini-LED in its backlight type; 600 nits in its brightness; and Vesa-Certified DisplayHDR 1400 (!). This is a lot to pack into one monitor but the performance that results is breathtaking - games look superb, run super smoothly, and produce one of the top gaming experiences we've ever seen. Seriously, it's hard to go back to anything else once you've seen the full whack of the PD32M's capabilities.
The monitor is a big chunky boy though so you'll need a fair bit of desk space - though it is flat so doesn't hog up too much extra space with its stand. However, the design is very cool and oozes that Porsche Design chic-ness to make a great-looking bit of kit. The RGB lighting on the sides is one of a few downsides as it's not really necessary for a screen where the panel does all the talking, and it can be tricky to optimise the screen for your use or different games as it is so bright and colourful.
The price tag is hard to ignore as it's just a lot of money, however, when you factor in literally all of the specs, features, and performance, it's not as ridiculous an investment as one might think. And it really could be all the gaming monitor you ever need.
Note: Stock seems to be a bit hard to come by, but this could be a symptom of just being a new monitor to the market, and the global situation with the stock of New And Nice Things - hold tight and check back regularly!
Read more: AOC Agon PD32M review
---
Do you need a 120hz monitor for Xbox Series X?
For most gamers stillm, 120Hz is more of a bonus than a necessity. The list of games that can offer that framerate is still relatively small, so we'd recommend going for a 4K monitor on the whole, as gaming at 4K at 60Hz (where possible) is a great combo of specs.
Is a 4K monitor worth it for Xbox Series X?
We think this one is a firm 'yes'. The Xbox Series X (and PS5) is placed as a proper 4K-capable machine, and so pairing it with a 4K monitor seems like the best kind of gaming monitor to pick. However, this is tempered by the refresh rate limits and the frames per second numbers if that's what you're chasing. If you mainly play games that are able to run at 120fps on Xbox Series X then and these are what you most enjoy then you may be better off with a high refresh 1080p or 1440p screen as opposed to a 4K one.
Can Xbox Series X hit 144Hz?
Unfortunately, no. But it can so nearly reach that: the Xbox Series X's max refresh is 120Hz. At this speed, the difference between that and the fabled 144Hz refresh rate that is often held as the sweet spot for PC gaming will be almost unnoticeable to the human eye - 24 frames a second, once you're going at over 100, will be minuscule.
Does the Xbox Series X need a 4K gaming monitor?
If we were to be plain ruthless and apply only the most severe logic, then, no, the Xbox Series X doesn't need a 4K monitor. However, we think, if you're going to get the best out of an XSX-and-monitor pairing, then you should aim for a 4K Xbox Series X gaming monitor. The console is designed to strive and perform at this resolution, and, for most gamers, this is what will be the target too - even if it might be limited to 60Hz at the same time (honestly, this is still fast enough for most folks).
However. You can easily make use of a 1080p or 1440p gaming monitor for use with an Xbox Series X or S console, and this might be better for you. For example, if you prefer speed and getting as many frames per second in your setup as possible hen playing games like Warzone or Fortnite, then a lower resolution monitor with a higher refresh rate will be for you. And if you have a multi-device setup at home, using a PC too, then being able to match your Xbox console with an existing monitor is another benefit.
---
And for all your other monitor needs check out our guides to the best G-Sync monitor, best G-Sync compatible FreeSync monitor, best curved gaming monitor, and best portable monitors, and for more console monitor guides, check out our best PS5 monitor and best PS4 monitor pages.
And if you do prefer something more TV-shaped, then the contenders for best TVs for Xbox Series X, best 120Hz 4K TVs, best OLED TV, and best QLED TV are all definitely worth looking at too.