Looking for the best PS4 monitor in 2023 is an amazing way to keep your console feeling new almost a decade into its life. There are plenty of great displays out there for it at this point and loads that will give it a new lease of life. The PS4 may seem down and out nowadays, but in our opinion, it's as relevant as ever. It still has new games supporting it, has an enormous game library, and still has a player base in the multi-millions.
In terms of specifics, it should be said that you will be stuck with the native framerate that your PS4 or PS4 Pro - and the game itself - can manage: a maximum of 60fps. This will no doubt be a downside for many. However, this still means that some of the best gaming monitors are an option since there are great Full HD options out there that will give you value with a PC if you have one, too. While 4K is the 'star' to aim for in terms of resolution, it may be that you find an absolute belter of a monitor that's 1440 or 1080p - the current 1080p market will offer an incredible level of performance at that resolution.
We now live in a time where you don't have to just plug your console into your home's main television - you can get a dedicated screen for it. Of course, the best gaming TVs (opens in new tab) and the best TVs for PS5 are going to be many folks' first port of call, but we are now at the stage where there are a few monitors that are clearly console-focused. But even still, screens that are PC-first, can be great PS4 monitors. If a display is stuffed with the latest and greatest, and fastest, screen techs, then it'll likely serve you very well as a PS4 monitor too.
The best PS4 monitor 2023
Yup, it's another ASUS model, but you'd be hard pushed to find a better 1080p monitor for PS4 right now and that's why this is a slightly different entrant into the best PS4 rundown. This is because the image quality and range and richness of color that comes for the VG279Q's IPS panel does an enormous amount of good work. The silver lining of that 1080p resolution is that the image work done by the IPS panel is not stretched over so many pixels so the clarity and crispness are exquisite. It also means that the ASUS VG279Q comes in much cheaper than a lot of its larger and flashier counterparts. Nice.
Like a lot of monitors, though, this is made with PC in mind first which means you get a whole host of extra goodies: FreeSync; low blue light; flicker-free; and game fast mode, to name but a few. These might not always be used when playing on console, but those that don't just keep themselves available, increasing the monitor's potential flexibility and versatility.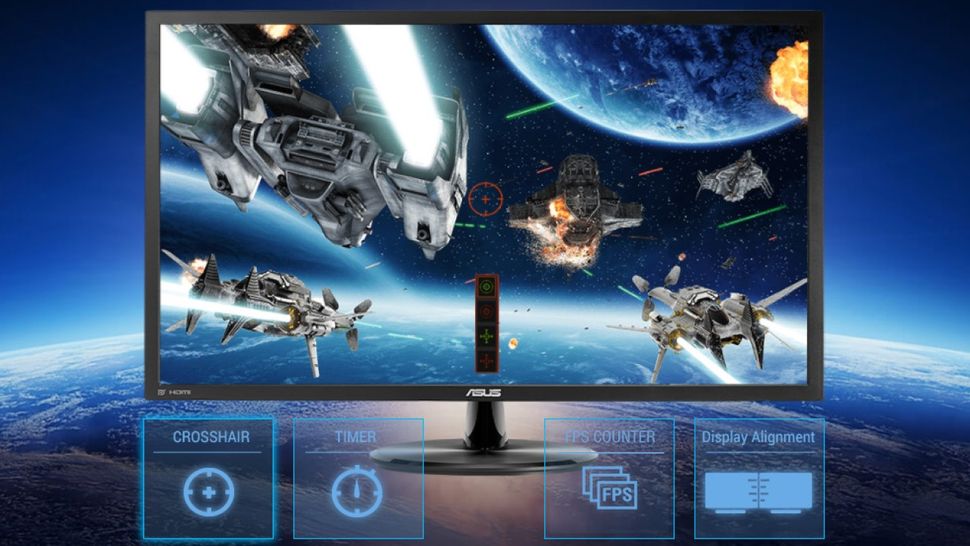 With the reality being that PS4 games can only just about top out at 4K, resolution-wise - with checkerboarding and on PS4 Pro - and that 60Hz is plenty for the platform, something that offers 4K pictures but on a budget is likely to be your best option. And the ASUS VP28UQG could be just the thing.
Priced around $240 / £240, it's remarkably affordable for a 4K 28-inch panel. And thanks to an HDMI 2.0 interface, it's perfect for PS4. ASUS has also included DisplayPort 1.2 connectivity, so this monitor will happily tag team with a PC, too. Along with no support for 120Hz refresh, HDR capability is also conspicuous by its absence. But, again, most so-called HDR monitors aren't truly capable of HDR visuals.
Likewise, what does matter for many gamers is speed in terms of pixel response. Here the ASUS VP28UQG scores with its 1ms-capable TN panel. Granted, TN tech isn't the best when it comes to colours, contrast, and viewing angles. But you'd be surprised just how close it now comes while maintaining an edge over IPS and VA technology for pure speed.
Good image quality. High refresh. Fast pixel response. All for a price you can afford? Yup, the Gigabyte G27F might just be the complete affordable package when it comes to the best PS4 monitor. Of course, we're in 1080p land here but arguably that's where the PS4 is at it's most comfortable.
However, this does mean that the lower resolution leads to faster frame rates which can be critical in online shooters and battle royale games, including the likes of Fortnite, where low latency is king in a very competitive environment.
There's no HDR support here, but it's worth remembering that an awful lot of supposedly 'HDR' monitors are nothing of the sort. In fact, hardly any monitors are capable of true HDR visuals, so, the Gigabyte G27F's lack of HDR is largely academic. And it's not as if it implies poor panel quality: Gigabyte says the G27F is good for 95 percent of the DCI-P3 gamut, which is better than some content creation panels.
If there is a weak spot, it's likely to be the response time. Gigabyte claims 1ms pixel response, but courtesy of the MPRT metric. The best IPS monitors achieve 1ms via the more demanding gray-to-gray standard. Still, the Gigabyte G27F is hardly a slouch and, for the money, it's very appealing.
Sony has brought out its own PlayStation-specific monitor to the market and boy is it an absolutely beautiful beast. The Inzone M9 is a gorgeous monitor boasting a 27" 4K HDR screen and a sleek PS5-inspired design that looks oh-so-good next to your Sony console. Offering incredible picture quality across all games, and designed to be used with a PlayStation and PC, this is a terrific monitor for PS4.
The Sony Inzone M9 has loads of ports which means you could easily connect your PS4, PC, and Xbox (if you're feeling cheeky, why not) without having to unplug any cables. There are two HDMI 2.1 ports, a USB-B port, a USB-C port, three USB-A ports, and a standard DisplayPort. An Inzone Hub app makes adjusting the monitor's settings and swapping through one of its five display modes incredibly easy - which is great since it can be a bit annoying to reach behind the dang thing.
Now, we know that the PS4 won't truly get the 'most' out of the M9 and all its features - it really has got PS5 in mind - but for anyone rocking a PS4 and PC setup, it's absolutely perfect. And for anyone looking to add a PS5 to that setup or just get ahead of the game before they jump from PS4 to PS5 then this is a seriously good investment too.
In short, this is a stunning monitor in both display and design, and an excellent option if you're looking to make your setup even better - especially if you're a PS5
Read more: Sony Inzone M9 review
The Philips Momentum 5000 27M1F5800 is a new model that can easily be an all-singing, all-dancing PS4 monitor - and one that will blow you over with its Nano IPS panel. It has a simplistic design that looks professional atop a work-from-home desk, but a stand that gives it a bit of gaming soul. For that reason alone, this is absolutely up there with 2022's best releases that are designed with a dual-platform setup in mind.
For a 4K PS4 monitor from a big-name brand, it's surprisingly affordable, and for the quality of panel you get, we'd argue it has excellent value for money. In terms of connectivity, you get two HDMI 2.1 ports and two 1.4 DisplayPorts. You also get a handy USB upstream port, as well as four USB 3.2 Gen 1 ports, and an audio out for a 3.5mm cable. The 4K Momentum 5000 has a 27-inch display with a refresh rate of 144Hz, HDR 600 certification, and Adaptive Sync technology.
As a result, this is a PS4 monitor that has all the bells and whistles you probably need for gaming, and as long as you don't mind a fairly lacklustre UI, it'll serve you very well indeed. In testing, we were awe-struck with how good it made games look, even when dropped down to quad or full HD. Besides some minor contrast and brightness issues, this is up there.
Read more: Philips Momentum 5000 27M1F5800 review
When the CG32UQ appeared in 2020, it was very refreshing to see monitors dedicated to, or at least aimed at, console gaming. And this is a seriously great console-focused monitor that has serious gaming pedigree and stock behind it coming from ASUS.
It is a little expensive (and this has stayed the same a couple of years after its release) but you get some serious monitor, tech, and performance for your money. Its main headline, if you will, is that it is a 32-inch 4K VA-panel monitor - this is incredibly useful, right off the bat, as it'll make transitioning from a 4K TV that many consoles are currently hooked up to, easy to undertake. You'll still get the same resolution and, extra importantly, the effects of HDR as the CG32UQ has a DisplayHDR 600 rating. This HDR excellence is backed up by glorious colors and contrasts gained by the monitor's 95% DCI-P3 rating and contrast ratio of 3000:1.
On top of that, you will still get some of ASUS's quality monitor techs as standard: FreeSync, GameFast mode, AuraSync lighting, flicker-free pictures, and a very handy remote control. For a full verdict check out my ASUS CG32UQ review (opens in new tab), but this is definitely the best console monitor you can buy right now.
For those looking for a quality, feature-filled, speedster of a 1080p screen to be their pick for best PS4 monitor, then the Acer Predator XB253QGX is absolutely worth a look. For esports aficionados and competitive PS4 gamers, the priorities are frame rates and response times, and the Acer XB253QGX nails it.
Resolution-wise, it's 1080p on a 25-inch panel, and its blistering 240Hz refresh rate will be more than ample for PS4 games - and perfect for if/when you upgrade to PS5. There's also an ultra-low MPRT pixel response time of 0.5ms (GtG response is 1ms claimed). HDR support is entry-level stuff in the form of DisplayHDR 400 certification. But that at least ensures punchy peak brightness of 400cd/m2.
The IPS panel tech likewise makes for more accurate and vibrant colours than an equivalent TN screen. For online shooters right through from Counter-Strike: Source to Call of Duty: Warzone, this panel is a peach. It's very quick and blur-free and feels super responsive.
It's less impressive rendering the latest eye candy in the likes of Cyberpunk 2077. The relatively low res makes for much fuzzier image quality than 1440p or 4K panels. But if you're as happy at 1080p as the PS4 is then the Acer Predator XB253QGX does that better than most while still offering great image quality.
Read more: Acer Predator XB253QGX review
The ASUS XG27UQ comes into this list by virtue of being one of the absolute best 4K monitors, period. It has incredible specs to boot, but for the first time ever a 4K monitor with 1ms response time and a 144Hz refresh rate is below the $1k mark. Quite considerably actually, coming in at around $800/£800. It's still a hefty price tag, don't get me wrong, but it's far cheaper than the other top tier offerings.
The ASUS XG27UQ is like a gaze into what gaming will be like for everyone 5 to 10 years down the line. With ray tracing on, Cyberpunk 2077 had my jaw on the floor, with stunning lighting effects and texture detail throughout Night City. As did Assassin's Creed Valhalla, with the sunrays splitting the treetops. If you're looking for a 4K monitor for your PS4 then you'd be hard pushed to find a PC-first screen that does it better than this; you will not be disappointed with this monitor.
Read more: ASUS ROG Strix XG27UQ review
This 43-inch monster is Acer's answer to the 'go big or go home' approach to PS4 monitors. The Predator CG7 is basically TV-sized, so take its space demands into consideration, while also remembering it's a monitor still, of course.
Getting right to it the CG7 has a VA panel that is the real 4K deal and good for fully 1,000 nits of brightness, has a 1ms response time, and a full 120Hz refresh rate via HDMI 2.1 - so it'll be right at home whenever you upgrade from PS4 to PS5 too.
As for colour accuracy, Acer claims the CG7 has a 90% DCI-P3 gamut, which isn't too bad at all, and it is also DisplayHDR 1000 certified. However, it only has 14 edge-lit dimming zones rather than full-array local dimming, so it's not the full HDR deal. That said, the inherent 4,000:1 contrast of the VA panel combined with that powerful 1,000 nits brightness means that this is about as good as it gets with having full-array dimming.
In the right setup, the results will be incredible for a PS4 - it's got all the chops of a gaming screen and is actually ideal for multi-machine setups. However, given its resolution and HDR pop, it's probably slightly better for a PS4 Pro which will help get closer to the monitor's true potential (in terms of 4K and HDR support).
Read more: Acer Predator CG7 review
If you're on a budget for a PS4 monitor, then do not panic at all. This Samsung panel proves it's very possible to bag a high-refresh 1080p monitor with a curved premium panel from one of the biggest brands in the business. And all for Under $150 / £150. We give you the Samsung GRG5.
The most noteworthy features begin with a 24-inch curved VA panel - though the drawback is that it's not HDR compliant. This, in turn, though, is balanced out by a 3,000:1 contrast which means it's actually capable of more dynamic range than many monitors that claim HDR capabilities. It also sports an 1800R curve, for added immersion.
Predictably, at this price point, we're talking 1080p rather than 4K. But then if you want that super smooth high-refresh experience, you're not going to get it at 4K. Likewise, at 24 inches this is hardly a huge or cinematic screen. But, once again, something has to give to hit this level of affordability.
As a gaming-focused monitor, it has several additional gaming-friendly features including low input lag mode. If there is a catch, it's probably pixel response. Samsung quotes 4ms, which isn't too shabby.
Best PS4 monitor: FAQs
What is the best display for PS4?
The cop-out, but most accurate answer here is: 'one that suits all of your needs'. Which is true! There is no single best PS4 monitor or even best monitor brand for PS4 as it is one of the most packed markets of gaming peripherals and tech. Therefore you have to do some work to find the right display for PS4 for you. Think about your price limitations, size parameters, and what else you might use the monitor for, and you'll soon whittle down your options.
Is a 144hz monitor good for PS4?
A monitor with a refresh rate of 144hz will be more than capable for PS4 gaming. And that's because there are basically (*totally?) no examples of any PS4 game running at 60fps ever, let alone anything higher that would demand a 144Hz-capable monitor.
What monitor size is best for PS4?
Basically, 'not small' is a good approach here. While you never really hear anyone complain about their TV or monitor being too big, we've definitely heard folks be upset that their displays are too small! And considering the PS4 is right at home on TVs up to massive sizes of 65- and 75-inch plus sizes, you can't really get too big a screen. This means that the size you go for will likely be governed by other factors like price and desk space available. And also, if you are using it at a desk, you probably don't want ot go too much larger than 32-inch just because of the proximity of your face to the screen.
---
If you're after something different you can browse our guides to the best portable monitors, and best G-Sync monitors - or best G-Sync compatible FreeSync monitors if that's your niche.
Or, for something more specialist and TV-shaped, check out our best 120Hz 4K TV and best OLED TV guides.