We're coming across plenty of great TV deals as of late but one that really caught our attention surrounds the best brand in the business, LG. Usually, the issue that surrounds picking up a model from the South Korean electronics firm is the price. Well, not today.
Best Buy is currently running a sale that offers a mighty discount on a 4K, 48-inch, LG A2 OLED TV. Typically costing $1,299.99, this particular model can be purchased right now for only $599.99 (opens in new tab). That's a big difference in price, one that slashes it by more than half (or 53% to be exact). What we really like about this is the fact that if you went for an open-box version of this TV, it would only be $47 cheaper than getting it completely brand-new.
Sporting some of the best picture quality on the market with strong color spurred on by the OLED panel, the LG A2 model is known as a fantastic entry point when compared to the LG C2 and G2. The latter two are much more expensive, costing upwards of $1,500. While many of these are often found on the best cheap 4K TV deals for gaming, sports and entertainment, we know a good deal when we see one. LG OLED TVs are incredible, and without doubt some of the best you'll find on the market, and this A2 model is an absolute bargain.
Today's best LG TV deal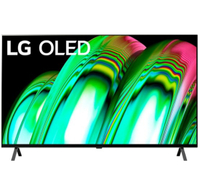 (opens in new tab)
LG Class A2 4K TV | 48-inch | $1,299.99 $599.99 at Best Buy (opens in new tab)
Save $700 - A huge 53% discount takes this top-quality TV down to a top-quality price point. For under $600, you are getting one of, if not the, top TV brands along with a brilliant picture, color, and contrast.

It's worth noting that the same 48-inch LG A2 OLED was previously reduced to $570, however, that was part of Black Friday last year. That's only $30 cheaper than it is now, and we'd say it's unlikely to drop that low again until the sales event returns in November. So depending on if you're willing to wait and see, Black Friday 2023 might be an option. If you'd like to get ahead of the competition though, this is a great time to pull the trigger.
Another great alternative if you want something bigger but are happy to sacrifice a bit of picture quality is this 65-inch LG UQ75 4K TV for $489.99 (opens in new tab). Either way, you simply can't go wrong with LG.
More of today's best LG TV deals
---
Want to compare further? Here are all the best OLED TVs available in 2023, including Samsung, Sony, and of course, LG. We've also rounded up all the best TVs for PS5 and Xbox Series X as well as the best gaming TVs in the UK for 2023.