Nintendo Switch Sports releases today in Australia, well-timed for some weekend multiplayer fun. It's Nintendo's follow-up to the incredibly popular Wii Sports, which became something of a pop culture phenomenon back in 2006.
It's a format that lends itself well to the Nintendo Switch, given those detachable Joy-Cons and their close resemblance to the ye olde Wii wands. If you buy Nintendo Switch Sports in a physical edition—and we highly suggest you do—the pack includes a leg strap accessory, all the better to simulate the kicking of a soccer ball. Nice.
"The accessibility and intuitiveness of the controls have always been such a huge part of the appeal of these games, and thankfully Switch Sports doesn't mess with any of that," so says our Nintendo Switch Sports review-in-progress. Our final verdict will come when we've had time to test its online functionality, but if you want to dive in straight away, here are the cheapest ways to buy Nintendo Switch Sports in Australia.
Cheapest price for Nintendo Switch Sports in Australia
While the Nintendo eShop is technically the cheapest place to buy Nintendo Switch Sports (AU$56), you won't get the aforementioned leg strap, which will dull the novelty of the football games somewhat. As a result, we'd highly recommend buying the physical edition, and at the time of writing, Amazon has the cheapest price for Nintendo Switch Sports at AU$58 with free shipping.
Of course, you might want to buy it in-store immediately. In that case, Big W and JB Hi-Fi are both selling Nintendo Switch Sports for AU$59, which is absolutely the way to go if you want to walk into a local shop. Neither are particularly attractive as online options: for Big W, add AU$3.90 for shipping. For JB Hi-Fi, it's at least AU$1.99.
So yeah: Amazon's AU$58 price for Nintendo Switch Sports is far and away the best if you're ordering online. If you're buying in-store, go for Big W or JB-Hi-Fi. If you have a Gamesmen outlet nearby, they've got it for AU$59.95.
Finally, if you've only got an EB Games nearby, they're selling it for AU$69.95. Ask them if they'll price match Big W or JB Hi-Fi (or even Amazon).
Oh, and if you don't actually have a Nintendo Switch, the Nintendo Switch OLED is currently ridiculously cheap at eBay. Check out the details below: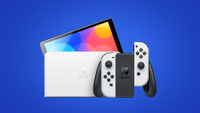 Nintendo Switch OLED | AU$539 AU$435.71 or AU$446.21 at eBay
The cheapest Australian price tag on the OLED model yet, this deal is available via The Gamesmen's eBay store, and requires an eBay Plus membership if you want the lower of the two prices listed above. Sign up for a free eBay Plus trial here, cancel before billing, and use the coupon code PMAY17 to see this magical price materialise. If you don't want to sign up for a Plus trial, use the code PMAY15 to get the AU$446.21 price.
Looking for the best prices on games in Australia? Check out our regularly updated list of the best gaming deals in Australia.