It's been less than a week since the launch of Resident Evil 4 Remake and already we've discovered the first deal for the beloved survival horror game on PlayStation 5. Considering Capcom confirmed that the game has sold three million copies in its first two days of release, this offer from Box is one well worth considering.
Head over to the retailer to find a PS5 bundle deal with Resident Evil 4 Remake for £499.99. As a PS5 console by itself is priced at £479.99, since Sony decided to increase the cost by £20 back in August 2021, and Resident Evil 4 Remake has an RRP of £54.99, this equals a saving of £34.99 (or 6%). That means you're essentially getting the new Resident Evil for only £20, a great excuse to upgrade for fans of the franchise.
It's also a great sign that more and more new games will be receiving retailer bundles and discounts, something previously unheard of due to the stock shortages that plagued every corner of the web. While it's always worth checking in on the latest PS5 price and bundles to see if anything else takes your fancy, this offer with Resident Evil 4 Remake is not to be missed.
Today's best Resident Evil deal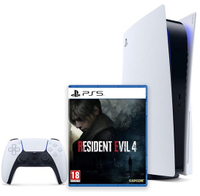 PS5 + Resident Evil 4 Remake | £534.98 £499.99 at Box
Save £34.99 - With a PS5 now costing £479.99 and Resident Evil 4 Remake retailing at £54.99, this new PS5 bundle from Box gets you the newly released game for just £20. That's a big saving if you've been considering upgrading to next-gen.
Set in a mysterious rural European village, US agent Leon Kennedy is tasked with rescuing the president's daughter from a cult known as the Los Ilumindaos. A remake of the 2005 title of the same name, our Resident Evil 4 Remake review praised the "testing combat" and "great variety" it offers while also stating that it generally "looks fantastic" from a graphics perspective. Perfect for breaking in a PS5.
Capcom has been on a roll in recent years with Resident Evil 7 Biohazard, Resident Evil Village and Resident Evil 2 Remake all proving popular with audiences. Village only launched last year, blending a fantastic mix of Resident Evil 4 and Resident Evil Biohazard. It's now on sale for as little as £16.95 at TheGameCollection.
More of today's best Resident Evil deals
Wanting to get a standalone PS5 instead? Here's where to find all the latest PS5 restock updates so you can upgrade for less. We've also rounded up the best PS5 games to play right now alongside the best PS5 accessories in 2023 to give your new setup everything it needs.