"That was what was exciting about making this film as a whole," Peter Pan & Wendy director David Lowery tells Total Film and GamesRadar+ when we meet in London. "[It] was to take every one of those characters and explore that iconography, taking it out of the two dimensional plane in which it may have existed before, treating them as real people with real feelings and real pasts."
Peter Pan & Wendy takes us back on that familiar journey beyond the Second Star to the Right, but it's the story like you've never seen it before. As Lowery explains, each character is fully fleshed out and none more so than Neverland's most infamous villain. "That was what Jude [Law] and I explored as we developed Captain Hook," the director continues.
Hook's backstory is developed in Lowery's take on the tale to turn him into a tragic figure, one whose past with the Boy Who Would Never Grow Up isn't as straightforward as it might have appeared in previous adaptations.
It was a change that Jude Law, who dons the pirate coat and hook in the movie, found rewarding. "When you get into the details of the past of someone, what adds up to make them damaged or just what makes them who they are, you're in incredibly fertile territory for an actor," Law tells us. "That's the stuff that you long for really, because you can study it, you can bed it in, it can feed the way you look, the way you move.
"Putting all of that in place is for me the most exciting part of being an actor and of creating a new character," he adds, noting that the many previous incarnations of the pirate captain did not get in the way of his own interpretation. "And whilst I was aware that there had been these other iterations of Hook, it was important to me to – I knew them very well, but I really wanted to focus more on what David and I had in front of us, what we both imagined, and that set us free."
Hook isn't the only character to be reinvented either. Lowery's version of the story brings Wendy Darling to the forefront; she is sharing the title, after all.
"It's an incredible change," Wendy actor Ever Anderson says. "And I'm so excited for people to see it and for all the little girls that are going to see it. And I love the fact that Wendy, in our version, is active and powerful – an empowered leader – she's really Peter's equal."
Anderson also felt free to put her stamp on Wendy, who is a fierce, outgoing, and compassionate character in Lowery's movie. "It's a massive honor and a privilege to be able to show my spin on the character of Wendy. And, because I feel like I'm very alike her in real life, I think that made it easy to show some more of what I wanted to infuse into her," she explains.
Peter Pan himself might not be quite how you remember him either. As Alexander Molony – who takes flight as Pan – tells us, he too felt free to interpret his famous character in his own way. "That's something that I really wanted to do, bring my own spin to the character," he says, although that didn't come without some hang-ups. "There was quite a large amount of pressure, especially as you're playing a character that people have known for so long," he admits. "But I'm so glad I did it, I loved every minute of it."
Faith, trust, and pixie dust
But as much as things have changed in Peter Pan & Wendy, the film still features all the hallmarks of the classic that you know and love. It wouldn't be Peter Pan without the tiny, shimmering form of Tinker Bell, for example, and she's delightfully played by Yara Shahidi in Lowery's movie – though she never actually fluttered a wing over Neverland's soil in real life, instead filming her scenes separately from the main cast in a garage set in Burbank, California.
"Believe it or not, we actually met her for the first time about a few hours ago," Molony says. Anderson meanwhile jokes: "Contrary to popular belief, Yara was not shrunk and on-set with us."
Peter Pan & Wendy was filmed on location in Newfoundland, which provides the beautiful landscape shots that recall the sweeping, verdant expanses of Lowery's The Green Knight. This means that for the actors, the fantastical island where nobody ever grows up was very much a real, tangible place. So, what was it like stepping foot in actual Neverland for the first time?
"Even more magical [than I was expecting]," says Molony. "Just the set was incredible, and seeing myself in costume as well, I just thought, 'wow. I'm actually Peter Pan.'"
"And stepping into the actual location that we used for the exterior of Neverland, that was also incredible, because you could really feel that it was real," adds Anderson.
But, of course, getting to Neverland requires some faith, trust, and pixie dust. Drawing from Disney's 1953 animated movie, Peter Pan & Wendy features that iconic flight over London as Peter and the Darling children set out on their awfully big adventure to the fabled isle. As it turns out, the flying sequences in the movie were partially practical, though with a splash of digital magic added in too. "It's pretty VFX heavy. We were in harnesses, so we were actually off the air flying," Anderson says.
"And it felt so real when you had those massive fans blowing," adds Molony, which Anderson agrees with: "Yes, you had them blowing in your face! It was easy to feel like you were actually flying because you're being pulled side to side."
One of the first things that happens to the crew when they do soar into Neverland is a showdown with cannonball-blasting pirates. Yes, as much as Hook has been changed in this adaptation, he still has one thing in common with his forebears: he really doesn't like Peter Pan.
Naturally, that means the pirate captain and the leader of the Lost Boys cross blades in the film. "The physical aspect is a side of the job that I love," Law says of the rivalry between Hook and Pan. "So the opportunity to study fencing – left-handed – for months before is a challenge, but also a wonderful opportunity. When else would you get to do that?
"And I arrived thinking I was really well prepared, then discovered that Alex had been there a month before me, so he was already a month ahead and I had to do a lot of catching up," Law adds. "He was particularly good at sword fighting."
This was another aspect of the role that Law relished. "All of that stuff is like play," he says. "It's so much fun creating all of that, and David gave us a life-sized playset that made it all the more exhilarating. Every element of this, it really ticked a lot of boxes for me as an actor. I got to sink my teeth into some really beautiful drama and melancholy, and then there was also the physical aspect which was challenging and fun."
Straight on till morning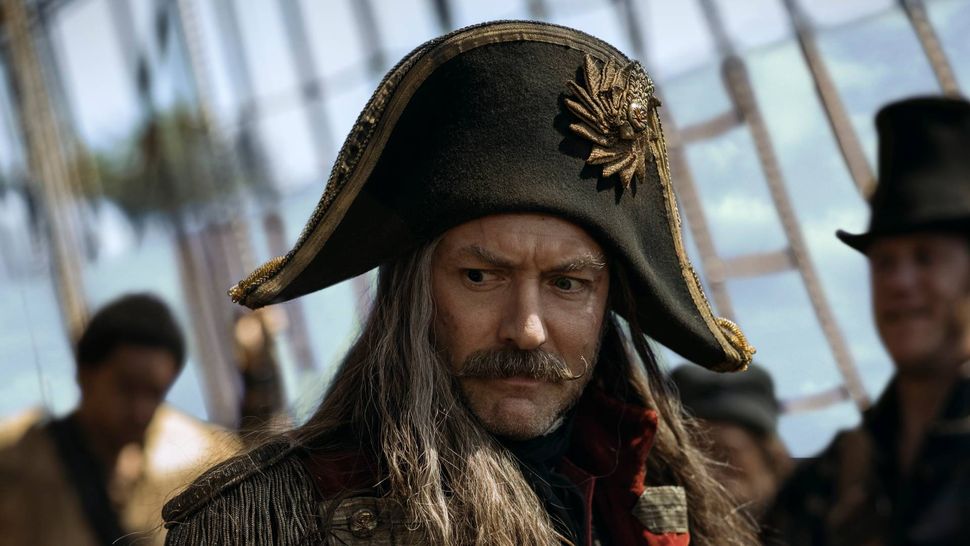 Law and Lowery's collaboration doesn't end with Peter Pan & Wendy, though. The duo have reunited for the upcoming Star Wars series Skeleton Crew. You might think a huge sci-fi show and a reimagining of Peter Pan would be galaxies apart, but Skeleton Crew is another franchise project in which Law plays a grown-up amongst youngsters.
Did Lowery and Law feel there was any overlap in their experiences, then? "We're not allowed to tell you!" Law says with a grin, though he does then admit "there were some."
Lowery agrees. "Yeah, there definitely were some," he says. "But it was also wonderful just to continue the relationship. That was such a treat, to just get to wrap on Peter Pan and know that all of a sudden, 'hey, we're back on set again together.'" Sounds like a match made in Neverland.
---
Peter Pan & Wendy begins streaming April 28, 2023, only on Disney Plus. For everything else the studio has in store, check out our guide to all the upcoming Disney movies.