Update: While many of the Pathfinder offers below have sold out, publisher Paizo has put out a new Humble Bundle that gives away 27 books worth $400 for just $25.
Original story follows.
D&D rival Pathfinder has been so popular after this month's licensing controversy that its books have completely sold out across the board - it managed to shift months' worth of books and starter sets.
Following the D&D OGL controversy that's raged for much of January, interest in Pathfinder (a competing fantasy RPG) exploded. The game's publisher, Paizo, then announced an off-the-cuff sale called 'OPENGAMING' that offered a 25% discount on its products. However, this was a little too successful. In a Twitter thread (opens in new tab), the company announced that "we have run through what was an 8-month supply of our Pathfinder Core Rulebook in the last 2 weeks, and demand on our Beginner Boxes is surging too. We have already ordered another print run of the hardcover Core Rulebook, which will arrive in mid-April." As a result, availability for the D&D competitor become dicey on other stores as well - it seems like everyone was rushing to get their hands on the pen-and-paper system.
So, where can you get Pathfinder? Is it even available right now? Luckily enough for us, yes… but you need to know where to look. To be precise, only a couple of retailers in the USA have stock right now. If you head over to Amazon, you can grab the Core Rulebook for $53.99 (opens in new tab) rather than $60, while the Beginner Box is $35.99 (opens in new tab) instead of $40. (The latter is decent value, because it's normally available for around $38.) Similarly, Barnes and Noble is currently selling the Beginner Box for $35.99 (opens in new tab), down from nearly $40. You can get the Bestiary for $44.99 (opens in new tab) instead of $50 as well. (Or the pocket version for $24.99 (opens in new tab).)
Just remember, the normal Core Rulebook's price has been inflated on Amazon. It averages $46 most of the time, so it hovering closer to $54 isn't the best reduction. Similarly, make sure you're getting the second edition versions of these books - otherwise, you're picking up an out-of-date copy. Be aware that there are smaller pocket versions of the second edition books, too.
Sadly, the UK isn't even that lucky. After a good amount of time searching, we've not been able to find any stock of it across the pond at all. We'll keep you informed as and when that changes.
Anyway, we've listed the offers mentioned above here. Further down the page, we've also listed other offers on the best tabletop RPGs.
Where to buy Pathfinder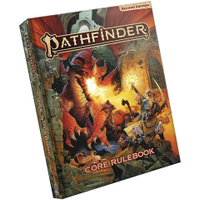 (opens in new tab)
Pathfinder Core Rulebook (second edition) | $59.99 $53.99 at Amazon (opens in new tab)
Save $6 - If you want the basics on how to play Pathfinder, this is the book you want. It contains everything needed to go on, and take your friends on, fantasy adventures… not to mention how to make your own unique characters. However, be aware that this isn't necessarily the best value. It normally averages $46.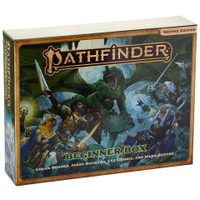 (opens in new tab)
Pathfinder Beginner Box | $39.99 $35.99 at Amazon (opens in new tab)
Save $4 - If you'd rather something more bite-size, this is the perfect entry-point to Pathfinder as a whole. Because it's normally around $38, that's better bang for buck than normal.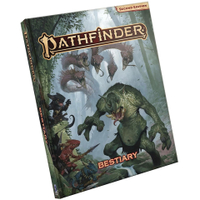 (opens in new tab)
Pathfinder Bestiary (second edition) | $49.99 $44.99 at Barnes and Noble (opens in new tab)
Save $5 - This tome is weighed down with all the monsters you'd need to populate your adventures, and that's a better price than Amazon is offering right now. Indeed, Amazon's trying to sell it for $53 when it's normally more like $38. Want something cheaper? You can get the pocket version for $24.99 (opens in new tab).
More tabletop RPG deals
Our bargain-hunting software is always on the lookout for discounts, so you'll find the lowest prices below.
---
Want some tabletop recommendations? Don't miss the best board games, these board games for adults, or the ultimate Dungeons and Dragons books.