Nintendo Switch OLED deals have been few and far between this year, presumably as the games maker wants to save any offers for the launch of The Legend of Zelda: Tears of the Kingdom. However, one unexpected retailer has now popped up with a great new deal for anyone based in the UK.
John Lewis is currently offering a Nintendo Switch OLED and Mario Kart Live: Home Circuit for £309.99 (opens in new tab). Since the new console is priced at an RRP of £309.99 and the racing mixed-reality game can be found for £99.99, this is the equivalent of giving the latter away for free. It's also a saving of close to £100 or a discount of 32%. Either way, you look at it this is a great overall deal that packages the new and improved Nintendo Switch with a fun racing game for all the family.
We were big fans of the live racing experience, stating in our Mario Kart Live: Home Circuit review that it "brings back that sense of wonder we all felt when we cracked open our first video game and realized there was another world behind the screen. Only now that other world is in our living rooms". The fact that you're taking this home for free easily pushes the offer into the best cheap Nintendo Switch bundle deals for February 2023. Well worth thinking about.
Today's best Nintendo Switch OLED deal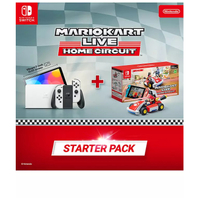 (opens in new tab)
Nintendo Switch OLED + Mario Kart Live: Home Circuit | £409.98 £309.99 at John Lewis (opens in new tab)
Save £99.99 - Take home a new Nintendo Switch OLED (white) bundled with Mario Kart Live: Home Circuit for free. This is a 32% saving over buying both separately or close to £100 in cash.
This is the first time we've come across Mario Kart Live: Home Circuit being packaged in a bundle with a Nintendo Switch OLED. You are more likely to come across Breath of the Wild (opens in new tab) or Metroid Dread (opens in new tab). More options are given to the standard Nintendo Switch, such as this Mario Kart 8 bundle from Very at £259.99 (opens in new tab), or the likes of Animal Crossing: New Horizons being included. It's even rarer to find a game added for no extra cost, so this definitely represents value for money.
We found that Mario Kart Live: Home Circuit offers plenty of content and endless replayability. You'll be creating your own courses using the included cardboard markers (picked up in-game to offer certain powerups and steer your track) and racing against AI opponents to progress through a series of story challenges. The downside is that to really take advantage, a second kart (like this Luigi one at Amazon for £67.00 (opens in new tab)) is needed for multiplayer. This usually RRPs for £99.99 so something worth factoring in.
That said, we've found just as much fun in competitive time trials, so if you're limited to one kart there's still plenty of action for everyone to get involved in. If you're willing to invest, Mario Kart Live: Home Circuit offers a thrilling frantic time for kids and adults alike as you change your living room into a race course – even single-player has its perks. You just need to have an open space to be able to race properly.
More of today's best Nintendo Switch deals
Looking forward to the new Zelda? Here's how to get The Legend of Zelda: Tears of the Kingdom cheap – and why Nintendo Switch vouchers are key. Additionally, here's where to find cheap Nintendo Switch game sales (opens in new tab) as well as the best Nintendo Switch accessories so that you can get all the top gadgets for your console.