Marvel's Midnight Suns is a strategy RPG from XCOM developer Firaxis that pits a diverse team of superheroes against the forces of Hydra and Lilith in card-based combat. Playing as The Hunter – a bespoke and mythical character created for this game - you'll assemble small teams of heroes from the Midnight Suns to bring on missions and progress the story. However, while you're not on missions, you'll engage in the game's RPG elements by spending resources that you've earned through missions on crafting and upgrading cards for all the heroes, improving the Abbey's facilities, and socializing with your teammates in Hangouts and conversations with multiple dialogue choices.

There's a lot to do in Marvel's Midnight Suns, so it can be a little daunting when getting started but this guide will help you with many things you'll encounter early on. Beginner tips will help you learn the ropes, our character list will show you which heroes are best, and we've also got guides on what Friendship Levels and Arcane Keys are. Read through our Marvel's Midnight Suns guide below to learn about the most important aspects of the game.
Marvel's Midnight Suns review
Our final Marvel's Midnight Suns review is here, and we found this new strategy game from Firaxis to be an utter delight. It's part XCOM and part Fire Emblem: Three Houses, and the results are stunning. Whether you're in for the accessible strategy action or are just looking forward to the opportunity to go birdwatching with Blade or for a picnic with Ghost Rider, we found that Marvel's Midnight Suns has a lot to offer.
How long is Midnight Suns?
Bad Romance
You might spend a lot of time hanging out with your superhero friends, but it's strictly platonic as you can't date the superheroes in Marvel's Midnights Suns
According to Firaxis, a normal playthrough of Marvel's Midnight Suns should take roughly 60 hours. Rushed playthroughs that focus purely on the main story can be done in less than 45 hours, but you'll miss out on a fair amount of the game. There's even a New Game + mode that allows you to replay the game with what you've already unlocked, providing an extra challenge for you. You can also use this opportunity to try out different heroes and team compositions, and choose different dialogue options to see all the Hunter's various responses.
Tips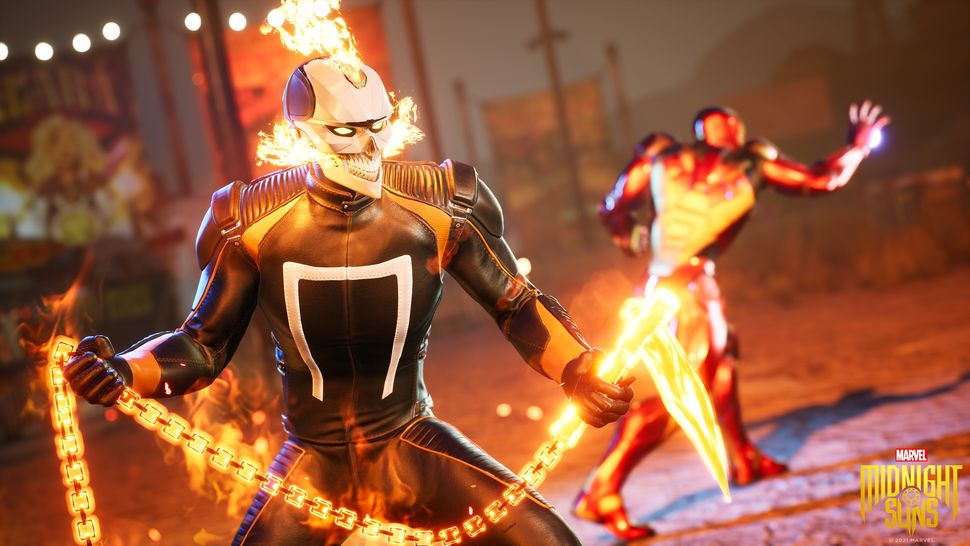 Take a look at these beginner Marvel's Midnight Suns tips to help you get to grips with the card-based combat and free roam exploration of the Abbey. There are lots of little features and mechanics of combat that are really important to bear in mind. There's also plenty to do in the Abbey Grounds when you're not in battle, including hanging out with your fellow heroes, which is a lot more important than it sounds.
All heroes and the best ones
After you've picked up the basics, you'll need to assemble small teams from the considerable roster of superheroes in Midnight Suns, from Doctor Strange and Spider-Man to Nico Minoru and Blade. Here are all the Marvel's Midnight Suns characters that you can unlock as you play through the game, as well as the announced DLC characters. We've also included some recommendations for the best heroes to pick and some solid team compositions to get you through battles.
Increasing Friendship Levels
While the social aspects of Midnight Suns might not sound especially important, they're necessary for improving your Marvel's Midnight Suns Friendship Levels with the other heroes around the Abbey. You can get outfits and cosmetics for the different heroes, and each Friendship Level contributes to your Team Friendship Level, which offers important gameplay rewards for each level up. Get out there and make some friends!
Arcane Keys
When exploring the Abbey between missions, you'll undoubtedly find plenty of loot box-looking Arcane Chests lying around, although you probably won't have any Marvel's Midnight Suns Arcane Keys to open them and get the cosmetic contents inside. You'll eventually start getting Arcane Kyes as you play but daily sparring and giving stuff to the Offering Bowl are quite reliable ways of getting these keys.
Elemental Rods
One of the first free roam side quests you'll come across in the Abbey Grounds is to find the Marvel's Midnight Suns Elemental Rods for Agatha's altar. There are four of these rods, scattered in and around the Abbey, so they can be a bit tricky to find – one of them can only be accessed using a special power too!
Midnight Suns story
The story for Marvel's Midnight Suns centers around Lilith, Mother of Demons, and also the mother of the player character, the Hunter. You've been resurrected by the Midnight Suns because you're the only hero to have ever beaten mommy dearest, and they need to stop her before she can summon her master, the demonic Chthon.
The game is based on the Marvel comics series The Midnight Sons, who first appeared in the Ghost Rider comics in 1992. The game's 2022 release also coincides with the 30th anniversary of the dark superhero team.
Marvel's Midnight Suns is definitely one of the best strategy games in recent years, and we highly recommend checking it out. If you're after more superhero games, check out this list of upcoming Marvel games.