The new Lego Rivendell set is now up for pre-order if you're a Lego VIP member, and anyone who pulls the trigger will get a free Lord of the Rings kit… so long as they order before March 8.
While everyone else will be able to secure the brick-based version of Elrond's gaff this March 8, VIP members can get the jump on it a couple of days early and receive a freebie worth $15 / £14. So long as they're signed up to Lego's free VIP program before hitting checkout, they'll get a Frodo and Gollum BrickHeadz kit when purchasing the Lego Rivendell set for $499.99 from the official Lego store (opens in new tab) (or £429.99 (opens in new tab) if you're based in the UK). Seeing as there's no catch or subscription involved in being a VIP member, it's something of a no-brainer if you were going to get Rivendell anyway.
The Lego Rivendell set has been highly anticipated since it was announced last month, and it's the first Lord of the Rings kit we've had for quite some time. Almost a decade, to be precise; the last LotR Lego dropped back in 2013, followed by some Hobbit tie-ins for 2014. At over 6,000 pieces, it's also hefty enough to challenge some of the best Lego sets for the title of 'biggest boi.' In fact, Lego itself ranks Rivendell as one of its top 10 biggest kits.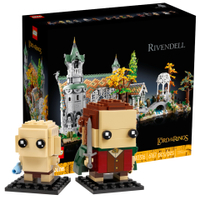 (opens in new tab)
Lego Rivendell + Frodo and Gollum BrickHeadz | $499.99 at Lego (opens in new tab)
Save $15 - If you're a Lego VIP member (which is free to sign up for) and buy Rivendell before March 8, you'll get a bonus set at no extra charge… the Frodo and Gollum BrickHeadz. Just remember, you've only got a couple of days to take advantage of this offer.

UK price: £429.99 at Lego (opens in new tab)
While being wary of VIP membership is understandable (it sounds as if it'd come with a cost), this one is totally free and consistently offers decent perks. Sure, you might not get to take advantage of those VIP 'points' unless you regularly shop on Lego's official store. But the site doles out freebies like this often enough that it's well worth doing anyway, even just for a one-off purchase such as this. In addition, being a VIP member allows you to grab sets early.
In terms of the Lego BrickHeadz Frodo and Gollum kit, it's a simple but cute set that isn't very readily available any more. It doesn't seem to be up for purchase via the official Lego store, for example, and other retailers that do have it in stock are selling it at a markup. As such, getting it for the cost of 'absolutely nothing' here is pretty sweet.
More Lego offers
Want to see what else is out there? You can check out the offers our bargain-hunting software has dredged up below.
---
For more brick-based goodness, don't miss these Lego deals. It's crammed with everything from the best Lego Star Wars sets to Lego Super Mario sets.