Can you get married in Skyrim? Yes, absolutely! Marriage is a nice side-quest in The Elder Scrolls 5: Skyrim, particularly if you're looking for a little break from fighting dragons, hunting demons, and exploring every last inch of that map. If you're wondering how to get married in Skyrim, and who you can marry in Skyrim, then you have come to the right place.
While getting married in Skyrim is largely there to support the role-playing aspects of play, there are some benefits for your character stats too. So if you're ready to tie the knot with a companion, keep reading to learn how to get married in Skyrim.
How to get married in Skyrim
Getting married in Skyrim is actually pretty easy. All you need to do it head to Riften and find the Temple of Mara. Once there, speak to the priest about weddings to have them explain how the process works. You'll then need to buy an amulet of Mara, which you can then wear while speaking to your potential betrothed. If you can marry them, there will be dialogue options for you and if they agree to marry, return to the Temple of Mara to request the ceremony and wait 24 hours.
Once the the service is complete, you can then speak to your partner to decide where you will settle down and make your home. They will then stay there, waiting for your return from adventuring.
Benefits of marriage in Skyrim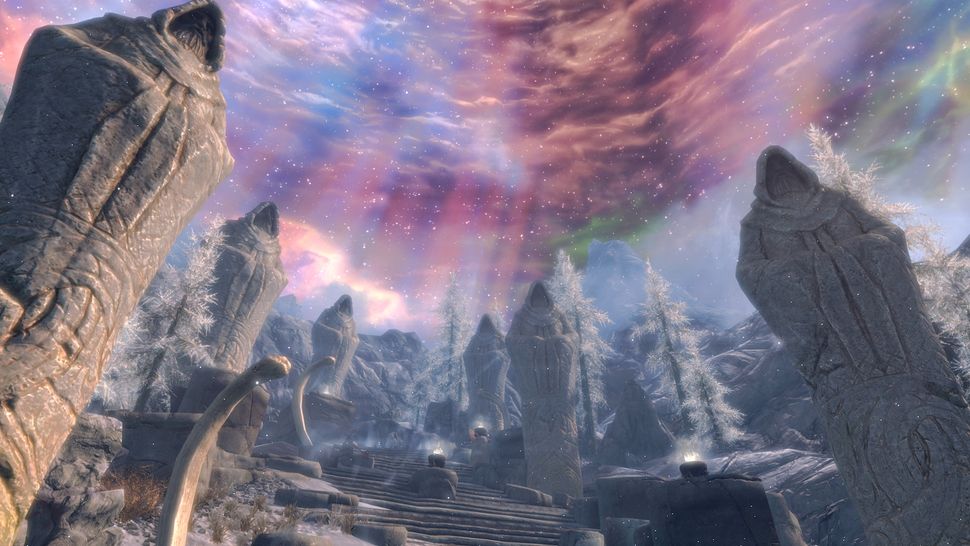 There are a couple of benefits of getting married in Skyrim, particularly since the release of the Hearthstone DLC. That release – which comes packaged in the Skyrim Anniversary Edition bundle – will let you build yourself a home, which you can ask your new companion to move into should you really want to increase the role-play.
You can ask your partner to make a Home Cooked Meal, once per day, which will boost Health, Magic, and Stamina by 25% for up-to 10 minutes. You can also get a daily bonus by the name of 'Lover's Comfort' for sleeping in the same house as your partner, which boosts skill learning speed by 15% for eight hours (so long as you don't have the Lover Stone activated).
Who can you marry in Skyrim?
Who can you marry in Skyrim? There are plenty of choices. Over 60 NPCs can become your spouse, and they are scattered all throughout the world. You should check out our best Skyrim companions for a guide to our favorites. There are even more options available with the best Skyrim mods too.
Remember, whoever you do choose, there is no easy way out of marriage in Tamriel. If you're wondering how to get a divorce in Skyrim, it appears that the only way is to murder your spouse in secret. From there, for you heartless monsters out there, you can re-equip the amulet and go off in search of another partner. Here's hoping The Elder Scrolls 6 has a few more options on that front...
---
Best Skyrim mods | Skyrim hidden quest locations| Skyrim hidden chest locations | Best Skyrim companions | How to get married in Skyrim | Skyrim enchanting guide | Skyrim alchemy guide | Skyrim builds | Best Skyrim quests | Skyrim Anniversary Edition differences | How to fish in Skyrim Anniversary Edition | Skyrim Elysium | Skyrim vampire choice