The classic 1989 HeroQuest board game is getting a remake, and it's coming to retailers soon - as in, 'this December' soon. If you're based in the USA, you can pre-order it now at Zavvi for $125.99 (opens in new tab) or with Entertainment Earth for the same price (opens in new tab). Meanwhile, UK fans can jump on the sword and sorcery bandwagon by securing their copy for £99.99 via Zavvi (opens in new tab).
Because the tabletop adventure was only available to those who backed last year's Hasbro Pulse crowdfunding campaign before now, this is a chance for everyone else to get their hands on the HeroQuest board game remake. Considering how quickly it shot past the project's $1,000,000 target to land at a (frankly absurd) $3,721,949 pledge total, we're guessing more than a few people will be interested.
Unfortunately, it's not clear when or if the crowdfunding stretch goals for Hasbro's HeroQuest remake (including extra miniatures, expansions, and quests) will be made available at retail. As it stands, the retail version will feature 65+ models - including mini furniture like treasure chests - to go with 14 pre-written quests.
Originally published by Games Workshop (the company behind Warhammer) in the late '80s, HeroQuest went out of print for decades before finally being picked up by Hasbro and Avalon Hill. Now reimagined for a new era, this dungeon-crawler has been given an overhaul with all-new miniatures to go with an abundance of reworked cards and plastic terrain.
However, that isn't to say the final product is unrecognisable. Even though the Games Workshop elements have been stripped out, the board and rules seem very similar to the first incarnation. Even its models carry the same spirit as the original, with many poses being recreated (albeit in a lot more detail).
Because roleplaying epics like Descent: Legends of the Dark, the Skyrim board game, and Gloomhaven (regularly dubbed one of the best board games from the last decade) have been creating such a stir over the past few years, it's not surprising that HeroQuest is making a comeback now - after all, it's often regarded as the one that kickstarted this trend in the first place.
HeroQuest pre-order deals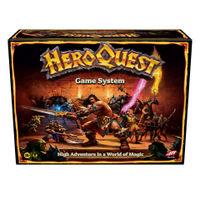 (opens in new tab)
HeroQuest (USA) | $125.99 at Zavvi (opens in new tab)
The 1989 game returns with this new and improved remake, now with even more miniatures and pieces to marvel over. You're getting the base game with this deal, which gets you access to 14 quests and over 60 miniatures (deal also available at Entertainment Earth (opens in new tab)).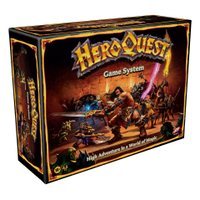 (opens in new tab)
HeroQuest (UK) | £99.99 at Zavvi (opens in new tab)
You can now pre-order the revamped HeroQuest ahead of its release sometime in December. While you're getting the base version of the game here (there's no word on when or if the expanded editions will be available, unfortunately), it's not bad value compared to similar games that charge a whole lot more.
Seeing as it's due to ship in December, there's a slim chance pre-orders will be roped into this year's Black Friday board game deals or Cyber Monday board game deals. Although we don't expect anything in the way of offers, it's worth keeping an eye on the listing over the next week or so just in case.