Looking for a way to tie up your Super Mario Bros. Wonder and Super Mario RPG pre-orders? Or maybe you missed out on Pikmin 4 and The Legend of Zelda: Tears of the Kingdom? If you happen to be a My Best Buy Plus or Total member, you can score three Nintendo Switch games for the price of two right now. That means you can secure a recently released Switch title for free - that's nearly unheard of in the world of Nintendo Switch deals.
There are, of course, plenty more titles included in these Nintendo Switch deals. However, the best value naturally lies with the newest release, so upcoming Mario titles take the cake here, closely followed by the next Pikmin addition and - of course - the juggernaut that is Tears of the Kingdom. If you've got holes in your catalog, though, it's worth noting that heavy hitters like Mario Kart 8 Deluxe, Super Mario 3D World + Bowser's Fury, Pokemon Legends Arceus, and Super Smash Bros. are also included.
As mentioned above, you'll need to be a My Best Buy Plus member to take part in this offer - but even if you're yet to sign up, the $49.99 annual price is still going to save you $10 with these Nintendo Switch deals once everything's gone through. You'll then benefit from free shipping and exclusive discounts as well.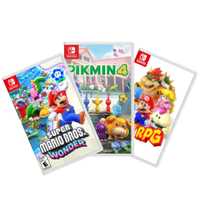 3 for 2 on Nintendo Switch games for Plus and Total members | $179.97 $119.98 at Best Buy
Members can net themselves a free Nintendo Switch game in this bundle offer at Best Buy - excellent if you've been meaning to stock your collection with some top releases. Personally, we'd opt for Super Mario Bros Wonder, Super Mario RPG, and Pikmin 4 from a value standpoint, but Tears of the Kingdom is also included here.

All of these games promise to be solid additions to your library. From the weird and wonderful world of Super Mario RPG brought back to life to the plumber's return to a 2D world. Elsewhere, you'll spot many of the best Nintendo Switch games included here as well, so this isn't your usual bargain bucket affair.
More of today's best Nintendo Switch deals
It's not easy to find cheap Nintendo Switch games, but even the biggest first party titles drop their prices every now and then. We're rounding up all of the web's best Nintendo Switch deals just below, with our price comparison software bringing you all the latest discounts every half hour.
We're also rounding up all the best Nintendo Switch accessories to enjoy your new games with, as well as the best Nintendo Switch controllers and the best Nintendo Switch headsets as well.