Disney Plus is one of the newest streaming services on the block, but it's already made a name for itself. In fact, it's built up millions of subscribers and a massive library of content since its launch two years ago. And because that library includes everything from Star Wars to Marvel, it shows no signs of slowing down.
That's no bad thing. Disney Plus is exactly what we need right now, all things considered; as we mentioned in our Disney Plus review, the service is crammed with hundreds of hours of feel-good content across a variety of genres. More specifically, it's found a good balance between family-friendly fare and more mature shows recently (particularly in the UK and Australia). That means you can be watching everything from Disney films to new episodes of Hawkeye depending on your mood.
To help you decide if Disney Plus is for you, we've rustled up everything you need to know about the Netflix rival below. That includes pricing, availability, and the most important question of all: whether it's worthwhile.
Let's get down to business (heh) and discuss all things Disney Plus.
What's on Disney Plus?
What can you watch on Disney Plus?
What's available with a Disney Plus membership? The most straightforward answer is "a lot." Although you might be cynical about how much the service can offer beyond family-friendly cartoons, it's blossomed since launch. Nowadays, it's hard to fault the service's lineup; there's hundreds of hours of TV and movies to choose from here.
Besides providing something that should suit all ages, it's home to more than a few pop-culture juggernauts too. For starters, most films that take place within the Avengers 'Marvel Cinematic Universe' can be seen on Disney Plus at the moment (except for those tied up at other studios, such as Spider-Man and The Incredible Hulk). Star Wars is also well represented - every instalment of the saga is available here, including the animated shows.
Best of Disney Plus
Want to see the most essential Disney Plus content? Check out our guides to the best movies on Disney Plus and the best shows on Disney Plus.
When combined with live-action originals like The Mandalorian and Loki, you've got quite the library on your hands.
Thanks to Premier Access, brand-new movies sometimes turn up as well. This in-app service allows you to stream blockbusters from the comfort of home after paying a small fee (a bit like paying for a theater ticket).
Although it's not available right now, it's been home to many tentpole launches over the past few months; Black Widow, Raya and the Last Dragon, Jungle Cruise, and Cruella all became available via Premier Access in 2021.
Will shows and movies leave Disney Plus?
Even though Disney owns a lot of content, licenses make things tricky. That means movies and shows aren't always guaranteed to be available in perpetuity. Classic Disney properties like Aladdin aren't going anywhere, and neither are series created especially for the platform (Loki, say). But content created by other companies? That may come and go.
Exceptions to the rule are Premier Access movies once they've finished their theatrical run. While these films have an exclusive digital launch on Disney Plus, they tend to vanish after a month or so for anyone that didn't purchase them. Don't worry if you miss the boat, though. All Premier Access films become available for Disney Plus subscribers after a few months at no extra cost.
What is the Star channel on Disney Plus?
Audiences in the UK, Canada, Australia, and New Zealand have access to an even bigger range of drama via the Star add-on. This new channel is packed with sitcoms like Modern Family or genre classics such as Buffy the Vampire Slayer, to say nothing of Oscar-winners including Nomadland. As a result, Star fills a niche that Disney Plus has been lacking for some time - more grown-up content.
Don't worry about your kids watching something they shouldn't, though. It's quick and easy to lock Star behind parental controls, and you'll have the opportunity to do so right away.
Are Disney Plus shows and movies in their original format?
This varies from case to case. And it's not all bad; as an example, you can choose to watch seasons 1-19 of The Simpsons in the modern 16:9 format (which caused upset upon release because it cut off a few visual gags) or the 4:3 original. In addition, insensitive cartoons from Disney's past with outdated attitudes or portrayals now come with a disclaimer.
However, some alterations are a bit more controversial. To start with, a handful of changes were made to Star Wars including Greedo saying "McClunkey" before meeting his end. Meanwhile, Hamilton has had some of its swearing trimmed back.
Disney Plus cost
Leery of paying for yet another streaming service? We hear you - there are more than enough vying for our cash right now. Luckily, the Disney Plus cost is pretty reasonable. While it's a shame that the Disney Plus free trial is no more (RIP), you'll normally pay less than you would for a standard HD month of Netflix.
With that in mind, we've listed the cheapest Disney Plus sign-up offers and Disney Plus bundles below.
Which Disney Plus deal should you get?
Want maximum value for your money? If you're just testing the waters or would prefer to keep costs down, the standard monthly membership ($7.99p/m in the USA, £7.99p/m in the UK, and $11.99p/m in Canada or Australia) is the best offer you can get at the moment. Now that the free trial is unavailable, it's by far and away the cheapest way to get Disney Plus.
However, it's not necessarily top dog in terms of bang for buck. Rather, that award would go to the annual subscription. Even though it's paid off upfront (US viewers will hand over $79.99, UK fans are looking at a cost of £79.90, and those in Canada or Australia have to fork out $119.99), you are saving money in the long run. That's because you're basically getting 12 months for the price of 10.
Based in the USA? You can also enjoy a better bang-to-buck ratio with the special offer that provides you with Disney Plus, Hulu, and ESPN Plus for $13.99p/m (or $19.99p/m if you want to go without Hulu ads). Because Hulu and ESPN fill a niche that Disney can't, it's a surprisingly good marriage that's worth considering if you want something to suit every in your family.
Disney Plus |  Check prices in your area
Disney Plus | Check prices in your area
Most regions with access to Disney Plus can get one of two possible deals - a monthly subscription or an annual one. While the month-to-month rolling contract is cheaper (and you can cancel it at any time), we'd say the yearly membership is a better buy; you're usually saving 12% on the monthly sub.

Disney Plus exclusives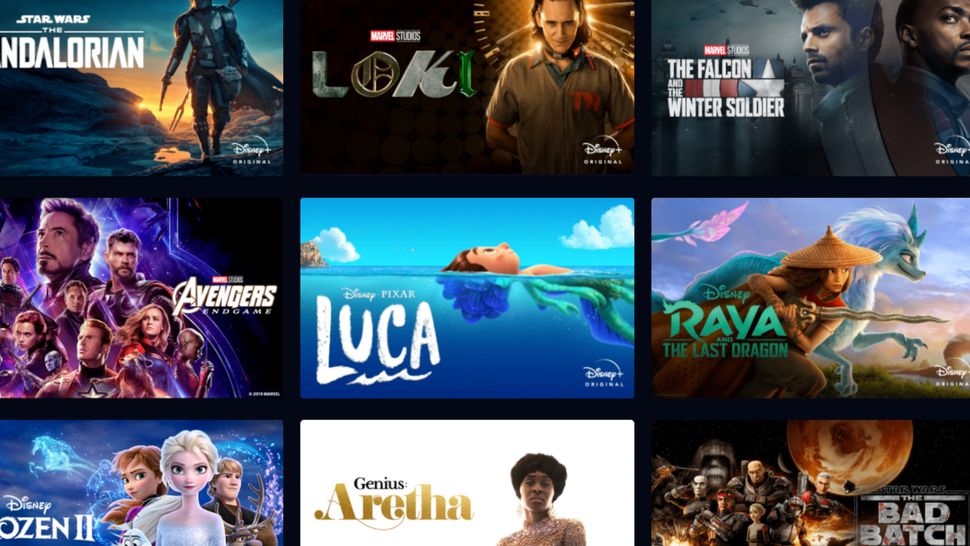 There's more than enough original content on Disney Plus to keep you busy. Live-action Star Wars show The Mandalorian can be found here, for example, and it's now possible to see the first season of Loki in its entirety. You can even watch Hamilton (the original Broadway version from 2016) via Disney Plus. The list goes on, and it's only going to keep getting bigger.
Here's a breakdown of the top ten exclusives that are available on Disney Plus right now.
What's coming to Disney Plus?
Now we're getting to the good stuff. If you're wondering what's in the pipeline for Disney Plus, you won't be disappointed - there are dozens of new, original TV shows arriving over the next couple of years. Chief among them is Hawkeye, due to air in November. As for a galaxy far, far away, season 3 of The Mandalorian is in the works alongside spin-offs focusing on Boba Fett and Obi-Wan Kenobi.
Here are the highlights.
Hawkeye (November 24 2021) - This series seems to draw inspiration from a recent comic book storyline by Matt Fraction and David Aja, which is great news; that run was fantastic.
Star Wars: The Book of Boba Fett (December 29 2021) - This surprise announcement got everyone talking, and it's starring the galaxy's favorite bounty hunter.
Star Wars: Ahsoka (date TBC) - It's high time that Ahsoka, star of the Clone Wars animated series, got her own show. This one follows her cameo in The Mandalorian.
Cassian Andor Star Wars show (date TBC) - This will be a live-action prequel series to Rogue One, and it'll focus on Rebel spy Cassian as he battles the Empire.
Star Wars: Rangers of the New Republic (date TBC) - We're not sure what this series will involve, but it seems to be spinning directly out of The Mandalorian.
Star Wars: Obi-Wan Kenobi (date TBC) - Obi-Wan is back for his own solo series, and Ewan McGregor is returning to portray the world-weary Jedi once more.
Star Wars: Lando (date TBC) - The smooth-talking smuggler was one of the highlights of Solo, so being able to revisit his adventuring days is irresistible.
Star Wars: Acolyte (date TBC) - Another live-action Star Wars show is on the way, but this one is set way back in the era of the High Republic.
Moon Knight (date TBC) - The amoral Moon Knight will make his debut on Disney Plus, and his multiple personalities are likely to be a focus.
Ms. Marvel (date TBC) - We're getting a series revolving around the MCU's first Muslim superhero in Ms. Marvel, and we can't wait.
She-Hulk (date TBC) - Lawyer and all-around badass Jennifer Walters arrives in the MCU with this series. It'll explore her origin as a Hulk and features Mark Ruffalo.
Cheaper by the Dozen reboot (date TBC) - The 2003 comedy is also getting a rework for Disney Plus, but we don't know anything more at the moment.
Night at the Museum reboot (date TBC) - Night at the Museum is yet another do-over for Disney Plus, though a release window hasn't been announced yet.
Diary of a Wimpy Kid (date TBC) - The popular book series is, you've guessed it, being reworked for Disney Plus as we speak.
Disney Plus Premier Access explained
Disney Plus occasionally features the 'Premier Access' add-on to go with its lineup of films and TV shows. What is Premier Access, though? And do you have to pay for it separately?
To answer the first question, think of Premier Access like going to the cinema. It allows you to see brand-new movies from the comfort of your own home on the same day they hit theaters, albeit for a small fee. So long as you've got an existing Disney Plus membership, it'll cost $29.99 in the US, £19.99 in the UK, $34.99 in Canada, and $34.99 in Australia.
In essence, Premier Access allows you to see blockbusters when they release even if you can't get to the big screen because of coronavirus restrictions (just remember, you need a Disney Plus subscription before you can use Premier Access). However, it's worth bearing in mind that nothing is available on Premier Access at the moment - the last movie to hit our small screens was Jungle Cruise, and it's free for all Disney Plus members later in November.
Will Premier Access come back? Not for the time being. No other films have been announced as part of the scheme, so we don't expect it to be resurrected any time soon (unless more lockdowns happen, anyway).
What devices are compatible with Disney Plus?
As you'd expect from a multi-media giant like Disney, their streaming service is available almost everywhere. That means it's easy to get a hold of regardless of whether you want to watch on TV, your phone, tablet, or console. Most of these will let you download the app and start watching straight away so long as you've got an account. For more info, don't miss our guide on how to download Disney Plus.
Here's the full list of devices compatible with Disney Plus right now:
Samsung or LG Smart TV
PS4
Xbox One
Roku device
Google Chromecast
Apple TV
Fire TV
iOS/Android device
Web browser
Disney Plus errors
Even an entertainment giant like Disney struggles to contend with millions of subscribers tuning into their streaming service, so it makes sense that there would be a few errors here and there; although most issues have been resolved by now, a few still exist. Luckily, they're easy to sort out. If you have consistent issues, we've got a few tips for you to try below.
Log out of Disney Plus, then log in again: OK, so we know you've probably tried this already - our apologies. But most of the time, it provides a quick and easy fix. All you need to do is select your profile, go to 'Account Details', and select 'log out of all devices'. As this would suggest, it'll sign you out of every device using Disney Plus. You're then free to log in again.
Check your internet and make sure Disney Plus isn't down for everyone: If you're struggling, we'd recommend making sure that your internet is still active - take a look at the router or your other devices. If everything seems fine, have a quick look at the Disney Plus help account on Twitter to see if the streaming service is offline or down for maintenance.
Delete the app and re-download it: The nuclear option of error code solutions. If you're getting nowhere, it's worth deleting the app on your TV or device and then re-downloading it. This could straighten out any issues Disney Plus is having.
Still hitting a brick wall? We'd suggest contacting Disney Plus Help on Twitter. You can also head over to the Disney Plus Help Centre and enter your error code, email them via DisneyPlusHelp@Disney.com, or contact customer service on 888-905-7888 if you're based in the US.
For an explanation of the most common issues, remember to check out our Disney Plus error guide.
---
Will there be Black Friday Disney Plus deals? Be sure to visit our guide to find out. And if you want to grab the streaming service as a present for a loved one, you should also drop in on our Disney Plus gift card page.