Black Friday 144hz monitor deals are one of, if not the, best opportunity of the year to save some huge cash on some of the best brands. What we find is that 144hz monitors always tend to go fast: these are special gaming displays with superior refresh rates and FPS, to ensure that you can make use of every second when you're playing games. After all, there's no point in investing in a great PC when the monitor can't keep up. That's been continuously reflected in what we've seen throughout the most recent Black Friday events.
With so many retailers promising that they've got the best deals around, it can make navigating the maze of Black Friday 144hz monitor deals a tricky ask. To help, we cut through the weeds of so-so offers and meh discounts to bring you the biggest bargains, best deals, and major Black Friday savings for these must-have monitors, alongside what to expect on the big day. If you can save money and avoid a major rush before the big day then that's a win-win in our books, especially as many of these below already rank among the best Black Friday gaming monitors deals.
There are also plenty of 4K 144Hz monitors out which are perfect for those with new-gen consoles - proving that this spec isn't just a PC-only feature. Most of these also serve as a budget-friendly way to make the most of your games, as well as potentially acting as the last piece in your gaming setup puzzle. We expect to see more of them as the year goes on but for the minute here's what happened last year and our expectations for the next Black Friday.
Black Friday 144Hz monitor deals: FAQs
When will the Black Friday 144Hz monitor deals start?
Black Friday is set to take place on November 24th, 2023 and that's when is most likely for the best deals on 144Hz monitors to start appearing. That said, deals do start popping up from the beginning of the week (Nov 20th) before wrapping up on Cyber Monday (Nov 27th).
Black Friday 144Hz monitor deals: what to expect
Black Friday 144hz deals are an area of the major sales event where we always see an incredible amount of action - and that's in part due to the field being so vast and filled! This means there will be huge discounts in each 'category' of monitor that has a 144Hz refresh rate, or higher.
Starting with the premium side of things, 2022 saw a lot of 4K 144Hz monitors becoming more readily available. It was the first Black Friday 144Hz monitor deals event for the likes of the Corsair 32UHD144 and the AOC Agon Pro PD32M for example, and we really hope to see even bigger discounts on them in 2023.
In the middle, we have 1440p monitors offering 144Hz - the sweet spot still from our experience. For example, the Razer Raptor 27 is a fine 1440p 144Hz monitor and always gets discounted every year. One of our favorite 1440p monitors over the last couple of years, the MSI Optix MAG274QRF-QD, we're hoping to see drop again too, maybe even get close to $300.
With that in mind though, the best savings may well be seen in 1080p monitors - now we're seeing monitors with 300Hz+ rates, there's every chance you could get something incredibly quick for less by the time Black Friday 2023. The Acer Predator XB253QGX is a seriously speedy contender in the 1080p category, which should be even cheaper than ever come November 2023.
We can generally just see the lines blurring further between gaming monitors and TVs too, so that's something to take into consideration. With the likes of Asus, Alienware, Samsung, LG, and several of the other top brands already making big announcements to kick off the year at CES 2023, naturally last year's models will fall in price. As the year goes on, this will become clearer.
Where will the best Black Friday 144Hz monitor deals be?
High-refresh gaming monitors (144Hz and above) are fast becoming the minimum standard for gaming - and as such the starting point for those folks searching for monitors. Amazon and Dell normally have 144Hz gaming monitors cheaper than most but Newegg in the US as well as Overclockers and eBuyer in the UK also can be pretty great too. Here's what you can currently expect from the biggest online retailers.
US:

Amazon: Regular Low prices on Samsung, Dell, and AOC 144Hz monitors
Dell: Deep discounts on Dell and Alienware high refresh rate gaming panels
Best Buy: Save on Lenovo, Dell, and LG displays
Walmart: Offers new but also refurb deals on Acer, Sceptre, and MSI models
Newegg: Always offers deals on the likes of Z-Edge, Asus, Aorus, and more
Samsung: Right now you can save up to $278 on Samsung gaming monitors

UK:

Amazon: Great deals on BenQ Zowie, MSI Optix, AOC, and Lenovo monitors
Currys: Low prices on Samsung Odyssey range and deals on MSI Optix
eBuyer: Deep discounts on LG Full HD and QHD 144Hz gaming monitors
Overclockers: Save on LG, BenQ, Asus, AOC 144Hz displays
Dell: The best place for deals on Alienware gaming monitors
Samsung: Low prices on Samsung gaming monitors in all form factors
Should you wait for the Black Friday 144Hz monitor deals?
Black Friday 144Hz monitor deals are best for discounts in November from our experience, so the likelihood is that if you buy something earlier, you could be spending more than you needed to. It all depends if you're happy to wait until Black Friday to save some cash or spend a little more and enjoy the benefits now.
Remember, though, you might not have to wait right to the very end of November to get a great Black Friday 144Hz monitor deal. Retailers go earlier and earlier with their sales, spreading deals across multiple days and even weeks so you might just find one that comes about earlier than the day itself. What's even better is if such as deal is Black Friday guaranteed which covers you for any difference there might later be if the monitor does drop down further after you've bought it (there's usually some form of retailer refund arrangement) - this can definitely be a time to go early.
Is Black Friday the best time get a 144Hz monitor?
If Black Friday isn't the best time to get a new 144Hz (or faster) monitor then we're yet to find out what is. Touching all parts of the gaming monitor market, Black Friday is hands down the best time to get a monitor and that is no different for the niche that is the Black Friday 144Hz monitor deals.
There will be a vast array of those exact monitors on offer, and any that are teamed with other premium specs such as G-Sync, 4K resolutions, or larger screen sizes will see their prices drop by the largest amount. The question is more if you can wait until November 2023.
Last year's Black Friday 144Hz monitor deals in the US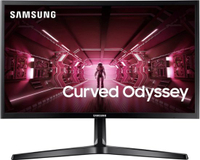 Samsung Odyssey 24-inch CRG5 series 144hz LED curved | $249.99 $139.99 at Best Buy
Save $110 - A decent saving on a decent monitor that is as useful for playing games as it is in day-to-day life. The mid-range curved monitor comes in black and is not too bad of an offer for the Samsung Odyssey range. This was the lowest we'd seen it, too.
Last year's best Black Friday 144Hz monitor deals in the UK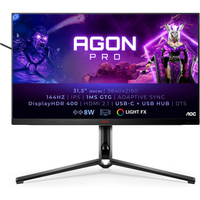 AOC AGON 32-inch 144hz 4K gaming monitor | £899.99 £649.00 at Amazon UK
Save £250.99 - For all the biggest bells and whistles, this high-end monitor had over a quarter of its price cut away and arrived with 4K resolution, height adjustment, and rapid response time. This is the gaming monitor that has pretty much everything you'd need.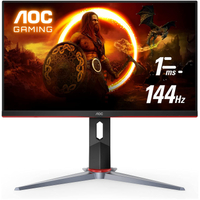 AOC 24G2U 24-inch 1080p | £169.99 £133.99 at Box
Save £36 - Likewise, this deal was a bit more budget-friendly. The AOC 24G2U was one of our go-to recommendations for solid gaming monitors without breaking the bank. It has a variable refresh rate, so will work great for a variety of games, and it still has a snappy 1ms response rate.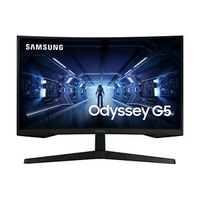 Samsung Odyssey G5 27-inch G55T 1440p | £299 £209 at Samsung
Save £90 - While the 32-inch model is currently out of stock, the 144Hz curved 27-inch version of one of our favorite monitors was on the market. The Odyssey range of Samsung monitors uses splendid VA panels that we've found to look gorgeous. In this deal, you got it straight from the horse's mouth and saved a whopping £90 while doing so.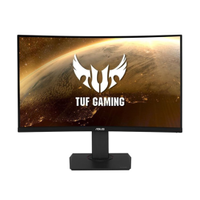 ASUS TUF Gaming VG32VQ 31.5-inch 1440p | £449.00 £314.99 at Box
Save £134 - If you like a curve in your monitors, this was a super choice. The 27-inch, 165Hz model of this monitor was one of our top picks all-round, but this deal got you the same quality and exact specs you desire for £134 less than the typical RRP. This particular version has a 1440p VA panel and gives you the best part of 32 inches to play on.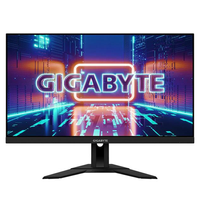 GIGABYTE M28U 28-inch 4K Ultra | £669.00 £399.99 at Currys
Save £269 - It was already discounted, but this 28-inch GIGABYTE monitor dropped in price again to over a third less! This particular model offers the desired 144Hz refresh rate along with 4K Ultra HD resolution at 2160p with built-in speakers and the ability to be wall mounted.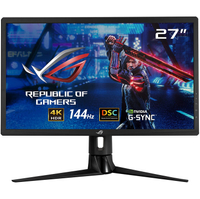 ASUS ROG Strix XG27UQR 27-inch 4K | £699 £589 at Amazon
Save £110 - You could have saved over £100 on our favorite 4K gaming monitor via Amazon. The XG27UQ has a 2160p IPS panel, a refresh rate of 144Hz (obviously), and a response time of 1ms. What's more, it came in significantly cheaper than competitor monitors with those same specs. In this deal, it was £30 lower than its average Amazon price.
---
However, if you're looking for a new panel this winter that's more TV-shaped then prepare for the upcoming 4K 120Hz Black Friday deals, Black Friday PS5 and Xbox Series X TV deals, and the best Black Friday OLED TV deals and Black Friday QLED TV deals as well.