It's the end of a long week. You're ready to hide away from the world, curl up with a gallon of Ben and Jerry's, and chill with the best shows on Netflix. Only one snag: just what *are* the best shows on Netflix? You've heard good things about SO. MANY. SHOWS that it feels like an arduous task scrolling through everything. Enter: this very article you're reading.
See, I know the strife of finding a great show, a series that offers up whatever your heart desires, be it comedic hijinks in a terrific sitcom, the lurching horror of a zombie show, a compelling journey through a character-based drama or, you know, some throwback telly like Stranger Things. This list has got the lot. If you're wanting to just see the latest titles? Check out our guide to what's new on Netflix.
25. The Sinner
Region: UK, US
Season(s): 1
The show: Having lit up UK screens last year, The Sinner now arrives in the US with plans to completely take over your summer. It's based on the 1999 novel by German crime scribe Petra Hammesfahr and follows the downright batshit tale of a seemingly normal woman Cora Tanetti (Jessica Biel), who one day, while out at the beach with her family, decides to all of a sudden commit murder. Did the lengthy queue for ice cream drive her to it? Or is it something more sinister? She can't remember. Luckily, this compelling drama dives into the reasons behind the crime, through the investigation a police detective. And they are not what you'd expect.
Why it's worth watching: Many, many things about The Sinner make it worth viewing. The crime angle, the approach to the material, the fact that it gives us something else to devour while we wait for Mindhunter season 2. But really, it's only so damn good because of Biel. You won't see her in the same light again.
24. Brooklyn Nine-Nine
Region: UK
Season(s): 1-4
The show: If you haven't heard about Brooklyn Nine-Nine's brush with death, then here's the short version: Fox canceled it, fans took to social media, 30 hours later NBC picks it up for another season. That's how you make sure your favourite series gets to go out right, and for viewers who have come to love the cast of oddballs at Brooklyn's 99th precinct, it was the only option. Andy Samberg leads the superb line-up of characters as Jake Peralta, a carefree NYPD cop, who works alongside a crew of detectives, who each bring their unique quirks to the job.
Why it's worth watching: The fact that its die-hard fanbase pulled together to rescue it from the axe is perhaps the biggest endorsement you could want for a show. Oh, and it's really funny, which is what you want out of a sitcom really, isn't it?
Read more: 20 canceled TV shows that are ripe for revival on Netflix or Amazon Prime
23. The Returned
Region: US
Season(s): 1-2
The show: We all like a whodunnit, so what about a whydunnit? This superb French thriller delves into both, as the occupants of a small mountain town discover something weird happening one morning: their dead are coming back to life. Now, you'd be forgiven for thinking this is another zombie romp with a twist, but it's not. The undead are the ones who are confused, and wondering why everyone around them has simply moved on with their lives. Naturally the living and the undead both take note when a series of murders begins, with an eerie callback to a former serial killer.
Why it's worth a watch: A bunch of formerly dead people wandering around an Alpine village, wondering what the hell's going on? Why wouldn't you want to watch this? It's a clever spin on the exhausted zombie idea, doing away with flesh-eating, and instead raising questions of what it means to live and die. Oh, and there's that murder-mystery thing, too.
22. Peaky Blinders
Region: UK, US
Season(s): 1-3 (UK), 1-4 (US)
The show: What do you get when you throw Cillian Murphy and Tom Hardy on the screen together? Dark Knight fan fic come to life? Well yes, that, but I was referring to the brilliant Peaky Blinders. Set in 1919, the series takes its name from a particular street gang that took charge of Birmingham, England shortly after the Great War. Using whatever means necessary to rise through the criminal ranks is war veteran Thomas Shelby, who - along with his family - forms the focus of this gripping crime drama.
Why it's worth watching: Okay, is it enough that it's dubbed the British Boardwalk Empire? Seriously, if you're a fan of that HBO series, you'll love what kicks off in this historical gangster masterclass.
21. Friends
Region: UK, US
Season(s): 1-10
The show: The one where all the twentysomethings can afford spacious Manhattan apartments. Yes, I'm talking about Friends! Upon its debut in 1994 the show became an instant hit, and even now some 14 years after its finale aired, it is still considered one of the most popular sitcoms of all time. It's hard to disagree, really, as the series continues to get better with age, following the lives of Monica, Rachel, Phoebe, Ross, Joey, and Chandler as they navigate through good times and bad. Oh, and numerous Thanksgiving mishaps, of course.
Why it's worth watching: This is great feelgood TV, that performs so well and stands up to repeat viewings because the main cast is just so darn likeable. From the first episode, each of the six leads carves out a unique spot in the show without coming across like caricatures. Sure, Ross may get a tad whiny in later seasons, but hey, he's been through a lot. They were on a break, right?
Read more: The 25 best Friends episodes ever
20. Z Nation
Region: UK, US
Season(s): 1-3 (UK), 1-4 (US)
The show: Imagine if your favourite zombie series had a dark comedic edge, and wasn't afraid to play fast and loose with the rules. Z Nation is that show. Set three years after a zombie virus has wiped out most of the human race, the series follows a dysfunctional bunch tasked with transporting the one person immune to the virus from New York to California, in order to deliver him to a laboratory equipped to harvest his antibodies. Fun, fast-paced, and with enough to satisfy horror hounds, this could be your next favourite horror show.
Why it's worth a watch: This is the perfect antidote for fans of The Walking Dead who have grown tired at how derivative it has become in recent seasons. Forget long-winded speeches, Z Nation is all about action.
Read more: Ordinary people are the best part of zombie shows - because they have no idea what the hell is going on
19. Orange is The New Black
Region: Worldwide
Season(s): 1-6
The show: Loosely based on the real-life experiences of Piper Kerman, this comedy-drama from Weeds creator Jenji Kohan is like nothing else on the streaming platform. That's probably because it's a Netflix Original - and by 'eck, original it certainly is. The first season follows Kerman's memoir closely, as Taylor Schilling's Piper Chapman enters the prison system after being convicted of aiding a drug trafficker - her ex, played by That '70s Show's Laura Prepon - who also happens to be incarcerate in the same prison...
Why it's worth watching: Once the show diverts from the true story, it becomes a wild mash of interesting plotlines. Piper's still in the mix, but there's a rich cast of fully fleshed out characters who we learn lots of secretive tidbits about through flashbacks. And, with season 6 now available, you've got no excuse!
18. Sense8
Region: Worldwide
Season(s): 1-2, plus the finale
The show: After dallying with sci-fi on and off for their entire cinematic career, The Wachowskis take their vision to the small screen with Netflix Original Sense8. Plucking ideas from sci-fi canon to tell a sprawling story, with a dash of Heroes, a drop of Lost, and a whole heap of WTF, the story follows eight people, from different locations across the globe, who suddenly find themselves telepathically connected. Skills, experiences, thoughts, are all shared between the group, who come to depend on that vast pool of resources because, naturally, they're being hunted by a shady organisation.
Why it's worth watching: This series was missed by most upon its initial release, but its die-hard fans love it so much they demanded a proper finale after the show was axed post-season 2. The feature-length conclusion, clocking in at 2.5 hours is now available, so if you haven't seen it yet, now is the time to catch up.
17. Jessica Jones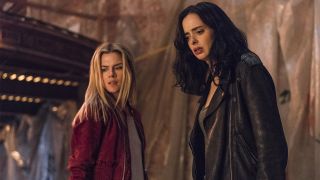 Region: Worldwide
Season(s): 1-2
The show: Marvel's second Netflix Original series is a dark, gripping drama about a private investigator with super-powers who just wants to curl up with a bottle of Jack and be left alone. The world comes knocking with a problem, and it's up to Jessica Jones to track down the hellish man responsible... who just happens to be a familiar face. Along for the ride is trusty comrade Trish Walker, whose talk show sheds a little too much light on the 'supers' for Jessica's taste, and neighbour Malcolm, who are both desperate to help Jessica put her demons to rest. As is often the case, her past returns to haunt her...
Why it's worth watching: Kristen Ritter's performance as the titular hero, who resists her calling at every turn, is truly stunning to watch. Each episode charts her inner struggle to winning effect, and sheds a light on the true consequences of trauma. And with season 2 now available, it's time to get caught up.
Read more: Jessica Jones season 2 ending - 6 questions we need answered
16. Parks and Recreation
Region: US
Season(s): 1-7
The show: Parks and Recreation stumbles a little during its first season, as reflected by its mixed reviews, but the powers-that-be took that advice and ran with it. Trust me, you'll be laughing all week if you stick with it. Led by the brilliant Amy Poehler, it revolves around the day-to-day experiences of Leslie Knope, deputy director of the Pawnee parks and recreation department, and her misfit bunch of co-workers. Told through a mockumentary-style of shooting, the show uses the pettiness of small-town bureaucracy as its comedic fodder.
Why it's worth watching: It swerves around the pitfalls of sitcom tedium, thanks to some of the most memorable comedy characters in TV history played by Nick Offerman (who will provide you with one-liners and woodwork advice), Aziz Ansari, Aubrey Plaza, Rashida Jones, Retta, and Chris Pratt.