Sure the Oscars are happening this weekend, and that's terrific, but did you hear that one of the best shows on Netflix is coming back... as an anthology series? The Haunting of Hill House season 2 drops in 2020, except this sophomore season is called The Haunting of Bly Manor and is based on a Henry James novel. So if you've already watched season 1 then now's a great time to revisit (it's been four months, c'mon, you know you wanna) and if you haven't seen it then you're going to want to catch up.
Anyway, where was I? Ah yes. The Oscars. If you aren't tuning in, then why not transform your weekend into a binge-fest? The best shows on Netflix have a little something for everyone's tastes, so if you don't fancy Hill House, then there are plenty of options.
There's a slew of stuff that's new on Netflix, like Russian Doll and American Crime Story season 2, and a load of oldies that are always good to dig back into. Plus, our recommendations for the best VPN for Netflix give you chance to sample shows from different regions. I know!
Best movies on Netflix | Best Netflix horror movies | Best comedies on Netflix | Best Netflix action movies | Best thrillers on Netflix | Best documentaries on Netflix
25. Bodyguard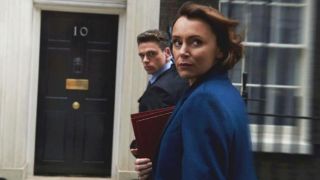 Region: US
Season(s): 1
The show: Whenever a show takes the country by storm, not long after the rest of the world asks: when can we see it, please? After hitting the UK and becoming one of THE biggest water cooler shows of the year, Bodyguard is now here for US viewers to devour in one sitting. I mean, weekend. Keeley Hawes stars in this six-parter, as Home Secretary and Conservative MP Julia Montague, who is under the protection of police sergeant David Budd (Game of Thrones' Richard Madden), a war veteran with PTSD. He will do anything to ensure Julia's safety, as that's his job, but that doesn't mean it's easy: he loathes everything she stands for...
Why it's worth a watch: Pure, can't-take-your-eyes away entertainment that's bound to have you saying "just one more episode before bed." This is sterling television, a well-crafted crime thriller, which is what the BBC does best, that gets better and better with each episode. Don't believe me? It's officially the UK's most watched TV drama since records began.
Read more: Bodyguard ending explained - everything you need to know if you're watching on Netflix
24. Unbreakable Kimmy Schmidt
Region: Worldwide
Season(s): 1-4
The show: When it first dropped in 2015, Kimmy Schmidt's theme song was all anyone could talk about. And yes, while it's a hummable-as-fudgin'-heck, there's more to this eccentric comedy from 30 Rock creators Tina Fey and Robert Carlock. A zany sitcom with heart and silliness in equal amounts, the show begins with New York newbie Kimmy Schmidt starting with a fresh slate after spending the previous fifteen years trapped in a doomsday cult led by the deranged Reverend Gary Wayne Gary (an eerily-good Jon Hamm). Now in the big city, Kimmy discovers a new-found joy for living, that's got a distinct '90s edge.
Why it's worth a watch: It's as if 30 Rock never ended. But with added Carol Kane, who absolutely slays it as Kimmy's wiseass landlady, Jane Krakowski, who continues to be one of the funniest comics on the small screen, and the musical genius who gave us Peeno Noir and Boobs in California, Titus Andromedon.
23. Nurse Jackie
Region: US
Season(s): 1-7
The show: Moving into the spotlight after The Sopranos, Edie Falco knocks it out of the park as Jackie Peyton, an ER nurse with enviable medical skills and a serious addiction. This is a medical series that's not anything like the typical hospital guff that's on network television, instead, choosing to focus its efforts on a druggie nurse who struggles to put her family and her patients ahead of her desire for a quick fix. Comedy arrives in the form of Jackie's English best pal, Eleanor (Eve Best), Zoe (Merritt Wever) and dunderheaded doctor Cooper (Peter Facinelli). Keep an eye out for a terrific supporting turn from GLOW's Betty Gilpin.
Why it's worth a watch: Jackie's journey in and out of addiction strikes an uneasy balance that makes the show so damn compelling. Unlike many medical dramas, there are no twee morals recanted at the end of the episode - because Jackie's are too blurry to decipher. Each season she strays and returns from the brink, and the scariest thing is, she seldom learns from her mistakes. It makes for bingeable television.
22. Crazy Ex-Girlfriend
Region: UK, US
Season(s): 1-3
The show: Not many shows take risks like this comedy from The CW, that prevents its cute, amusing premise on the page from turning into a disaster thanks to sharp writing and a career-defining performance from Rachel Bloom. Crazy Ex-Girlfriend spins the sitcom aspect of its story into a hilarious series that follows a New York real estate lawyer Rebecca Bunch. After bumping into her first boyfriend on the street, she decides to uproot her life and relocate, cross country, to the same town in which he lives. Once settled into the small California town, she befriends his pals, finding work close to him, it could all go horribly wrong… which is why the singing helps.
Why it's worth a watch: If you like sitcoms but are a little tired of their predictability, give this a shot. With a whole shedload of musical numbers (no, really), it's no wonder that it's snagged loads of fans and awards. Funny as hell and even weirder than its premise sounds, you've got time to catch up on its first three seasons before Netflix drops season four, which only just started to air.
21. Friends
Region: UK, US
Season(s): 1-10
The show: The one where all the twentysomethings can afford spacious Manhattan apartments. Yes, I'm talking about Friends! Upon its debut in 1994 the show became an instant hit, and even now some 14 years after its finale aired, it is still considered one of the most popular sitcoms of all time. It's hard to disagree, really, as the series continues to get better with age, following the lives of Monica, Rachel, Phoebe, Ross, Joey, and Chandler as they navigate through good times and bad. Oh, and numerous Thanksgiving mishaps, of course.
Why it's worth watching: This is great feelgood TV, that performs so well and stands up to repeat viewings because the main cast is just so darn likeable. From the first episode, each of the six leads carves out a unique spot in the show without coming across like caricatures. Sure, Ross may get a tad whiny in later seasons, but hey, he's been through a lot. They were on a break, right?
Read more: The 25 best Friends episodes you WILL rewatch again and again and...
20. Peaky Blinders
Region: UK, US
Seasons: 1-4
The show: What do you get when you throw Cillian Murphy and Tom Hardy on the screen together? Dark Knight fanfic come to life? Well yes, that, but I was referring to the brilliant Peaky Blinders. Set in 1919, the series takes its name from a particular street gang that took charge of Birmingham, England shortly after the Great War. Using whatever means necessary to rise through the criminal ranks is war veteran Thomas Shelby, who - along with his family - forms the focus of this gripping crime drama.
Why it's worth a watch: A show that's dubbed the British Boardwalk Empire deserves checking out for that comparison alone. If you're a fan of that HBO series, you'll love what kicks off in this historical gangster masterclass, and if you're not? Peaky Blinders captures an era and location that's seldom given much screen time and makes you wonder why the hell not? Prepare to binge the entire thing.
19. American Crime Story
Region: UK, US
Season(s): 1-2
The show: Known for his battier-than-a-cave-full-of-bats horror anthology American Horror Story, executive producer Ryan Murphy turns his hand to another strand of cultural obsession: true crime. Taking high-profile cases and giving them the miniseries treatment, season 1 focuses on the O.J Simpson trial and season 2 studies the aftermath of Gianni Versace's murder. The show's already snagged a ton of awards for its performances. Sarah Paulson's season 1 showstopper performance as Marcia Clark earned her the Golden Globe, ditto Darren Criss's season 2 scene-stealing turn as Andrew Cunanan. Get bingeing early on this before season 3 lands.
Why it's worth a watch: Unlike your typical crime documentaries, American Crime Story plays it somewhat, loose, with the events depicted. So while it may dally wit the truth, that means there are rarely any lulls in the action, with every scene serving as a vital component to the larger story being told. Think of it like a documentary on steroids - you'll be hooked before the credits roll.
18. Stranger Things
Region: Worldwide
Season(s): 1-2
The show: THE binge-watch series of the last few years, the Duffer Brothers cobbled together a patchwork of '80s references then siphoned all of that into a killer plot about government experiments on members of a small town in Indiana. Things come to a head when a young lad Will Byers goes missing, causing his mother Joyce (Winona Ryder), the sheriff (David Harbour), and Will's friends to consider the strangest possibility: that there's a parallel world to ours replete with horrific monsters and demons simply itching to get at you.
Why it's worth a watch: These kids! The whole cast is terrific (I personally was very pleased to see Winona Ryder back in the thick of it), however it's the young leads who steal the show. Scurrying around Hawkins on their bikes in the dead of night and hunkering down in basements trying to find their missing pal; they will melt your hearts, especially Millie Bobby Brown as Eleven. Hurry up with Stranger Things season 3 Netflix!
Read more: 10 Stranger Things theories to turn your world Upside Down before season 3
17. Alias Grace
Region: UK, US
Season(s): 1
The show: Fans of The Handmaid's Tale eager for another helping of small-screen Margaret Atwood should look no further than Alias Grace. This limited series takes place back in completely different era than the award-winning Hulu series - the 1840s - yet still finds its women in a similar circumstance. Sarah Gadon tackles the lead role as Grace Marks, an Irish immigrant who works in Canada as a house servant, who is found guilty of the murder of her employer and his housekeeper. The question is: Did she really do it? As her supposed co-conspirator, a groundskeeper, is hanged, Grace is sent to prison for life where her notoriety grows.
Why it's worth a watch: Sick of all the usual bizarro Netflix crime shows? Don't be deterred by Alias Grace. This is true crime, Victorian-style from Mary Harron, the director of American Psycho. It's replete with all of the trimmings of the era as Atwood took inspiration from a real-life case in 1843 to form the basis for her novel. And really this is like ahem, killing, two birds with one stone: you get to watch a crime show and you get your fill of period garb too.
16. The Good Place
Region: UK, US
Season(s): 1-3 (UK), 1-2 (US)
The show: On the surface the new show from Parks and Recreation showrunner Michael Schur sounds similar-ish to Dead Like Me. Someone dies, experiences the afterlife, and embraces the comedy of the situation. It's not quite the same though because instead it combines the cheerful glee of Parks with the existential WTF?-ness of something like Lost. Kristen Bell stars as Eleanor Shellstrop, a self-centred individual who is gifted to quite a pleasant post-life existence alongside her soulmate.
Why it's worth a watch: As well as being really, really funny and introducing us to yet another hugely talented group of actors, it also packs some great dramatic twists and turns that you won't see coming.
Read more: Holy shirt, if you've finished watching The Good Place, we've got a lot to talk about
Continue to Page 2 for more of the best shows on Netflix