As the holiday season is fully underway, now is a great time to fill your watchlist with the best shows on Netflix. Yes, that might seem obvious - no-one wants to watch the worst shows, do they? - but it can be a time-consuming task. Are you after something new on Netflix? Or do you want to hunker down with a classic? And once you've finally settled on a series, is it even available in your region? (if not, our best VPN for Netflix will help you with that).
The answers to all these questions and more are below with our ultimate breakdown of the very best shows on Netflix. Every type of series is included so no-one's getting left out - even those of you who like to be scared silly during the holiday season. Oh yeah, and there's no need to panic, by the way: Friends got renewed for another year.
25. Bodyguard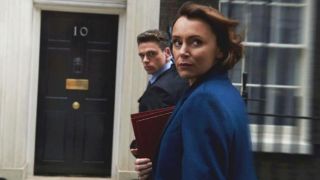 Region: US
Season(s): 1
The show: Whenever a show takes the country by storm, not long after the rest of the world asks: when can we see it, please? After hitting the UK and becoming one of THE biggest water cooler shows of the year, Bodyguard is now here for US viewers to devour in one sitting. I mean, weekend. Keeley Hawes stars in this six-parter, as Home Secretary and Conservative MP Julia Montague, who is under the protection of police sergeant David Budd (Game of Thrones' Richard Madden), a war veteran with PTSD. He will do anything to ensure Julia's safety, as that's his job, but that doesn't mean it's easy: he loathes everything she stands for...
Why it's worth a watch: Pure, can't-take-your-eyes away entertainment that's bound to have you saying "just one more episode before bed." This is sterling television, a well-crafted crime thriller, which is what the BBC does best, that gets better and better with each episode. Don't believe me? It's officially the UK's most watched TV drama since records began.
Read more: Bodyguard ending explained - everything you need to know if you're watching on Netflix
24. Love
Region: Worldwide
Season(s): 1-3
The show: Judd Apatow returns to the small screen for a delightfully brash, irreverent and often quite sweet series on life and love in L.A. Things kick off when the kind-hearted Gus (Paul Rust) encounters the outspoken Mickey (Gillian Jacobs) and the pair start hanging out. The series finds the pair exploring the boundaries of friendship and romance, while roping in some absolutely bananas standalone episodes into the mix. It's very funny and cringeworthy as hell.
Why it's worth a watch: Sure, it may sound like a million other shows, but there's a blast of energy and pep to Love that sets it apart from its competitors. Even after the pair make mistake after mistake, you can't help but still like them and long for them to figure their shit out.
23. She-Ra Princesses of Power
Region: Worldwide
Season(s): 1
The show: A reworking of the 1980s cartoon classic, this new iteration hails from Lumberjanes comic creator Noelle Stevenson. Folks, this is how you remake. She-Ra, AKA, Princess Adora of Eternia, is back, in a similar story that finds her brainwashed and working for the Horde - AKA, the bad guys. She uncovers her real destiny when she finds a magical sword that restores her true path - to fight for the Rebellion. Along the way she learns how to balance her regular identity with her She-Ra self.
Why it's worth a watch: Thoroughly enjoyable in its own right, and as a worthy homage to the '80s original. She-Ra is a hell of a lot of fantasy fun, for adults and children alike. Yes, its animation may seem to be a visual jolt intended for the kids, it's a well-told story that deals with timeless questions (who am I, really?) with a rollickin' good adventure.
22. Maniac
Region: Worldwide
Season(s): 1
The show: A pharmaceutical trial for a mysterious new drug attracts a dozen strangers who find that they're being promised the world: take part and all of your worries will be solved, no matter what they are, and you'll experience no side effects. Sounds like a dream to Annie (Emma Stone) and Owen (Jonah Hill), two of the participants who find themselves drawn to one another throughout the three-day trial, as things start to go awry...
Why it's worth a watch: Because it's a limited series! Who doesn't love a show that has a beginning and end, and that's that? No take-backs in later seasons. No retconning story elements. It's done. And apart from that, it also has two incredible performances from Stone and Hill, who fluctuate between characters seamlessly.
21. Friends
Region: UK, US
Season(s): 1-10
The show: The one where all the twentysomethings can afford spacious Manhattan apartments. Yes, I'm talking about Friends! Upon its debut in 1994 the show became an instant hit, and even now some 14 years after its finale aired, it is still considered one of the most popular sitcoms of all time. It's hard to disagree, really, as the series continues to get better with age, following the lives of Monica, Rachel, Phoebe, Ross, Joey, and Chandler as they navigate through good times and bad. Oh, and numerous Thanksgiving mishaps, of course.
Why it's worth watching: This is great feelgood TV, that performs so well and stands up to repeat viewings because the main cast is just so darn likeable. From the first episode, each of the six leads carves out a unique spot in the show without coming across like caricatures. Sure, Ross may get a tad whiny in later seasons, but hey, he's been through a lot. They were on a break, right?
Read more: The 25 best Friends episodes ever
20. The Sinner
Region: UK, US
Season(s): 1 (US), 1-2 (UK)
The show: Having lit up UK screens last year, The Sinner now arrives in the US with plans to completely take over your summer. It's based on the 1999 novel by German crime scribe Petra Hammesfahr and follows the downright batshit tale of a seemingly normal woman Cora Tanetti (Jessica Biel), who one day while out at the beach with her family decides to all of a sudden commit murder. Did the queue for soft whip drive her to it? Or is it something more sinister? She can't remember. Luckily, this compelling drama dives into the reasons behind the crime, through the investigation of a police detective. And that's just season one...
Why it's worth watching: Many, many things about The Sinner make it worth viewing. The crime angle, the approach to the material, the fact that it gives us something else to devour while we wait for Mindhunter season 2. But really, it's only so damn good because of Biel. You won't see her in the same light again.
19. The Great British Baking Show
Region: US
Season(s): 6
The show: You've seen reality shows, you've seen cooking shows, and you've seen loads of contest shows. Those three ingredients, when thrown together in a blender, whipped into a frenzy, create a recipe unlike any other: The Great British Baking Show (or, Bake-Off as us Brits call it). Each season starts with a dozen home bakers who, over the course of 12 weeks, compete against one another in creating the best bakes ever. Every week is themed - my favourite is always pastry (it's tricky) - and features a signature bake, a technical bake, and a showstopper. Judged by two of Britain's top celebrity bakers, every episode ends with one baker being eliminated from the competition. Trust me, it's nail-biting stuff.
Why it's worth a watch: In this age of cooking shows, Bake-Off stands out as a real highlight. Even if you don't bake, it's so much fun watching those who do, absolutely push themselves to their limits, showcasing inspiring skills and masterful creations. And, there's of course, a massive disaster every week over someone's crumpets that haven't risen quite right. Yes, there are also a lot of innuendos made by the show's original hosts, Mel and Sue, as well as its new hosts Noel and Sandi, who bring a giant dollop of humour to the proceedings.
18. Bojack Horseman
Region: Worldwide
Season(s): 1-5
The show: A failed '90s actor spirals through life on a mix of sex, drugs, and trying to deal with depression. Oh, and he's a horse. Will Arnett voices the anthropomorphic stallion as he sees himself struggling against a tidal wave of self-pity, while also not trying to mess up everything good in his life. His best friend, Todd, voiced by Aaron Paul, often stands by his side – if he's not knee-deep in another one of his get-rich-quick schemes. It's also a comedy. Trust me.
Why it's worth a watch: It's done something that very few animated (or live-action) shows have even bothered to approach before: depression. While the show can have you crying with laughter at points, it can also just have you crying. It's a hugely complex look at a self-destructive man (well, man-horse) in a world just as crazy as he is.
Read more: Think BoJack Horseman is just 'the sad horse show'? It's secretly the most grown-up series around
17. Supergirl
Region: US
Season(s): 3
The show: Forget your dreary, downbeat superheroes. Supergirl, both the show and its title character, are replete with optimism and hope, steering this adaptation into new terrain. Melissa Benoist stars as Kara Danvers, aka Supergirl, a 24-year old assistant who struggles to ignore her abilities when there's always justice to be served, and good to be done! Packed with great action sequences - alright, season 1 wavers a little on this front, but boy does that blow up in season 3 - and unique twists on DC comic lore, this is a blast of fun in a typically dark arena of entertainment.
Why it's worth watching: Another small-screen superhero series? Following in the footsteps of The CW's caped crusader-centric shows, Supergirl manages to be both a loyal adaptation of the character and a wholly entertaining show in its own right. A fun and compelling series that dabbles with current social issues without bringing down the atmosphere.
16. The Good Place
Region: UK, US
Season(s): 1-3 (UK), 1-2 (US)
The show: On the surface the new show from Parks and Recreation showrunner Michael Schur sounds similar-ish to Dead Like Me. Someone dies, experiences the afterlife, and embraces the comedy of the situation. It's not quite the same though because instead it combines the cheerful glee of Parks with the existential WTF?-ness of something like Lost. Kristen Bell stars as Eleanor Shellstrop, a self-centred individual who is gifted to quite a pleasant post-life existence alongside her soulmate.
Why it's worth a watch: As well as being really, really funny and introducing us to yet another hugely talented group of actors, it also packs some great dramatic twists and turns that you won't see coming.
Read more: Holy shirt, if you've finished watching The Good Place, we've got a lot to talk about
Continue to Page 2 for more of the best shows on Netflix