This time of year, when the days are growing shorter, and the weather is generally gloomy, it's the perfect time to get stuck into a new series. And what better place to start than with the best shows on Netflix! When it comes to figuring out what your next binge-watch is going to be, look no further, as this list is updated every week and includes a range of shows from the UK and US catalogues. I know! It really is the best of both worlds, especially as you can access UK and US titles from wherever you are, thanks to our collection of the best VPNs for Netflix. Whether you're in the mood for the latest stuff that's new on Netflix, or perhaps an older show or modern classic, we've got the lot right here. Read on and enjoy the best shows on Netflix you can watch right now.
25. The Walking Dead
Region: US
Season(s): 1-8
The show: AMC's adaptation of Robert Kirkman's zombie comic has propelled to the top of every TV fan's must-watch list during its many, many seasons. At times The Walking Dead is a bloodthirsty horror epic, at others a harrowing survivalist drama, but whatever you call it, it's easy, enjoyable viewing for zombie enthusiasts. The adventures of Rick Grimes and his band of friends as they make their way through a post-apocalyptic America is gripping stuff - despite the somewhat meandering elements of its most recent seasons.
Why it's worth watching: With every season the stakes are raised and at least one fan favourite character dies - there's no escaping the wrath of the biters... or the villainous humans! With season 9 due to start in the US on October 7, you better get cracking if you're not up to date.
Read more: How to watch The Walking Dead season 9 (or catch up in time for the premiere)
24. Brooklyn Nine-Nine
Region: UK
Season(s): 1-4
The show: If you haven't heard about Brooklyn Nine-Nine's brush with death, then here's the short version: Fox canceled it, fans took to social media, 30 hours later NBC picks it up for another season. That's how you make sure your favourite series gets to go out right, and for viewers who have come to love the cast of oddballs at Brooklyn's 99th precinct, it was the only option. Andy Samberg leads the superb line-up of characters as Jake Peralta, a carefree NYPD cop, who works alongside a crew of detectives, who each bring their unique quirks to the job.
Why it's worth watching: The fact that its die-hard fanbase pulled together to rescue it from the axe is perhaps the biggest endorsement you could want for a show. Oh, and it's really funny, which is what you want out of a sitcom really, isn't it?
Read more: 21 cancelled TV shows Netflix should bring back... please?
23. The Returned
Region: US
Season(s): 1-2
The show: We all like a whodunnit, so what about a whydunnit? This superb French thriller delves into both, as the occupants of a small mountain town discover something weird happening one morning: their dead are coming back to life. Now, you'd be forgiven for thinking this is another zombie romp with a twist, but it's not. The undead are the ones who are confused, and wondering why everyone around them has simply moved on with their lives. Naturally the living and the undead both take note when a series of murders begins, with an eerie callback to a former serial killer.
Why it's worth a watch: A bunch of formerly dead people wandering around an Alpine village, wondering what the hell's going on? Why wouldn't you want to watch this? It's a clever spin on the exhausted zombie idea, doing away with flesh-eating, and instead raising questions of what it means to live and die. Oh, and there's that murder-mystery thing, too.
22. House of Cards
Region: UK, US
Season(s): 1-5 (season 6 coming November 2, 2018)
The show: In a world full of seedy politicians and sordid scandals, Frank Underwood stands at the very top. House of Cards, based on the UK BBC series of the same name, sees the senator try and scheme his way to the White House while throwing everybody under the bus on his way. His only equal? His wife, Claire, who's just as conniving and calculating as he is. The Russians, the President, the American people – all bend to the will of the Underwoods.
Why it's worth a watch: Don't be scared off by the political undertones of this show. This is as hammy as hammy gets. Frank Underwood breaks the fourth wall to hilarious effect and each episode is filled with an entire soap opera season's worth of kills, thrills, and spills. It makes the current POTUS look tame by comparison. Oh, and you probably won't feel comfortable in a train station ever again. So, there's that.
21. Friends
Region: UK, US
Season(s): 1-10
The show: The one where all the twentysomethings can afford spacious Manhattan apartments. Yes, I'm talking about Friends! Upon its debut in 1994 the show became an instant hit, and even now some 14 years after its finale aired, it is still considered one of the most popular sitcoms of all time. It's hard to disagree, really, as the series continues to get better with age, following the lives of Monica, Rachel, Phoebe, Ross, Joey, and Chandler as they navigate through good times and bad. Oh, and numerous Thanksgiving mishaps, of course.
Why it's worth watching: This is great feelgood TV, that performs so well and stands up to repeat viewings because the main cast is just so darn likeable. From the first episode, each of the six leads carves out a unique spot in the show without coming across like caricatures. Sure, Ross may get a tad whiny in later seasons, but hey, he's been through a lot. They were on a break, right?
Read more: The 25 best Friends episodes ever
20. Narcos
Region: Worldwide
Season(s): 1-4
The show: Charting the rise and (real-world spoiler) fall of drug kingpin Pablo Escobar, Narcos features two DEA agents, Murphy and Pena, trying at nothing in the war against drugs. But they've met their match: Pablo is infinitely resourceful, Colombia is a country with dangerous people around every corner and it only gets worse from there. This is an American-Spanish show that will have you on the edge of your seats 99% of the time. The other 1% if you learning Spanish swear words, which is always fun.
Why it's worth a watch: Even if you know Pablo Escobar's story, Narcos has been suitably embellished so every episode carries as many twist and turns as possible with it. That extends to its seasons, too. Each one does something different without straying too far from its main theme of 'catch the bad guy.' Without wanting to go into spoiler territory, the show turns everything upside down far sooner than you might think, too. This is a binge-worthy drama that's an expert at keeping you on your toes.
19. The Haunting of Hill House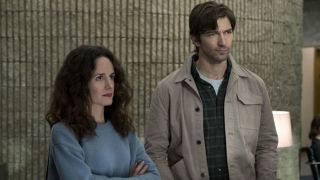 Region: UK, US
The show: Dubbed by one of its producers as "Six Feet Under with ghosts", this latest iteration of Shirley Jackson's terrifying novel is destined to become Netflix's next must-see horror series. Loosely adapted by Mike Flanagan, whose previous Netflix features Hush and Gerald's Game certainly showcase his flair for scares, the series follows the Crain family as they move into the remote Hill House. With the intention of renovating it and flipping it before they buy their real home, the Crains discover that the house has other plans. Fleeing in the middle of the night, the story picks up decades later as the scattered family is drawn together again by that darn house...
Why it's worth a watch: Seriously missing Stranger Things? I know, me too. With season 3 not due until 2019, The Haunting of Hill House ought to nicely fill that autumn horror slot on your streaming calendar. Oh yeah, and it's scary as hell.
Read more: Why Netflix's Haunting of Hill House is focusing on "family horror"
18. Bojack Horseman
Region: Worldwide
Season(s): 1-5
The show: A failed '90s actor spirals through life on a mix of sex, drugs, and trying to deal with depression. Oh, and he's a horse. Will Arnett voices the anthropomorphic stallion as he sees himself struggling against a tidal wave of self-pity, while also not trying to mess up everything good in his life. His best friend, Todd, voiced by Aaron Paul, often stands by his side – if he's not knee-deep in another one of his get-rich-quick schemes. It's also a comedy. Trust me.
Why it's worth a watch: It's done something that very few animated (or live-action) shows have even bothered to approach before: depression. While the show can have you crying with laughter at points, it can also just have you crying. It's a hugely complex look at a self-destructive man (well, man-horse) in a world just as crazy as he is.
Read more: Think BoJack Horseman is just 'the sad horse show'? It's secretly the most grown-up series around
17. Jessica Jones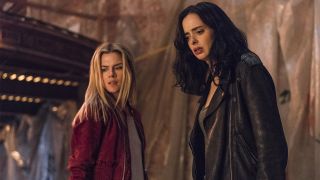 Region: Worldwide
Season(s): 1-2
The show: Marvel's second Netflix Original series is a dark, gripping drama about a private investigator with super-powers who just wants to curl up with a bottle of Jack and be left alone. The world comes knocking with a problem, and it's up to Jessica Jones to track down the hellish man responsible... who just happens to be a familiar face. Along for the ride is trusty comrade Trish Walker, whose talk show sheds a little too much light on the 'supers' for Jessica's taste, and neighbour Malcolm, who are both desperate to help Jessica put her demons to rest. As is often the case, her past returns to haunt her...
Why it's worth watching: Kristen Ritter's performance as the titular hero, who resists her calling at every turn, is truly stunning to watch. Each episode charts her inner struggle to winning effect, and sheds a light on the true consequences of trauma. And with season 2 now available, it's time to get caught up.
Read more: Jessica Jones season 2 ending - 6 questions we need answered
16. Parks and Recreation
Region: US
Season(s): 1-7
The show: Parks and Recreation stumbles a little during its first season, as reflected by its mixed reviews, but the powers-that-be took that advice and ran with it. Trust me, you'll be laughing all week if you stick with it. Led by the brilliant Amy Poehler, it revolves around the day-to-day experiences of Leslie Knope, deputy director of the Pawnee parks and recreation department, and her misfit bunch of co-workers. Told through a mockumentary-style of shooting, the show uses the pettiness of small-town bureaucracy as its comedic fodder.
Why it's worth watching: It swerves around the pitfalls of sitcom tedium, thanks to some of the most memorable comedy characters in TV history played by Nick Offerman (who will provide you with one-liners and woodwork advice), Aziz Ansari, Aubrey Plaza, Rashida Jones, Retta, and Chris Pratt.