8 tips for getting started in The Witcher 3: Wild Hunt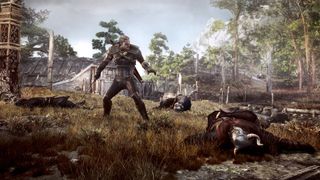 The Hunt is on
The Witcher 3: Wild Hunt is huge, and without guidance you could easily lose yourself in the wilderness. That's where this guide comes in, as we've sourced tips from our team of gaming experts to get you off to the best possible start in the Northern Kingdoms. Read on, and ensure you set Geralt off on the path to glory.
Looking for more help with The Witcher 3? We also have a side quest and contract guide.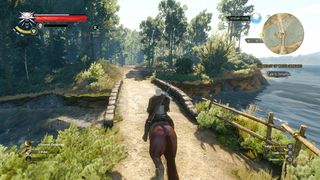 I get around
The game world is huge and you'll be spending a lot of time travelling around it, but there are a few ways you can make this easier for yourself. You can call your horse in at any point, so do that whenever you need to go any distance, and if you stick to the roads you can gallop indefinitely without losing stamina as long as you allow your steed to follow the route automatically. Plan your travels by looking for Fast Travel signposts on the world map, then using them to hop closer to your destination.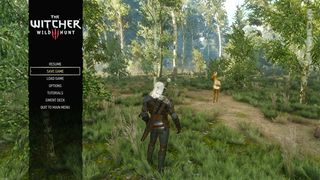 Save yourself
Your progress is automatically saved after each completed objective and at various other checkpoints while working through quests, but due to the unpredictability of events in the world it's risky to rely on this while out exploring. If you're not following a particular quest then make sure you make a regular manual saves, so you don't lose too much progress should you get ambushed or accidentally fall off a cliff.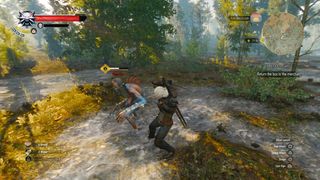 Fight right
If you pile into combat wildly swinging your sword then you're not going to last long - defeating enemies requires combination of parrying, counterattacks, dodges and signs. Selecting targets will help you to focus on one enemy at a time to thin out groups, but make sure you keep moving so you don't get surrounded or attacked from behind. Dodging to the side as an enemy attacks leaves them briefly vulnerable, allowing you to land several blows before needing to duck away again.
It's normally selected automatically, but make sure you're using the right weapon in battle to deal the most damage - pick the silver sword if your opponent's vitality bar is also silver, or use steel blade if the bar is red. Temporary buffs can be added if you locate smithing equipment, with grindstones enhancing weapons and armourer's tables improving armour.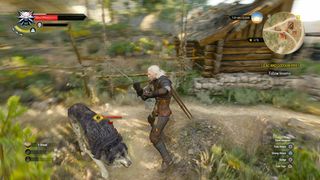 Keep your strength up
Your vitality only regenerates automatically when not in combat, and even then it only ticks up very slowly. Make sure you have at least one type of food item equipped to a consumables slot, so you can quickly use it during combat to recover some health - the longer the regeneration effect duration the better. If your vitality gets too low during a fight and it looks like you can't recover in time, there's always the option to flee and live to see another day. Unless you're playing on a higher difficulty level, you can also meditate to recover vitality, and you only need to move the clock on to the next hour to completely refill your meter.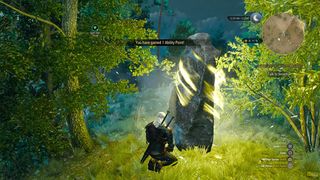 Next level
To level up your character and unlock new abilities to become a badass Witcher, you need to earn lots of lovely XP. You receive a small amount for every enemy you dispatch, but to make big gains quickly you should focus on completing quests, with main quests giving much bigger XP awards than secondary ones. Look out for Places of Power, which are initially marked as a ? on your map and cause Geralt's medallion to glow as you approach. These sacred stones can be activated to buff a particular sign, and whenever you use one for the first time you receive a bonus ability point to improve your skills.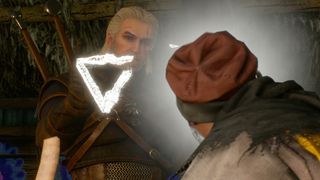 The power of persuasion
Once you start earning ability points you'll find that there's a whole host of upgrade options available, but one you should focus on developing early on is the Axii sign. Using Axii on enemies in combat will temporarily stun them, which allows you to either land a heavy strike or two while they're defenseless, or ignore them and focus on others if there's a group attacking. More importantly, Axii can be used in dialogues to influence the actions of others, opening up new options to avoid fighting people or having to pay them.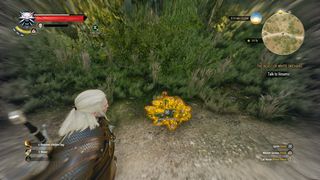 Help yourself
Make sure you loot everything you see, as there are all sorts of useful items that can be found in crates and barrels, as well as lifted from the bodies of defeated enemies that are marked with an X on your minimap. Use your Witcher Senses to highlight any items nearby that can be nabbed, but be wary when guards are around as they don't take kindly to light fingered Witchers, so don't take anything while you're in view of them or you'll end up in an unnecessary fight.
The 'grab everything in sight' approach particularly applies to alchemy ingredients such as plants and animal parts, as there are hundreds of different components to harvest and you'll need specific combinations of ingredients in order to craft new alchemy items. The good news is that once you've successfully made a particular item, you no longer need to harvest the ingredients to make more, as you can just use alcohol to keep your supply topped up.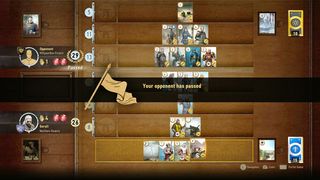 House of cards
The game of Gwent is popular across the Northern Kingdoms, and although it's tricky to master you can make things easier with a few quick changes early on. Your cards can be managed through the deck builder - you must have at least 22 unit cards, then you can have up to 10 special cards on top of this. These are useful but bare in mind that the more special cards you include in your deck, the less likely it is you'll draw unit cards that you actually need to build up your total strength for each round. Make sure you swap out low strength unit cards for stronger ones as soon as you acquire them, and try not to double up on weather effect cards to unnecessarily bulk out your deck.
Don't go too mad during the first round, as if it looks like your opponent is starting strongly it might be best to let them take the round and wipe out their big cards in the process. If your opponent passes at any point then they can't play any more cards that round, so make sure you play the bare minimum required to beat their total strength (if possible) or concede without wasting any more cards if you can't catch up.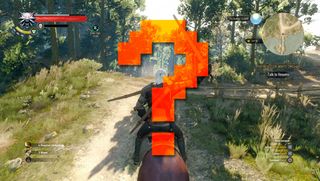 The Hunt continues...
So there we have it, a set of tips to set you on your way. Keep checking back, as we'll be regularly updating this article with new information as our adventures continue.
Don't forget - we also have a Witcher 3: Wild Hunt side quest and contract guide to help you explore more of the game.